The Mr. Olympia competition represents the pinnacle of bodybuilding. With the 2023 edition approaching, fans are excitedly making their predictions on who will take the coveted title this year. Several top contenders have a legitimate chance at being crowned the new Mr. Olympia.
The 2022 Mr. Olympia was won dramatically by Hadi Choopan, ending Big Ramy's 2-year reign. Hadi Choopan defeated runner-up Derek Lunsford and 3rd-place Nick Walker in a close battle.
Now, the top competitors are preparing furiously to capture Olympia gold in 2023. With Open division depth at an all-time high, the showdown in Las Vegas this November promises to be epic.
Let's take a look at the top 5 athletes expected to be in the mix for the Sandow trophy based on their previous placings and current form.
Andrew Jacked burst onto the pro scene in 2022 with his extraordinary muscle size, shape, and proportions.
This Nigerian phenom earned his pro card by dominating the Arnold Classic Amateur shows. In his rookie year, Andrew Jacked won the Texas Pro and Arnold Classic UK.
At the 2023 Arnold Classic, Andrew Jacked took 3rd behind Samson Dauda and Nick Walker.
His tremendous potential is apparent, but improvements in conditioning could take him higher. If Andrew Jacked can nail his Olympia prep, a top 5 finish seems likely.
Samson Dauda pulled off a big upset by defeating Nick Walker for the 2023 Arnold Classic title.
Displaying granite-hard conditioning, Samson Dauda edged out Nick Walker for a narrow win. He earned his Olympia invitation through this breakthrough performance.
The "Nigerian Lion" has shown he can contend with the division's best. However, Olympia's competition is several levels above Arnold Classic lineups.
Facing more seasoned Olympians like Derek Lunsford and Hadi Choopan will be Samson Dauda's toughest test yet. Still, he could surprise many by matching his Arnold form.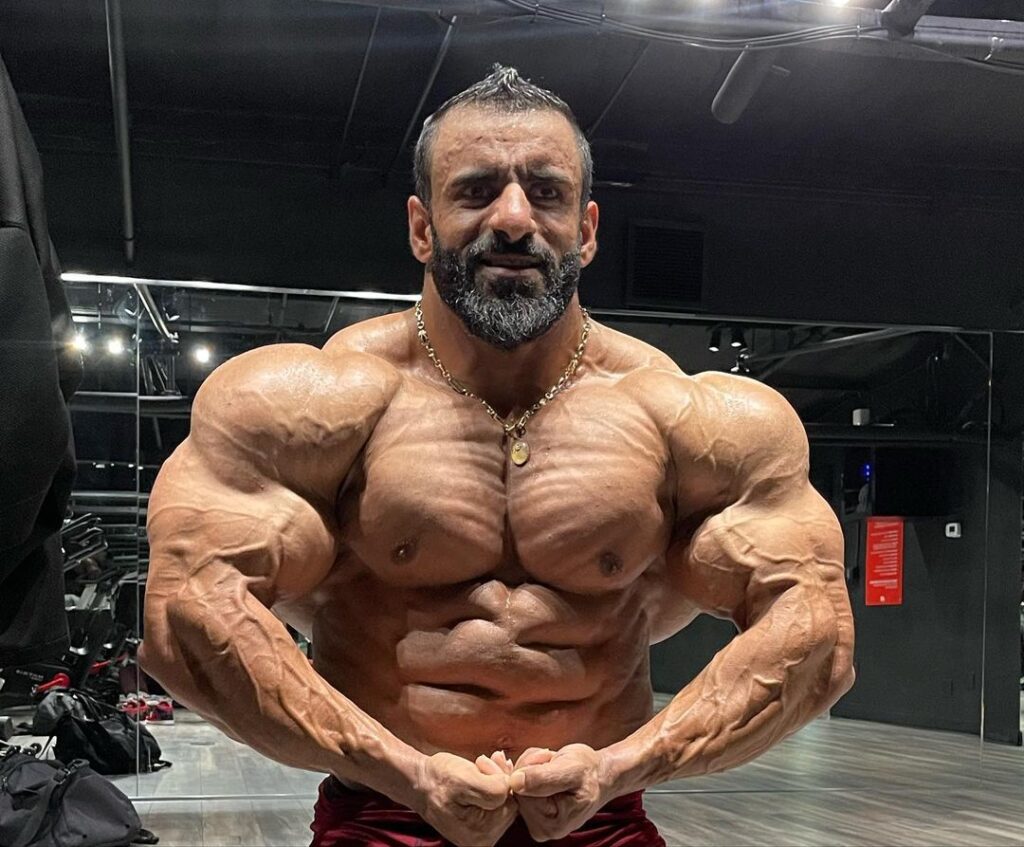 The reigning Mr. Olympia champion, Hadi Choopan will seek to repeat his victory and cement his legacy.
The Iranian star shocked the world in 2022 with his unreal muscle density, vascularity, and feathered conditioning. He will be difficult to dethrone.
However, rivals like Derek Lunsford and Nick Walker are determined to bring better packages this year. Hadi Choopan must also secure his visa to compete, which has complicated his prep previously.
Nevertheless, counting out the champion is never wise – expect Hadi Choopan to be a threat again.
Nick "The Mutant" Walker has been dominant in recent years, winning multiple Arnold Classic titles. He pushed Hadi Choopan and Derek Lunsford to the limit in his Olympia debut last year before settling for 3rd.
Nick Walker arguably carries the most muscle mass in the sport today. Combined with his granite conditioning, he is capable of beating anyone on his best day.
After falling short in 2022, Nick Walker plans to bring his all-time best look to Las Vegas. The Mutant 2.0 could very well capture his first Olympia victory.
Our prediction for Mr. Olympia 2023 is Derek Lunsford. After moving from 212 to Open and nearly taking the title in his first try, Derek Lunsford is poised to ascend to #1 this year. His combination of structure, shape, and dry conditioning makes him tough to beat.
Derek Lunsford has much room still to add quality size to his frame at age 30. With a full off-season of growth, he will push the 260-lb mark at the Olympia.
If Derek Lunsford can match his sharp 2022 conditioning with extra mass, he should have enough to be crowned champion. His steady dedication and intensity signal big things ahead.
Other Contenders to Watch
Beyond the top 5, Hunter Labrada, Brandon Curry, and Akim Williams have legitimate chances to shake up the standings. Hunter Labrada and Brandon Curry own recent wins over Nick Walker and Derek Lunsford.
Meanwhile, Akim's Williams outrageous mass could overwhelm them if he nails conditioning.
The depth at the 2023 Olympia will be unparalleled. The ascent of new talents like Andrew Jacked and Samson Dauda plus veterans like Brandon Curry and Hunter Labrada hungry for more title runs sets the stage for a historic showdown.
But in our predictions, Olympia's next breakout star Derek Lunsford will claim the ultimate prize this year.
How Prior Placings Influence 2023 Olympia Predictions
Looking at previous Olympia results provides insights into how these athletes match up. Derek Lunsford's close defeat of Hadi Choopan in 2022 instills confidence he can win.
Nick Walker believes he deserved 1st place last year after reviewing the footage. Meanwhile, Hadi Choopan and Brandon Curry aim to draw from their past Mr. Olympia victories to reclaim glory.
The standings have been incredibly close between the top guys. Whoever brings their best package will prevail, but past placings do influence predictions.
Of course, Olympia's outcomes hinge on much more than past results. Injuries, personal issues, travel problems, judging, and other variables can determine the champion.
For example, Hadi Choopan's visa challenges have disrupted his prep before. What if he or another top name misses the show or has health problems?
Judges may shift criteria for a more conditioned or mass-focused look. Any number of situations could shuffle the top 5.
Still, based on data already available, Derek Lunsford defeating Nick Walker and Hadi Choopan for the 2023 Olympia crown seems the most likely scenario. But not much separates these world-class contenders, guaranteeing another dramatic finish.
The Case for Each Top Contender
In summary, Derek Lunsford, Nick Walker, and Hadi Choopan shape up as the top 3 favorites for different reasons:
Derek Lunsford's balanced, proportional physique and momentum after pushing Hadi Choopan close in 2022.
Nick Walker's unrivaled mass and density with improved shape and flow. Hadi Choopan's status as reigning champion and his freaky conditioning ability.
Andrew Jacked and Samson Dauda represent the fresh blood capable of playing spoiler. But Derek Lunsford has the structure and work ethic to prevail. No matter who earns the title, the 2023 Mr. Olympia will showcase bodybuilding greatness at new heights.
As the champions and challengers battle, the sport itself progresses. Olympia's history and tradition fuel these athletes to push their talents where few dare go.
When the lights shine bright in Las Vegas, a new king will be crowned. Our prediction stands with Derek Lunsford ascending the throne as Mr. Olympia's 2023 champion. But the only guarantee is greatness as today's titans clash to write the next incredible chapter.