Michal Krizo has his sights set on shocking the world at the 2023 Mr. Olympia after earning a surprise qualification. The Slovakian muscle monster is training with increased intensity leading up to bodybuilding's biggest stage.
He recently gave fans an inside look at his beastly back workout routine as he builds his physique to stand with the elite Open division competitors in November.
Michal "Krizo" Krizanek exploded onto the pro scene in 2022 with his enormous mass and superhero proportions.
After transitioning from the IFBB Elite Pro league, Michal Krizo immediately turned heads and was dubbed a top prospect. However, conditioning issues held him back from fulfilling his full potential.
After a disappointing Olympia debut, Michal Krizo went back to the drawing board. He tightened up his diet, increased cardio, and sharpened his training.
This work paid off with a dominating win at the 2023 Empro Classic Pro, earning Michal Krizo a ticket to the 2023 Mr. Olympia.
Now, the 33-year-old is pushing his physique to greater heights. With the Olympia 12 weeks out, Michal Krizo is training with ruthless intensity.
He recently gave fans a glimpse into his back workout routine as he builds thickness and detail through the roof.
Michal Krizo Workout
Michal Krizo begins his back session with a focus on lats. After warming up, he moves into working sets of reverse grip pulldowns.
This places more emphasis on the lower lats compared to a regular pronated grip. Michal Krizo handles stacks of plates for reps, displaying his otherworldly strength.
Next up are seated cable rows. With his V-taper exploding out of his hoodie, Michal Krizo powers through set after set.
The rows target his middle and upper back. He goes heavy and controlled, squeezing at the peak contraction. Michal Krizo follows it up with incline dumbbell rows, leaning into the bench to isolate his back muscles.
Looking to torch his lats, Michal Krizo opts for close neutral grip pulldowns. The narrower grip shifts stress onto the rhomboids and biceps while blasting the lats from top to bottom.
He grimaces on the final repetitions, pushing until failure. This wraps up a demolishing back assault.
Hitting Biceps
Michal Krizo transitions to direct biceps work, wasting no time with fluff exercises. EZ bar preacher curls are first. He chews through multiple straight sets, displaying granite bicep peaks even in the off-season.
Finally, one-arm cable curls finish off the guns. Michal Krizo drives the contraction with precision, eliciting a deep burn to cap the workout.
After hammering back and biceps, he heads home to rest and grow. The intense session reflects Michal Krizo's all-in mentality during Olympia's preparation.
Michal Krizo Diet Strategy
In tandem with next-level training, Michal Krizo has implemented a stricter nutritional approach for the 2023 Olympia. Gone is the excessive junk food from the off-season.
He is adhering to a classic bodybuilding diet of lean proteins, complex carbs, and healthy fats.
Michal Krizo emphasizes eating clean at regular intervals to keep the metabolism fired up. Plenty of fibrous vegetables and high protein foods like chicken, fish, and egg whites help him stay full.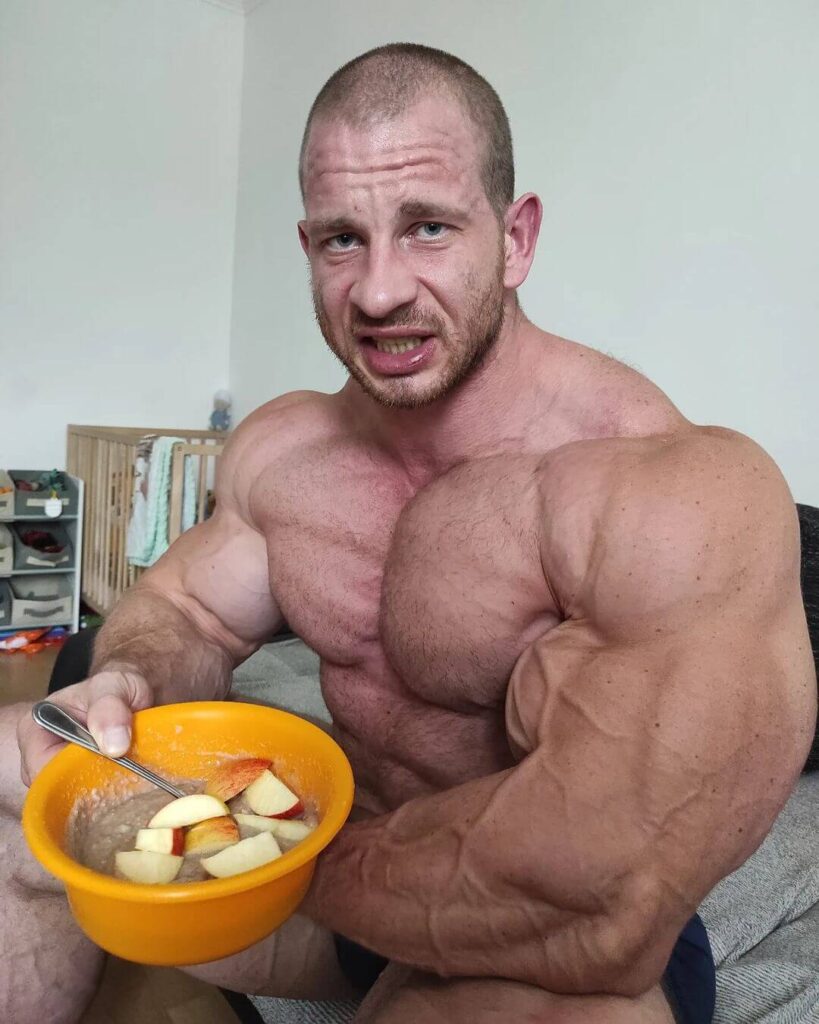 Slow-digesting carbs such as oats, rice, and sweet potatoes provide sustained energy for his hardcore workouts.
The goal is to limit sodium, boost nutrients, and manipulate carb timing. Michal Krizo admittedly struggled with his diet in the past. By dialing it in early this Olympia prep, he is on pace to show up shredded and conditioned.
A Breakout 2022 Season
Michal Krizo earned his pro card by winning the super heavyweight and overall divisions at the 2022 Amateur Olympia in Italy. He carried eye-popping size and muscle maturity that instantly marked him as a rising threat in the IFBB Pro League.
Michal Krizo validated the hype by taking 1st place at the 2022 Prague Pro less than two months later, qualifying for that year's Mr. Olympia.
However, his Olympia debut was slightly underwhelming, placing 12th without bringing his best conditioning.
The setback motivated Michal Krizo to retool during the off-season. He hired legendary coach Patrick Tuor to guide his improvements.
They set out to upgrade Michal Krizo's back, hamstrings, and calves while achieving contest-ready conditioning earlier in 2023.
So far, the plan is working wonders. Michal Krizo's back thickness was on another level at the Empro Classic Pro.
The judging panel awarded his complete package with a decisive 1st place victory. Now qualified for the 2023 Olympia, Michal Krizo aims to crack the top tier against the world's best.
Posing a Threat in Vegas
In recent Olympia history, the Open division has been dominated by Brandon Curry and Hadi Choopan.
However, the rise of upstarts like Hunter Labrada and Nick Walker makes this year's showdown extremely unpredictable.
Michal Krizo has the muscle to hang with the top names, but nailing his conditioning will be critical.
At 6'2″ and around 300 pounds on stage, the Slovakian brute can overwhelm opponents with his super heavyweight stature.
Michal Krizo owns some of the thickest, most developed back muscles in the sport today. His chest, shoulders, and arms also stack up with the division's best.
By showcasing his improvements from Empro Classic on the Olympia stage, Michal Krizo is an underdog capable of shaking up the standings. If he brings a dialed-in, paper-thin waist with granite hardness, a top 6 finish is within reach.
Training Philosophy
Ever since going all-in on bodybuilding, Michal Krizo has lived in the gym. His typical off-season split trains each muscle group twice per week for sheer mass.
Now in prep mode, Michal Krizo has shifted to a 5-day split focusing on heavy compounds and isolation work.
Michal Krizo's training style relies on straight sets in the 6-12 rep range. He pushes the tempo on contractions and squeezes each rep for maximum intensity.
While Michal Krizo can lift scary amounts of weight, he avoids sacrificing form or tension to chase numbers.
Michal Krizo also incorporates advanced techniques like supersets, partial reps, and static holds to further stimulate growth.
His brutal work ethic fuels 3+ hour gym sessions daily. According to Michal Krizo, outworking the competition drives his rapid improvements.
The Future is Bright
In just a few short years as an IFBB pro, Michal Krizo is on the fast track to elite status in the Open division. His outgoing personality and Herculean proportions have already made him a rising fan favorite.
If Michal Krizo can refine his physique and claim a marquee win, he possesses all the tools to become a future Mr. Olympia.
First, he will need to test himself against the reigning champs in November. Michal Krizo is laser-focused on proving he belongs and shocking the bodybuilding world under the bright lights of Vegas.
Regardless of the 2023 outcome, Michal Krizo's future appears limitless. The Slovakian beast has only scratched the surface of his immense potential.