Flex Wheeler, one of the most aesthetic bodybuilders ever, recently provided critiques on Hunter Labrada and Andrew Jacked.
He was disappointed by Hunter Labrada's conditioning at the 2023 Texas Pro and criticized Andrew Jacked's amateurish posing. With the Olympia approaching, Flex Wheeler highlighted weaknesses for the two rising stars to improve.
Nicknamed "The Sultan of Symmetry," Flex Wheeler possessed arguably the most proportional, artistic physique in bodybuilding history. During the 1990s and 2000s, he built an impressive resume with 4 Arnold Classic wins.
However, Flex Wheeler never captured the top prize of Mr. Olympia, often finishing behind legends like Dorian Yates and Ronnie Coleman.
Since retiring, Flex Wheeler remains invested in following the progress of today's top Open division bodybuilders.
In a video for Olympia TV, he gave his blunt critiques on Hunter Labrada and Andrew Jacked – two contenders who recently secured their 2023 Olympia invitations.
Hunter Labrada's Conditioning Disappoints Flex Wheeler
Hunter Labrada hit peak condition leading into the 2023 Tampa Pro earlier this month. His shredded glutes, hard muscle bellies, and nutritionist-approved diet reflected a physique reaching its pinnacle.
However, Flex Wheeler felt Hunter Labrada's look took a step back just a few weeks later. At the 2023 Texas Pro last weekend, Hunter Labrada aimed to beat rival Andrew Jacked and solidify his place among the Open elite.
Although Hunter Labrada edged out Andrew Jacked in the prejudging, Andrew Jacked surpassed Hunter in the finals to earn the Olympia qualification.
According to Flex Wheeler, Hunter Labrada's physique was noticeably off compared to his phenomenal shape in the Tampa Pro lead-up.
He described Hunter as "bloated" with a washed-out lower body and missing Christmas tree back detail. Had Hunter Labrada brought his previous A-game to Texas, Wheeler believes the outcome would have favored Hunter.
The critique highlights how small margins separate the top bodybuilders today. Peak conditioning can't be maintained for long periods.
Despite a 2nd place finish, Hunter failed to replicate his sharpest look from weeks prior. With refinement, Hunter Labrada hopes to return to career-best conditioning for the 2023 Olympia this November.
Andrew Jacked's Back Pose Needs Work Per Flex Wheeler
On the opposite end, Andrew Jacked surprised many by handily beating a near-perfect Hunter in Texas.
Flex Wheeler acknowledged that Andrew Jacked achieved superior conditioning and aesthetics compared to Hunter Labrada on that day.
However, one area stood out as needing improvement – Andrew Jacked's back double biceps pose. Flex Wheeler noticed Jacked was constantly fidgeting and adjusting during the mandatory back pose.
He believes this energetic tweaking of the pose reflected Andrew Jacked's lack of back detail. Without a deeply-etched Christmas tree or striated glutes, Andrew Jacked resorted to moving around to prevent his weaknesses from being exposed.
According to Flex Wheeler, a developed mind-muscle connection comes from tireless practice. Standing confidently in a pose requires feeling the contraction and resisting the urge to fidget or re-position.
Andrew Jacked's back pose seemed distracted and unfocused rather than polished. For Andrew Jacked to ascend to Olympia's first callout, nailing the back double biceps is critical.
Wheeler advises him to use the next 12 weeks to improve back thickness and practice holding the pose until man and muscle become one. Andrew Jacked can also use his flexibility to hide weaker hamstrings if he refines his side triceps pose.
Rapid Improvements by Andrew Jacked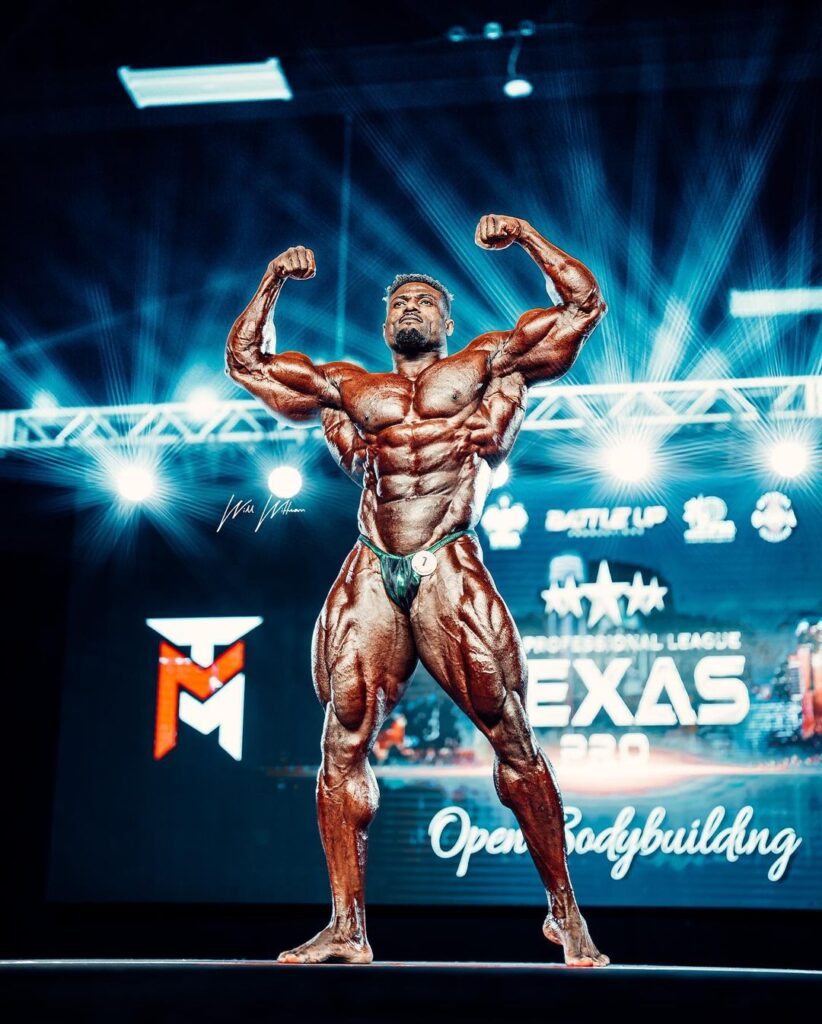 Despite critiques, it's clear Andrew Jacked is making massive strides under his new training team. The young Nigerian's structure, shape, and muscle maturity progressed enormously over the last year.
After barely missing the Olympia qualification in 2022, Andrew Jacked earned his ticket to the 2023 show with authority. According to commentator Bob Cicherillo, fans haven't yet seen the best Andrew Jacked.
As he learns what conditioning and fullness levels work for his physique, Jacked is primed to shock the bodybuilding world. Cicherillo predicts that an improved Andrew Jacked will claim a top spot in the Olympia first callout this year.
Jacked's new coaching team led by Chris "Psycho" Lewis agrees with that sentiment. In their first collaboration, Jacked won the Arnold Classic Brazil last April.
The momentum continued as Jacked added quality size in the off-season while retaining a tight waist. His potential seems limitless, and a refined package could make Jacked a real threat at the 2023 Olympia.
Hunter Labrada vs Andrew Jacked – A Budding Rivalry
Hunter Labrada and Andrew Jacked traded pre-judging and overall wins at the last two contests. As the competitions got tougher, each bodybuilder showcased new personal bests but also revealed areas needing upgrading.
Their rivalry is pushing both men to greater heights. With opposing strengths and weaknesses, Labrada and Jacked match up fascinatingly.
Hunter Labrada boasts a taller height, more polished posing, and superior hamstring development. However, Andrew Jacked owns the edge in back width, freaky lat inserts, and midsection detail.
Their styles also differ, with Hunter Labrada opting for elegant lines while Jacked pursues maximum mass.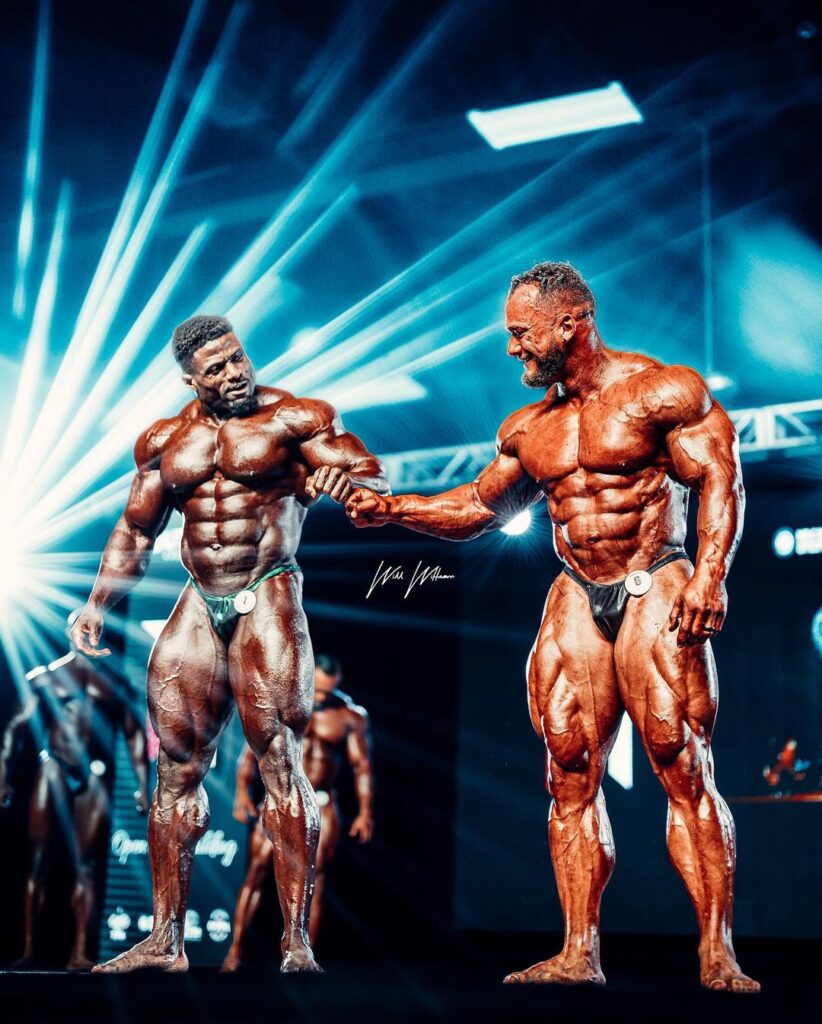 As the two blossoming stars continue swapping blows, fans are the real winners. Hunter Labrada and Andrew Jacked represent the future of Open bodybuilding.
Their competitive journey together may just be starting. With Gold still up for grabs, their back-and-forth progression could build the next legendary rivalry in the sport.
But first, they must test themselves on the Olympia stage. Hunter Labrada and Andrew Jacked plan to improve their weak points identified after Texas. Both men have proven able to make huge leaps in short timeframes.
If they bring sharper conditioning and more complete muscle development to Las Vegas in November, the Olympia first callout will face its biggest lineup ever.
The legends of yesterday like Flex Wheeler are watching closely. While critiquing small flaws, Flex Wheeler and other icons also see immense potential in Hunter Labrada and Andrew Jacked.
With more maturation and experience, their talents could lift them to the very top of bodybuilding and perhaps make history. The countdown begins to this year's Mr. Olympia, where the next chapter awaits.