Hadi Choopan is an Iranian professional bodybuilder, "The Persian Wolf." He joined the Iranian National Bodybuilding Team from 2011 to 2016. Hadi has competed various times at the International Federation of Bodybuilding and Fitness competitions and won several titles.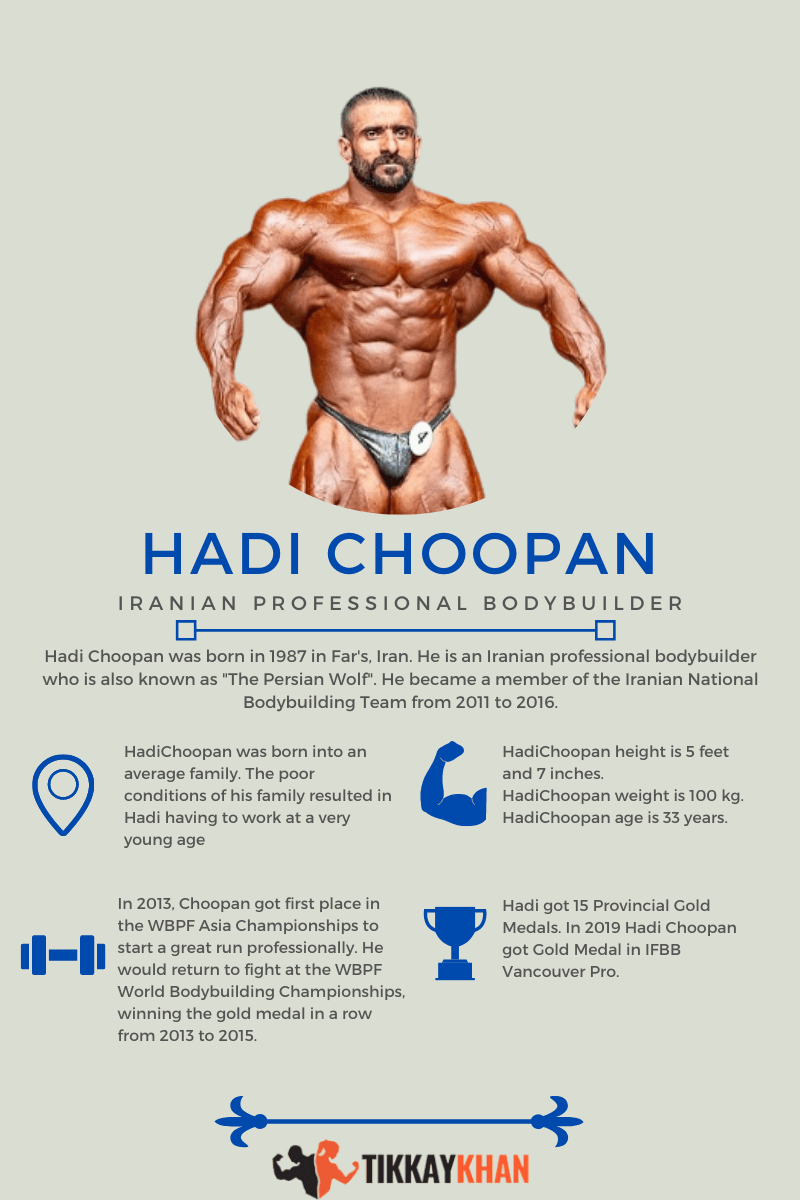 Hadi Choopan Early Life
Hadi Choopan was born into an average family. The poor conditions of his family resulted in Hadi having to work at a very young age. He began selling goods, along with working on development projects.
Hadi managed to develop his interest in bodybuilding. He started his way to be a pro bodybuilder at 13 in 2000.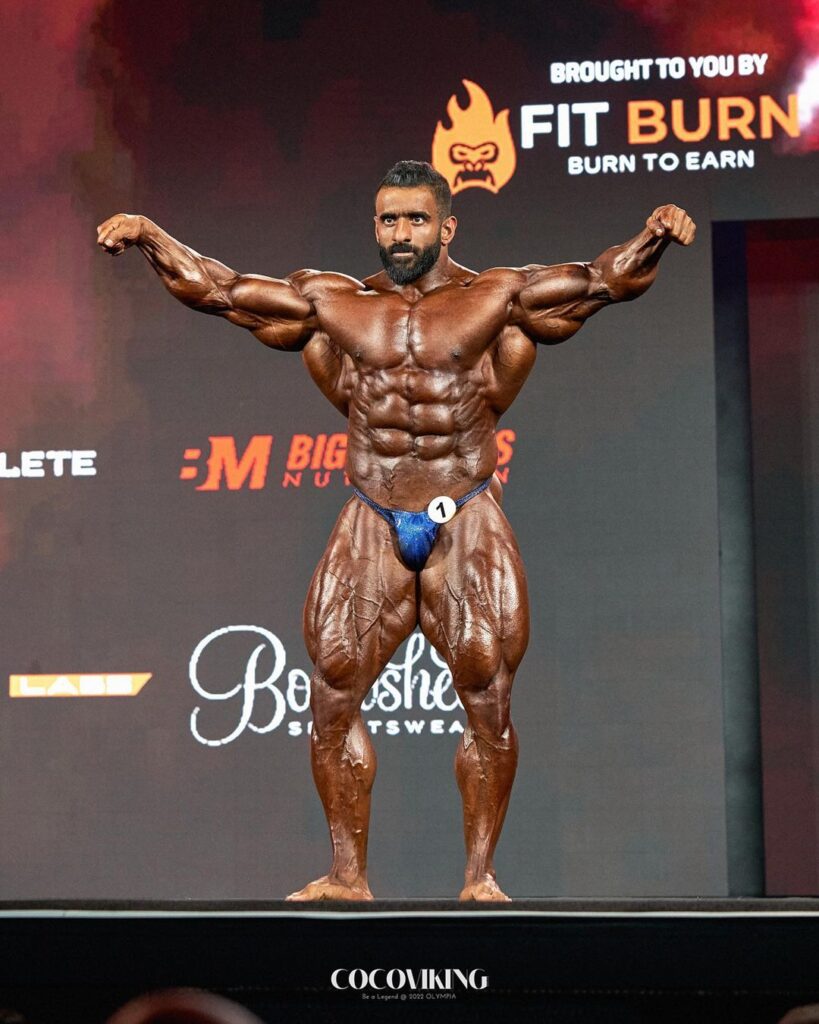 This process started with Hadi mocking the acts of other great bodybuilders in front of his family. He was dealt with jokes and pushback from his friends and family members.
Hadi Choopan updates his lifestyle and posing on his Instagram account. You can check his Instagram account for current updates.
Hadi Choopan Early Bodybuilding Career
Hadi Choopan finally gained some muscles and started looking like a bodybuilder. His first trainer was JamshidOwji. At the time, Jamshid only supported Hadi lifting 5 kg weights due to his tiny size. But, Choopan would ultimately develop and get bigger.
Within three years of continuing a professional bodybuilding career, HadiChoopan got third in a national championship.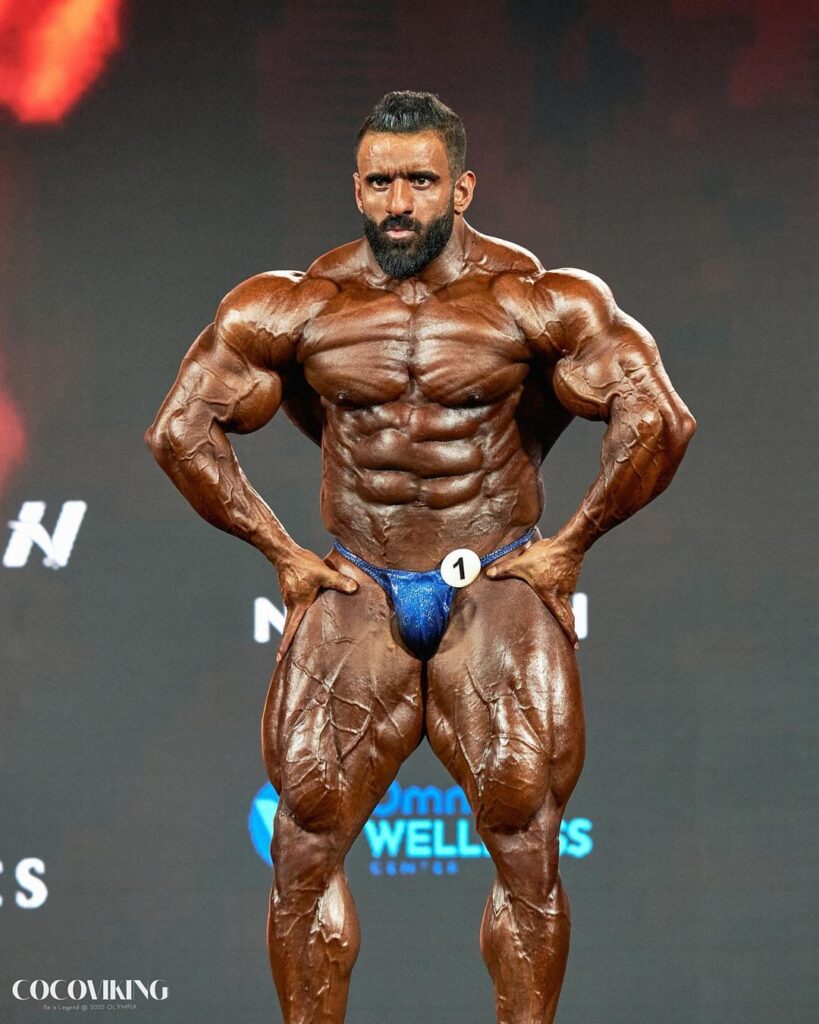 He gained first place in tournaments in his native Providence Of Fars. However, in 2005, he won his first national title and started establishing himself as someone to keep an eye on.
Hadi Choopan is ready for Mr Olympia 2022 contest; Hadi already qualified for Mr Olympia 2022 after getting 3rd place in the 2021 Mr Olympia competition.
In 2008, Hadi stopped working with Jamshid and wasted a few years without a coach. Despite that, he still maintained to win more national titles and a silver medal at the WBPF World Bodybuilding Championships.
Pro Bodybuilding Career of Hadi Choopan
In 2013, Choopan got first place in the WBPF Asia Championships to start a great run professionally. He would return to fight at the WBPF World Bodybuilding Championships, winning the gold medal from 2013 to 2015.
Chopaan competed thrice in 2017, winning silver medals over the board. He lost Asia Grand Prix to multiple-time 212 Olympia champ Flex Lewis in 2017.
Choopan would be required to deal with issues receiving a U.S. Visa, to fight in the big shows stateside. It would push him out of more than a few tournaments over the years, including the Arnold Classic and Mr Olympia in 2018.
But, he fixed the issues for 2019 and is set to compete at Mr Olympia 2019. At the Olympia 202o, Hadi Choopan placed 4th against Big Ramy, Brandon Curry, and Phil Heath. He got 3rd position at Mr Olympia 2021.
Finally, in 2022 at the stage of Olympia, Hadi fulfilled his dream after becoming the new Mr Olympia for the world.
Physical Standards of Hadi Choopan
| | |
| --- | --- |
| Hadi Choopan Height | 5 Feet and 7 inches |
| Hadi Choopan Weight | 95 to 100 KG |
| Hadi Choopan Age | 35 Years |
| Hadi Choopan Arm Size | 22 Inches |
| Hadi Choopan Chest Size | 49 Inches |
| Hadi Choopan Waist Size | 32 Inches |
| Hadi Choopan Nationality | Iranian |
| Hadi Choopan Date of Birth | September 26, 1987 |
| Hadi Choopan Nickname | The Persian Wolf |
Hadi Choopan Net Worth
Hadi Choopan's net worth increased significantly in 2022. Hadi Choopan's income is mainly from being a successful bodybuilder and Mr. Olympia 2022. Hadi's estimated net worth $5 million.
Hadi Choopan Diet
Hadi adjusts his diet around his desire to develop lean muscle. He believes that diet is an essential part of gaining a toned appearance.
Therefore, he uses a lot of brown rice, avocados, and skinless chicken breast for most of the year. These slow-releasing diets help him keep his fat levels low, allowing for easier contest prep.
Hadi Choopan Workout Routine
Hadi only rests for 30 seconds to 1 minute between each set when training for the growth of muscles. This way, he increases muscle mass and develops his heart rate, helping him burn fat during his workout. Here are some Hadi Choopan back workout and chest workout sets.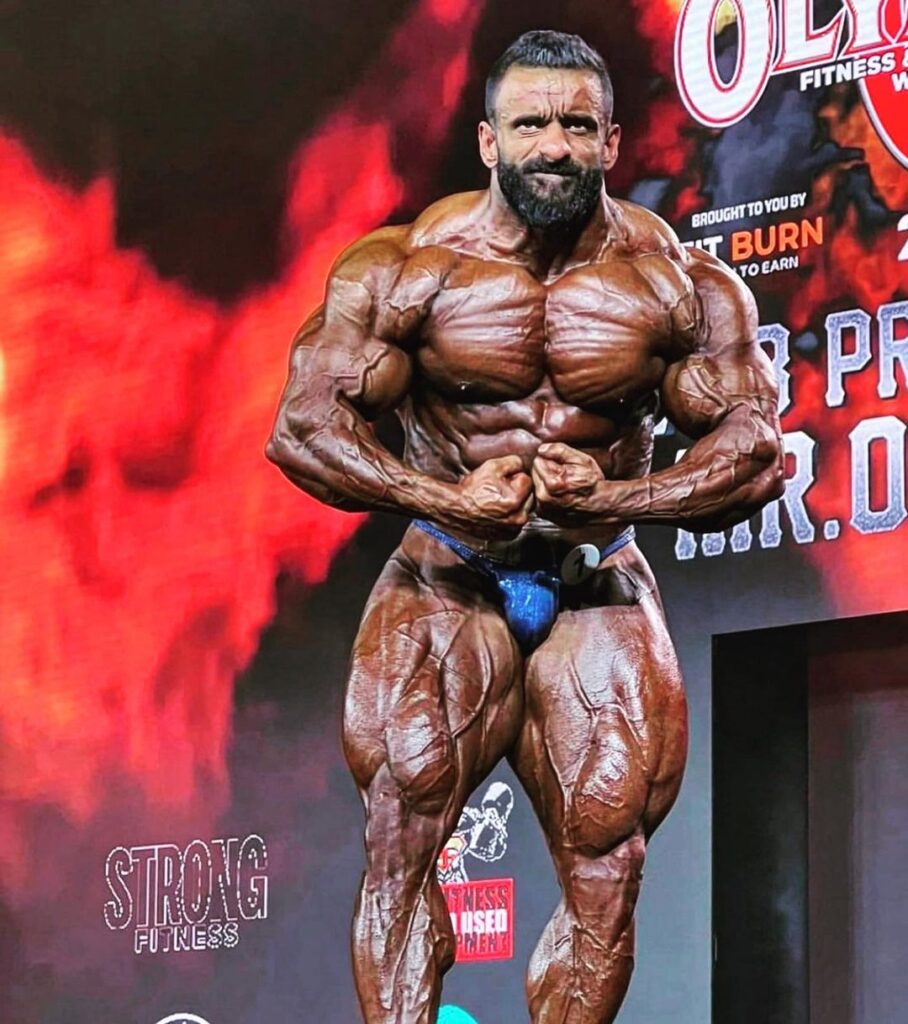 Incline Dumbbell Press 3 sets of 10 to 12 reps
Flat Barbell Bench Press 5 sets of 8 to 12 reps
Incline Flys 4 sets of 10 to 15 reps
Dips 4 sets of 10 to 15 reps
Dumbbell Pullovers 4 sets of 10 to 15 reps
Flat Bench Dumbbell Flys 5 sets of 10 to 15 reps, last set drop set.
Hadi Choopan is training with his coach Hany Rambod to compete at the Olympia 2022 this December.
Hadi Choopan Cardio Routine
While he does not do cardio in the off-season, Hadi has two or three weekly sessions while preparing for contests. A healthy diet gets him in the best shape possible for his contests.
Hadi Choopan Titles And Honors
From 2003 to 2008, Hadi got 15 Provincial Gold Medals.
In 2008 Hadi got 3rd place at Babol National Tournament and 2nd in Saari National Tournament.
In 2009 Hadi got 2nd place in Saari National Tournament and Rasht National Tournament.
In 2010 Choopan got 1st position Saari National Tournament.
In 2011 Hadi got 1st in Mashhad National Tournament.
In 2012 Hadi, Choopan got a Silver medal in WBPF World Bodybuilding Championships.
In 2013 he got Gold Medal overall in WBPF Asia Championships.
In 2014 he got Gold Medal in WBPF World Bodybuilding Championships.
In 2015 he got Gold Medal in WBPF World Bodybuilding Championships.
In 2017 he got an overall Gold medal in Mr. Olympia Amateur and a Silver Medal in IFBB Sheru Classic Pro.
He got the silver medal in Asia Grand Prix and San Marino Pro.
In 2018 Hadi Choopan got a silver Medal at Dubai Expo.
He got 1st place in IFBB Portugal Pro in 2018.
In 2018 he got a Gold medal in Asia Grand Prix.
In 2019 Hadi Choopan got Gold Medal in IFBB Vancouver Pro.
In 2020, IFBB Mr. Olympia, 4th Place
In 2021, at the Olympia 2021, he got 3rd Place.
In 2022, at the Olympia 2022, he got 1st Place.
Hadi Choopan has approached local progress as a professional bodybuilder. His efforts to compete in the western region stopped his popularity. However, once people started to recognize him, his stock grew overnight.
FAQs
Where is Hadi Choopan From?
HadiChoopan was born in 1987 in Fars, Iran. He is an Iranian professional bodybuilder known as "The Persian Wolf. "
How Much is Ronnie Coleman Worth?
Ronnie Coleman is an American bodybuilder. Coleman won the Mr. Olympia contest eight times in a row. He is of the greatest bodybuilders of all time. Ronnie Coleman's net worth is almost 10 million USA dollars. Hadi Choopan's net worth is also in a million dollars.