As the countdown to the 2023 Mr. Olympia contest in Orlando, Florida, draws closer, reigning champion Hadi Choopan and former titleholder Brandon Curry are leaving no stone unturned in their quest for bodybuilding greatness.
These two titans of the Men's Open division have recently shared their monstrous physique updates, setting the stage for an epic showdown in November.
The landscape of the Men's Open division has seen its fair share of turbulence since the conclusion of last year's Mr. Olympia.
In a surprising turn of events, the former two-time Mr. Olympia, Mamdouh "Big Ramy" Elssbiay, was dethroned in December 2022.
Stepping into the void left by Elssbiay was Hadi Choopan, a relentless competitor who had consistently placed no lower than fourth at the prestigious Olympia event.
Meanwhile, former champion Brandon Curry, who finished fourth at last year's Mr. Olympia, demonstrated that he possessed the requisite size, shape, and fullness to stand tall among the competition, including second and third-place finishers Derek Lunsford and Nick Walker.
Adding to the intrigue of the 2023 Mr. Olympia are the new contenders in the Men's Open division, such as Chinedu Andrew "Jacked" Obiekea and Michal "Krizo" Krizanek, who have been making their presence felt.
The bodybuilding community is abuzz with anticipation, eager to see how the competition will unfold this year.
Hadi Choopan's Battle Cry Against Photoshop and a Posing Update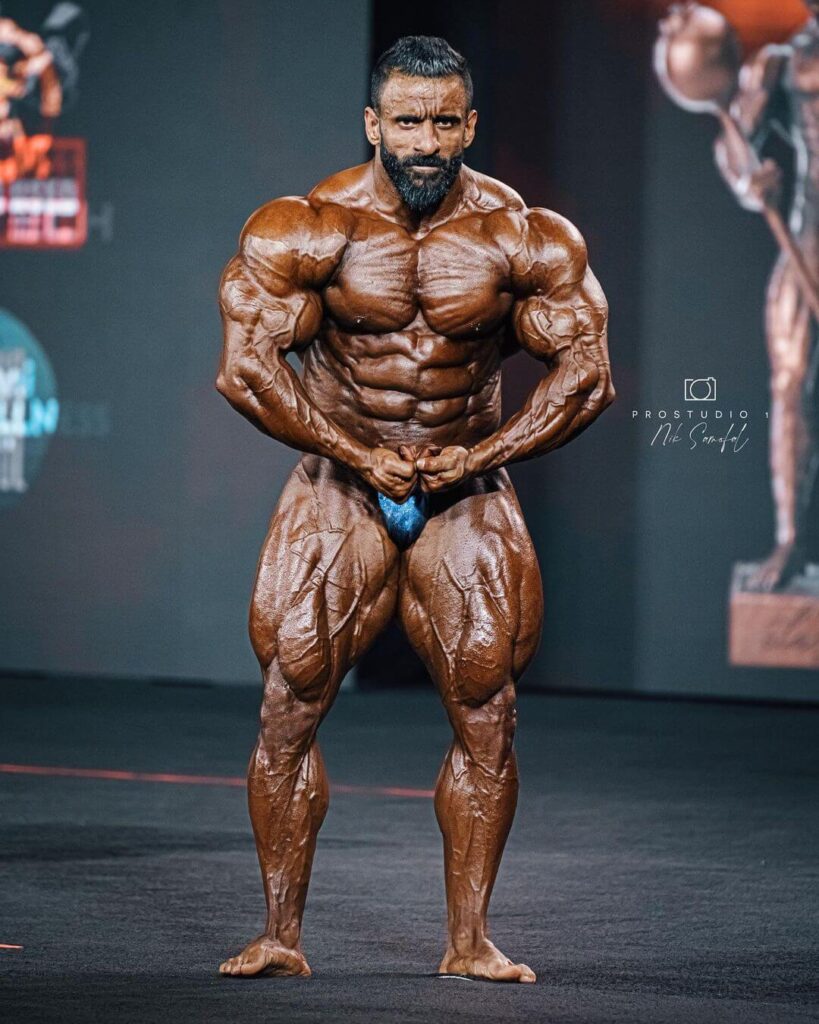 Hadi Choopan, who is currently deep into his preparations for the Mr. Olympia, took a brief hiatus from his intense training regimen to share his latest physique updates on Instagram.
In a series of striking poses, including the most muscular, back lat spread, and back double biceps, Hadi Choopan displayed his dedication and hard work.
In a heartfelt caption accompanying his photos, Hadi Choopan addressed a pressing issue in the world of bodybuilding—Photoshop manipulation.
He implored his followers not to engage in the deceptive practice and emphasized his commitment to authenticity.
Hadi Choopan's message was clear: he does not alter his images or videos using Photoshop or any other editing tools.
Such allegations of photo manipulation are not uncommon in the sport, and even other notable athletes like Vitaliy "Good Vito" Ugolnikov and Michal Krizo have faced similar accusations from fans.
In Hadi Choopan's own words, "I don't understand cheating. I don't know what cheating is, and I don't need to cheat."
His commitment to integrity and authenticity resonates with fans who admire the sport for its dedication and hard work.
While Brandon Curry has maintained a relatively low profile in the lead-up to the 2023 Mr. Olympia, his coach, Abdullah Alotaibi, recently treated fans to a tantalizing glimpse of Brandon Curry's physique, which left no room for doubt about his readiness for the competition.
In a caption that hinted at the impending showdown, Alotaibi wrote, "It's 8 weeks out… soon to bring the heat… be ready…!" The comment section of the post provided further validation, as Brandon Curry's coach confirmed that the picture was taken just days before its posting.
Despite the doubts cast by some prominent figures in the sport, Brandon Curry and Hadi Choopan are determined to prove their mettle on the Olympia stage.
Notably, eight-time Mr. Olympia Ronnie "The King" Coleman and 1983 Mr. Olympia Samir Bannout have predicted that Derek Lunsford will emerge victorious over Hadi Choopan this year.
Derek Lunsford himself remains resolute, anticipating another epic battle with Hadi Choopan for the coveted 2023 Olympia gold.
For Brandon Curry, a victory at the 2023 Mr. Olympia would place him in the illustrious company of bodybuilding legend Jay Cutler.
He would become only the second man in history to reclaim a Mr. Olympia title that he had previously surrendered.
As the countdown continues and the anticipation builds, one thing is clear: the 2023 Mr. Olympia will be a showcase of unparalleled dedication, fierce competition, and a testament to the indomitable spirit of bodybuilders like Hadi Choopan and Brandon Curry.
These titans of the Men's Open division are poised to leave an indelible mark on the history of bodybuilding, and fans around the world eagerly await their showdown in Orlando, Florida.