Former 212 Olympia champ Derek Lunsford recently showed fans his preparations for the 2023 Mr. Olympia with a revealing physique update.
Now competing in the Open division, Derek Lunsford appears well on track to bring an improved, shredded package to the bodybuilding world's biggest stage this December.
Just 12 weeks out from the showdown in Las Vegas, Derek Lunsford's combination of granite muscle and razor-sharp conditioning in his latest photos and videos serve notice – he will be a significant contender for the coveted Sandow trophy.
Background and Move to Open Division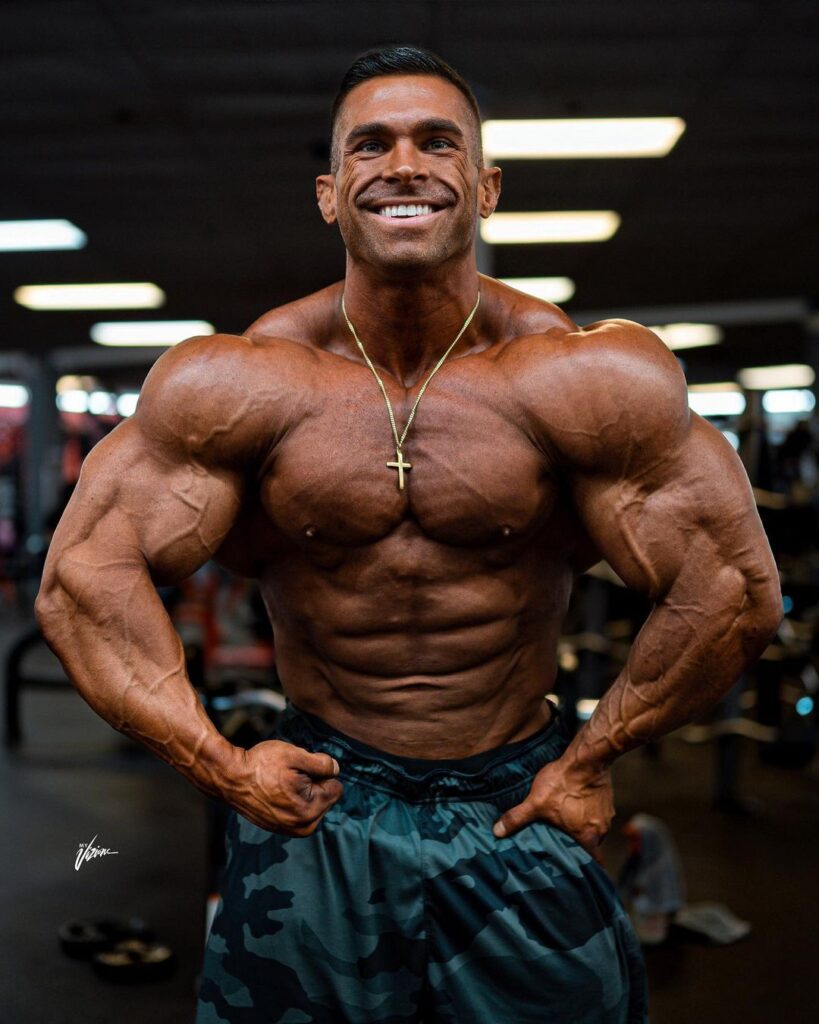 Derek Lunsford captured his first and thus far only Olympia title by winning the 212-pound division in 2021. However, after packing on significant size in the offseason, he faced a dilemma heading into the 2022 season.
No longer able to comfortably make the 212-pound weight cap, Derek Lunsford pondered competing in the Open alongside the mass monsters.
Initially, he seemed uncertain whether he could replicate his success against the behemoths of the sport.
Derek Lunsford overcame reservations and made his Open debut in commanding fashion at the 2022 Pittsburgh Pro. After blowing away the competition, Derek Lunsford earned a special invite to the 2022 Mr. Olympia Open contest.
In an inspiring debut, Derek Lunsford snatched runner-up to reigning champion Hadi Choopan. Derek Lunsford presented arguably the best overall package and conditioning on stage.
The performance served notice he would be a significant player in the Open division moving forward.
Current Olympia Prep Progress
If Derek Lunsford's latest 12-week out check-in is any indication, he looks to be on track to challenge Hadi Choopan for the 2023 Olympia crown.
Under the guidance of renowned coach Hany Rambod, Derek Lunsford's physique displays a level of hardness and detail ahead of schedule.
Derek Lunsford's genetic shape and structure shine through as he flows seamlessly through his trademark poses. Fans are already raving about his dramatically improved quad sweep and separation.
Known for his broad, heroic v-taper, Derek Lunsford's shoulders and back jump off the screen. Perhaps most encouraging is Lunsford's apparent leanness at just 12 weeks out.
His shredded glutes, hamstrings, and abdomen showcase the fruits of meticulous dieting. Derek Lunsford will have ample time to fill back out as the show approaches.
Dieting Approach and Training Style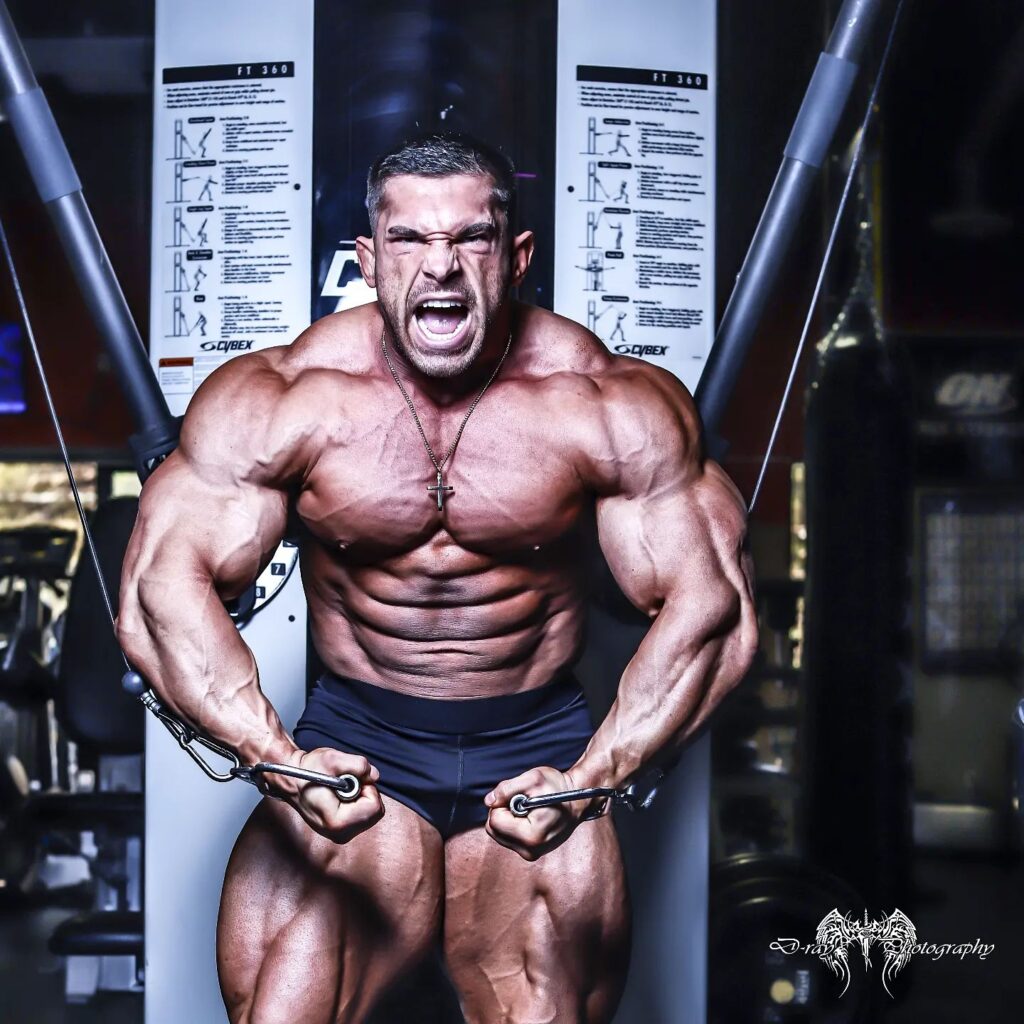 To support his Olympia quest, Derek Lunsford has adopted a clean, high-protein diet emphasizing chicken, fish, and lean beef. He avoids sugars and processed food, sticking to 5-6 meals daily to fuel his workouts and recovery.
Derek Lunsford trains with an intensity befitting his "Diesel" nickname. With Rambod's guidance, he has crafted a plan targeting weaknesses while maintaining his world-class shoulders and back.
Derek Lunsford increases cardio as the show nears but keeps lifting heavy to protect his hard-earned muscle.
Posing and Presentation
Derek Lunsford's posing routine has improved substantially through his collaboration with trainer Charles Glass.
He has tightened transitions and learned to highlight his physique's strong points. Derek Lunsford also exudes more confidence and comfort on stage – critical factors when battling the best of the best.
The Importance of Mindset
While physical prep is paramount, Derek Lunsford understands success on the Olympia stage goes deeper. In interviews, he emphasizes not becoming overwhelmed by pressure to win.
Derek Lunsford stays focused on what he can control – hard work, nutrition, and bringing his best.
This mindset propelled Derek Lunsford through doubts about moving to the Open class at age 35. It drives him daily through grueling workouts designed to perfect the final physique product.
If anyone can take Hadi Choopan this December, Derek Lunsford's mental tenacity combined with phenomenal genetics could get it done.
The Bodybuilding World Awaits Derek Lunsford 2.0
When he shocked fans by defeating Hadi Choopan and winning the 2021 Olympia 212 title, Derek Lunsford reached the pinnacle of his division. His focus now shifts to proving he has what it takes to stand atop the ultimate bodybuilding mountain.
Derek Lunsford appears primed to bring a more extensive, better package to Las Vegas this year if his steady progress is any indicator.
With an unwavering belief in his abilities, Derek Lunsford is determined to fulfill his destiny as just the fifth Mr. Olympia Open champion since 2011.
The bodybuilding world eagerly awaits the arrival of Derek Lunsford 2.0 on the Olympia stage. When he strips down and hits his trademark poses under the bright lights, fans may witness the birth of a new era.