In the world of Classic Physique bodybuilding, Chris Bumstead stands as a reigning legend. The four-time Classic Physique Olympia champion is on the cusp of making history once again as he prepares to defend his title at the 2023 Olympia contest.
In a rare and electrifying progress photo shared on September 11, 2023, 'Cbum' gave fans a jaw-dropping glimpse of what's to come.
Since Breon Ansley handed over the Classic Physique Olympia throne in 2019, Chris Bumstead has been a force to be reckoned with.
With an imposing X-frame, a chiseled V-taper, and a muscular density that commands attention, Chris Bumstead has extended his reign over the division with minimal resistance, securing a remarkable four Classic Physique Olympia titles.
What sets Chris Bumstead apart is not just his remarkable physique but his ability to connect with fans on a profound level.
Through his personal YouTube channel, he has candidly shared his struggles and mental battles, giving fans a glimpse into the inner workings of his journey.
The fear of failure has been a constant companion in his career, and he hasn't shied away from discussing the mental challenges he faces.
As September rolled in, the 28-year-old opened up about the grueling preparations for the 2023 Mr. Olympia, describing it as one of the most demanding periods of his career.
Personal matters have weighed heavily on his mind, and despite occasional mentions of retirement, it's clear that his primary focus right now is to shock the world with his best-ever physique in just seven weeks.
A Glimpse of Monstrous Size: Chris Bumstead's Physique Update
In his latest offering to his legion of fans, Chris Bumstead appears to be ticking all the boxes as he gears up for his title defense at the 2023 Olympia, scheduled for November 2-5 in Orlando, Florida.
The update showcases a colossal amount of muscle mass, a level of fullness that's nothing short of astounding, and a tantalizing glimpse of his leg development. For Chris Bumstead, the last few months have been nothing short of a trial by fire.
He faced the monumental challenge of competing at the 2022 Olympia with a torn bicep, a testament to his unwavering commitment to the sport.
Adding to his list of challenges, his brother-in-law and former coach, Iain Valliere, decided to step down from his coaching role.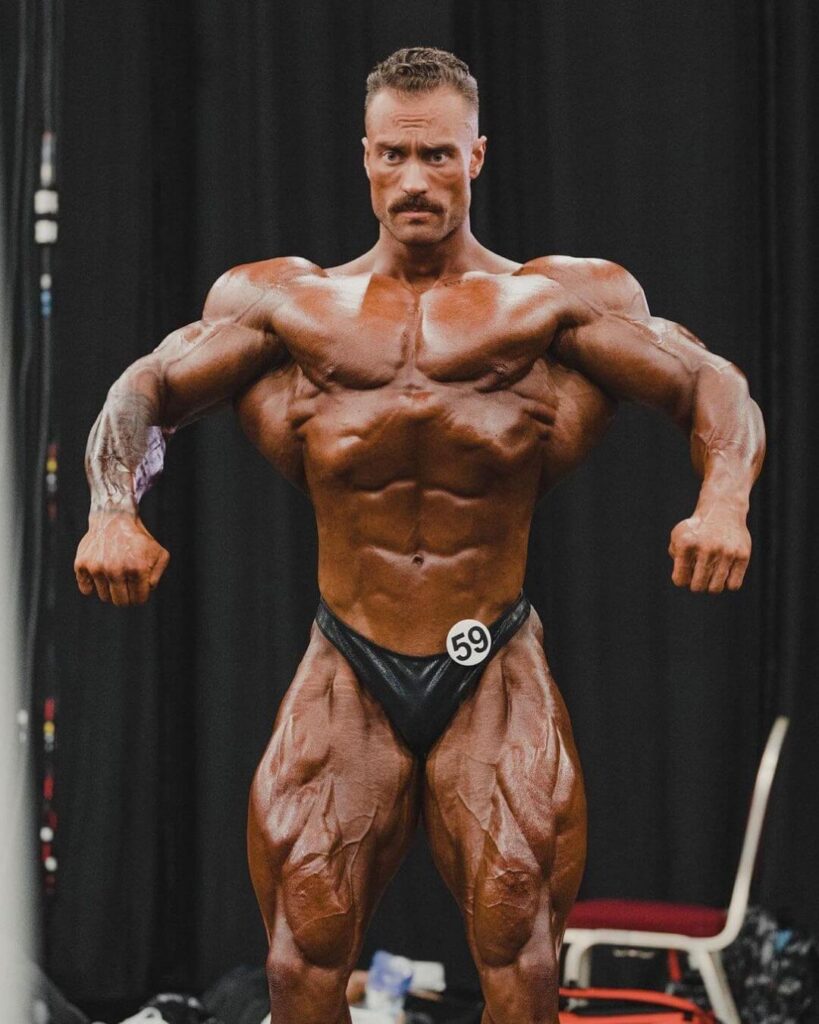 Although Chris Bumstead teamed up with renowned bodybuilding coach Hany Rambod for a 12-week training camp last year, fans are eagerly awaiting the results of a full season under Hany Rambod's guidance.
On September 7, Iain Valliere officially announced his retirement from competitive bodybuilding. The question now lingers whether the two will reunite for Chris Bumstead's Olympia preparations, adding a layer of intrigue to the champion's journey.
Chris Bumstead has recently unveiled the 'Bum Lifting Club,' a private gym where he intends to sculpt his physique in seclusion. This move adds an air of mystery to the package he plans to unveil in just a few weeks.
As fans eagerly await the unveiling of Chris Bumstead's masterpiece at the 2023 Mr. Olympia, one thing is certain: the champion is poised to make history once again, leaving an indelible mark on the world of Classic Physique bodybuilding.