Reigning Classic Physique Olympia champion Chris Bumstead has made it clear he does not view rival Ramon Dino as a serious threat to his title.
Speaking on an Olympia TV interview just weeks out from the 2023 Olympia, Cbum brushed off Ramon Dino's ambitions and stated he is only competing against himself.
Since capturing the Classic Physique crown in 2019, Chris Bumstead has defended it successfully three times.
His dominance of the division appears secure, having defeated Ramon Dino by a substantial margin last year even with a torn bicep.
Now fully recovered, Chris Bumstead plans to continue asserting his superiority at the 2023 Olympia.
Ramon Dino earned runner-up honors to Chris Bumstead last December and was hungry to close the gap. He hit the stage again in early March at the Arnold Classic looking sharper.
Chris Bumstead acknowledged that Ramon Dino came in leaner and tighter with improvements to his conditioning.
However, Chris Bumstead was unwilling to praise Ramon Dino's posing routine, which could be a weak point.
He claimed to be so focused on his prep that he did not notice Ramon Dino on stage. Chris Bumstead sees no obvious flaws but won't give Ramon Dino full credit for potentially refining his posing.
With nine weeks left until Olympia, Ramon Dino still has ample time to sharpen his physique and stage presence further.
But in Chris Bumstead's eyes, he remains far ahead of any possible improvements Ramon Dino can make.
When asked directly if Ramon Dino and third-place finisher Urs Kalecinski were battling for second behind him, Chris Bumstead did not hesitate. "I do," he responded confidently, making it clear the other two men were competing for scraps.
Chris Bumstead explained that his strategy remains introspective – to push himself to be better than the version that dominated last year.
He does not study or adjust based on Ramon Dino and Urs Kalecinski's progress. In Chris Bumstead's mind, if he brings his best, the other competitors cannot touch him.
This mindset echoes Chris Bumstead's words before last year's Olympia: "I don't have to be better than them they have to be better than me."
He sets the standard that the rest of the division must reach. So far, no one has come close.
Improving His Back Poses Played a Key Role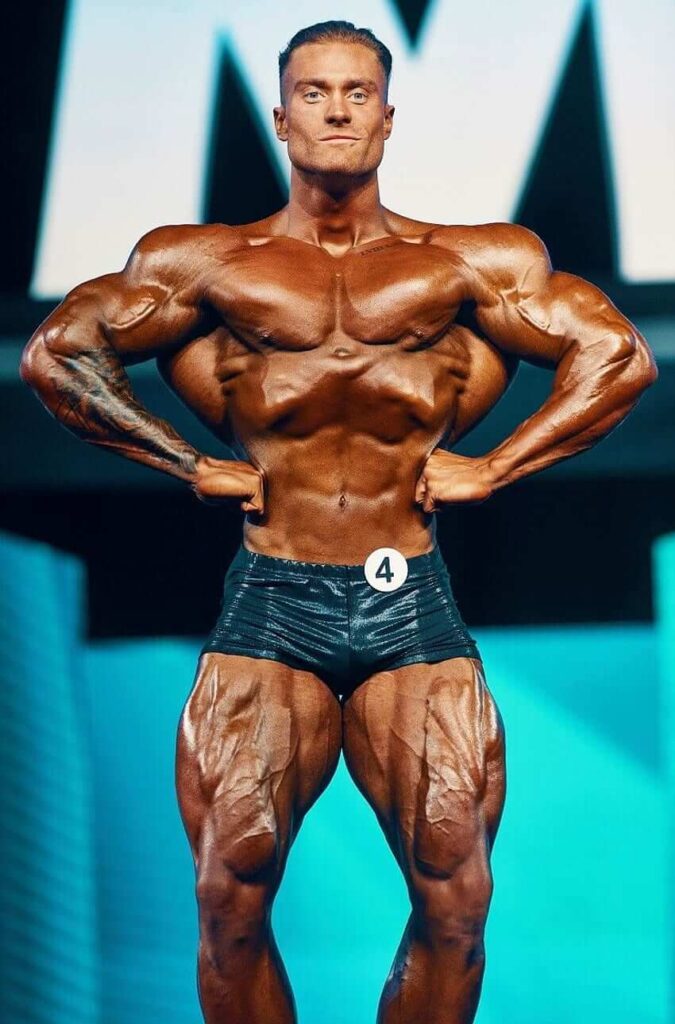 One area Chris Bumstead felt he had an advantage last year was his back. His posing has evolved to better display his lats, traps, and erectors.
Chris Bumstead credits changing his back double biceps pose between 2019 and 2020 for unlocking significant gains.
Rather than crunching his lower back, Chris Bumstead now elongates his spine to stretch the lats out wide.
This instantly gave his back more width and thickness. Learning to feel and squeeze his back muscles harder when hitting this pose built a greater mind-muscle connection.
In the gym, this allowed Chris Bumstead to target and isolate his back more effectively.
The result was a visible progression in back thickness and density each year. Refining small details in his posing helped spur tangible muscle growth.
With Chris Bumstead's back seemingly impenetrable, Ramon Dino may have to challenge him on a more even playing field.
When asked if he would hunt down Chris Bumstead if he ever moved up to the Open division, Ramon Dino responded "Yes."
Chris Bumstead once again appeared unconcerned, stating "I think it would be the same story." Open competitors generally weigh 40-60 pounds more than Classic Physique athletes.
But Chris Bumstead believes his structural advantages would translate even when facing larger opponents.
Fans have long wondered how Chris Bumstead would fare in the Open division. He possesses a similar shape and lines to Open greats like Lee Haney and Flex Wheeler.
Theoretically, Chris Bumstead could add size while maintaining aesthetics. For now, Chris Bumstead continues teasing a future Open run but nothing is imminent.
His sole focus is defending his Classic Physique Olympia title first. But the prospect of Chris Bumstead battling monsters like Hadi Choopan and Nick Walker remains intriguing.
Cbum Eager to Showcase Improvements on Olympia Stage
With his fifth Classic Physique Olympia win in sight, some could expect Chris Bumstead to coast into the 2023 event. But as his back pose indicated, he diligently works to refine small details each prep.
Hany Rambod will have a strategy to bring Chris Bumstead's best look yet to the stage in November. They aim to beat the version of Cbum that dominated last year, not the other competitors.
Chris Bumstead likely has his eye on Flex Wheeler's record of four consecutive Olympia wins from 1993 to 1996.
By matching Flex Wheeler's feat, Chris Bumstead will cement his legacy as one of the greatest Classic Physique competitors ever.
But to make history, Chris Bumstead will need to hold off the ascent of Ramon Dino and Urs Kalecinski. Both men have made noticeable improvements since last year.
But if Chris Bumstead brings the trademark combination of shape, proportions, and condition that has defined his reign, few expect he will relinquish the crown any time soon.