Flex Wheeler, a retired IFBB Professional Open division bodybuilder, is widely regarded as one of the greatest bodybuilders in history, with numerous significant titles.
Flex Wheeler was born Kenneth Wheeler on August 23, 1965, in Fresno, California Flex overcame a challenging upbringing marked by financial struggles and physical abuse. These hardships took a toll on his mental health, leading to thoughts of suicide.
Fortunately, Flex discovered solace and a positive outlet in martial arts and weight training, which he carried into adulthood.
Despite considering himself a "martial artist first and a bodybuilder second," Flex excelled in both disciplines, winning several martial arts tournaments during his bodybuilding career.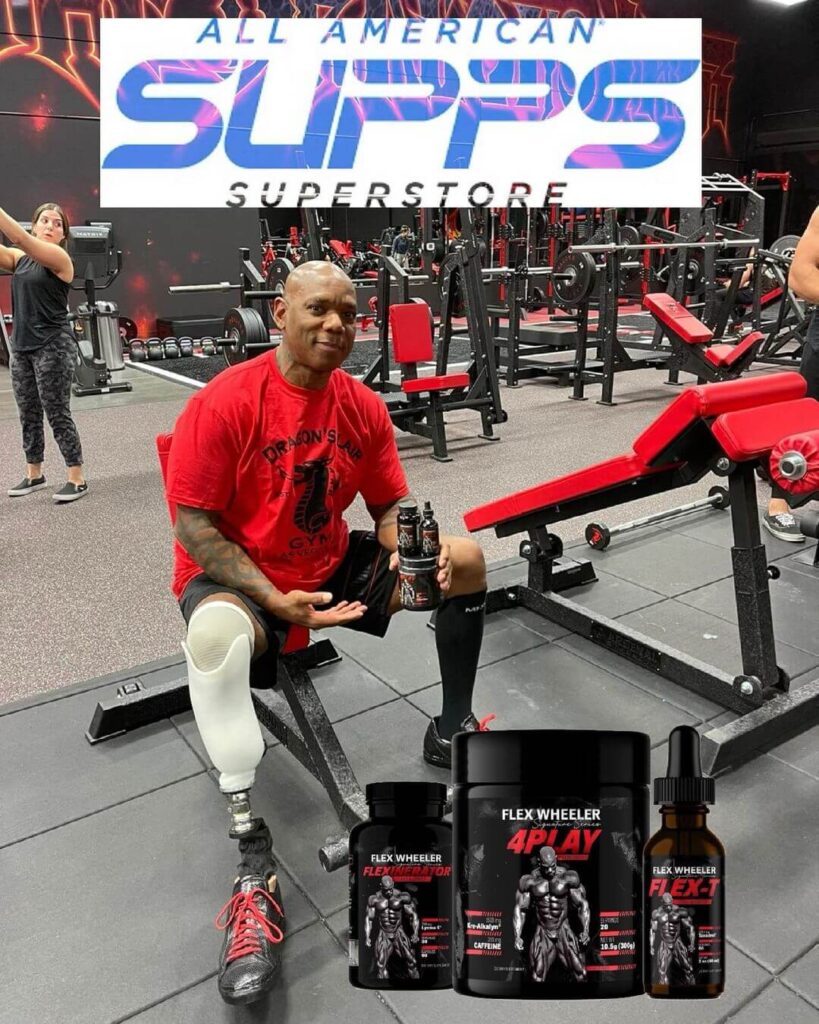 Eventually, he had to choose between the two paths and pursued bodybuilding due to its more significant opportunities. Flex earned his nickname due to his impressive flexibility and ability to perform splits, not solely because he flexed his muscles as a bodybuilder.
He was skinny in high school, weighing only 44 kg, which earned him the moniker "Skinny Kenny." Even upon graduating, his weight remained the same. He faced concerns over participating in football due to the risk of serious injury posed by his size.
Determined to change his physique, Flex began weight training and developed a passion for it. His father even bought him a plastic set of 110-pound (49 kg) cement weights. At the time, his goal was to bench press 110 pounds, but he struggled to achieve it.
As the story goes, Flex Wheeler became an all-time bodybuilding legend. Even the illustrious 7-time Mr. Olympia Arnold Schwarzenegger has hailed him as one of the greatest bodybuilders he has ever witnessed, and he is not alone in his praise.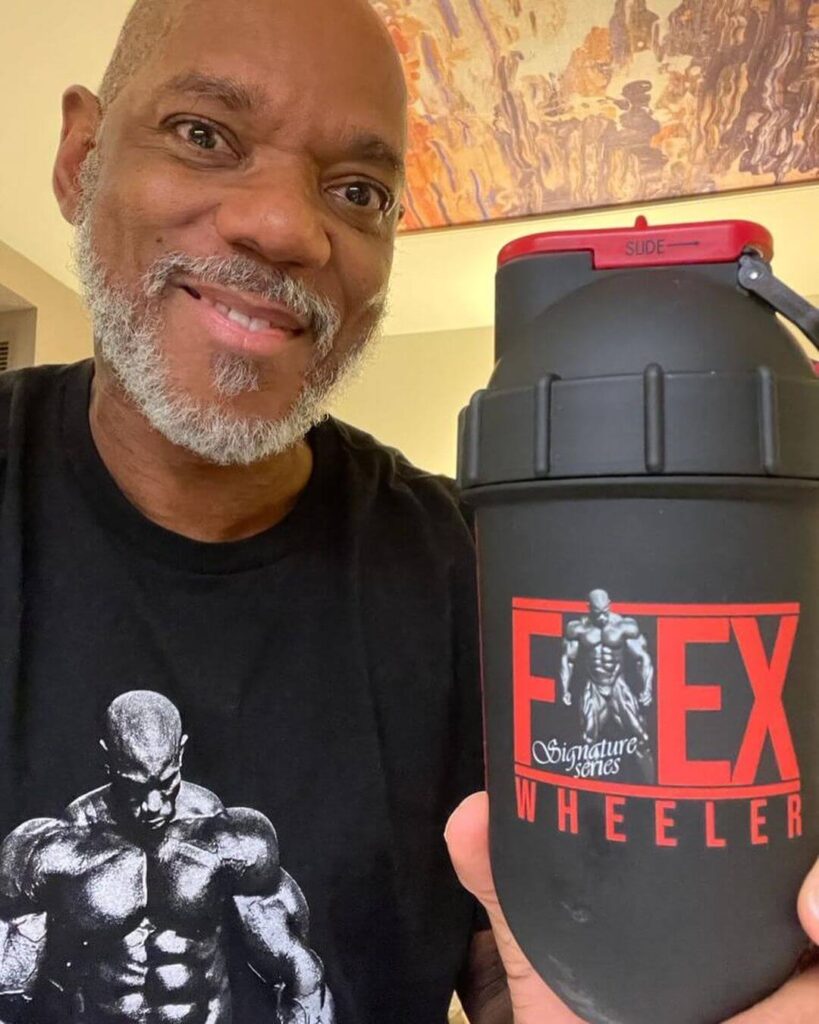 Flex made his competition debut in 1983, with his first victory being the 1985 Teen Mr. American Medium Tall. In 1992, he obtained his Pro Card by winning the USA Championships Heavyweight and Overall titles. After a brief stint as a police officer, he committed himself full-time to bodybuilding.
This marked the beginning of his illustrious career, highlighted by his triumph in the 1993 Arnold Classic, the second most prestigious event after the Mr. Olympia competition.
At the time, this was a record number of wins for the Arnold Classic. Flex also secured victories in the Arnold Classic in 1997, 1998, and 2000.
He is also a 5-time Ironman Pro winner and emerged victorious in competitions such as the France Grand Prix, South Beach Pro Invitational, Night of Champions, and Hungarian Grand Prix.
Despite being the runner-up to 6-time, Mr. Olympia champion Dorian Yates in 1993 and finishing second behind 8-time Mr. Olympia Ronnie Coleman in 1998 and 1999, Flex never claimed the coveted Mr. Olympia title.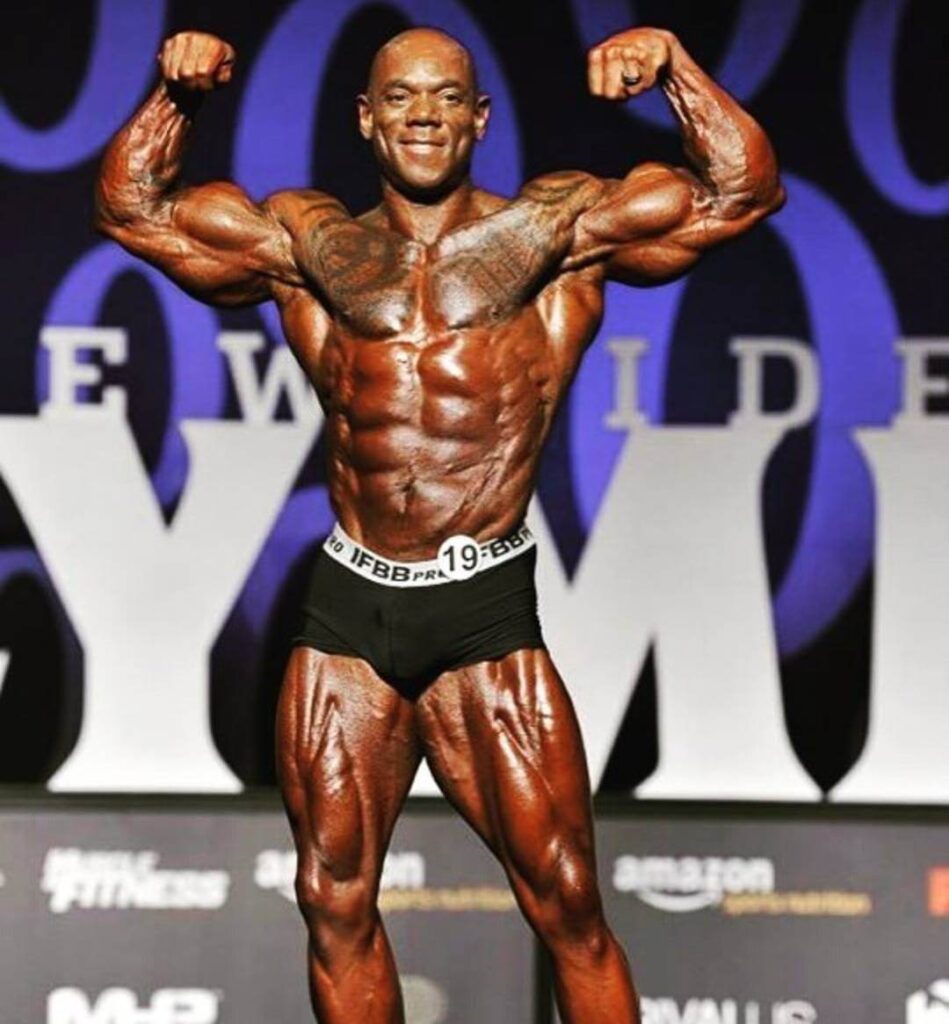 Many enthusiasts consider him an uncrowned Olympia champion, alongside renowned figures like Shawn Ray, Kevin Levrone, and Lee Priest.
Flex Wheeler retired from competitive bodybuilding in 2003 but briefly returned to the Classic Physique division in 2017, finishing 15th before officially concluding his competitive career.
A true icon in bodybuilding, Flex Wheeler was destined for greatness in the sport. His incredible physique and unmatched development will forever be etched in fellow competitors, current athletes, and fans' memories.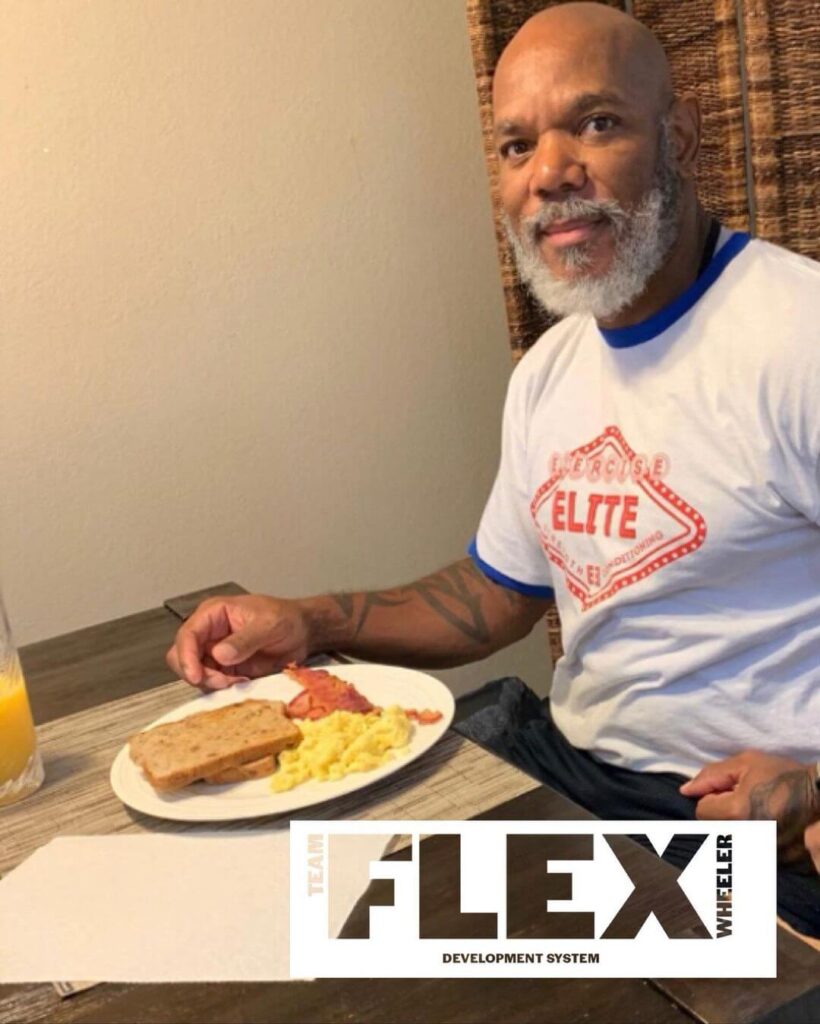 Due to his kidney issues, Flex Wheeler has had to modify his diet from his competitive days. His current nutrition plan incorporates lean protein sources, healthy carbohydrates, and good fats.
While specific details about his diet during his competitive career are limited, it is known that staples for a professional bodybuilder in the Pro division included beef, chicken, eggs, potatoes, and rice. To support his health and well-being, Flex Wheeler's current diet emphasizes the following elements:
Lean Protein Sources
Flex Wheeler includes lean protein sources to support muscle maintenance and recovery. This may include skinless chicken breast, turkey, fish, lean cuts of beef, and egg whites.
Healthy Carbohydrates
Complex carbohydrates are essential to Wheeler's diet to provide sustained energy for his daily activities. He may incorporate sweet potatoes, brown rice, quinoa, whole grains, and vegetables.
Good Fats
Healthy fats are included in his diet to support overall health and provide essential nutrients. Sources of good fats may consist of avocados, nuts and seeds, olive oil, and fatty fish like salmon.
Nutrient Variety
Wheeler likely incorporates a variety of fruits and vegetables to ensure he gets a wide range of essential vitamins, minerals, and antioxidants for optimal health and recovery.
Hydration
Staying hydrated is crucial for overall well-being, and Wheeler will likely prioritize drinking adequate water throughout the day.
Flex Wheeler's meal plan during his prime time consisted of six meals that provided him with a balance of protein, carbohydrates, and vegetables.
Here is an overview of his meal plan:
Egg whites 6
Whole eggs 2
Oatmeal 1 cup
Peanut butter 1 tablespoon
Grilled chicken breast 200 g
Salad
Ground turkey 200 g
White rice 1 bowl
Broccoli
Whey protein 2 scoops
Banana 1
Peanut butter 1 tablespoon
Steak 200 g
Brown rice 1 cup
Asparagus
Grilled chicken breast 200 g
Sweet potato 120 g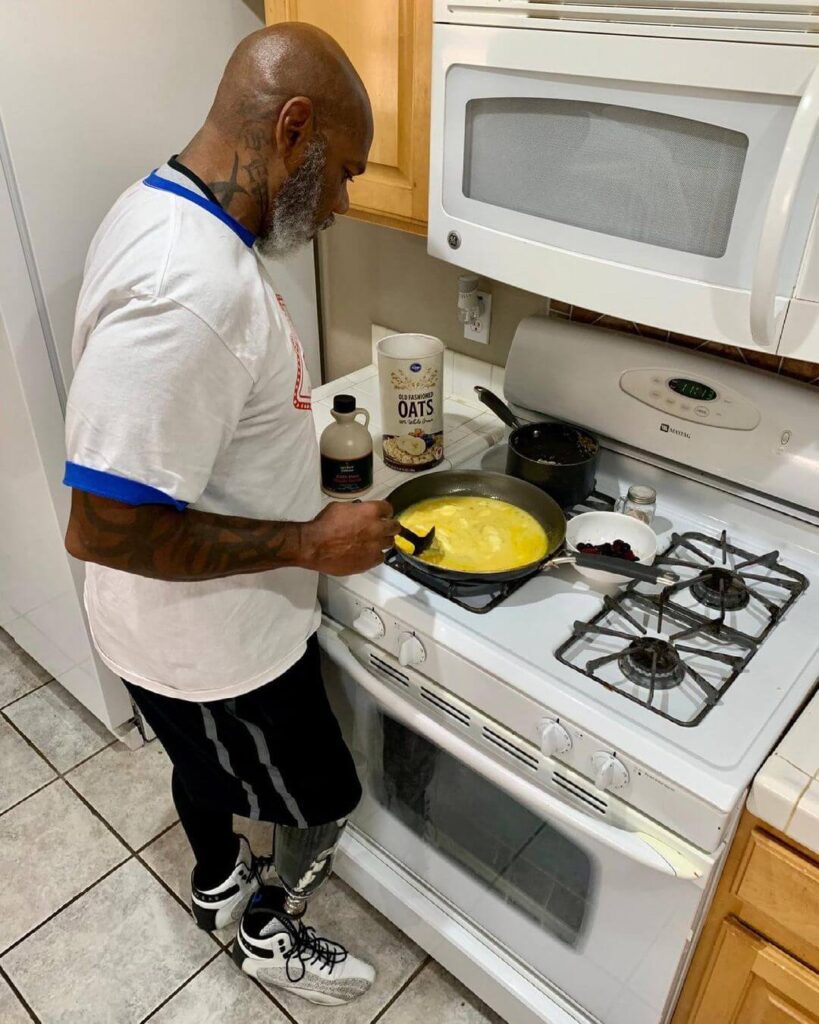 This meal plan includes lean protein sources such as chicken, turkey, steak, and eggs, essential for muscle development and repair.
It also incorporates complex carbohydrates from sources like oatmeal, rice, and sweet potato, providing sustained energy for workouts and recovery.
The meals are balanced with vegetables like broccoli, asparagus, and spinach, which offer essential vitamins, minerals, and fiber.
Flex Wheeler followed a rigorous workout routine during his prime time to maximize muscle growth and overall physique development.
He trained under the guidance of renowned coach Charles Glass and often trained alongside fellow IFBB Pro Chris Cormier.
Here is an overview of Flex Wheeler's workout routine based on his Olympia days:
Monday: Back Workout
| | |
| --- | --- |
| Wide-Grip Pull-Ups | 4 Sets of 8-10 Reps |
| Landmine Rows | 4 Sets of 8-10 Reps |
| Cable V-Bar Lat Pulldown | 4 Sets of 8-10 Reps |
| Smith Machine Underhand Stiff-Leg Deadlift | 4 Sets of 8-10 Reps |
| Smith Machine Overhand Stiff-Leg Deadlift | 4 Sets of 8-10 Reps |
Tuesday: Chest Workout
| | |
| --- | --- |
| Incline Barbell Press | 4 Sets of 8-12 Reps |
| Incline Dumbbell Fly | 4 Sets of 8-12 Reps |
| Hammer Strength Incline Press | 5 Sets of 8-10 Reps |
| Standing Cable Chest Fly | 5 Sets of 8-10 Reps |
Wednesday: Legs Workout
| | |
| --- | --- |
| Leg Press | 8 Sets of 8-10 Reps |
| V-Squat/Hack Squat Machine | 8 Sets of 8-10 Reps |
| Leg Extensions | 8 Sets of 8-10 Reps |
Thursday: Shoulders Workout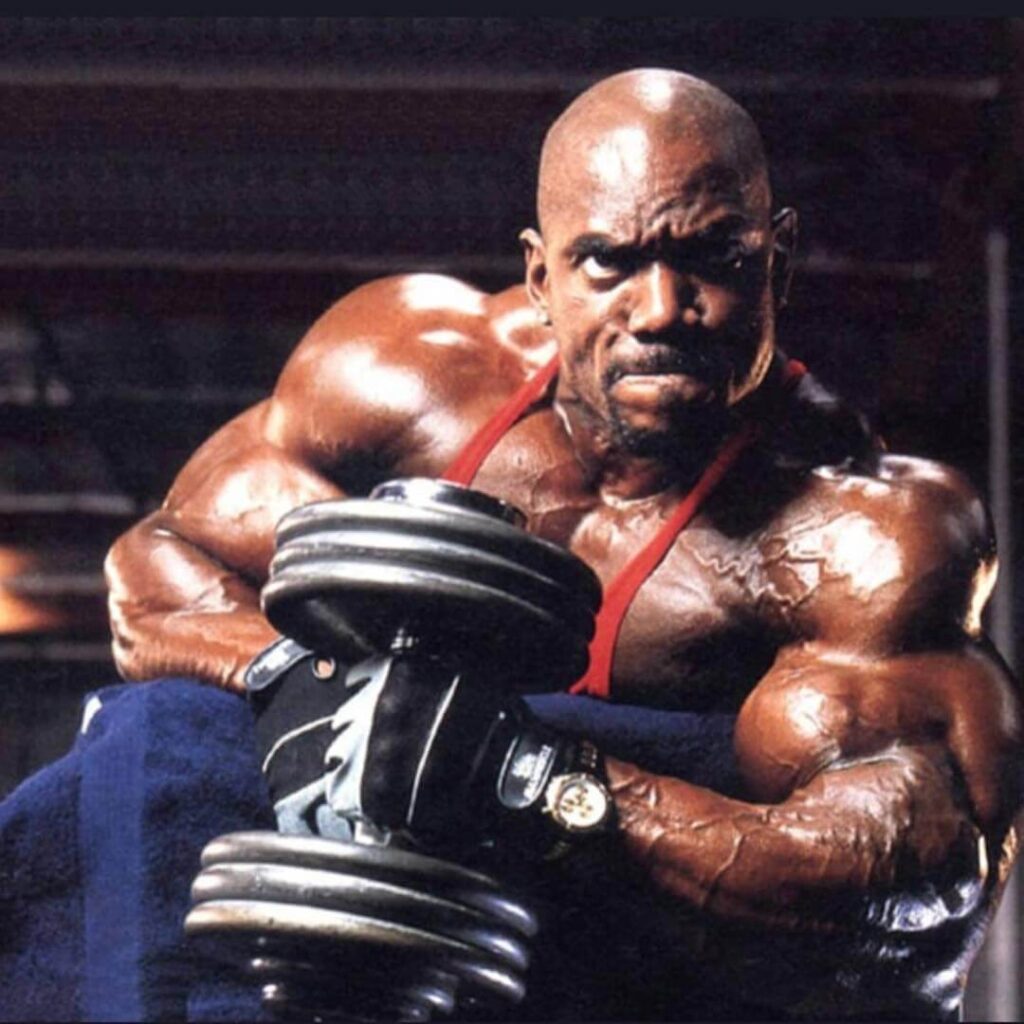 | | |
| --- | --- |
| Chest-Supported Reverse Dumbbell Flys | 4 Sets of 8-12 Reps |
| Smith Machine Upright Rows | 4 Sets of 8-12 Reps |
| Chest-Supported Dumbbell Front Raise | 4 Sets of 8-12 Reps |
| Smith Machine Shoulder Press | 4 Sets of 8-12 Reps |
Friday: Arm Workout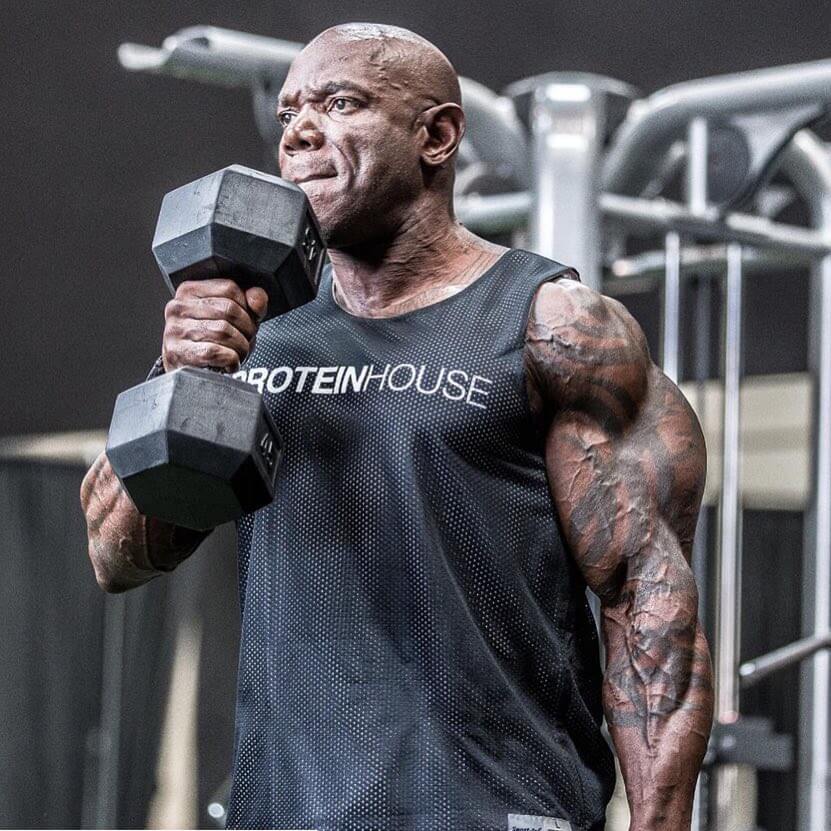 | | |
| --- | --- |
| Cable Close-Grip Triceps Pushdowns | 5 Sets of 8-12 Reps |
| Single-Arm Preacher Curl | 5 Sets of 8-12 Reps |
| Machine Dips | 5 Sets of 8-12 Reps |
| Cable Single-Arm Forward-Leaning Triceps Rope Extensions | 4 Sets of 8-12 Reps |
| Dumbbell Concentration Curls | 4 Sets of 8-12 Reps |
Saturday and Sunday: Rest
Despite facing challenges and experiencing a prosthetic leg procedure, Flex Wheeler restarts to train now, showcasing his unwavering determination and resilience.