The world of bodybuilding is abuzz with anticipation as Hadi Choopan, the reigning Mr. Olympia champion, gears up for the 2023 showdown.
With just eight weeks remaining until he steps onto the grand stage, Hadi Choopan recently sent shockwaves through the bodybuilding community with a sneak peek of his monumental back and impeccable physique on Instagram.
As the Persian Wolf readies himself for the ultimate challenge, fans and competitors alike are on the edge of their seats, eager to witness if Hadi Choopan can retain his coveted title.
Hadi Choopan's Remarkable Journey: From 212 to Open Division
Hadi Choopan's ascent in the bodybuilding world is nothing short of remarkable.
The Iranian bodybuilder embarked on his IFBB Pro career in 2017, initially competing in the Men's 212 Bodybuilding division.
It wasn't long before Hadi Choopan's exceptional talent and dedication began to shine.
In 2017, he achieved a significant milestone by winning the Amateur Mr. Olympia, a clear sign of his potential.
Shortly after that, he secured a second-place finish at the Asia Grand Prix, narrowly missing out on the top spot.
These early successes laid the foundation for what would become an illustrious career.
The pivotal moment came in 2019 when Hadi Choopan transitioned to the Men's Open division.
His debut in this category at the Vancouver Pro was nothing short of spectacular, earning him the ticket to his first-ever Mr. Olympia competition, where he clinched an impressive third-place finish. This was just the beginning of his journey to the top.
The Triumph of "The Persian Wolf" in 2022
2022 marked a turning point in Hadi Choopan's career. At the prestigious Mr. Olympia competition, he faced off against some of the industry's finest athletes, including Derek Lunsford and Nick Walker.
However, to claim the coveted Sandow trophy, Hadi Choopan had to do the seemingly impossible – dethrone the formidable 'Big Ramy,' who was considered a favorite.
In an awe-inspiring display of skill, dedication, and sheer determination, Hadi Choopan emerged victorious, cementing his status as the new Mr. Olympia.
His triumph was met with celebration in his homeland, where he received a hero's welcome.
In a fitting tribute to his success, a 10-foot statue was erected in his honor, symbolizing his monumental achievement.
The Challenge Ahead: Derek Lunsford and Competitors
As the bodybuilding community looks forward to the 2023 Mr. Olympia, speculation runs high about Hadi Choopan's ability to defend his title.
The competition promises to be fierce, with formidable opponents like Derek Lunsford and Samson Dauda aiming to seize the crown.
Nick Walker, fresh from a silver medal win at the 2023 Arnold Classic, is also in contention and has expressed his confidence heading into his third Mr. Olympia appearance.
Amidst the uncertainty, some prominent figures in the bodybuilding world, including eight-time Mr. Olympia Ronnie Coleman, believe that Choopan may be dethroned.
However, others like William Bonac express unwavering faith in Choopan's ability to remain the champion.
One of the most intriguing aspects of this year's Mr. Olympia competition is the showdown between Hadi Choopan and his teammate Derek Lunsford.
With both athletes representing the same camp, fans are anticipating a clash of titans that promises fireworks and drama. Hadi Choopan's determination and hunger to defend his title have only intensified, fueling the excitement surrounding this epic battle.
A Glimpse of Hadi Choopan's Preparation: The Late-Night Revelation
In a recent Instagram post, Hadi Choopan provided a tantalizing glimpse of his back detail, a feature believed to be a strength of his rival Derek Lunsford.
The post, shared at the unconventional hour of 1:45 a.m., hinted at Choopan's relentless work ethic and commitment to perfection.
"I can't sleep 🤨🤨🤨🤨😵‍💫😵‍💫😵‍💫😵‍💫😵‍💫😵‍💫1:45 in the night 🥴🥴🥴🥴🥴🥴let's play 🥴🥴🥴🥴🥴. Sorry, I don't have a professional camera and photoshop 🙏🙏💡💡💡💡💡," Choopan humorously captioned his post, acknowledging his dedication even in the early hours of the morning.
A Champion's Resolve
Hadi Choopan's journey to the 2023 Mr. Olympia is a testament to his unwavering dedication, resilience, and pursuit of excellence.
As he prepares to defend his title against a formidable lineup of competitors, Hadi Choopan's journey embodies the spirit of a true champion.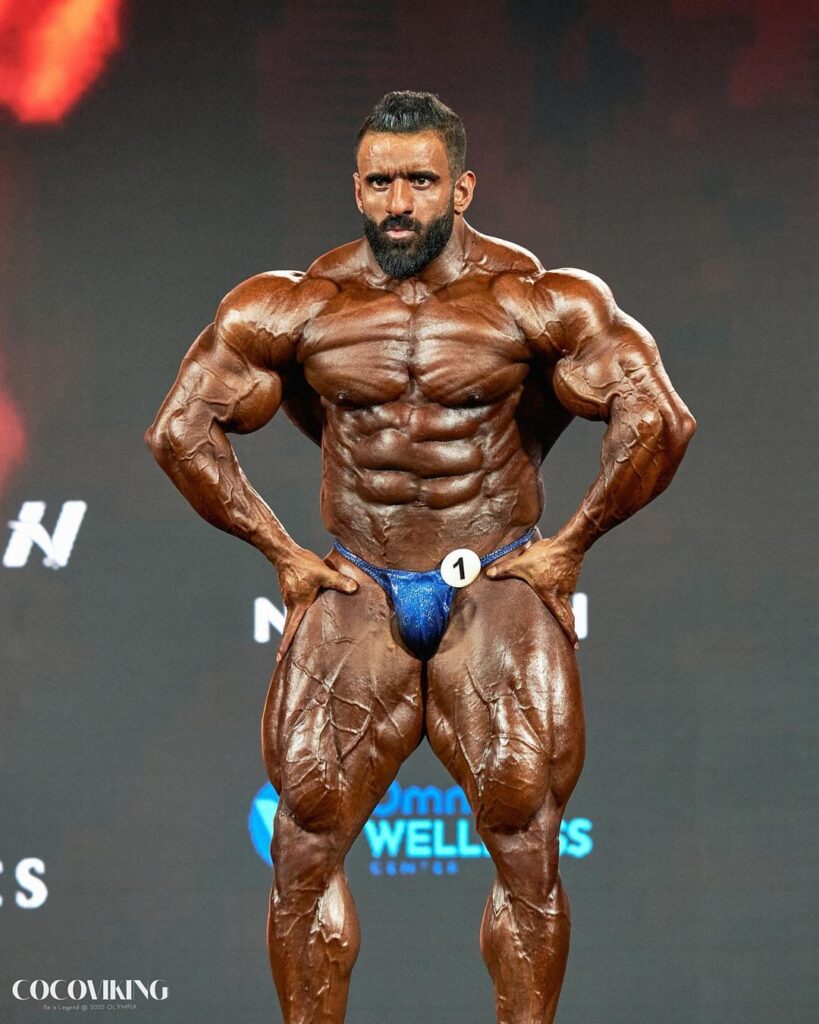 The bodybuilding world eagerly awaits the spectacle that will unfold on the grand stage.
Will Hadi Choopan retain his throne, or will a new champion emerge?
With only eight weeks remaining, the countdown to the 2023 Mr. Olympia has begun, promising fans and enthusiasts an unforgettable showdown in the world of bodybuilding.
As Hadi Choopan continues to push his limits and refine his physique, one thing is certain – the Persian Wolf is prepared to face any challenge that comes his way, fueled by the desire to etch his name further into the annals of bodybuilding history.