Ronnie Coleman, the legendary bodybuilder, and eight-time Mr. Olympia champion are known for his huge and impressive physique.
However, achieving such a body requires dedication, hard work, and, most importantly, a rigid diet plan. But who was Ronnie Coleman before he became a bodybuilding legend?
Coleman was born in Louisiana Coleman used his physical prowess to excel in football and played for the Grambling State University Tigers. After completing his graduation in accounting, he relocated to Texas but struggled to secure work as a Police Officer.
He briefly worked at a Pizza plant before starting a bodybuilding career. During his Pollice career, he was introduced to bodybuilding, and the rest is history.
Ronnie Coleman Meal Plan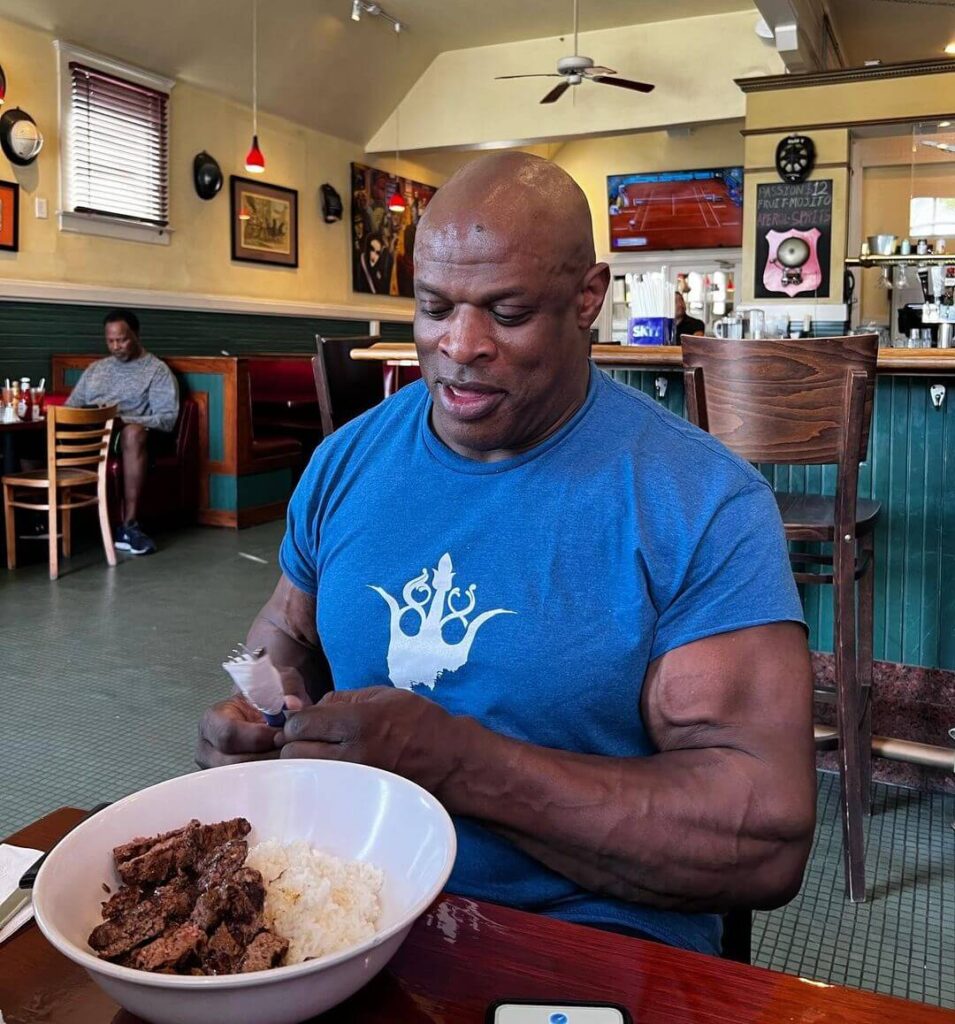 Ronnie Coleman Meal 1
6 egg whites
2 whole eggs
1 cup of grits
2 slices of toast with jelly
1 banana
1 cup of coffee
Ronnie Coleman Meal 2
2 chicken breasts
1 cup of brown rice
1 cup of broccoli
Ronnie Coleman Meal 3
2 cans of tuna fish
2 slices of bread
1 apple
Ronnie Coleman Meal 4
2 chicken breasts
1 sweet potato
1 cup of green beans
Ronnie Coleman Meal 5
2 cans of tuna fish
2 slices of bread
1 apple
Ronnie Coleman Meal 6
2 chicken breasts
1 cup of brown rice
1 cup of broccoli
Ronnie Coleman Meal 7
1 protein shake with 2 scoops of protein powder and 1 cup of skim milk
Ronnie Coleman Diet Chart
Here is Ronnie Coleman's diet chart
Meal 1 (10:30 am):
3 to 5 grams of L-arginine supplement
¾ cup grits with cheese
2 cups egg whites
1 cup coffee
Pre-Workout (12:30 pm):
Pre-workout supplements
3 to 5 grams of L-arginine
Meal 2 (4 pm):
2 chicken breasts (8 oz)
1 ½ cups brown rice
1 ½ cups red beans
2 pieces cornbread
Post-Workout (6:30 pm):
About 3 grams of L-arginine
Meal 3 (7 pm):
2 chicken breasts (8 oz)
1 medium baked potato
10 oz filet mignon
Meal 4 (10 pm):
5 oz chicken breast
1 medium baked potato
French fries
1 serving of branched-chain amino acids (BCAA)
Meal 5 (1:30 am):
4 scoops of whey blend protein powder.
Ronnie Coleman Supplements
Ronnie Coleman is known to have a supplement regimen that supports him in maintaining his overall health and wellness.
He had a tackle box full of vitamins and minerals, including joint capsules, vitamin E, vitamin C, CoQ10, chromium, calcium, magnesium and zinc electrolytes, multi-mineral, Humanfort for kidney and hormone health, aspirin, omega fatty acids, echinacea, multivitamin/multimineral for cramps, saw palmetto and prostate health supplement, and Advil for headaches.
He took supplements for specific health concerns such as heart, immune, blood sugar, and prostate health. He also took supplements to maintain electrolyte balance, joint health, and overall wellness.
Coleman's supplement regimen is a testament to his commitment to health and fitness, and it likely played a significant role in his success as a bodybuilder.
Ronnie Coleman Protein Intake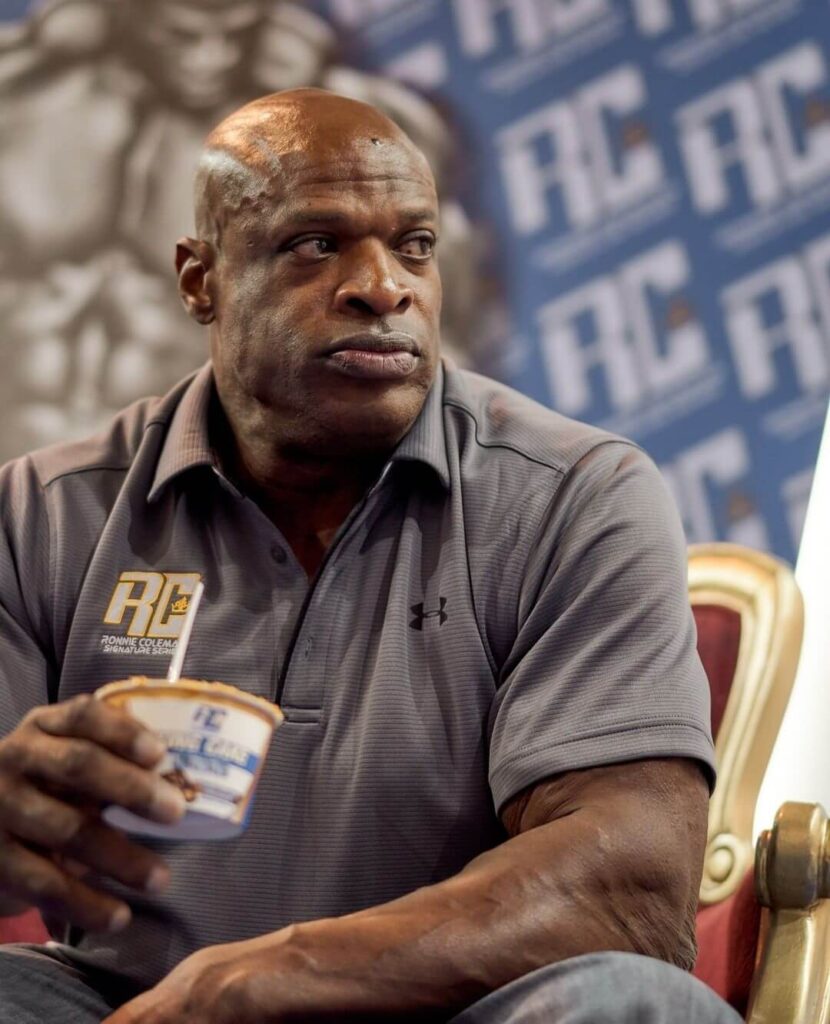 Ronnie Coleman's protein intake was a crucial component of his diet as a pro bodybuilder. Coleman disclosed that he consumed about six meals daily a pound of grilled chicken breast and half a cup of rice.
He stated that his diet primarily focused on lean proteins and minimal carbs to maintain his physique. Coleman mentioned that he had to wake up in the middle of the night to eat and go back to sleep due to the volume of food he consumed.
He stated that he got hungry every two or three hours because he consumed not much fat or carbs but rather small portions of lean protein throughout the day.
It's important to note that protein intake is vital for muscle growth and repair, making it a crucial part of a bodybuilder's diet.
Coleman's commitment to consuming adequate protein significantly impacted his success as a bodybuilder, contributing to his impressive physique and record-breaking wins in Mr. Olympia competitions.
Ronnie Coleman Protein Intake Per Day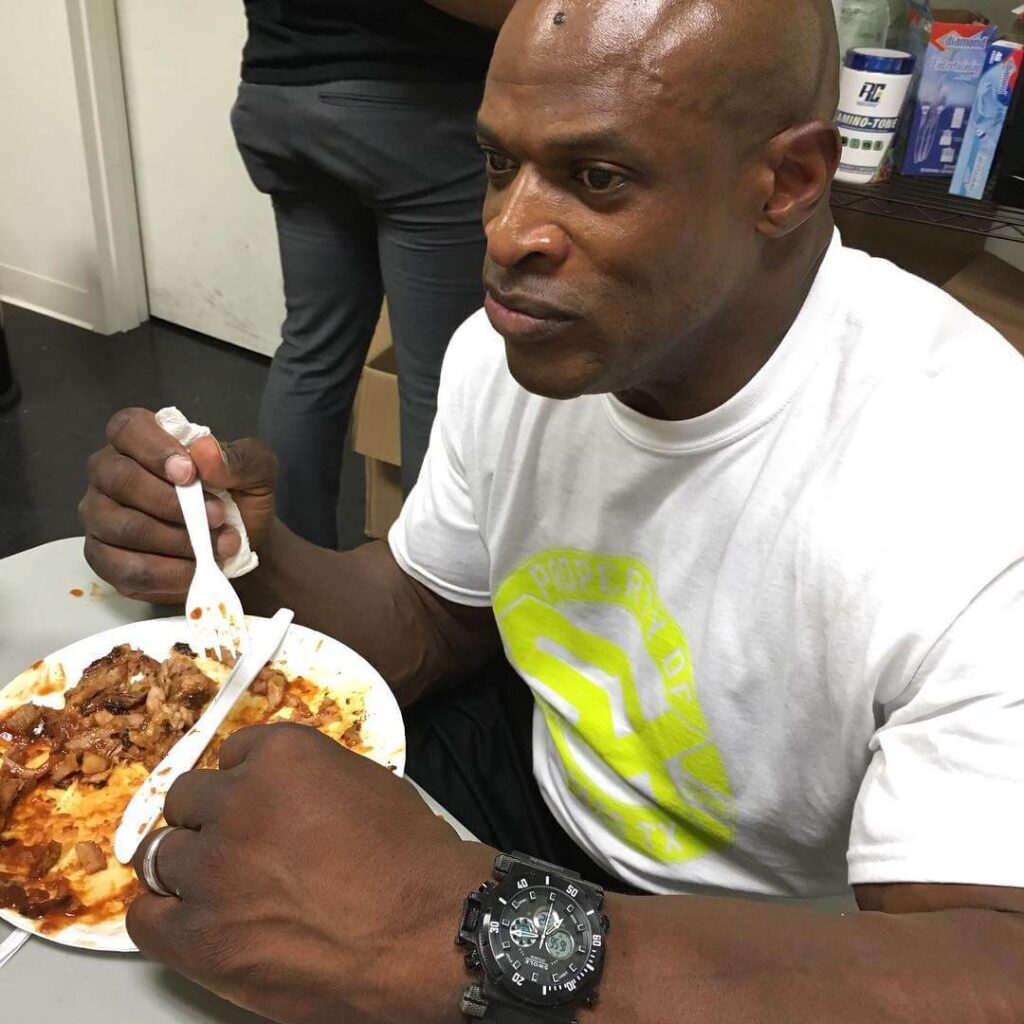 To maintain his diet, Ronnie Coleman consumed a special diet of 5332 calories and 546 grams of protein per day. His meal plan focused on protein as a major source of muscle building, as he believed it was essential for his anatomy.
Ronnie Coleman Workout Routine