Bodybuilding has historically lacked diversity, with black athletes denied opportunities due to prejudice and discrimination.
However, starting in the 1950s and 60s, pioneers who would shatter barriers and achieve greatness in the sport emerged.
These gifted bodybuilders overcame obstacles through relentless work ethic, confidence, and competitive fire. Their legacies continue impacting the sport and culture today.
Let's celebrate ten phenomenal black bodybuilders who broke stereotypes and built Hall of Fame careers.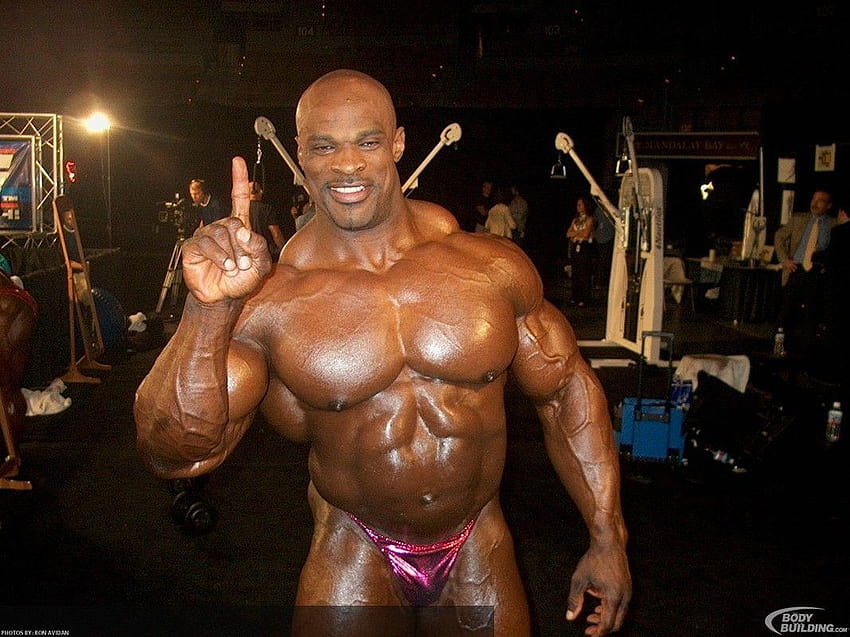 Born in 1964 in Monroe, Louisiana
First bodybuilder to break the 300-pound barrier shredded
He was nicknamed "The King" due to his mass and dominating presence
Retired as a police officer to compete professionally
Suffered severe injuries that required multiple back surgeries
Known for hardcore high-volume powerlifting style training
Ronnie Coleman is considered the greatest bodybuilder of all time, alongside legends like Arnold Schwarzenegger and Lee Haney. He crafted arguably the most massive, shredded physique ever seen.
Growing up in Louisiana, Ronnie Coleman always displayed athletic gifts. He played football in high school and college, but his real love was lifting weights. Early on, he became obsessed with getting as big and robust as possible.
Turning pro in 1995, Ronnie Coleman came into his own around '98. He earned the nickname "The King" by combining unprecedented mass with razor-sharp conditioning.
For eight straight years on the Olympia stage, Ronnie Coleman reached new levels of freaky size and definition, consistently breaking the 300-pound barrier ripped.
His domination was so complete that most competitors looked tiny in comparison. While undeniably the greatest bodybuilder of his era, Ronnie Coleman is equally beloved for his humility, friendliness, and inspirational attitude.
His passion motivates millions around the world to train hard and be positive.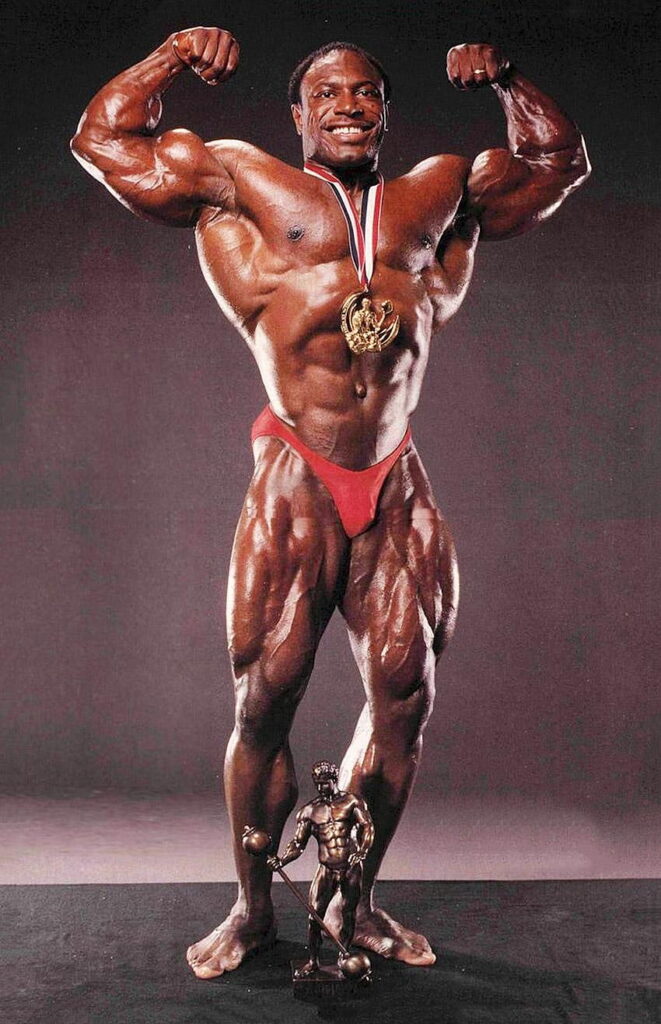 Born in 1959 in Spartanburg, South Carolina
First bodybuilder to seriously prioritize leg training
Holds record for most Olympia wins at 8 (1984-1991)
Retired from competition at age 31 to start a family
Partnered with Evander Holyfield and Deion Sanders in business
Chairman of the President's Council on Fitness under Clinton
Inducted into multiple sports and bodybuilding Halls of Fame
Lee Haney etched his name in history by capturing eight consecutive Mr. Olympia titles in the 1980s. His combination of massive size, shape, and conditioning was peerless.
Coming up in South Carolina, Lee Haney immediately lifted weights as a young teen. He went on to study psychology at Livingstone College.
Turning pro in 1983, Lee Haney shocked fans with his unprecedented blend of size and aesthetics. Whereas most competitors specialized in mass or symmetry, Haney dominated both criteria.
Utilizing revolutionary training principles from legends like Arthur Jones, Lee Haney crafted perhaps the most balanced, complete physique ever seen. He became known as "The Total Package."
Beyond his bodybuilding achievements, Lee Haney is revered for his class, humility, faith, and business savvy. He retired in his prime to start a family and transitioned into an entrepreneur and author.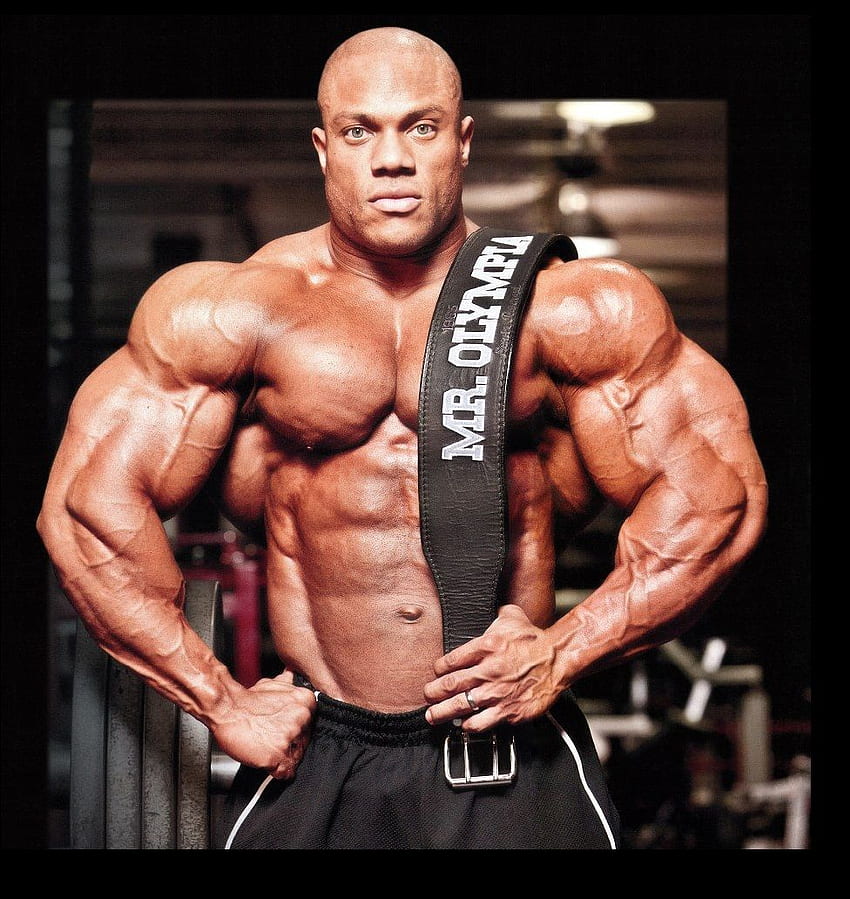 Born in 1979 in Seattle, Washington
He was dubbed "The Gift" due to his shape and proportions
Played college basketball at Denver before bodybuilding
He is known for his charisma, confidence, and business pursuits
Used social media to grow the sport more mainstream
Pursued professional bodybuilding with his twin brother Paul
The undisputed king of the mass monster era, Phil Heath, won 7 consecutive Olympias through a potent mix of science, genetics, and willpower.
His reign came after besting two larger-than-life characters, Jay Cutler and Kai Greene. From early on, Phil Heath's shape and muscle bellies stood out as extraordinary.
Fans and experts anointed him as the future of bodybuilding long before he turned pro. Phil Heath earned the nickname "The Gift" for his seemingly perfect aesthetics and proportions.
Combined with his infectious personality, Phil Heath became the face of modern bodybuilding. Whereas Lee Haney and Ronnie Coleman crushed opponents with sheer mass, Heath relied more on polish and flawless presentation.
He knew how to accentuate his strengths and wow the judges. Alongside dominating on stage, Phil Heath focused intensely on expanding bodybuilding's profile globally.
His business projects and social media mastery helped the sport reach new audiences.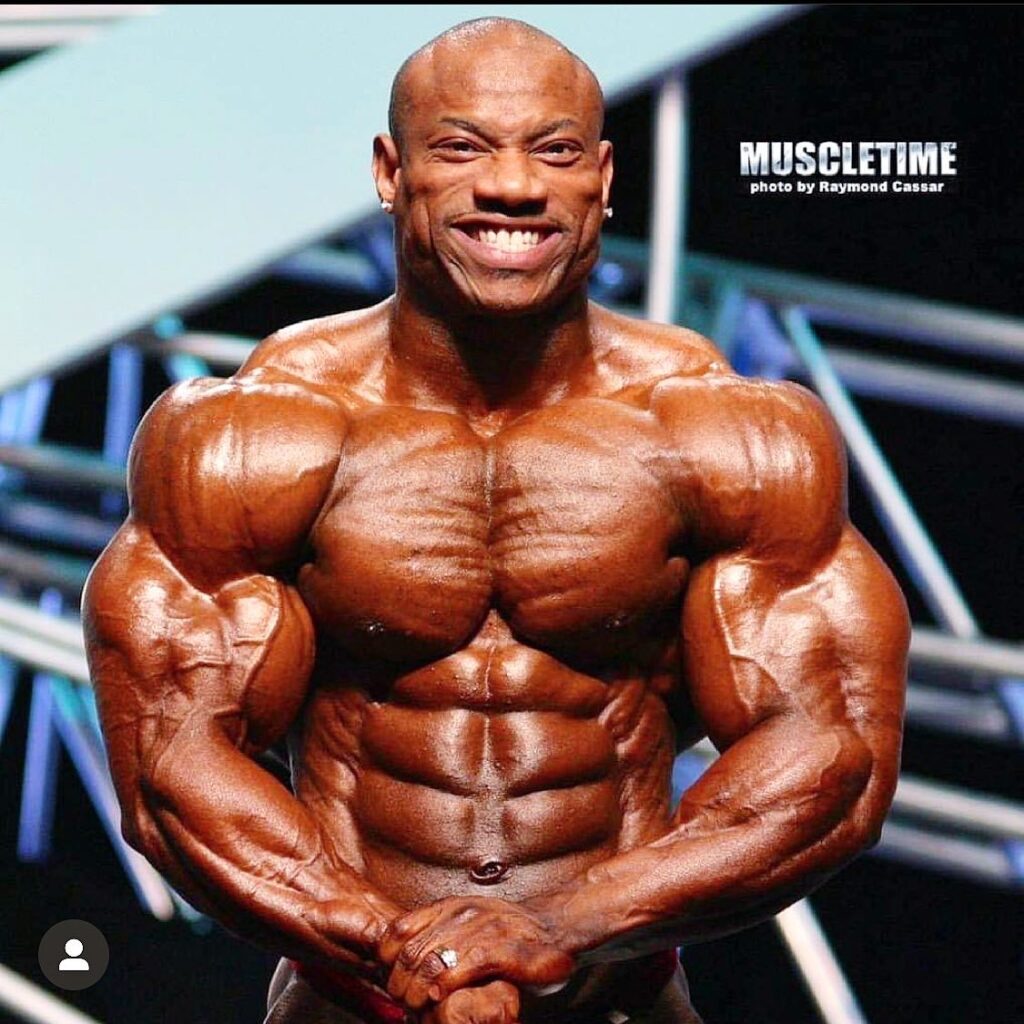 Born in 1969 in Jacksonville, Florida
Holds the record for most pro contests won at 29
Nicknamed "The Blade" for his razor-sharp conditioning
Known for defeating much bigger opponents
Dexter "The Blade" Jackson overcame naysayers who claimed he was too small and old to win major titles. He carved out arguably the most excellent B-tier pro career ever.
Growing up in Florida, Dexter Jackson fell in love with comic book heroes and bodybuilding legends like Robby Robinson. He vowed to achieve his superhero physique.
Turning pro in 1999, Dexter Jackson immediately made an impact with his detailed muscle shape and granite-hard conditioning.
He took the bodybuilding world by storm in 2008, winning the Arnold Classic and Mr. Olympia at ages 38 and 39, respectively.
No matter how massive his competition was, Dexter Jackson routinely chopped them down by always bringing supernatural conditioning and aesthetics. His 2008 Olympia win was a crowning moment for perseverance.
Now age 53, Dexter Jackson continues competing and is the undisputed greatest bodybuilder over 50. The Blade captivated fans for over two decades through a relentless work ethic and an inspirational attitude.
Born in 1975 in Kingston, Jamaica
He was nicknamed "Flexatron" due to his aesthetics
Turned pro in 2010 after a successful NPC career
Previously a successful model and actor
Tragically passed away from a heart attack in 2021
Banned from competing in 2019 due to misconduct allegations
Considered the most aesthetic Mr. Olympia champion ever
The late great Shawn Rhoden authored one of bodybuilding's most shocking upsets by dethroning 7-time defending Mr. Olympia Phil Heath at age 43.
His inspiring story turned nightmarish following a misconduct scandal that derailed his career. Originally from Jamaica, Shawn Rhoden, and his family moved to Maryland when he was 11.
He competed in track, basketball, and soccer before discovering weights. Turning pro in 2010, Rhoden made steady improvements each year with the help of coach Chris Aceto.
His chiseled physique, athleticism, and personality made him a rising star. Peaking perfectly in 2018, Rhoden displayed perhaps the most aesthetically balanced, artistic physique in Mr. Olympia's history.
He realized his wildest dreams by shocking Heath and claiming the Sandow trophy. Following allegations of misconduct in 2019, Shawn Rhoden was barred from defending his title in 2019 and 2020.
He maintained his innocence but died unexpectedly from a heart attack in 2021 at age 46.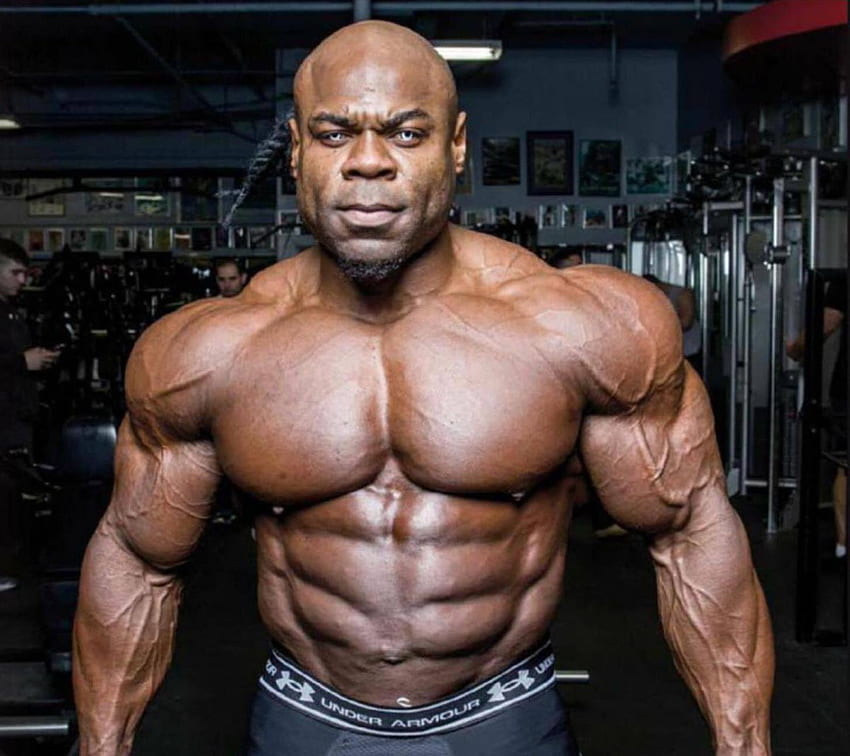 Born in 1975 in Brooklyn, New York
Mr. Olympia was runner-up three times (2012-2014)
Overcame homelessness and other trauma earlier in life
He is known for his philosophical outlook and detailed journaling
Pioneered an enormous social media and YouTube following
Stars in Generation Iron bodybuilding documentaries
Pursued acting roles and owns his own supplement company
Kai Greene is renowned equally for his philosophical mindset and his world-class physique. His creativity inside and outside the gym made him a superstar.
Born in Brooklyn, Kai Greene endured homelessness and hardship as a youth before discovering weights as an outlet.
He became obsessed with sculpting the perfect physique. Turning pro in 2009, Kai Greene made instant waves with his uncanny size, conditioning, and poise.
Dubbed "The Artist," his posing routines were performance art. Kai Greene battled rival Phil Heath for Olympia glory, pushing Heath to new limits despite falling short. Their rivalry represented bodybuilding's ultimate clash of the Titans.
In recent years, Kai Greene has focused on acting, content creation, mentoring youth, and running his supplement brand.
Along with Heath, he starred in the Generation Iron film franchise documenting the lives of elite bodybuilders.
Beyond lifting, Kai Greene lives by his philosophical Muscle Intelligence training system centered on spiritual and mental gains. He proves bodybuilding develops much more than just muscle.
Born in 1965 in Fresno, California
Considered one of the greatest bodybuilders ever to win the Olympia
He was nicknamed "Sultan of Symmetry" due to his aesthetics
Battled rare kidney disease his entire pro career
He was slated to play the role of Black Panther before health issues
Continues inspiring generations as an author and coach
Flex Wheeler overcame immense adversity, including a rare kidney disease, to build one of the most jaw-dropping physiques ever seen.
Arnold Schwarzenegger called Flex Wheeler the greatest bodybuilder he'd laid eyes on. Wheeler grew up in poverty outside Fresno before discovering weight as a teenager.
Obsessed with carving a perfect body, Flex Wheeler quickly pursued professional bodybuilding. Turning pro in 1993, Wheeler wowed fans with his sweeping muscle bellies and tiny joints.
His physique looked like a real-life comic book superhero. Despite dialysis and health scares, Flex Wheeler won 4 Arnold Classic titles in the 1990s and twice finished runner-up to Dorian Yates at Mr. Olympia.
Today, Flex Wheeler focuses on coaching and advocating for kidney disease awareness. He continues inspiring future generations through his writings and public speaking.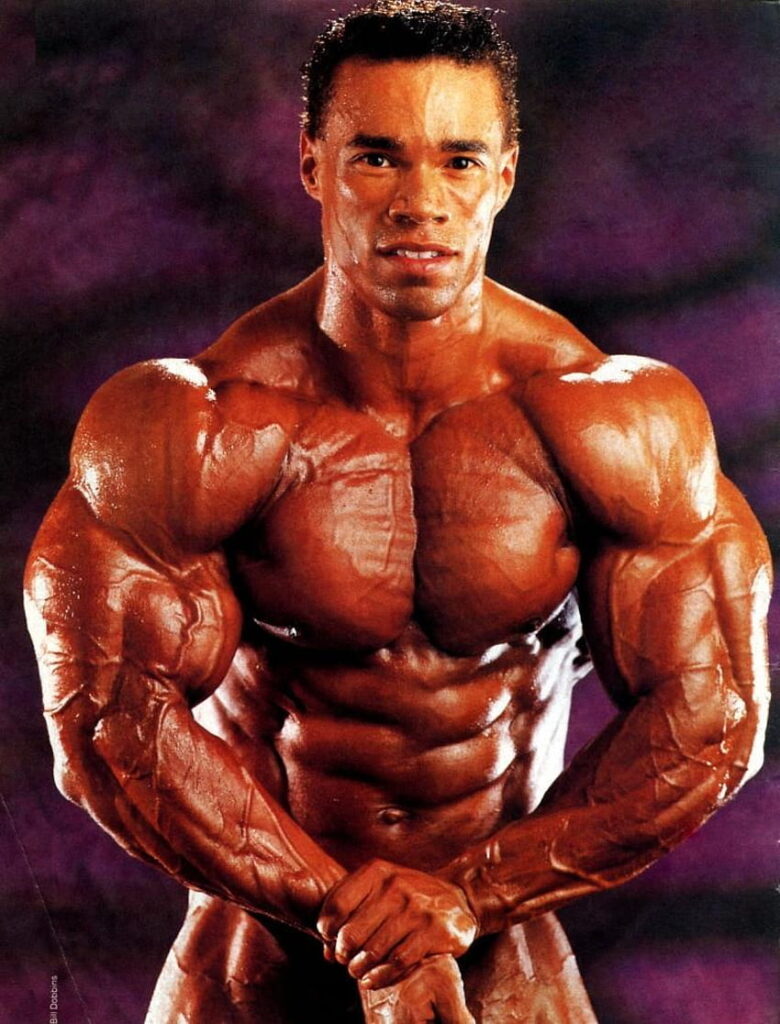 Born in 1964 in Baltimore, Maryland
IFBB Pro from 1991 to 2003
Won more than 20 IFBB pro shows through the 1990s
Placed 2nd at Mr. Olympia four times (1992, 1995, 1996, 2000)
Earned nickname "Maryland Muscle Machine."
Retired in the early 2000s to focus on a music career
Maintained incredible shape into his late 50s
Maryland's Kevin Levrone tantalized fans throughout the 1990s as a top pro who seemed destined to win Mr. Olympia.
Though he never claimed the top prize, Kevin Levrone built one of the most proportional physiques ever. From humble beginnings in Baltimore, Levrone sprouted to 6'0″ by age 13. He played college sports before discovering the iron game.
Turning pro in 1991, Kevin Levrone rocketed up the ranks thanks to his sensational shape, flow, and lines. His Herculean proportions earned the nickname "Maryland Muscle Machine."
Battling legends like Dorian Yates and Ronnie Coleman, Kevin Levrone locked down four runner-up finishes at Mr. Olympia through the decade.
To this day, fans still believe Kevin Levrone deserved at least one Sandow over his storied career. Now approaching 60, Kevin Levrone stays dedicated to fitness and music.
He maintains phenomenal shape decades after retiring through his plant-based lifestyle.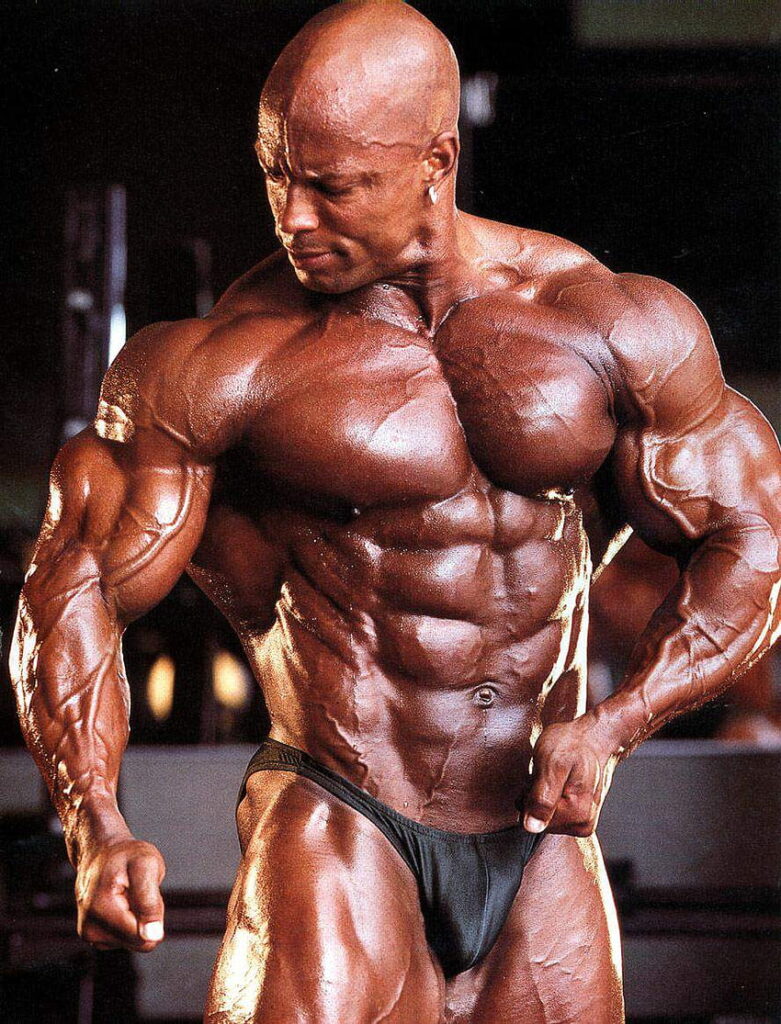 Born in 1965 in Fullerton, California
5'6″ 250-pound mass monster in the 1990s
Competed in 31 IFBB pro shows from 1988 to 2001
Nicknamed "Giant Killer" for defeating larger opponents
He is known for his tireless work ethic and longevity
Current expert analyst and historian of bodybuilding
At just 5'6″ and around 250 pounds, Shawn Ray battled and defeated countless mass monsters during the 1990s professional scene. His longevity remains unmatched as well.
Shawn Ray grew up in California before competing as a gymnast and diver in high school. He turned to competitive bodybuilding after graduation.
Ray learned to outwork and out condition his more considerable opposition as a shorter competitor. He earned the nickname "Giant Killer" for repeatedly slaying more imposing foes.
Turning pro in 1988, Ray compiled one of the most incredible resumes in bodybuilding's second tier. His runner-up Olympia finishes remain legendary.
Now retired from competition, Shawn Ray provides expert commentary on the Iron Age YouTube channel. The community believes in his passion for bodybuilding history and candid insights.
Serge Nubret
Born in 1938 in Guadeloupe, Caribbean
The prime competitive years were the late 1960s to mid-1970s
Earned the nickname "Black Panther"
Helped establish the WABBA (World Amateur Bodybuilding Association)
Of Caribbean descent, Serge Nubret captivated audiences with his dramatic physique and flared lats. The original "Black Panther" made history by crossing over into bodybuilding from weightlifting.
Born in 1938, Nubret moved to Paris, France as a teenager. He took up weightlifting and won a national championship in the sport.
However, after discovering muscle control and art, Nubret fell in love with bodybuilding. Standing 6'0″ and 240 pounds, Nubret combined classical shape with rugged density and exotic flair.
His posedown sequences in Pumping Iron remain immortal. Although placing 6th at the 1977 Mr. Olympia, Nubret defeated Arnold Schwarzenegger two years prior at the 1975 edition. His legacy as a pioneer is set in stone.
Nubret also helped establish the WABBA amateur federation in the 1970s. He passed away in 2011 at 72 after battling an illness.
The Legacy of Black Bodybuilders
The pioneering bodybuilders profiled above carved space for diversity and inclusion amidst discrimination and inequality. They proved that character, not color, determines achievement.
Their journeys show that a visionary spirit and relentless work ethic conquer all obstacles. Times constantly change, but self-belief and drive remain universal keys to success.
Thanks to these trailblazers, today's bodybuilding culture celebrates competitors of all backgrounds. Their sacrifices laid the foundation for future generations to thrive on an even playing field.
While prejudice still flares up occasionally, the industry continues making progress in supporting bodybuilders based solely on merit.
Embracing inclusivity makes the sport, and the world, a better place. By remembering these champions, we find inspiration to make our path as they did.
The sacrifices and adversity they faced only strengthened their resolve. Let's honor their legacies by judging others on character rather than discriminating based on race, gender, or other external traits.
Keep pushing boundaries and chasing greatness, no matter who tries to stand in the way.