Standing at a towering 6'3″ and tipping the scales at 247 pounds, Derrick Henry is an absolute force of nature on the football field.
The star running back for the Tennessee Titans has used his rare combination of size, speed, and power to bulldoze his way into the NFL record books.
After a stellar college career at the University of Alabama, Henry was selected 45th overall by the Titans in the 2016 NFL Draft. Since then, he has emerged as one of the most dominant runners in pro football.
Henry's punishing, physical running style has earned him nicknames like "Freight Train" and "El Tractorcito."
Henry's crowning achievement came during the 2020 season when he became just the eighth player in NFL history to rush for over 2,000 yards.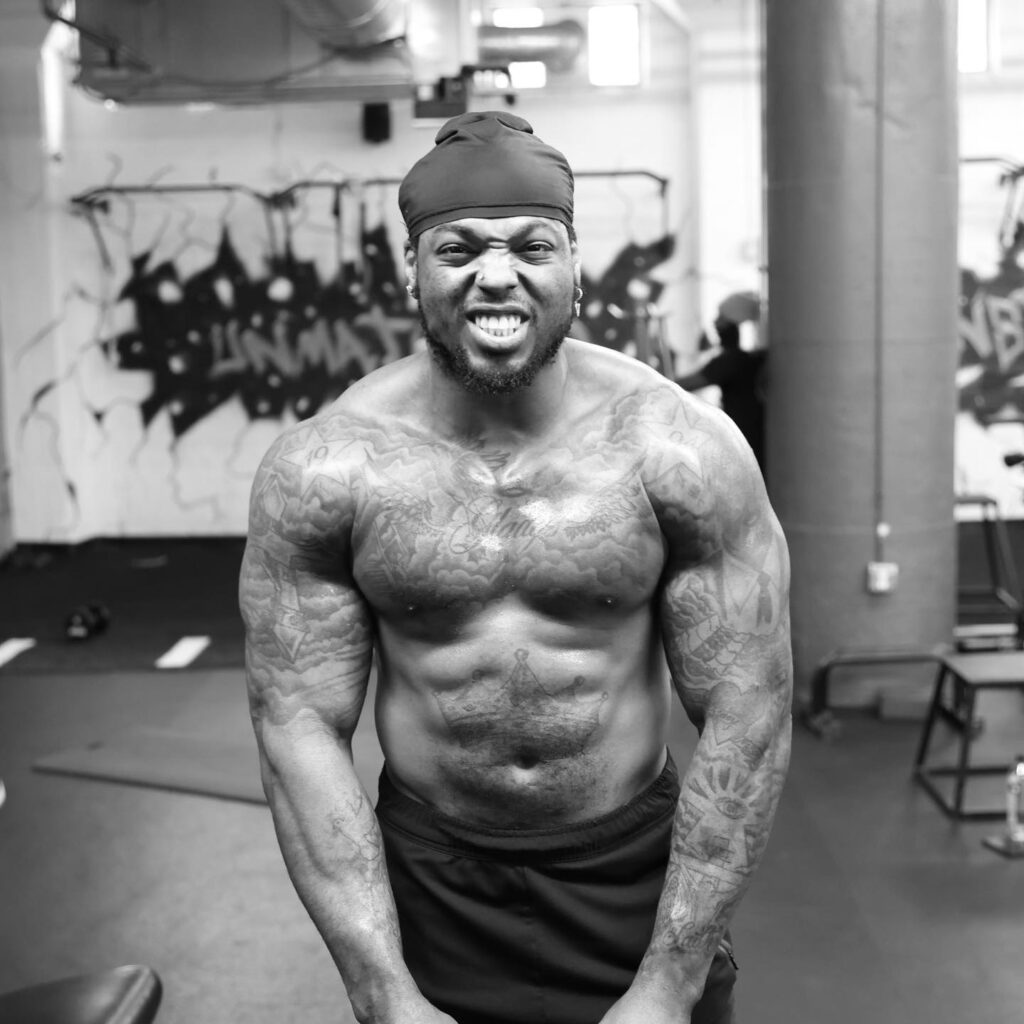 His 2,027 yards led the league and fell just short of Eric Dickerson's single-season running record set in 1984. Henry's heroic efforts carried the Titans to an AFC South division title.
At 29 years old, Derrick Henry is in the prime of his career. His size, athleticism, and work ethic have made him nearly impossible to stop. Henry's strict diet, training regimen, and recovery routines succeed in this gridiron.
Even before entering the NFL, Derrick Henry was a dominant athletic force. He set the national record for career rushing yards in high school with 12,124 total yards. Henry rushed for 55 touchdowns in his senior season alone.
At the University of Alabama from 2013-2015, Henry continued terrorizing defenses as part of a loaded Crimson Tide backfield.
During his junior season, he helped lead Alabama to a National Championship in 2015 while winning the Heisman Trophy, Maxwell Award, Walter Camp Award, and Doak Walker Award.
Henry left Alabama holding SEC records for career rushing yards (3,591) and career rushing touchdowns (42). He finished his college career with multiple school and conference records.
The Tennessee Titans selected Henry in the 2nd round of the 2016 NFL Draft. After beginning as a backup, he became the team's lead running back in 2018 and has been unstoppable ever since.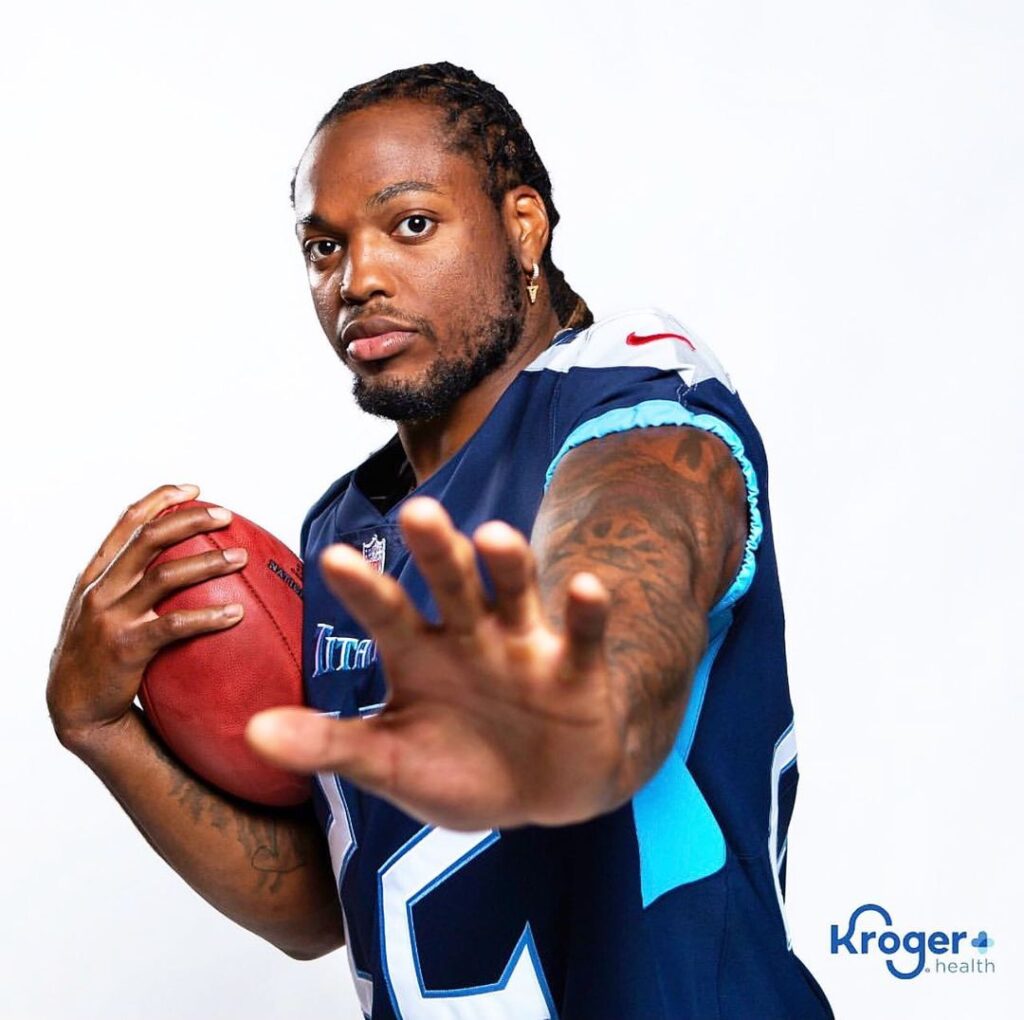 Some of Derrick Henry's top NFL achievements include:
2020 AP NFL Offensive Player of the Year
2020 PFWA All-NFL and All-AFC Teams
2020 NFL rushing leader (2,027 yards)
2019 NFL running leader (1,540 yards)
First running back in NFL history with 180+ rushing yards in 3 consecutive games (2018-2019)
99-yard touchdown run in 2018, tied for longest rush in NFL history
350 carries in 2019, the most in NFL since 2006
The only player with 200+ rushing yards twice in the same postseason (2020)
5th most rushing yards through the first five seasons in NFL history (5,860)
At just 29 years old, Henry is likely still in the early stages of a potential Hall of Fame career. His rare size, speed, strength, and durability blend has fueled record-setting dominance.
Derrick Henry Diet and Nutrition Plan
Fueling Derrick Henry's 6'3", 247-pound frame requires a massive caloric intake. During the intense grind of the NFL season, he consumes around 3,500 calories per day.
The key is choosing nutrient-dense foods that provide energy and aid in recovery. Henry follows a high-protein, low-carb, low-fat diet. He restricts empty carb sources like bread, kinds of pasta, and baked goods.
Henry focuses on lean proteins, healthy fats, vegetables, fruits, and complex carbohydrates. He also avoids sugary foods and beverages.
A typical day of eating for Henry includes:
Meal 1:
Scrambled eggs
Oatmeal with fruit
Protein shake
Milk
Meal 2:
Meal 3:
Grilled steak or fish
Salad with vinaigrette
Sweet potato
Milk
Meal 4:
Greek yogurt
Fresh fruit
Roasted nuts
Protein bars
740 hydration is also crucial. Henry consumes at least 1 gallon of water daily to stay hydrated. He avoids high-sugar sports drinks except during intense, prolonged exercise.
Henry regularly enjoys shakes and smoothies with whey or plant-based protein powders to boost protein intake. He also uses supplements like multivitamins, vitamin D, magnesium, omega-3 fish oils, and probiotics.
Henry's nutrition priorities shift towards muscle growth and recovery during the offseason. His calorie intake can exceed 4,000 calories on heavy lifting days.
He eats every 2-3 hours to spur muscle protein synthesis. Henry's off-season diet includes higher-carb, clean-bulking foods like oats, quinoa, potatoes, rice, and fruits.
The abundance of lean protein in Henry's diet, even in the offseason, promotes muscle growth while keeping body fat low.
He strictly avoids junk foods, sweets, fried foods, and alcohol, which could hamper his performance and physique. Proper nutrition provides the foundation for Derrick Henry's success.
Derrick Henry Supplements
Derrick Henry emphasizes rest and recovery to allow his body to adapt to strenuous training. He prioritizes sleep, getting 8-10 hours per night, often splitting it into afternoon and nighttime segments.
Henry also uses contrast therapy, immersing in cold and hot tubs to aid muscle recovery. Massage, stretching, and foam rolling are part of his weekly regimen.
To further boost performance, Henry uses supplements, including:
Whey and plant protein powders
BCAAs (branched-chain amino acids)
ZMA (zinc, magnesium aspartate, vitamin B6)
Derrick Henry has become arguably the most feared running back in the NFL by optimizing nutrition, training, and recovery.
His dedication in the weight room and meal prep kitchen has paved the way for greatness on the field. Henry is an absolute force bowling over defenders across the league at his size and speed.
Derrick Henry Workout Routine
Derrick Henry's legendary size and strength are built in the weight room. His rigorous training routine during the football season focuses on maintaining power, speed, and conditioning for Sundays.
In the offseason, Henry emphasizes more intensive lifting and muscle growth. Henry trains six days weekly during the season, taking Sundays off for recovery.
He prioritizes improving explosive power in his lower body to propel his large frame downfield.
Derrick Henry In-Season Workout
Henry's in-season workouts target the major muscle groups with focused intensity:
Monday: Lower Body
| | |
| --- | --- |
| Squats | 4 Sets x 8 Reps |
| Deadlifts | 4 Sets x 8 Reps |
| Lunges | 4 Sets x 8 Reps Per Leg |
| Single Leg Squats | 3 Sets x 8 Reps Per Leg |
| Plus Sprints, Plyometrics, and Conditioning Work | – |
Wednesday: Upper Body
| | |
| --- | --- |
| Bench Press | 5 Sets x 5 Reps |
| Bent-Over Rows | 3 Sets x 8 Reps |
| Shoulder Press | 3 Sets x 8 Reps |
| Biceps Curls | 3 Sets x 10 Reps |
Friday: Full Body
| | |
| --- | --- |
| Power Cleans | 5 Sets x 3 Reps |
| Bench Press | 5 Sets x 5 Reps |
| Pull-Ups | 3 Sets x Max Reps |
| Walking Lunges | 3 Sets x 20 Yards |
Henry performs cardio and conditioning work like sled pushes, battle rope waves and tire flips multiple days per week.
He maintains his massive size while staying lean and explosive.
Derrick Henry Offseason Workout Routine
In the offseason, Henry switches to a high-volume bodybuilding approach to pack on muscle. He splits his training over four days:
| | |
| --- | --- |
| Bench Press | 5 Sets x 5 Reps |
| Incline Dumbbell Press | 4 Sets x 10 Reps |
| Flyes | 3 Sets x 10 Reps |
| Triceps Pushdowns | 4 Sets x 12 Reps |
| Triceps Extensions | 3 Sets x 12 Reps |
Day 2: Back and Biceps
| | |
| --- | --- |
| Deadlifts | 5 Sets x 5 Reps |
| Bent-Over Rows | 4 Sets x 10 Reps |
| Pull-Ups | 3 Sets x max Reps |
| Lat Pulldowns | 3 Sets x 12 Reps |
| Barbell Curls | 4 Sets x 10 Reps |
| Hammer Curls | 3 Sets x 12 Reps |
Day 3: Shoulders and Traps Workout
| | |
| --- | --- |
| Overhead Press | 5 Sets x 6 Reps |
| Lateral Raises | 3 Sets x 12 Reps |
| Rear Delt Flyes | 3 Sets x 12 Reps |
| Shrugs | 4 Sets x 15 Reps |
| Face Pulls | 3 Sets x 15 Reps |
Day 4: Legs Workout
| | |
| --- | --- |
| Squats | 6 Sets x 6 Reps |
| Leg Press | 5 Sets x 8 Reps |
| Leg Curls | 3 Sets x 10 Reps |
| Leg Extensions | 3 Sets x 15 Reps |
| Calf Raises | 5 Sets x 15 Reps |
Henry trains each muscle group twice weekly in the offseason to maximize growth. He incorporates advanced techniques like drop sets, supersets, and giant sets to intensify his lifts.
Henry's rigorous offseason lifting builds the power and strength that separates him on the field.
The Takeaways
Derrick Henry's towering presence and relentless running style strikes fear into the hearts of NFL defenses. His dedication to intense training, proper nutrition, and recovery has allowed Henry to unleash his athletic gifts.
With his imposing 6'3″ frame barreling through tackles, Henry embodies the classic mold of a power running back. Yet he also possesses deceptive breakaway speed once he hits the open field.
This combination of brute force and considerable play ability has propelled Henry into the pantheon of all-time great NFL rushers.
If Derrick Henry can maintain his elite production and avoid significant injury, he could cement his legacy as one of the best.
The Tennessee Titans star enters his prime, capable of shattering more rushing records and terrorizing defenses for years to come.
Henry's superhuman diet, training regimen, and genetics have unlocked his untapped potential for gridiron greatness.