Dexter Jackson is an American IFBB professional bodybuilder and Mr. Olympia champion. He is best known as "The Blade".
Jackson has won more professional bodybuilding titles than any other bodybuilder. He has the distinction of winning the Arnold Classic a record five times in his bodybuilding career.
The Early Life Of Dexter Jackson
Dexter Jackson was born on November 25th, 1969, in Florida, USA. His passion for physical activity showed early on in his life and would always take part in different sports, as he was the most active of 6 children in the family.
Dexter joined high school, and he started playing football, where he exceeded as a running back. At one point, he arranged to run a 4.20 in the forty-meter dash, which was one of the quickest times in the USA.
After completed high school, Dexter planned on going to college but his girlfriend became pregnant then he decided to take care of her. He then moved to a home with his lover and started working as a cook.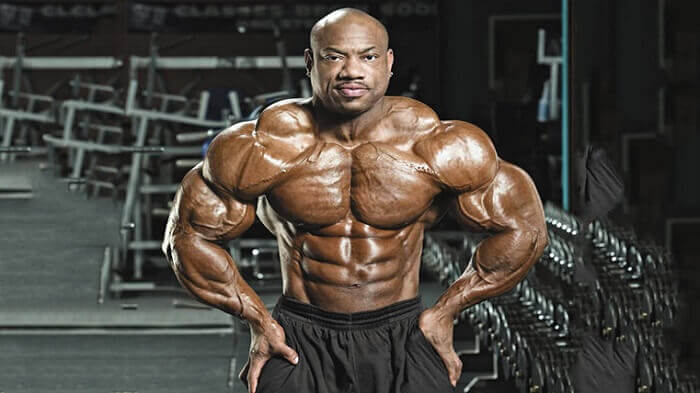 Early Bodybuilding Career of Dexter Jackson
Dexter formed an impressive physique as he grew up, which some of his friends quickly noticed and recommended he should think of competing in a local consent. Jackson thought it over and accepted.
He began dieting and going to the gym to prepare for the tournament. At the age of 20, Dexter participated in a tournament for the first time and easily won the competition.
Professional Bodybuilding Career Of Dexter Jackson

Jackson started working out harder than before after winning his first local show.He competed in his first National Physique competition, the 1992 NPC Southern States Championship, where he got 3rd position.
After the contest, Jackson took three years away from the competitions to dedicate himself to training and dieting for consent, finally bring the best version of himself, and earn the Pro card in his bodybuilding career.
From 1999 to 2002, Dexter competed in 18 competitions and saw outstanding results, being a runner-up in many, but hadn't been lucky when it came to lifting the trophy for the winning places.
At the 2002 Grand Prix Dexter took 2nd position in Australia, and later, after various months of dedication and strict diet, Dexter took home 1st place at the 2002 Grand Prix England.
Dexter Jackson Mr. Olympia 2008
Jackson got home 1st place in 2005, 2006, and 2008 edition of the Arnold Classic but also won several other shows such as the 2004 San Francisco Pro Invitational, 2007 IFBB Australian Pro Grand Prix, and 2008 IFBB Australian.
Dexter beat the defending champion, Jay Cutler, and won his first-ever Mr. Olympia title in 2008.
This title gave him extra motivation to push harder and keep the title in the following year.
Dexter has won various tournaments that he became the bodybuilder with the most IFBB professional bodybuilding titles that are 28 in total. He also owns the record for the most Mr. Olympia shows, a total of 17, and for the most Arnold Classic wins of 5 titles.
Physical Standard of Dexter Jackson
| | |
| --- | --- |
| Dexter Jackson Age | 51 years |
| Dexter Jackson Height | 5 feet and 5 inches |
| Dexter Jackson Weight | 93 to 102 kg |
| Dexter Jackson Arm Size | 20 inches |
| Dexter Jackson Chest Size | 52 inches |
| Dexter Jackson Date of Birth | November 25, 1969 |
Dexter Jackson Diet Plan
Dexter allows himself to cheat meals as a way to provide the body with vital nutrients and lost calories. When Dexter is preparing for a contest, Jackson rarely cheats, as he considers that there is no substitution for a strict, clean diet.
Jackson usually eats lean meats such as steak and chicken as a protein and white or brown rice and sweet potatoes as carbohydrates and nuts for healthy fats.
Dexter Jackson Wife
Jackson got married to his sweetheart named Gale Elie, who is also a health freak, health coach, and certified teacher. The loving couple has been together since 2004.
The couple was bestowed with a daughter, a baby girl Celine. Gale is not only an amazing wife but also a pleasant mother.
Competition History And Dexter Jackson Awards
In 1992 NPC Southern States, Lightweight, 3rd
In 1995 NPC USA Championships, Light-Heavyweight, 1st
In 1996 NPC Nationals, Light-Heavyweight, 6th
In 1998 North American Championships, Light-HeavyWeight, 1st and Overall
In 1999 Arnold Classic, 7thi
In 1999 World Pro Championships, 4th
In 2000 Arnold Classic, 5th
In 2000 Grand Prix Hungary, 2nd
In 2000 Ironman Pro Invitational, 3rd
In 2000 Night of Champions, 8th
In 2000 Toronto Pro Invitational, 2nd
In 2001 Arnold Classic, 5th
In 2001 Grand Prix Australia, 3rd
In 2001 Grand Prix England, 4th
In 2001 Grand Prix Hungary, 3rd
In 2001 Night of Champions, 2nd
In 2001 Toronto Pro Invitational, 2nd
In 2002 Arnold Classic, 3rd
In 2002 Grand Prix Australia, 2nd
In 2002 Grand Prix Austria, 2nd
In 2002 Grand Prix England, 1st
In 2002 Grand Prix Holland, 3rd
In 2002 San Francisco Pro Invitational, 3rd
In 2002 Show of Strength Pro Championship, 6th
In 2003 Arnold Classic, 4th
In 2003 Maximum Pro Invitational, 3rd
In 2003 San Francisco Pro Invitational, 3rd
In 2003 Show of Strength Pro Championship, 1st
In 2004 Arnold Classic, 3rd
In 2004 Grand Prix Australia, 1st
In 2004 Ironman Pro Invitational, 1st
In 2004 San Francisco Pro Invitational, 1st
In 2005 Arnold Classic, 1st
In 2005 San Francisco Pro Invitational, 2nd
In 2006 Arnold Classic, 1st
In 2007 Arnold Classic, 2nd
In 2007 IFBB Australian Pro Grand Prix, 1st
In 2008 Arnold Classic, 1st
In 2008 IFBB Australian Pro Grand Prix VIII, 1st
In 2008 IFBB ew Zealand Grand Prix, 1st
In 2008 IFBB Russian Grand Prix, 1st
In 2008 Mr. Olympia, 1st
In 2009 Mr. Olympia, 3rd
In 2010 Arnold Classic, 4th
In2010 IFBB Australian Pro Grand Prix, 2nd
In 2010 Mr. Olympia, 4th
In 2011 Flex Pro, 2nd
In 2011 Mr. Olympia, 6th
In 2011 FIBO Pro, 1st
In 2011 Pro Masters World Champion, 1st
In 2012 Arnold Classic, 5th
In 2012 Mr. Olympia, 4th
In 2012 IFBB Masters Olympia, 1st
In 2013 Arnold Classic, 1st
In 2013 IFBB Australian Pro Grand Prix, 1st
In 2013 Mr. Olympia, 5th
In 2013 EVLS Prague Pro, 2nd
In 2013 Tijuana Pro, 1st
In 2014 Mr. Olympia, 5th
In 2014 Arnold Classic Europe, 3rd
In 2014 Dubai Pro, 1st
In 2014 Prague Pro, 2nd
In 2015 Arnold Classic, 1st
In 2015 Arnold Classic Australia, 1st
In 2015 Arnold Classic Europe, 1st
In 2015 Mr. Olympia, 2nd
In 2015 Prague Pro, 1st
In 2016 New York Pro, 1st
In 2016 Arnold Classic South Africa, 1st [1]
In 2016 Mr. Olympia, 3rd
In 2016 Arnold Classic Europe, 1st
In 2016 Kuwait Pro, 2nd
In 2016 Prague Pro, 3rd
In 2016 Mr. Olympia Europe, 1st
FAQs