The 2023 Toronto Pro Supershow, the most significant event in the bodybuilding calendar, took place on June 4th in Toronto, Canada.
This highly anticipated show featured 10 divisions:
Men's Open
212 Bodybuilding
Classic Physique
Men's Physique
Men's Wheelchair
Women's Bodybuilding
Figure
Bikini
Women's Physique
Wellness
Last year's Toronto Pro Supershow in 2022 crowned Mohamed Shaaban the champion, earning him a coveted Olympia invitation.
However, it's worth noting that Shaaban's name was absent from the Men's Open competitors list this year, indicating his possible focus on other competitions.
Nevertheless, the lineup for this weekend's event is packed with exceptional talent, and several notable contenders are expected to vie for the top spot.
The winner of each division at the Toronto Pro Supershow will receive a prestigious invitation to compete at the 2023 Mr. Olympia competition, set to take place from November 2nd to 5th in Orlando, Florida.
Athletes have until October 9th to secure their spot and ensure their participation in the year's most significant bodybuilding event.
Iain Valliere
Iain Valliere is one of the notable bodybuilders participating in the Men's Open division at the 2023 Toronto Pro Supershow.
Valliere made a significant impact in 2020 when he claimed the prestigious title of New York Pro champion and achieved an impressive 7th place at the Mr. Olympia contest.
His success continued into the following year with consecutive victories at the Texas Pro and Tampa Pro competitions, again securing a commendable 7th place at the Mr. Olympia contest.
As the highest-ranked Olympian, with an 11th-place finish, Iain Valliere enters the Toronto Pro Supershow as the clear favorite.
His victory at the Vancouver Pro last year further solidified his position and allowed him to showcase his skills on the Olympia stage.
Fans and spectators eagerly await the show's results to see if Valliere can maintain his winning streak and add another impressive accomplishment to his bodybuilding career.
Ross Flanigan
Another bodybuilder to watch out for at the 2023 Toronto Pro Supershow is Ross Flanigan, who enters the event with a wave of momentum.
Flanigan recently showcased his exceptional skills and conditioning at the 2023 Muscle Contest California Pro, where he emerged victorious.
His impressive performance saw him surpass the tough competition, including renowned bodybuilders such as "Beef" Stu Sutherland, Sergio Oliva Jr., and Tonio Burton, the winner of the 2023 NY Pro. With this notable victory, Ross Flanigan enters the Toronto Pro Supershow as a formidable contender.
Bodybuilding fans eagerly await the show's results to see if Flanigan can advance his winning streak and make a strong impression on the stage.
Hassan Mostafa
Among the competitors vying for success at the Toronto Pro Supershow, bodybuilder Hassan Mostafa stands out as a force to be reckoned with.
Having gone undefeated in the previous season, Mostafa is determined to secure his invitation to the prestigious Mr. Olympia once again. Mostafa made an impactful debut in the bodybuilding scene in 2019, impressively claiming third place at the Indy Pro.
Recognizing areas for improvement, he dedicated himself to refining his physique, honing his size, and achieving a shredded appearance.
His hard work paid off in 2021, as Mostafa consistently completed top-three placements at renowned competitions like the New York Pro, California Pro, and Puerto Rico Pro.
Despite finishing 13th at the 2021 Olympia, Mostafa refused to let setbacks deter him. In 2022, he resounded by capturing victories at the Orlando Pro and Puerto Rico Pro. Regrettably, he could not participate in the 2022 Olympia for health reasons.
However, Mostafa recently shared a promising update regarding his physique, generating even more excitement among his fans as the show approaches.
Hassan Mostafa is prepared to leave his mark on the Toronto Pro Supershow with an undefeated record from the previous season and a determined mindset.
As the results unfold, all eyes will be on Mostafa to see if he can again showcase his incredible physique and secure his path to the illustrious Mr. Olympia stage.
Toronto Pro Supershow 2023 Results
Here are the complete results of every division that competed at the 2023 Toronto Pro Supershow.
2023 Toronto Pro Supershow All Champion
Men's Open: Iain Valliere
212 Bodybuilding: Piotr Borecki
Classic Physique: Samuel Paquin
Men's Physique: Mehdi Kabbadj
Men's Wheelchair: Mohammadreza Tabriza Nouri
Women's Bodybuilding: Julia Whitesel
Women's Physique: Emilija Martin
Figure: Lola Montez
Bikini: Eil Fernandez
Wellness: Sandra Colorado Acal
Men's Open Bodybuilding Results
Iain Valliere wins the 2023 Toronto Pro Supershow in the Men's Open Bodybuilding Division.
Men's 212 Bodybuilding Results
Piotr Borecki wins the Toronto Pro Supershow 2023 in the 212 Division.
Winner — Piotr Borecki
Second Place — Sung Yeop Jang
Third Place — Chris Buhr
Fourth Place – Hwang Shin
Fifth Place — Ming Chun Hon
Men's Classic Physique Results
Samuel Paquin wins the 2023 Toronto Pro SuperShow in the Men's Classic Physique Class.
Winner: Samuel Paquin
Second Place: Carl Gaithersburg
Third Place: Gregory Dawson
Fourth Place: Edgar John Augustin
Fifth Place: Maurice Burgess
Men's Physique Results
Mehdi Kabbadj wins the Toronto Pro Supershow in the Men's Physique Category.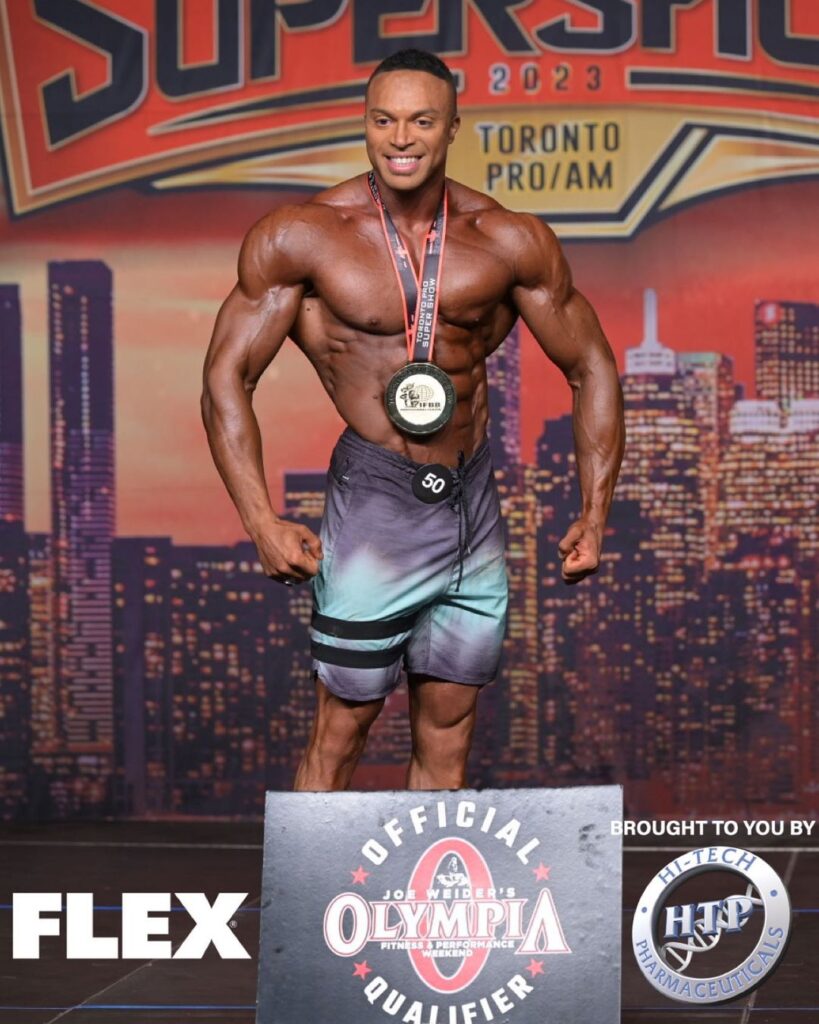 Winner — Mehdi Kabbadj
Second Place — Rodrigue Chesnier
Third Place — Bhuwan Chatham
Fourth Place — Julian Colley
Fifth Place — Gary Cooper
Men's Wheelchair Results
Mohammadreza Tabriza Nouri wins the 2023 IFBB Pro League Toronto Pro Supershow in the Men's Wheelchair Division.
Winner — Mohammadreza Tabriza Nouri
Second Place — Tim Caldwell
Third Place — Jason Metcalf
Fourth Place — Bryan Williams
Fifth Place — Jack McCann
Women's Bodybuilding Results
Winner — Julia Whitesel
Second Place — Teresa Ivancik
Third Place — Tananarive Huie
Fourth Place — Melina Perron
Wellness Results
Winner — Sandra Colorado Acal
Second Place — Kristen Briadwell
Third Place — Emily Azzarello
Fourth Place — Anne-Marie Gobeill
Fifth Place — Lauren Barton
Women's Physique Results
Winner — Emilija Martin
Second Place — Romana Skotzen
Third Place — Amandine Kolly
Fourth Place — Alyssa Coppolino
Fifth Place — Nathalee Thompson
Bikini Results
Winner — Eil Fernandez
Second Place — Adair Libbrecht
Third Place — Maxine Somov
Fourth Place — Brittany Gillespie
Fifth Place — Kateryna Kauffman
Figure Results
Winner — Lola Montez
Second Place — Manon Dutilly
Third Place — Jodi Boam
Fourth Place — Lauren Martin- Stow
Fifth Place — Dalila Algeria
Congratulations to all the bodybuilders!