Here are the results of 2022 Toronto Pro Supershow. Check results in all categories below:
Men's Bodybuilding Toronto Pro
Mohamed Shaaban was lost against Charles Griffen at California Pro, So in Toronto Pro he proved himself as a Champion and directly qualified for Mr. Olympia 2022.
Dorian Haywood
Slavoj Bednar
Mariuz Tomczuk
Joe Seeman
Gabriel Gariepy
Coming soon
Toronto Pro Supershow 2022 Scorecard Men's Bodybuilding
Men's Classic Physique Toronto Pro
Tyler Johnson
Kown Hyoung JoO
Cody Amey
Kellen Wilson
Eric Abelon
Rob Van Sant
Aaron Aramini
Luis Sosa Mureuta
Also check Mile High Pro Results
Men's Classic Physique Supershow Scorecard
212 Men's Bodybuilding Toronto Pro
Hossein Kalateh
Murat Gonal
Kentaro Kuramochi
Junho Kim
Men's 212 Bodybuilding Toronto Pro Supershow Scorecard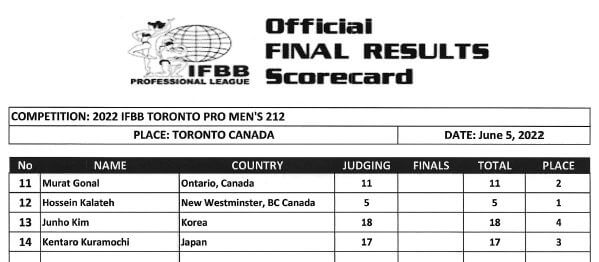 Men's Physique Toronto Pro Results
Mehdi Kabbadj
Reuben Glass
Chevy Phillips
Lamar McNeal Sminth
Francisco A. DE LA Cruz
Brett Jackson Jr.
Daniel Leone
Sharif Reid
Vilius Palionis
Nicolas Dery-Belanger
Akbar Sarbaz Sarkhanlo
Clarence Lau
Michael Norwood Jr.
Men's Physique Toronto Pro Supershow Scorecard
Wheel Chair
Woody Belfort
There was no opposite against Woody, so it was supposed to won.
Women's Bodybuilding Toronto Pro Results
Lisa Kudrey
Michelle Jin
Michelle Brent
Gisela Nunes Chan
Women's Bikini Toronto Pro Results
Ashley Kaltwasser
Ha Yeun Kim
Eli Fernandez
Maria-Eve Duechesneau
Jodie Jean Yunker
Cassandra De La Rosa
Laura Ziv
Adair Libbrecht
Yeoni Lee
Bola Seo
Lilian Lopez Alonso
Karen Wall
Sarah Devore
Annelle Petitpas
Juliane Andrade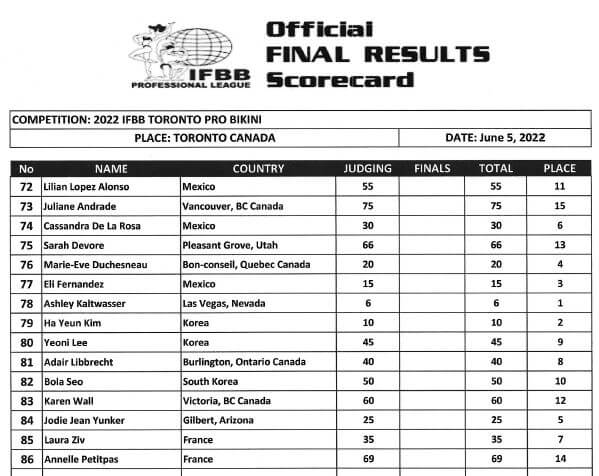 Women's Wellness Bodybuilding Toronto Pro Results
Kassandra Gillis
Emily Azzarello
Anne Marie Gobeil
Daniela Deiana
Normarie Fonseca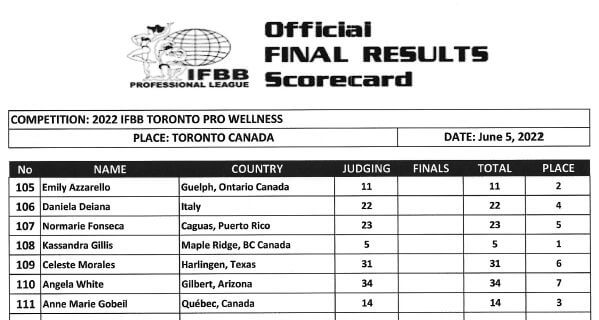 Women's Fitness Toronto Pro Results
Stephanie Jones
Giorgia Foroni
Danielle DaCosta
Abby Bolton
Corina Harkelroad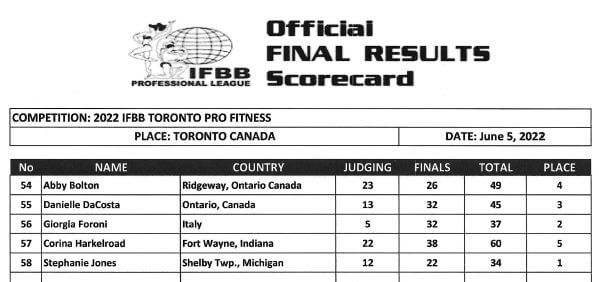 Women's Figure Toronto Pro Results
Hanwool Park
Mandy Urner
Valerie Rattelle
Yelena Larina
Melissa Cech
Larissa Penaloza
Danielle Rose
Emily Hammond
Women's Physique Toronto Pro Results
Ji Hye Lee
Emilija Martic
Eleonora Dobrinina
Jody Johanson
Jazmin Lira Flores
Marianne Von Gierke
Renee Reefschlager
Sanna Nupponen
Alethia Legall-Gabriel
Mindi O'Brien
Marysel Cruz
Nadia Vandal
Sarah Bow
Featured Image: Mohamed Shaaban by @bisandtris and @fitnessvolt / Instagram
Stay tuned for latest ifbb pro leagues updates and news
You can also check DC Pro competitors list.