The 15th edition of the Tampa Pro will be taking place from 4 to 6 August 2022 at the Grand Hyatt hotel in Tampa, Florida. The top bodybuilders will be fighting for their qualification at the 2022 Olympia.
With one of the biggest lineups of the year, the Tampa Pro looks to be one of the biggest competitions on the 2022 competition calendar. Pro athletes will be expected to ensure their 2022 Olympia qualification at the Tampa Pro 2022.
The Men's bodybuilding show will be an interesting contest of the show. Iain Valliere, a Canadian bodybuilder, was one of the favorites at the Tampa Pro Show 2021.
Iain Valliere won the Tampa Pro Show 2021 after placing 2nd in 2020 against Hunter Labrada at the Tampa Pro Show. Akim Williams is one of the top athletes aiming to take home the top prize.
2016 was the best year for Akim Williams. In 2016, his upper body was unmatched by anyone in the Tampa Pro Show. Akim won the trophy and Olympia qualification. Before Tampa Pro 2016, he added the Chicago Pro and Puerto Rico Pro titles to his name.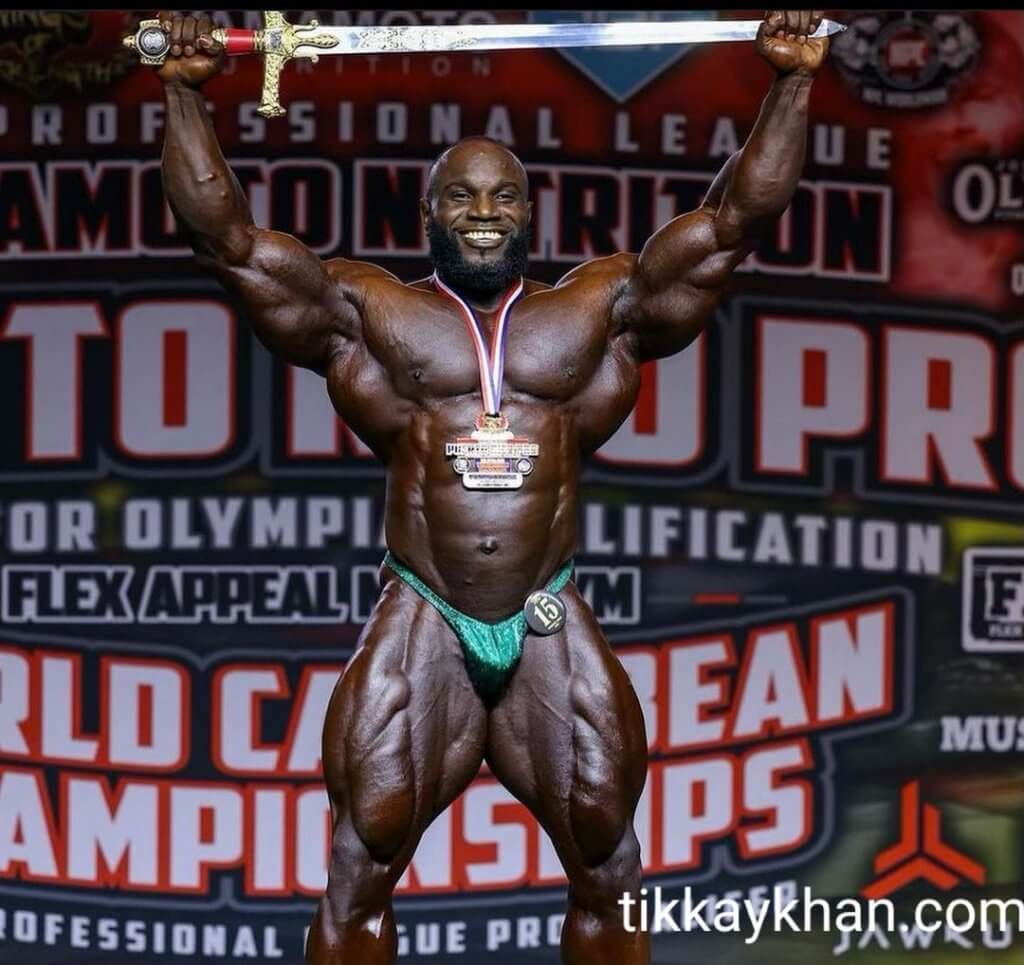 The 2021 IFBB Tampa Pro took place from 6th to 7th August at the Grand Hyatt hotel in Tampa, Florida. Unfortunately, Roelly Winklaar and William Bonac were not among them.
Iain Valliere won the 2021 Tampa pro show against Charles Griffen and Mohammad Shabaan. The Tampa Pro Show 2022 will feature pro contests in multiple divisions in which a win would extend them an invite to the Olympia 2022.
Men's Bodybuilding
Classic Physique
Men's Physique
212 Bodybuilding
Women's Bodybuilding
Figure
Fitness
Bikini
Women's Physique
Wellness
Last weekend, the 2022 Colombia Pro Qualifier and the British Championships 2022 went down, featuring plenty of top competitors from the Men's Open division.
Competitor List
Here is the complete list of competitors who will compete in the Show.
Men's Bodybuilding
Seung Chul Lee
Morgan Aste
An Nguyen
Eddie Bracmontes
Tim Budesheim
Phil Clahar
Roman Fritz
Dorian Haywood
Henry Jackson III
Joseph Mackey
Men's Physique
Daniel Ammons
Chidube Anene
Josh Bridgman
David Odom
Michael Otule
Steven Pettis
Deke Roderique-Walker
Byron Ross
Everett Davis
Dennis Dogbatse
Jean Pierre Fernandez
Dmitri George
Joshua Goforth
Juan Gomez
Darius Greenwood
Cam Harris
Jeremy Henry
Xiolong Hong
Joseph James
Jarrett Jenkins
James Johnson
Burak King
Mike Lawhorne
Leo Mackesy
Arya Saffaie
Mitchell Spadafore
Micah Thomas Jr.
Rick Thomas
Evan Wells
Men's Classic Physique
Adely Annorat
Theodore Atkins Jr.
Braden Bentley
Felix Burgos
Charles Donaldson
Derek Ewing
Valentin Petrov
Kim Santos
Kiran Shrestha
Hugo Silva
Keith Holmes
Joshua Langbein
Miguel G. Sanchez Lopez
Matt Maldonado
Courage Opara
Jason Ornella
Julius Page
Aaron Sparenberg
Daniel Sullivan
Winston Sullivan
212 Bodybuilding
Ricky Moten Jr.
Kerrith Bajjo
Ivan Cabrera
John McGovern
Francisco Mercado Jr.
Darius Milton
Derik Oslan
Keone Pearson
Erik Ramirez
Peter Castella
Sealy Cruz
Stephen Didoshak
Cody Drobot
Ahmed Elsandany
Nathan Epler
Yordon Hernandez
Kevin Johnson
Jason Joseph
Emmanuel Rodriguez
Women's Bodybuilding
Chelsea Dion
Victoria Dominguez
Tina Mauer Guadarrama
Janeen Lankowski
Tamara Makar
Pauline Nelson
Sheena Ohlig
Sherry Priami
Jennifer Sweeney
Fitness
Corey Brueckner
Savahannah Byczek
Maria Laura Cerbelli
Alayne Corum
Cerise deCardenas
Michelle Gales
Tess Mikayla
Kamarae Morales
Cong Mou
Aurika Tyrgale
Figure
Bethany Abeln
Melissa Brodsky
Lynn Centino
Autumn Cleveland
Madison Dinges
Edith Driver
Kelly Durma
Joy Eve
Ashley Felperin
Tessa Ford
Kimberly Gallop
Rebecca Godwin
Kim Golembiewski
Donya "Dee" Jackson
Constance Jones
Ashley Kelsey
Sarah Kornhauser
Andi Lampert
Taylor Mauro
Taylor Meholick
Sara Myles
Cherish Richardson
Larhannah Robinson
Paula Rojo
Mallory Rosado
Danielle Rose
Sabah Syed
Maggie Watson
Thais Cabrices Werner
Staci Willis
Jennifer Zienert
Bikini
Merica Abbado
Susana Aramayo
Iulia Baba
Romina Basualdo
Milena Bonio
Jordan Brannon
Tamekia Carter
Tama Casilus
Danielle Combs
Ivanna Escandar
Amber Foster
Angie Garcia
Carla Garthwaite
Hope Gonzalez
Jasmine Gonzalez
Niccole Guggia
Daraja Hill
Michelle Hurst
Christine O'Malley
Shelby Pierce
Ashley Puida
Kristen Reilly
Soily Rivadeneira
Monica Rubio
Angela Ruscili
Celia Sierra
Cristiane S. Silveira
Whitney Spence
Michelle Targonska
Aimee Leann Velasquez
Reba Williams
Women's Physique
Rachel Aronson
Orlandina Balan
Racheal Brewer
Suzanne Davis
Luciana Esquilin
Jeannie Feldman
Lenka Ferencukova
Sumyra Ford
Eve Gagnon
Heather Grace
Lenore Gregson
Kiera Hall
Rosemary Hamilton
Ana Harias
Michelle Jones
Dani LaMartina
Robyn Mays
Toni McMurtre
Tembree N. Murphy
Yarelis Ramos Perez
Oksana Piari
Cindy Reyes
Ashlynn Richardson
Elena Aviles Romero
Diana Schnaidt
Wellness
Alexis Adams
Nicollette Burns
Diana Laura Verduzco Carreno
Cinzia Massaro Clapp
Bridgiamell Rodriguez Cruz
Lili Dong Coral Springs
Andrea Hrenko
Alejandra La Fonseca
Priscilla Lynd
Valesca Macedo
Celeste Morales
Nerilde Garcia Strey
Amanda Werner
Kat Williams
Ashley Youssef
Tampa Pro Show 2022 Results
Here are the complete Results of the following Divisions.
Men's Bodybuilding Results
Akim Williams won the Men's Open Bodybuilding title at the Tampa Pro Show 2022.
Men's Physique Bodybuilding Results
Daniel Ammons won the Men's Physique title at Tampa Pro 2022.
First Place (Daniel Ammons)
Second Place (Andre Ferguson)
Third Place (Arya Saffaie)
Fourth Place (Burak King)
Fifth Place (Deke Roderique-Walker)
Men's Classic Physique Results
Courage Opara won the Classic Physique title at Tampa Pro 2022.
First Place (Courage Opara)
Second Place (Adely Annorat)
Third Place (Valentin Petrov)
Fourth Place (Armando Aman)
Fifth Place (Kim Santos)
Men's 212 Bodybuilding Results
Keone Pearson won the 212 Bodybuilding title at the Tampa Pro 2022.
First Place (Keone Pearson)
Second Place (Kerrith Bajjo)
Third Place (Nathan Epler)
Fourth Place (Cody Drobot)
Fifth Place (Ricky Moten Jr.)
Women's Bodybuilding Results
First Place (Chelsea Dion)
Second Place (Sheena Ohlig)
Third Place (Sherry Priami)
Fourth Place (Victoria Dominguez)
Fifth Place (Gabriela Pena)
Sixth Place (Janeen Lankowski)
Women's Physique Results
First Place (Jeannie Feldman)
Second Place (Ana Harias)
Third Place (Elena Aviles Romero)
Fourth Place (Diana Schnaidt)
Fifth Place (Michele Steeves)
Figure Results
Firat Place (Jessica Reyes Padilla)
Second Place (Cherish Richardson)
Third Place (Maggie Watson)
Fourth Place (Autumn Cleveland)
Fifth Place (Madison Dinges)
Bikini Results
First Place (Aimee Leann Velasquez)
Second Place (Jasmine Gonzalez)
Third Place (Ivanna Escandar)
Fourth Place (Romina Basualdo)
Fifth Place (Daraja Hill)
Wellness Results
First Place (Diana Laura Verduzco Carreno)
Second Place (Priscilla Lynd)
Third Place (Alexis Adams)
Fourth Place (Lili Dong)
Fifth Place (Nerilde Garcia Strey)
Fitness Results
First Place (Aurika Tyrgale)
Second Place (Cerise deCardenas)
Third Place (Alayne Corum)
Fourth Place (Michele Gales)
Fifth Place (Kamarae Morales)
Photo and Pictures taken from iain valliere, akim williams, and Joseph Mackey instagram accounts.