Chinedu Andrew Obiekea is a Nigerian bodybuilder who has achieved great success. He is a former military officer, kickboxer, CrossFit athlete, and electrical engineer.
Andrew Jacked moved to Dubai to train for pro bodybuilding shows. He gained recognition when he won the EBBF Ajmaan Bodybuilding and Physique Contest in April 2021, his bodybuilding debut.
He earned the IFBB Elite Pro card. A week later, he won another IFBB Elite Pro League show and earned the IFBB Pro card after a dominant win at the 2022 Arnold Classic Amateur.
Andrew Jacked quickly became a hot prospect in the global bodybuilding community. His impressive physique earned him over 650k followers on YouTube and Instagram.
He won the 2022 Texas Pro and qualified for the 2022 Mr. Olympia, where he finished eighth in the Men's Open division. This was a remarkable achievement considering the tough competition. Andrew Jacked got 3rd place at the Arnold Classic 2023 after competing against Samson Dauda and Nick Walker.
Related:
Lee Haney Diet Plan and Workout Routine
Arnold Schwarzenegger Diet Plan and Workout Routine
Phil Heath Diet Plan and Workout Routine
Andrew Jacked Diet Plan
Andrew Jacked, the Nigerian bodybuilder who has made a name for himself in the global bodybuilding industry, recently glanced into his off-season diet during an appearance on 8-time Mr. Olympia Ronnie Coleman's podcast on YouTube.
Andrew Jacked, who has previously been private about his nutrition and dietary habits, revealed that he has specific allergies that limit his food choices. Andrew Jacked says his day starts with some oats and eggs he takes in his breakfast.
The rest of the day consists of a simple combination of chicken, rice, and broccoli. He purchases a whole chicken and cuts it into 200-gram portions for his five daily meals, which he then pairs with 100 grams of rice or broccoli.
In addition to this, he consumes a protein shake to meet his daily protein requirement. To break down his meals in detail, Andrew Jacked typically eats 50 to 70 grams of oats, paired with six egg whites and four whole eggs for his first meal.
For the remaining five meals, he eats chicken weighing 200 grams and a total of 100 grams of rice and broccoli. Overall, Andrew Jacked's diet is simple, consisting of a few staple foods to fuel his body and maintain his impressive physique.
Andrew Jacked Meal Plan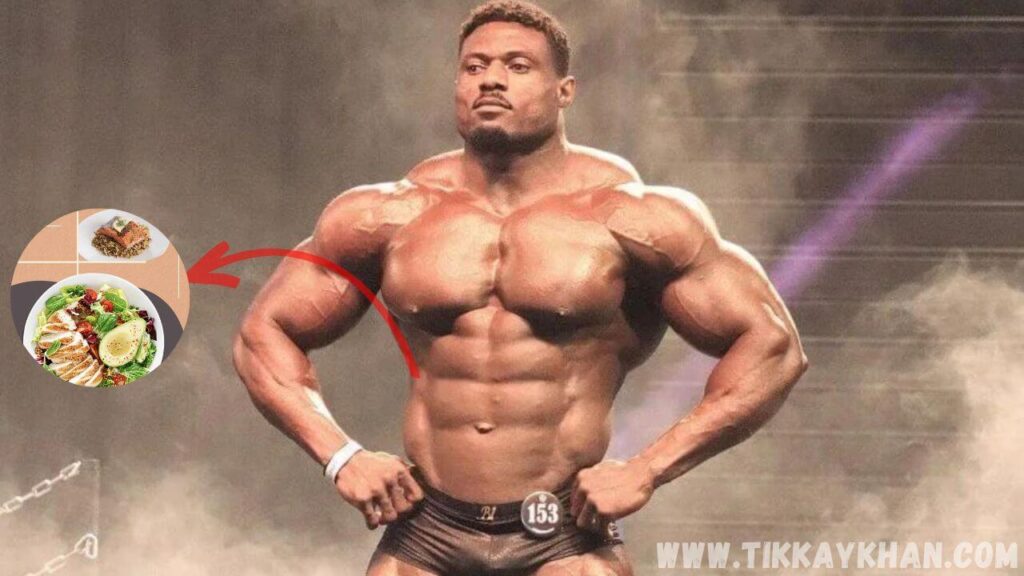 Here is the complete meal plan of Andrew Jacked:
Andrew Jacked Meal 1
Egg whites 10
Whole eggs 2
Oats 70 to 90 g
Andrew Jacked Meal 2 (Pre-Workout)
Rice 200 g
Pancake 1
Chicken 200 g
Andrew Jacked Meal 3 (Post-Workout)
Beef 200 g
Potatoes 200 g
Broccoli 100 g
Andrew Jacked Meal 4
Andrew Jacked Meal 5 (Snacks)
Protein shake
Fruit
Vegetables
Andrew Jacked Supplements
Andrew Jacked is a professional bodybuilder who BSN sponsors. He takes a variety of supplements to help him build muscle and stay healthy.
Some of the supplements he takes include:
Protein powder
Creatine
BCAAs
Pre-workout
Multivitamin
Fish oil
Glutamine
ZUMA
Andrew Jacked also takes several other supplements, but these are the most common ones. He is very open about his supplement intake and often posts about it on his Instagram. He believes supplements are essential to his bodybuilding journey and encourages his followers to use them.
Andrew Jacked uses SYNTHA-6 daily in his diet plan. It is an ultra-premium protein powder from BSN. It is designed to help you build muscle and recover from workouts.
SYNTHA-6 contains six proteins: whey protein concentrate, whey protein isolate, calcium caseinate, micellar casein, milk protein isolate, and egg albumin.
This blend provides a slow and steady release of protein throughout the day, which helps to keep your muscles fueled and recovered.
Andrew Jacked is a big advocate for using high-quality supplements. He believes supplements from reputable brands tested for purity and safety are essential. He also believes listening to your body and adjusting your supplement intake as needed is important.
Andrew Jacked Workout Routine
Andrew Jacked is an IFBB Pro bodybuilder and the 2022 Texas Pro championship winner. He got 8th place at his Olympia debut in 2022 in the Men's Open Bodybuilding.
At the Arnold Classic 2023, Andrew Jacked placed 3rd to Samson Dauda and Nick Walker in the Men's Bodybuilding Open class.
Here is his Workout Routine:
He has previously trained with Larry Wheels, a multi-strength-sport athlete. Recently, the duo reunited to train their shoulders and biceps together, and Andrew Jacked shared a video of their training session on his YouTube channel on August 30, 2022.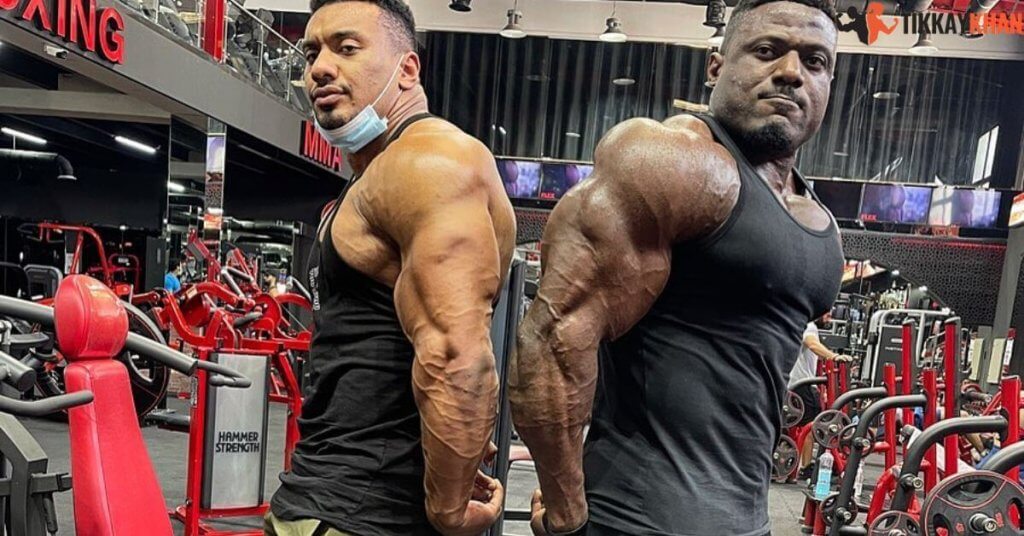 The video did not mention the location of the session, but Andrew Jacked's Instagram post about the workout tagged Binous Gym in Dubai, United Arab Emirates.
At the start of the video, Larry Wheels jokingly mentioned that he remembered being bigger than Andrew Jacked during their previous training sessions in 2019 and 2020.
During the session, Andrew Jacked started with lateral cable raises, where he raised his arms into a "Y" formation. This exercise provides an extended range of motion, targeting both the rear delts (deltoids) and the side delts.
Cable Y Lateral Raise – 3 sets of 8-10 repetitions
This exercise targets the rear and side delts.
Rear Lateral Raise on Incline Bench/Single-Dumbbell Two-Arm Front
Raise – 3 sets of 10-15 superset movements.
Perform rear lateral raises with dumbbells on an incline bench, followed by front raises with one dumbbell held in both hands.
Seated Machine Press/Cable Upright Row – 3 sets of 15 superset movements
Combine seated machine presses with upright cable rows.
Dumbbell Lateral Raise – 3 sets of 8-10 repetitions
Perform standing lateral raises with dumbbells.
Standing Cable Curl – 3 sets of 12-15 repetitions
Use individual handles on two pulleys for cable curls, stepping forward so that each arm starts behind the torso.
Cable Rope Hammer Curl – 3 sets of 15 repetitions
Use the rope attachment on a cable machine and perform hammer curls to target the brachialis and forearms.
Andrew Jacked Upper Chest Workout with Flex Wheeler
Incline Press: 3 sets x 20 reps
Perform incline bench press exercises for three sets, each with 20 repetitions.
Dumbbell Press: 2 sets x 20 reps
Follow the incline press with dumbbell presses. Perform two sets of 20 repetitions.
Incline Press Machine: 3 sets x 20 reps
Utilize the incline press machine for this exercise. Perform three sets of 20 repetitions.
High to Low Cable Flys: 2 sets x 20 reps
Use a cable machine to perform high to low cable flys. Perform two sets of 20 repetitions.
Rest for approximately 45-90 seconds between each set.