Matt Greggo is an exceptional bodybuilder and passionate fitness enthusiast renowned for his achievements and dedication. As an IFBB Men's Physique Pro, Matt is privileged to participate in esteemed IFBB competitions, showcasing his remarkable physique and talent.
He is a formidable competitor and serves as a fitness coach, sharing his expertise and assisting others in reaching their health and wellness goals.
With a massive following of over 1 million fans on TikTok, Instagram, and YouTube, Matt captivates his audience with awe-inspiring displays of strength, impressive physical tricks, and invigorating workout routines.
His engaging content and infectious enthusiasm inspire and motivate countless individuals to embark on their fitness journeys.
Throughout his illustrious bodybuilding career, Matt Greggo has consistently demonstrated his unwavering commitment and determination through numerous competitions.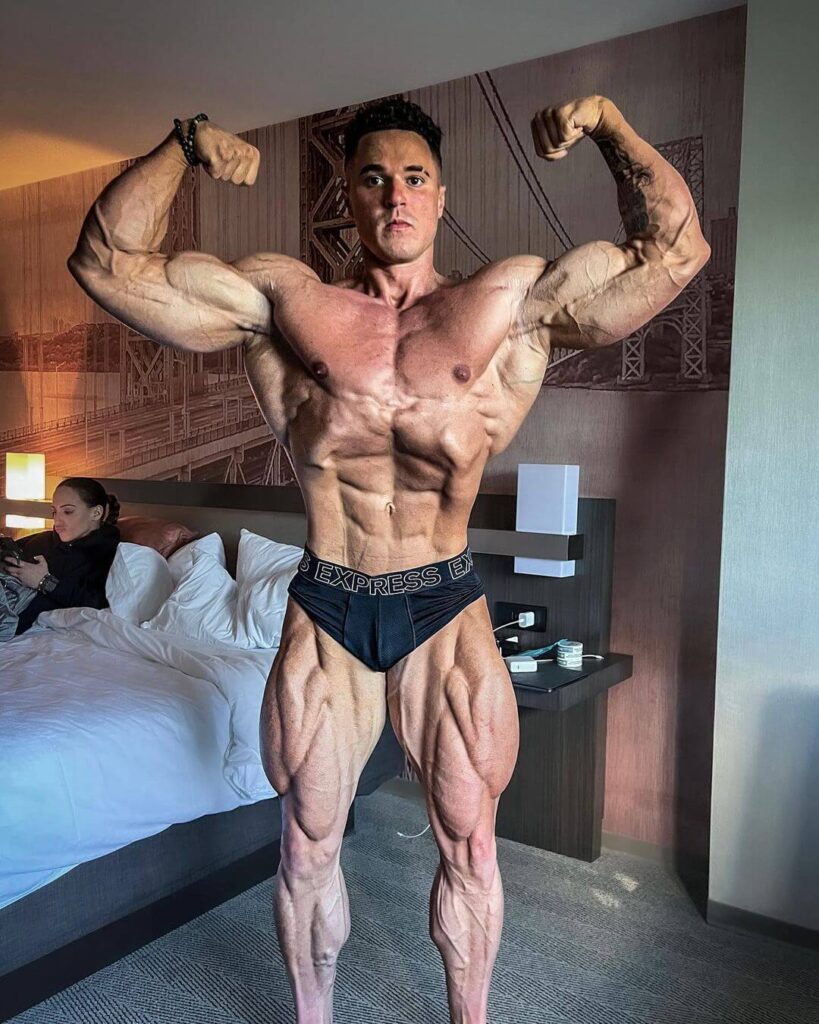 In 2016, he burst onto the bodybuilding scene by securing a resounding victory at the NPC Lehigh Valley Championships, where he claimed 1st place in the highly competitive Men's Physique category, establishing himself as a force to be reckoned with.
Matt competed at the NPC Junior USA Championships in 2017, continuing his pursuit of excellence, showcasing his dedication to his craft, and achieving a respectable 16th-place finish.
The following year, his hard work paid off at the NPC Atlantic States Championships. He secured an impressive 2nd place in the Men's Physique category, solidifying his position as a formidable competitor.
In 2019, Matt participated in the NPC National Championships, a highly challenging event, where he demonstrated his skills and achieved a commendable 5th place in the fiercely competitive Men's Physique division.
He continued his consistent performance by earning another 5th place finish at the NPC Universe & NPC National Fitness, highlighting his unwavering dedication and commitment.
2020 marked another significant milestone for Matt as he excelled at the NPC Universe and NPC National Fitness competition, securing an impressive 2nd place in the Men's Physique category. This achievement further bolstered his reputation as one of the top contenders in the field.
In 2021, Matt showcased his exceptional abilities at the IFBB Optimum Classic Pro, delivering outstanding performance and earning an excellent 3rd-place finish in the Men's Physique division.
Undeterred by setbacks, he also participated in the IFBB Europa Orlando and IFBB DC Pro, securing 16th-place finishes in both events, which served as a testament to his resilience and unwavering determination.
The year 2022 saw Matt continue to leave his mark on the bodybuilding stage. Competing against formidable opponents such as Nick Koeu, Charjo Grant, and Corey Morris at the IFBB Chicago Pro and IFBB Atlanta Pro, he achieved impressive rankings of 8th and 6th place, respectively, in the highly competitive Men's Physique category.
This demonstrated his ability to thrive in challenging environments and further solidified his position as a rising star in the bodybuilding world.
In 2023, Matt Greggo is preparing to step onto the illustrious stage of Olympia for the first time, facing off against the world's best bodybuilders.
This includes renowned competitors such as Erin Banks, Brandon Hendrickson, Diogo Montenegro, Charjo Grant, Edvan Palmeira, Kyron Holden, Ryan Terry, Corey Morris, Ali Bilal, Andre Ferguson, and Furkan Er.
With his remarkable physique, unwavering determination, and unwavering discipline, Matt is poised to make a lasting impression at this prestigious event, continuing to inspire and motivate fitness enthusiasts around the globe.
Matt Greggo Diet and Nutrition Plan
Matt Greggo, an IFBB pro bodybuilder and fitness coach, follows a dedicated diet and nutrition plan to support his training and physique goals. While the specific meal plan details are not provided in the given data, we can gather some insights into his approach.
Based on the information shared, Matt incorporates various nutrient-dense foods to meet his macronutrient and micronutrient needs.
He emphasizes consuming lean protein sources like egg whites, whole eggs, and ground turkey, which provide essential amino acids for muscle growth and recovery.
Matt also includes carbohydrates in his meals, such as cream rice, potatoes, and bread, which can be a primary energy source for his intense workouts.
Additionally, he incorporates fruits like blueberries and bananas for added nutrients and flavor. Matt acknowledges the importance of proper supplementation and mentions taking glucosamine, vitamin D3, and other supplements to support his overall health. 
He also includes a post-workout whey protein shake and almond butter before bed, suggesting a focus on adequate protein intake throughout the day and optimizing recovery during sleep.
While the precise macronutrient breakdown and portion sizes are not provided, it's evident that Matt prioritizes his digestion by implementing fasting periods and consuming foods that agree with his system.
He emphasizes the significance of maintaining good digestion, especially as he increases his carbohydrate intake.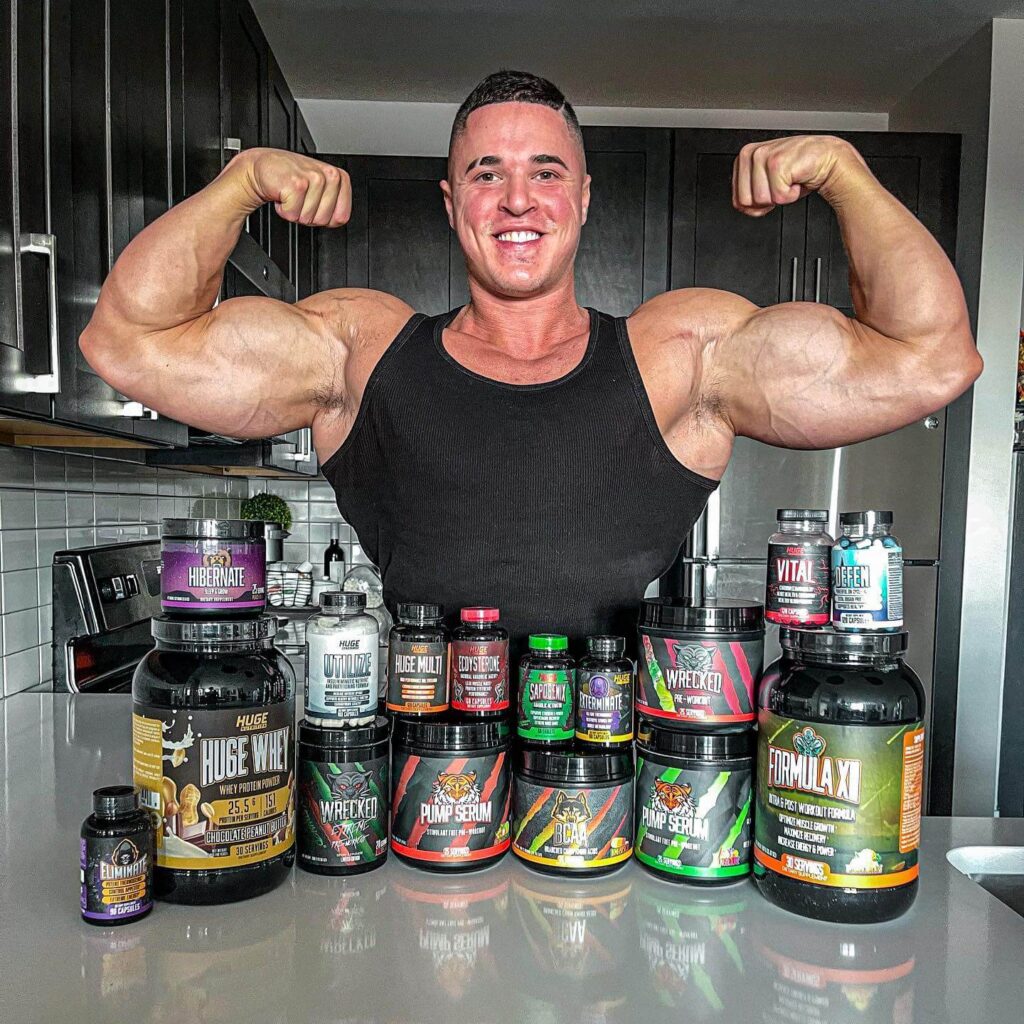 Here is Matt Greggo's comprehensive diet and nutrition plan:
250 grams of egg whites
2 whole eggs
80 grams of cream rice
50 grams of blueberries
300 grams of 93% lean ground turkey
244 grams of cooked potatoes (weighed raw for accurate measurement)
Seasonings to taste
Greek yogurt (2 servings)
1 banana
Golden honey (to taste)
2 slices of bread (22 grams of carbs per slice)
200 grams of 93% lean ground turkey
Approximately 1.25 cups of rice
2 scoops of whey protein isolate
1 serving of almond butter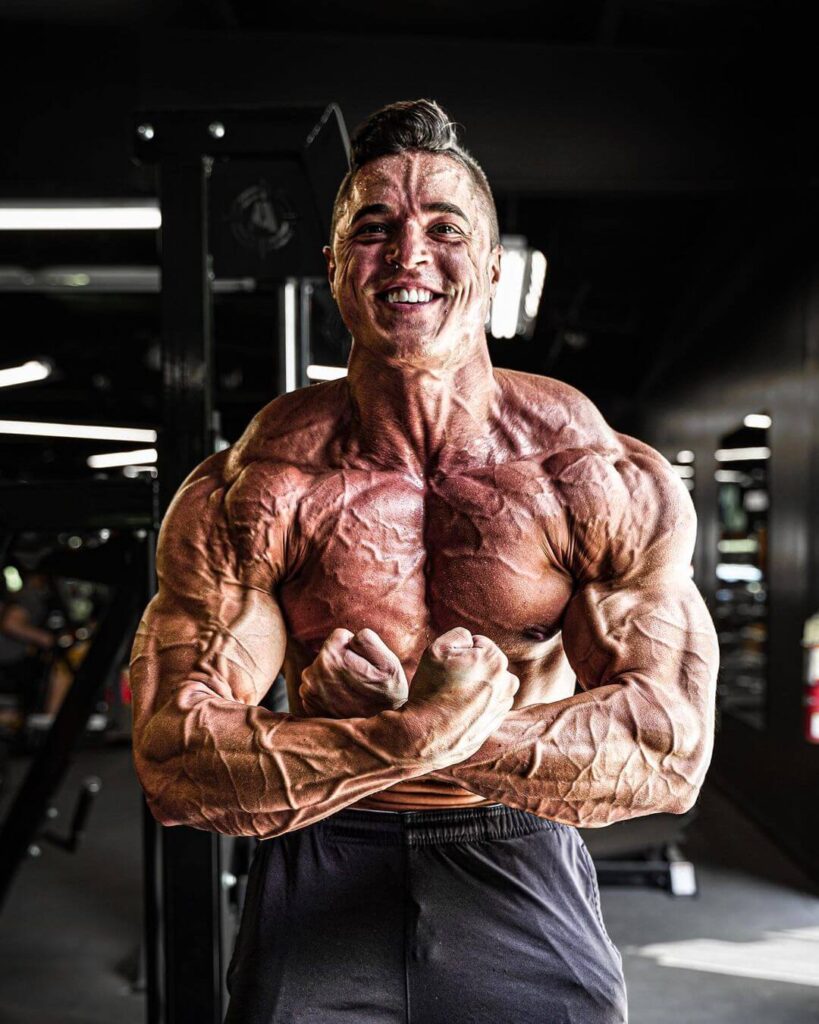 Here is Matt Greggo's chest, back, shoulder, and arm workout:
| | |
| --- | --- |
| Barbell Bench Press | 3-4 Sets of 8-12 Reps |
| Dumbbell Press | 3-4 Sets of 8-12 Reps |
| Incline Bench Press | 3-4 Sets of 8-12 Reps |
| Cable Flyes | 2-3 Sets of 8-12 Reps |
| | |
| --- | --- |
| Single Arm Cable Pulldown | 1-2 Sets of 8-12 Reps |
| Hammer Strength Row | 1-2 Sets of 8-12 Reps |
| Seated Cable Row | 1-2 Sets of 8-12 Reps |
| Wide-Grip Pulldown | 1-2 Sets of 8-12 Reps |
| Upper Back Pulldown | 1-2 Sets of 8-12 Reps |
| | |
| --- | --- |
| Shoulder Press | 3-4 Sets of 8-12 Reps |
| Military Press | 3-4 Sets of 8-12 Reps |
| Dumbbell Lateral Raises | 3-4 Sets of 8-12 Reps |
| | |
| --- | --- |
| Triceps Dips | 3-4 Sets of 8-12 Reps |
| Triceps Pushdowns | 3-4 Sets of 8-12 Reps |
| Skull Crushers | 3-4 Sets of 8-12 Reps |
| Bicep Curls | 3-4 Sets of 8-12 Reps |