Hassan Mostafa is an IFBB pro bodybuilder from Egypt who lives in Kuwait for bodybuilding. Hassan's first contest was the Indy Pro 2021, where he got 3rd place against Steve Kuclo.
Hassan Mostafa revealed himself to the audience at Tampa Pro with his tremendous thickness, unique frame, round muscle bellies, and quads. He got 5th place there while Dexter Jackson won the show.
Hassan Mostafa was born and raised in Egypt. His childhood was superficial, as he was not interested in any other game besides bodybuilding. At 17, Hassan was a lean and skinny child.
Hassan Mostafa is a remarkable bodybuilder hailing from Egypt. Born into a lineage of excellence, with his father being an Egyptian bodybuilding champion and actor, El Shahat Mabrouk, Hassan was naturally drawn to the world of weight training from a young age.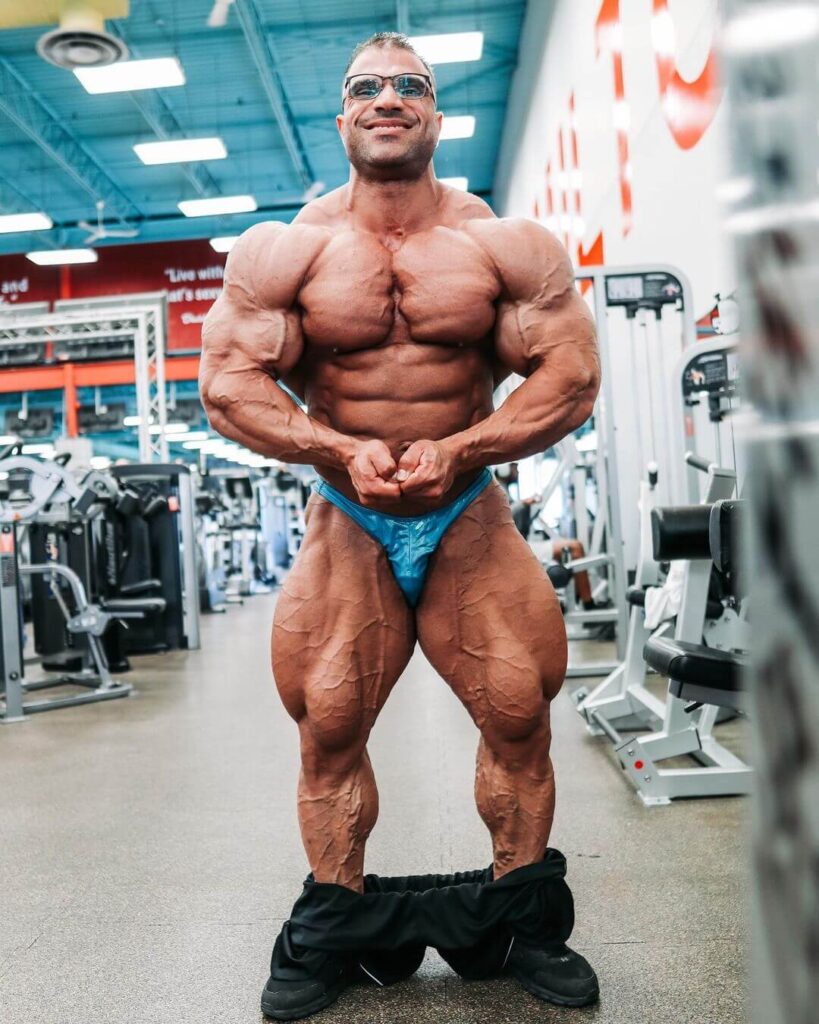 His journey to success began when he triumphed over formidable competition, such as Theo Leguerrier.
He emerged victorious at the Puerto Rico Pro show, securing his qualification for the highly prestigious Mr. Olympia event in 2022.
Initially, Hassan's father recognized his potential and sent him to a local gym to further develop his physique. Hassan demonstrated his exceptional talent during a local contest and clinched the first-place title.
However, residing in a small town near Cairo presented challenges, as expert trainers and coaches were scarce, leaving Hassan to navigate the competitive arena mainly on his own.
In 2014, everything changed when Hassan participated in the IFBB Junior World Championships. His outstanding performance caught the attention of the owner of Gold's Gym in Kuwait, who offered him a training position.
Eager to enhance his skills, Hassan accepted the offer and soon relocated to Kuwait City. 2018 proved to be a significant year for Hassan as he mirrored the footsteps of the renowned Big Ramy by winning the Amateur Olympia in Kuwait City.
Subsequently, he debuted at the Indy Pro, securing an impressive third-place finish.
Hassan continued to excel, although his triumph at the Tampa Pro Show was overshadowed by the entrance of Dexter Jackson, who claimed victory due to his dedicated fanbase.
In 2020, Hassan competed at the highly regarded 2020 New York Pro, achieving a commendable fourth-place position against fierce competitor Iain Valliere.
Determined to reach new heights, Hassan sought guidance from the seven-time Mr. Olympia 212, Flex Lewis, who provided invaluable training and coaching for the 2021 New York Pro.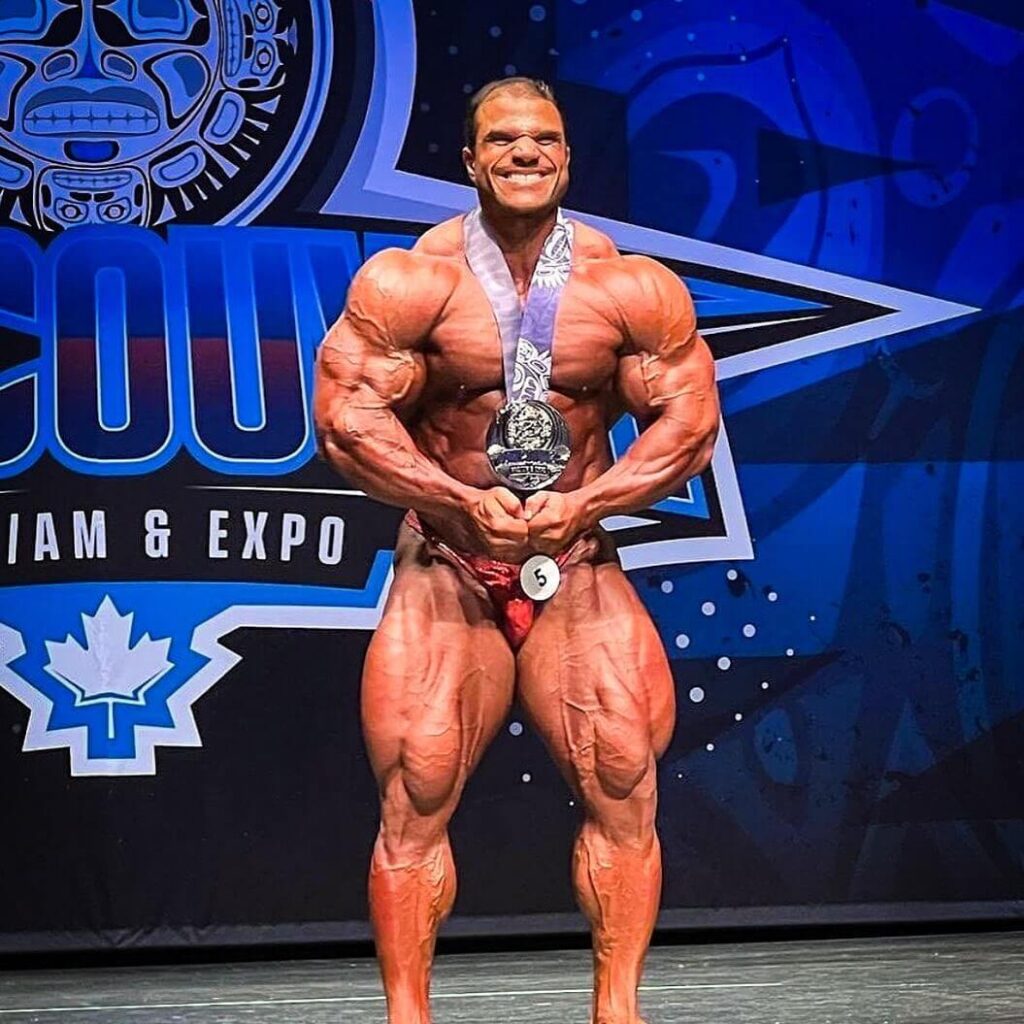 This time, he secured an impressive third-place finish in the Men's Open Bodybuilding class, pitted against the formidable Nick Walker.
Continuing his pursuit of greatness, in 2023, Hassan participated in the prestigious 2023 Vancouver Pro Bodybuilding Show.
His stellar performance made him secure his ticket to the Olympia, emerging victorious in the Men's Open Bodybuilding category.
Hassan Mostafa's journey is a testament to his determination, perseverance, and unwavering passion for bodybuilding. He continues redefining his limits with each competition and inspiring aspiring athletes worldwide.
Despite an unfavorable season in bodybuilding last year, Hassan Mostafa is determined to right the ship and get his career back on track.
In a YouTube video, Mostafa shares how he will be tinkering with his training and diet to accommodate his physique during Ramadan.
Emerging as a preeminent threat in 2020, Mostafa placed fourth at the New York Pro. Following his performance on the East Coast, he was sidelined from competition after an infection prevented him from training at one hundred percent.
After only competing at one show in 2020, Hassan made up for lost time and competed at seven IFBB Pro shows in 2021.
While he didn't walk away with any significant titles, some of his most notable performances came when he placed ninth at the 2021 Arnold Classic and thirteenth at the 2021 Mr. Olympia.
As observed by Muslim populations, Ramadan is the ninth month of the Islamic Calendar. Those who are non-disabled and healthy practice fasting while the sun is up and focus on prayer and reflection throughout the month.
As a bodybuilder, the dietary restrictions imposed by Ramadan can make it challenging to maintain a competitive physique, though Mostafa is confident he's found the recipe for success.
Hassan Mostafa on Ramadan Diet: "I Eat The Same Macros"
In a recent video published on YouTube, Mostafa explains the changes he's made to his diet and training to ensure he doesn't lose or gain too much weight during Ramadan.
"Today, I will film a day in my life in Ramadan. Usually, in Ramadan, I wake up around noon and sleep after sunrise. Right now, I'm in prep, so I switched my day around to manage to eat all my meals and train. This way, I can follow my plan and continue my diet and training as usual." Hassan Mostafa said.
Hassan Mostafa follows a disciplined and structured diet plan to support his bodybuilding endeavors. Let's take a closer look at his typical eating routine.
Starting his day during the fasting period of Ramadan, Hassan engages in 45 minutes of cardio to break his fast. After this, he begins his first meal with some essential beverages.
His first glass consists of apple cider vinegar, lemon, and peppermint oil, contributing to his overall gut health and digestion. The second glass comprises a green drink that promotes colon health and alleviates bloating issues.
For his actual meal, Hassan weighs out his portions. He typically consumes 150 grams of rice and 5 ounces of chicken breast, substituting turkey breast when available.
He prefers to prepare his meals in advance for convenience, especially when time is limited. However, he prefers to cook each meal individually for optimal freshness if he has more free time.
Additionally, Hassan includes one cup of egg whites in his first meal, seasoning them with salt and warming them up before consumption.
During Ramadan, Hassan maintains his routine and macros, ensuring he eats the same meals and follows the exact cardio timing.
He believes that cardio before breaking his fast maximizes fat burning and increases appetite. Hassan emphasizes that this approach suits individuals aiming to maintain a healthy lifestyle or track their calorie intake.
However, it allows flexibility to eat with their family during non-prep periods. To avoid digestive issues and accommodate his tight meal schedule, Hassan postpones consuming vegetables until after his training sessions.
Eating veggies before training slows his digestion while incorporating fiber-rich vegetables afterward aids his digestion.
Furthermore, Hassan initially cooks his meals without salt, allowing him to track and add the appropriate amount later.
He emphasizes the benefits of salt for a good pump during training, although individuals with specific health concerns may need to reduce their salt intake.
Hassan acknowledges that some individuals may experience weight loss during Ramadan, but he believes that consuming consistent calories throughout the night can help maintain weight.
He advises caution regarding consuming sugary drinks and calorie-dense desserts, which can contribute to weight gain if not controlled.
Hassan encourages people to make the most of the fasting period by being mindful of their calorie intake and making nutritious choices.
Overall, Hassan Mostafa's diet plan balances carefully measured portions, nutrient-dense foods, and an awareness of timing and personal goals.
His approach emphasizes the importance of consistency, discipline, and customization based on individual circumstances.
Here is Hassan Mostafa's Daily Meal Plan:
Meal 1:
6 whole eggs
225g chicken breast
250g cream of rice (flavored with a sweetener like stevia and cinnamon)
Meal 2:
225g chicken breast
250g potatoes
250g white fish
225g rice
1/2 avocado
Post-Workout Shake:
Meal 4 (Post-Workout):
225g chicken breast
250g potatoes
Meal 5:
250g white fish
225g rice
1/2 avocado
Meal 6:
200g lean beef
1 cup egg whites
200g potatoes
Hassan Mostafa follows a rigorous training routine to maintain his impressive physique and continuously improve.
Here is an overview of his training and workout routine:
After breaking his fast with a cardio session, Hassan begins intense exercises to target different muscle groups.
Some of the exercises he incorporates into his workout routine include:
| | |
| --- | --- |
| Seated Smith Machine Shoulder Press | (13 Reps) |
| Standing Machine Side Lateral Raise | (14 Reps) |
| Seated Reverse Fly | (16 Reps) |
| Barbell Front Raise | (13 Reps) |
| Barbell Upright Row | (17 Reps) |
Additionally, Hassan dedicates 45 minutes to cardio, utilizing a stair master for cardiovascular endurance and calorie burning.
Following his training session, Hassan enjoys his Meal 4 during Suhur (early morning before sunrise), typically consisting of 150g of rice and 5 ounces of fish.
He then takes the opportunity to relax, watch his favorite show, and prepare for Suhur, the pre-dawn meal before the fasting period begins again. Suhur consumes 6 ounces of beef with cucumber.
Despite the challenges presented by time constraints during Ramadan, Hassan remains focused on maintaining his massive physique during the off-season. He continues to work diligently to enhance his conditioning to match his impressive size.
Hassan's dedication has positioned him as a formidable competitor in the IFBB Pro scene, with high expectations for his upcoming participation in the Orlando Pro competition in July.
Hassan meticulously plans both his diet and training to ensure that he can sustain his physique. By adjusting the timing of his diet and training regimens, he is confident in maintaining his size and conditioning during Ramadan.
With a relentless drive for improvement, Hassan Mostafa is determined to present an undeniable package in future competitions.