The world of competitive bodybuilding is a realm where only the most genetically gifted, determined, and relentless bodybuilders rise to the pinnacle of success. It demands a unique combination of muscle size, symmetry, balance, proportions, shape, and conditioning.
While many embark on the journey to sculpt their bodies through dedicated training, nutrition, and recovery, only a select few possess the extraordinary genetics required to shine on the professional bodybuilding stage.
In a nation of over 1.42 billion people, India boasts a treasure trove of talent with the potential to conquer the world of bodybuilding. India's rich heritage of strength sports has given birth to a lineage of extraordinary athletes.
However, the world of bodybuilding, with its rigorous demands, has witnessed only a handful of Indian bodybuilders making a significant impact on the global stage.
Nevertheless, in recent years, the popularity of bodybuilding in India has soared, marked by the proliferation of state-of-the-art gyms and a surge in fitness enthusiasts taking up the iron game.
Social media has played a pivotal role in amplifying this newfound enthusiasm, bringing the sport of bodybuilding to the masses.
The significance of role models and sources of motivation cannot be overstated in the world of bodybuilding.
Walk into any gym in India, and you're likely to find training videos of iconic figures such as Arnold Schwarzenegger, Ronnie Coleman, Chris Bumstead, and Branch Warren playing on the gym's screens, inspiring the next generation of iron warriors.
This article pays tribute to the top 12 Indian bodybuilders who have not only etched their names in the annals of bodybuilding history but have also become beacons of inspiration for millions in India and around the world, igniting the spark for transformation journeys.
Sangram Chougule: India's Bodybuilding Icon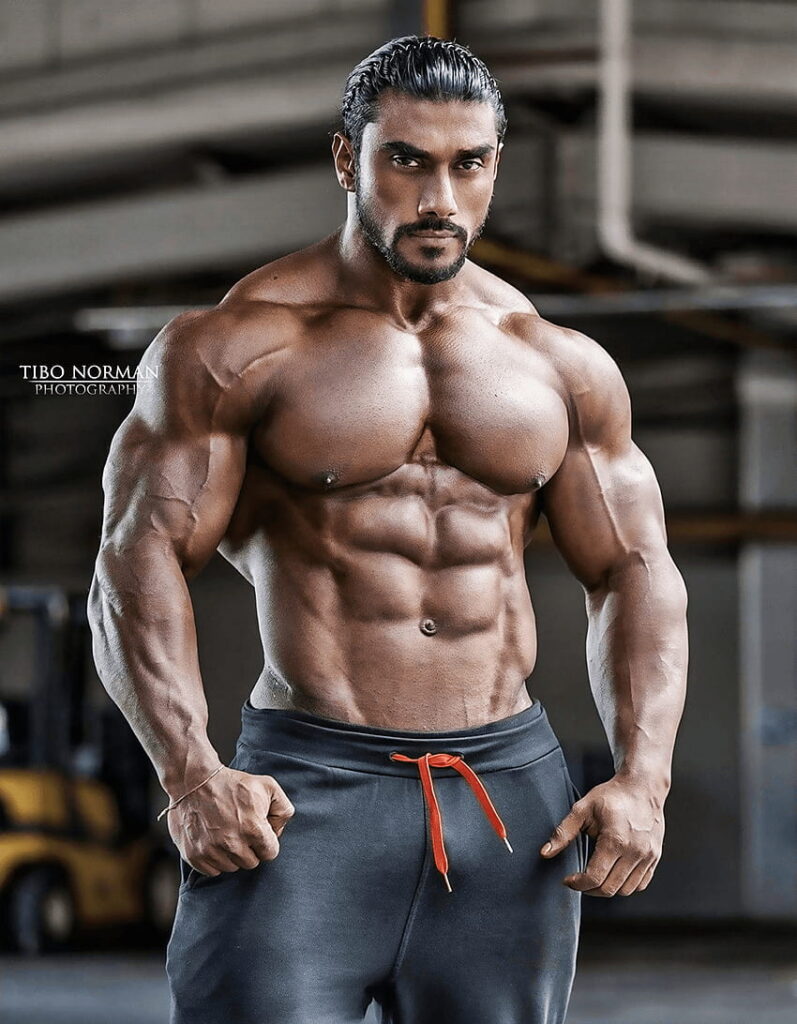 Sangram Chougule, a name synonymous with colossal size and impeccable conditioning, stands as a towering figure in the realm of Indian bodybuilding.
His achievements are a testament to his dedication and exceptional talent, making him one of the most celebrated bodybuilders in India.
Sangram Chougule's journey to greatness saw him clinch two Mr. World titles in 2012 and 2014, a remarkable feat that solidified his status as a global force in bodybuilding.
His dominance extended to the national stage, where he secured an astonishing six consecutive Mr. India titles from 2010 to 2015, firmly establishing his reign as the country's top bodybuilder.
Additionally, he clinched three Mr. Maharashtra titles and a coveted Mr. Universe title in 2012. What set Chougule apart was not just his massive size but also his remarkable flexibility.
His posing routine was nothing short of mesmerizing, featuring a full split that left fans in awe and drew comparisons to legends like Flex Wheeler and Ronnie Coleman.
Despite his last appearance in a bodybuilding show dating back to 2015, Sangram Chougule remains actively involved in the Indian bodybuilding community.
Today, he continues to inspire the next generation of bodybuilders through his gym in Pune, India and even ventured into the world of cinema with his appearance in the Marathi movie, "Dandam" (2019).
Notably, Chougule's rivalry with fellow bodybuilder Suhas Khamkar, both hailing from Kolhapur in Maharashtra, mirrored the legendary competitions between giants like Kai Greene and Phil Heath.
Bhuwan Chauhan: India's First IFBB Pro Show Champion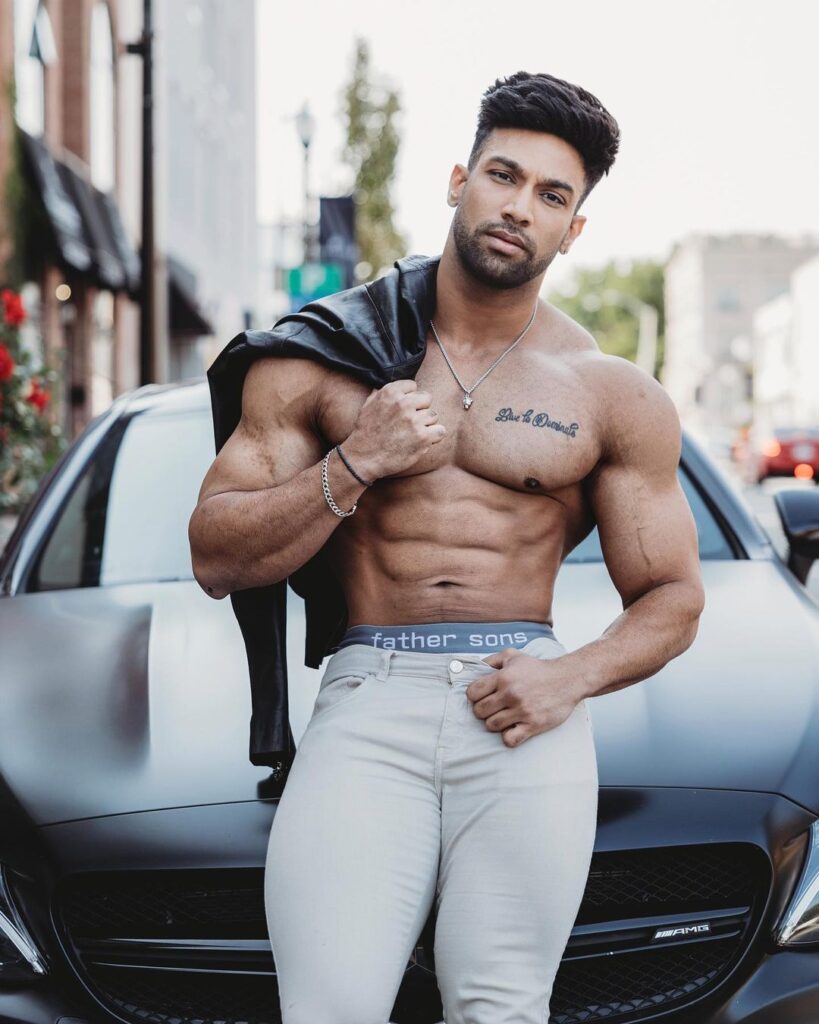 In the illustrious landscape of Indian bodybuilding, few have earned the coveted IFBB Pro card, and fewer still have graced the professional stage.
Bhuwan Chauhan, a name that resonates with excellence, holds the distinction of being the first Indian bodybuilder to claim victory in an IFBB Pro show, specifically in the Men's Physique category.
As of the time of writing, Bhuwan Chauhan boasts an impressive tally of six IFBB Pro show victories to his name, a testament to his exceptional prowess and dedication.
His remarkable wins include the 2019 IFBB Vancouver Pro, 2020 IFBB Border States, 2021 IFBB Tournament of Champions Pro, 2022 IFBB San Francisco Championships, 2022 IFBB Sheru Classic Mumbai Pro, and the 2023 IFBB Sheru Classic India Pro.
Bhuwan Chauhan's journey led him to the prestigious Mr. Olympia stage on three occasions (2019, 2020, and 2022).
Among these appearances, his standout performance came in 2020, where he secured a commendable 15th-place finish, marking a significant milestone in his career.
Bhuwan Chauhan's remarkable journey in bodybuilding took an unexpected turn when he ventured to the University of Alberta, Canada, in pursuit of higher education in 2011.
It was during his time at the university that he discovered his passion for bodybuilding and commenced his competitive journey in 2016.
His dedication and hard work culminated in the acquisition of his pro card at the Ben Weider Legacy Cup in 2017. For avid followers of Indian competitive bodybuilding, Bhuwan Chauhan is a name to watch closely.
With his exceptional talent, enviable physique, and remarkable genetics, he carries the potential to make a significant impact in the IFBB Pro League and perhaps even grace the illustrious stage of the Mr. Olympia contest in the near future.
Rajendran Mani: The Indian Hulk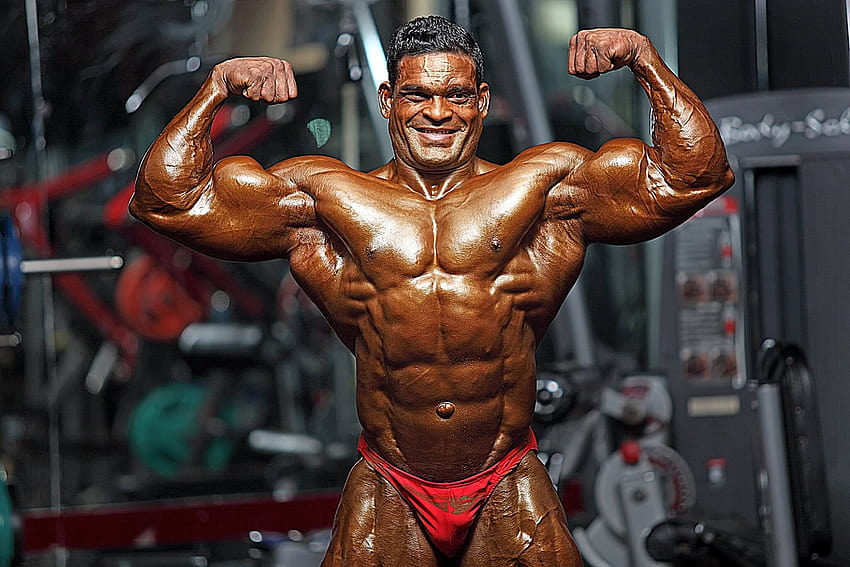 Rajendran Mani stands as one of the most illustrious and decorated figures in Indian bodybuilding. His journey in the world of bodybuilding is marked by extraordinary achievements, resilience, and a formidable physique that earned him the moniker "Indian Hulk."
Rajendran Mani's journey into the realm of bodybuilding began within the esteemed ranks of the Indian Air Force (IAF).
He achieved his first bodybuilding championship victory while serving in the IAF in 2002. This early triumph set the stage for an exceptional career in the sport.
A remarkable aspect of Rajendran Mani's journey is his dominance in the inter-services championship within the 90KG class.
For an impressive span of six years, from 2004 to 2010, he remained the undisputed champion in this category.
Additionally, Rajendran Mani boasts an astonishing 12 Mr. Services titles to his name, a testament to his consistency and excellence.
His conquests extend globally, with five Mr. World titles and a staggering 14 Mr. India titles firmly establishing his legacy as one of India's greatest bodybuilders.
However, Rajendran Mani's journey has not been without its challenges. In 2010, he took voluntary retirement from the Indian Air Force after a promised promotion was denied to him. This decision marked a turning point in his life as he embarked on a new chapter.
In 2011, he ventured into entrepreneurship by opening his gym in the national capital. Unfortunately, the gym business faced significant losses, leading to its closure.
Despite these setbacks, Mani's indomitable spirit remained undeterred. He went on to capture the Mr. World title in 2013, showcasing his unwavering dedication to the sport.
Financial turmoil prevented him from defending his title in 2014, highlighting the challenges faced by even the most accomplished athletes.
Notably, Rajendran Mani's legacy transcends his achievements. His son, Benjamin Mani, has emerged as a promising professional bodybuilder.
Benjamin has clinched the prestigious Mr. World title three times and holds the title of Mr. Asia champion. His emergence on the Indian bodybuilding scene heralds a new era of promise and talent in the sport.
Murli Kumar: The Iconic Mustached Bodybuilder
Murli Kumar, a name that resonates throughout the Indian bodybuilding community, stands as one of the most iconic figures in the sport.
Born in the southern state of Kerala, Murli Kumar's journey into bodybuilding took a unique path. Initially pursuing a career as a software engineer, Murli Kumar's life took a different trajectory when he joined the Indian Navy.
Seeking a more active and physically demanding lifestyle, he embarked on naval training. However, a leg injury during this phase altered his course and led him towards strength training—a decision that would change his life forever.
Murli Kumar's passion for training quickly ignited, and he soon realized his immense potential in competitive bodybuilding.
Fueled by dedication and a structured approach encompassing training, diet, and recovery, he embarked on a journey to enhance his aesthetics. Murli Kumar's illustrious career boasts three Mr. India titles, a remarkable achievement in itself.
Additionally, he holds a staggering ten Mr. Services titles, further solidifying his legacy as one of India's finest bodybuilders. His accolades also include the prestigious title of Mr. Asia champion.
Murli Kumar's influence transcends the competition stage, as his posters adorn the walls of numerous gyms across the nation.
His journey from a software engineer to a celebrated bodybuilder serves as a testament to the transformative power of dedication, discipline, and passion for the iron sport.
Sunit Jadhav: Rising Star of Indian Bodybuilding
Sunit Jadhav has emerged as one of the most promising talents in the Indian professional bodybuilding scene.
His journey from an economics student to a renowned bodybuilder is a testament to his unwavering dedication to the sport.
Despite initially pursuing higher education, Jadhav made a life-altering decision by dropping out of college to pursue his passion for bodybuilding.
His early introduction to weightlifting laid the foundation for a remarkable career. Sunit Jadhav's dedication and talent began to shine as he claimed victory in several small-scale bodybuilding competitions.
A significant turning point in Jadhav's career came in 2009 when he entered and emerged victorious in the prestigious Maharashtra Shree contest. This triumph instilled in him the confidence and motivation to compete at the highest echelons of bodybuilding.
Jadhav's list of accolades is nothing short of impressive. He has clinched the coveted Mr. India title on three occasions—in 2012, 2013, and 2015.
Additionally, he boasts six Mr. Maharashtra titles and four Mr. Mumbai titles, further solidifying his status as a dominant force in Indian bodybuilding.
As an IFBB Pro bodybuilder, Sunit Jadhav has the privilege of working alongside the renowned coach Hany Rambod.
His ultimate aspiration is to secure victory in an IFBB pro show, a feat that would grant him the opportunity to compete at the prestigious Mr. Olympia contest.
Yatinder Singh: Triumph Over Adversity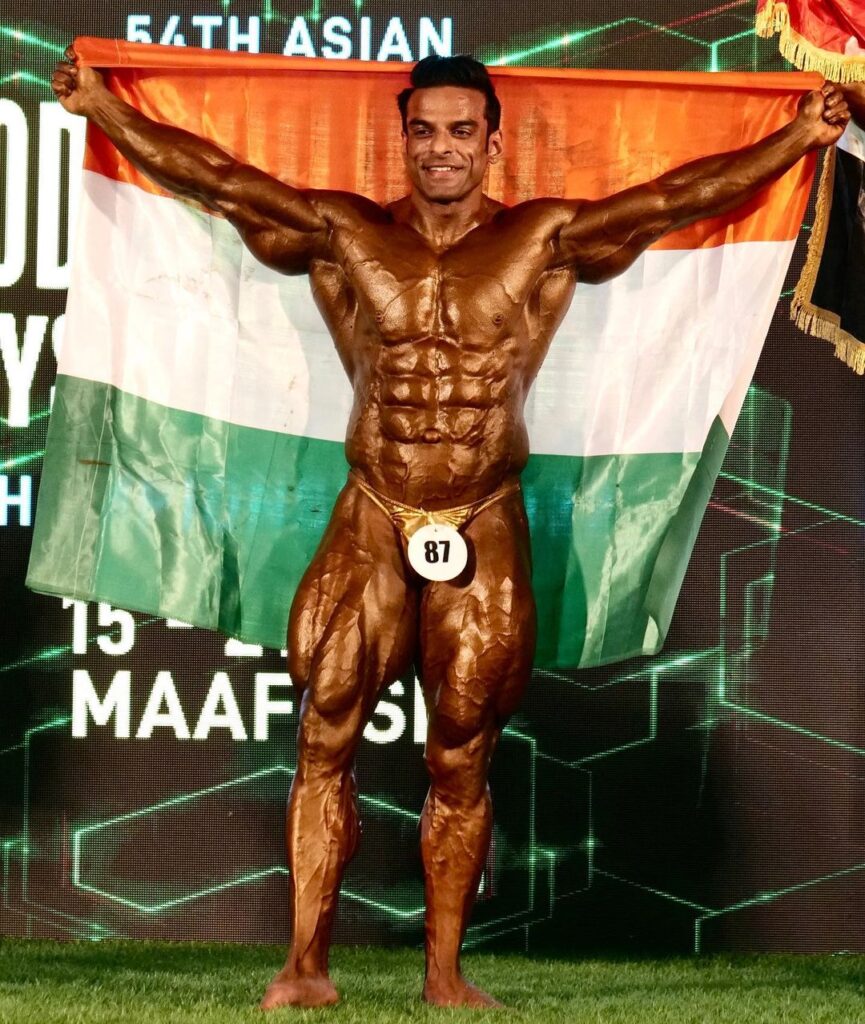 Yatinder Singh's journey in the realm of Indian bodybuilding is characterized by resilience, determination, and a remarkable ability to overcome adversity. His entry into the world of bodybuilding dates back to 2001, marking the beginning of a remarkable odyssey.
In 2002, Yatinder Singh achieved a significant milestone by entering and emerging victorious in his maiden bodybuilding contest—the Western Uttar Pradesh Championship. This early success laid the foundation for a promising career in the sport.
However, Yatinder Singh's journey took an unforeseen turn when he faced a debilitating setback.
While preparing for the 2005 Mr. Asia competition, he suffered a severe lower back vertebrae injury that left him with approximately 30 percent paralysis in his right hand and leg.
Bedridden for months, Yatinder Singh confronted immense physical and emotional challenges. Yet, Singh's determination and unwavering commitment to his dream of becoming a professional bodybuilder shone through.
After four arduous years of recovery, he made a triumphant return to the stage in 2009, securing victory in the North India Bodybuilding Championship.
Yatinder Singh's remarkable journey culminated in his retirement from competitive bodybuilding after achieving gold at the 2016 Senior Mr. India and bronze at the Mr. International Championship.
However, his story took an unexpected twist when he emerged from retirement after a six-year hiatus to clinch the 2022 Mr. Asia title in Maldives—an extraordinary testament to his indomitable spirit.
Ankur Sharma: A Podium Finisher on the Global Stage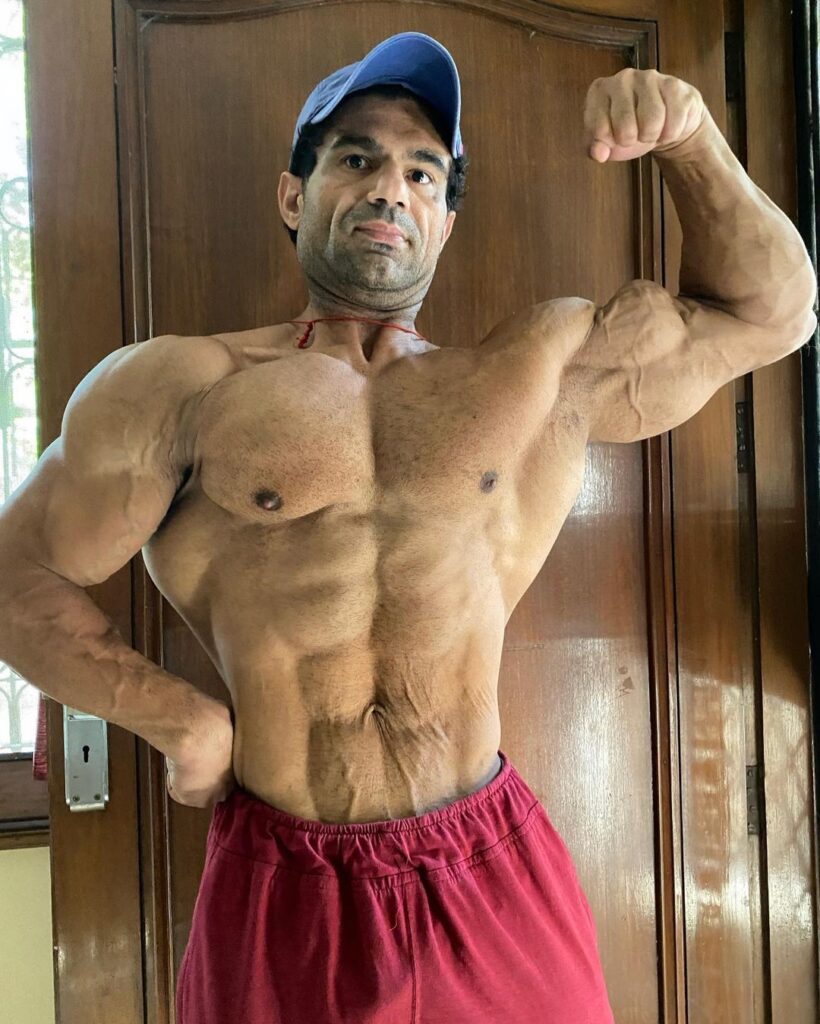 Ankur Sharma, hailing from Delhi, stands as a prominent figure in the world of Indian bodybuilding, with a string of impressive titles and achievements to his name.
In 2009, Ankur Sharma achieved a monumental milestone by winning the Mr. Universe and Mr. South Asia titles.
This marked the beginning of a remarkable career that would see him ascend to the upper echelons of the sport. Ankur Sharma's dominance continued as he claimed victory in the Mr. India contest in 2012.
His pursuit of excellence extended to the global stage, where he secured the prestigious WBPF World Championship and Mr. Asia titles in 2013—an accomplishment that further solidified his status as a formidable force in bodybuilding.
One of Ankur Sharma's standout achievements lies in his podium finish at a top-tier IFBB Pro League competition.
In the 2016 Arnold Classic Australia, he secured the second runner-up position in the highly competitive 212 division, standing alongside elite bodybuilders Ahmad Ashkanani and Issa Al Hasani.
After a six-year hiatus, Ankur Sharma made a triumphant return to the bodybuilding stage in 2023.
Competing in the Classic Physique division of the Mr. North India contest, he once again claimed gold, reaffirming his enduring passion and commitment to the sport.
Wasim Khan: The Unprecedented Champion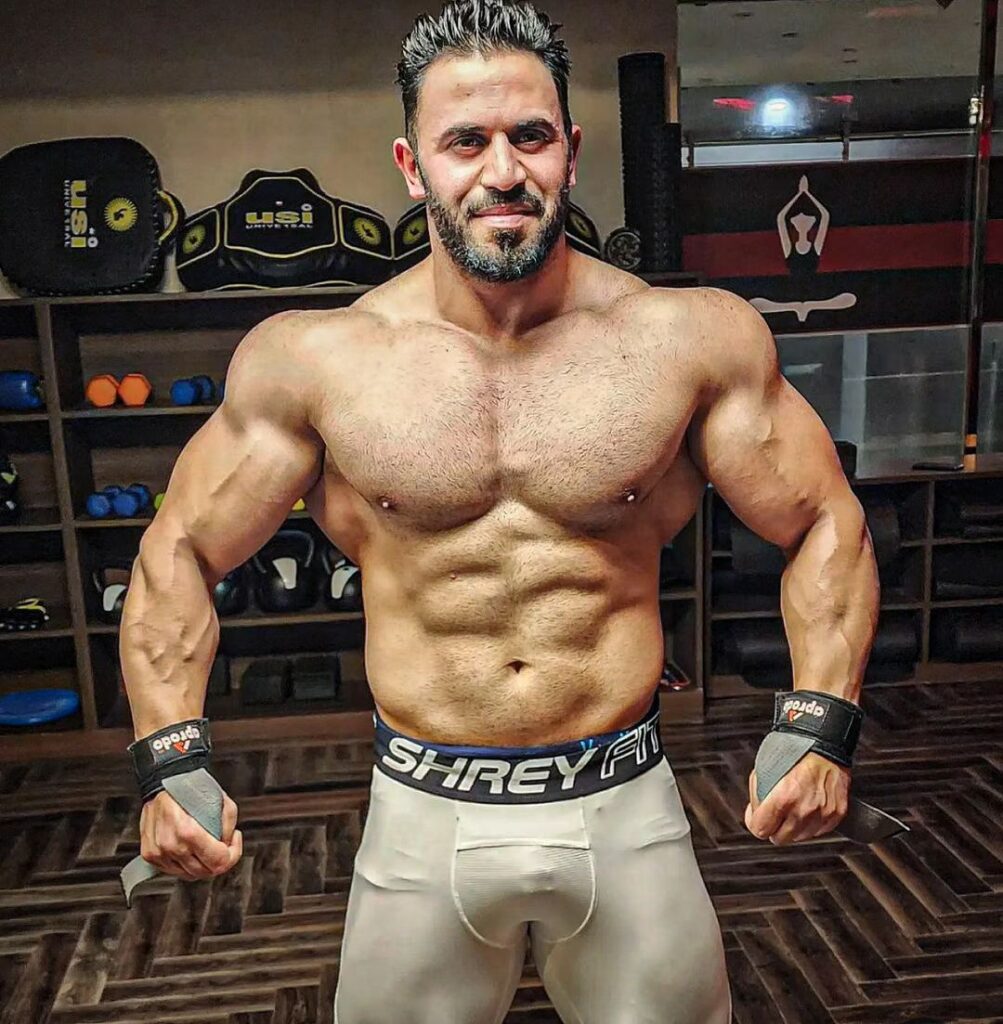 Wasim Khan's journey in the world of bodybuilding reads like a saga of unrelenting success. With an astonishing record of achievements, he has firmly established himself as one of India's most celebrated bodybuilders.
Wasim Khan's accolades include an astounding 13 Mr. Delhi titles, an impressive five Mr. India titles, and the prestigious crown of Mr. Universe.
His dominance extended to the global stage with three Mr. World titles and two Mr. Asia titles to his name—a testament to his extraordinary talent and dedication.
What sets Wasim Khan apart is his remarkable feat of winning the International Bodybuilding Fitness Federation (IBFF) championship for three consecutive years in 2015, 2016, and 2017.
Notably, he stands as the sole Indian bodybuilder to have achieved this remarkable feat, cementing his legacy in the annals of Indian bodybuilding history.
While Khan may currently be on a hiatus from competitive bodybuilding shows, his presence and influence in the fitness industry remain profound.
He actively participates in bodybuilding expos across the nation, inspiring a new generation of aspiring bodybuilders.
Amit Chhetri: The Constable of Muscle
Hailing from the northern Indian state of Uttarakhand, Amit Chhetri combines his dedication to bodybuilding with a career as a constable in the Uttarakhand Police—a testament to his unwavering commitment to both service and the sport.
Chhetri's journey in bodybuilding is marked by notable achievements, including his first-place victory in the Mr. India Federation Cup in 2007 and the prestigious Champion of Champions title for the Federation Cup in 2013.
One of Chhetri's most remarkable feats is his gold medal win at the 2013 Sheru Classic, further solidifying his prowess on the bodybuilding stage.
His victory in the 2016 Mr. Indian title, competing in the 100KG weight class, underscored his versatility and skill in the sport.
Chhetri's global triumph came at the 2015 Fairfax World Police and Fire Games in Virginia, where he outshone 42,000 competitors from 90 countries, attaining the gold medal—an achievement that resonates with his unwavering dedication and resilience.
Manoj Patil: Triumph Over Adversity
Manoj Patil, hailing from Kolhapur, Maharashtra, emerged as a formidable force in Indian bodybuilding with his extraordinary journey.
Manoj Patil embarked on his training journey at the age of 18, a decision that would eventually lead to a series of remarkable achievements.
His debut in the bodybuilding arena was marked by victory in the Junior Mr. Mumbai contest at the age of 21—a promising start to his career.
In 2016, Patil reached the pinnacle of success by clinching the coveted Mr. India Men's Physique Overall Championship—a title that underscored his rising prominence in the sport.
His journey reached a significant milestone when he earned his IFBB Pro card by securing victory in the 2019 Sheru Classic in the Men's Physique division.
However, Manoj Patil faced a challenging period in 2021 when he alleged cyberbullying from an actor and fitness entrepreneur, which led to a suicide attempt.
Fortunately, timely intervention saved his life, highlighting the mental and emotional toll associated with the sport.
In May 2023, Patil faced a six-month suspension from the IFBB Pro League for his involvement as a judge in a non-IFBB Pro show—an unfortunate setback that disrupted his aspirations of competing at the 2023 Olympia.
Prashant Salunkhe: A Genetic Marvel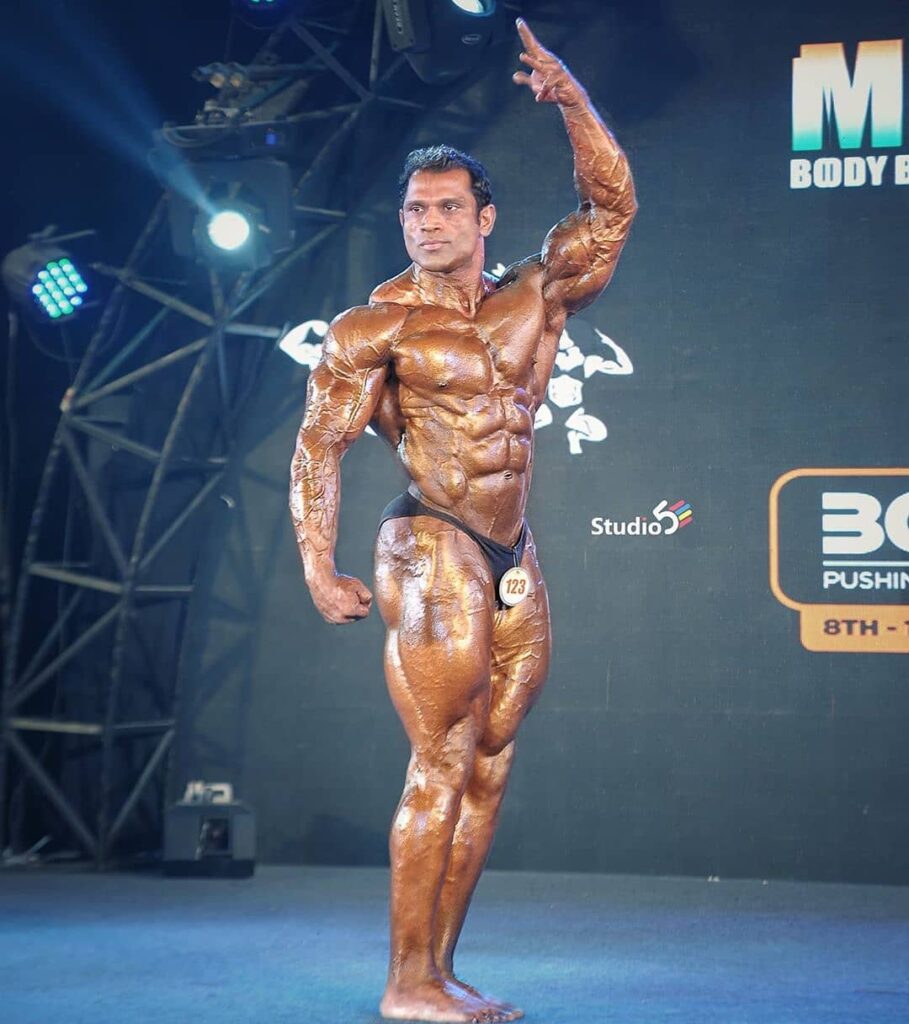 Prashant Salunkhe has carved a niche for himself in the Indian bodybuilding landscape with his exceptional genetic gifts and unparalleled dedication to the sport.
Renowned for his thick, round, and full muscle bellies, Prashant Salunkhe achieved a milestone in 2015 by clinching the Mr. India crown—an achievement that involved defeating the dominant Suhas Khamkar.
Salunkhe's record boasts an impressive eight Mr. India titles, a testament to his enduring dominance in the national bodybuilding scene.
In 2016, he added the Mumbai Shree and Jerrai Shree titles to his growing list of accolades, further solidifying his status as a formidable force in Indian bodybuilding.
His exceptional genetics and dedication continue to make him a noteworthy presence in the sport, serving as an inspiration to aspiring bodybuilders across the nation.
Thakur Anoop Singh: From Skies to Stardom
Thakur Anoop Singh's journey is nothing short of remarkable, spanning the realms of aviation, bodybuilding, modeling, and acting. His story reflects the indomitable spirit of pursuing one's dreams and persevering through challenges.
At the pinnacle of his bodybuilding career, Thakur Singh clinched a gold medal at the prestigious 2015 Mr. World competition in the Men's Physique division—a testament to his exceptional physique and dedication to the sport.
This achievement was further underscored by his silver medal at the 2015 Mr. India and a bronze at the 2015 Mr. Asia.
However, Thakur Singh's journey to stardom was not a conventional one. His initial dream was to soar the skies as a pilot, and at the age of 19, he fulfilled this aspiration.
Trained as a pilot, he embarked on an aviation career, only to face the harsh reality of the worldwide economic recession in 2009. The economic downturn left him without a job, compelling him to explore alternative avenues.
In a remarkable shift, Thakur Singh transitioned into the fields of modeling and acting—a decision that would ultimately shape his future.
His breakthrough moment arrived in 2013 when he secured a role in the hit TV show "Mahabharat," marking the beginning of his acting career.
Thakur Singh's versatility extends beyond bodybuilding and acting. He has made significant contributions to Indian television, starring in popular TV shows, and has graced the screens of Telugu, Tamil, Kannada, and Hindi cinema with his presence.
His multifaceted journey—from a pilot with soaring ambitions to a bodybuilder, model, and actor—serves as an inspiration for those who dare to chase their dreams and embrace new horizons.