As the 2023 Mr. Olympia Weekend approaches, the bodybuilding world is buzzing with anticipation and excitement. With an incredibly competitive Men's Open division, the event promises to be one for the ages.
In the absence of a dominant titleholder since the end of Phil Heath's reign in 2018, the stage is set for a new champion to emerge.
Among the leading frontrunners for this prestigious title are Brandon Curry and Samson Dauda, as predicted by Coach Abdullah Alotaibi.
In this article, we will delve into the insights provided by Alotaibi and explore the top 10 contenders for the 2023 Mr. Olympia.
The Unpredictable Men's Open Division
The Men's Open division in bodybuilding has never been more unpredictable and exciting.
Gone are the days of a single dominant champion, with the late Shawn Rhoden ending Phil Heath's seven-year reign in 2018.
Since then, we have seen Brandon Curry and Mamdouh "Big Ramy" Elssbiay taste victory. However, the landscape remains wide open, with new contenders emerging every year.
Coach Abdullah Alotaibi's Insights
Abdullah Alotaibi, the coach of Brandon Curry, has offered valuable insights into the preparations and potential winners of the 2023 Mr. Olympia.
He not only predicts the top contenders but also sheds light on his coaching philosophy and the unique attributes of his athletes.
Top 10 Predictions
Let's dive into Alotaibi's top 10 predictions for the 2023 Mr. Olympia:
According to Alotaibi, Brandon Curry is coming into the 2023 Mr. Olympia 13 pounds lighter than the previous year.
Alotaibi mentioned that they had made a mistake by prioritizing size over detail in the past. He highlighted the importance of symmetry for Brandon Curry, emphasizing that he is not a "freaky" bodybuilder like Big Ramy.
Alotaibi revealed that Brandon Curry avoids using performance-enhancing drugs a week before contests, emphasizing the significance of a clean and drug-free preparation.
Age Is Just a Number
Despite being 40 years old, Alotaibi believes that Brandon Curry is not slowing down.
He draws parallels between Brandon Curry and former Mr. Olympia Dexter Jackson, who had a long and successful career in bodybuilding.
Alotaibi explained that Brandon Curry maintains his physique without the use of performance-enhancing drugs throughout the year, only introducing them in the final weeks leading up to the Olympia.
Alotaibi also shared his experiences training Samson Dauda, highlighting Dauda's determination and dedication.
He expressed his belief that Samson Dauda has the potential to become a Mr. Olympia champion in the future.
Although Alotaibi is backing Brandon Curry to win the 2023 Olympia, he refuses to count out Dauda's chances of success, stating that Samson Dauda could indeed win the Olympia.
Symmetry vs. Freak Factor
Alotaibi is a strong advocate for bodybuilders with excellent shape and symmetry, as opposed to those with a "freak factor."
He believes that bodybuilders like Samson Dauda, Brandon Curry, and Andrew "Jacked" Obiekea, who possess both symmetry and aesthetics, are the most dangerous competitors.
Alotaibi suggests that Hadi Choopan, Derek Lunsford, and Nick Walker, while impressive in their own right, have similar physiques, which play into the hands of Brandon Curry and Samson Dauda.
Size Isn't Everything
Alotaibi emphasizes that "bigger is not always better." He points out that Samson Dauda's ability to maintain fullness and aesthetics at a lower weight gives him a competitive edge.
He also mentioned that Brandon Curry is expected to step on stage at 240 pounds, 13 pounds lighter than his previous Olympia appearance, highlighting the importance of maintaining a balanced and aesthetic physique.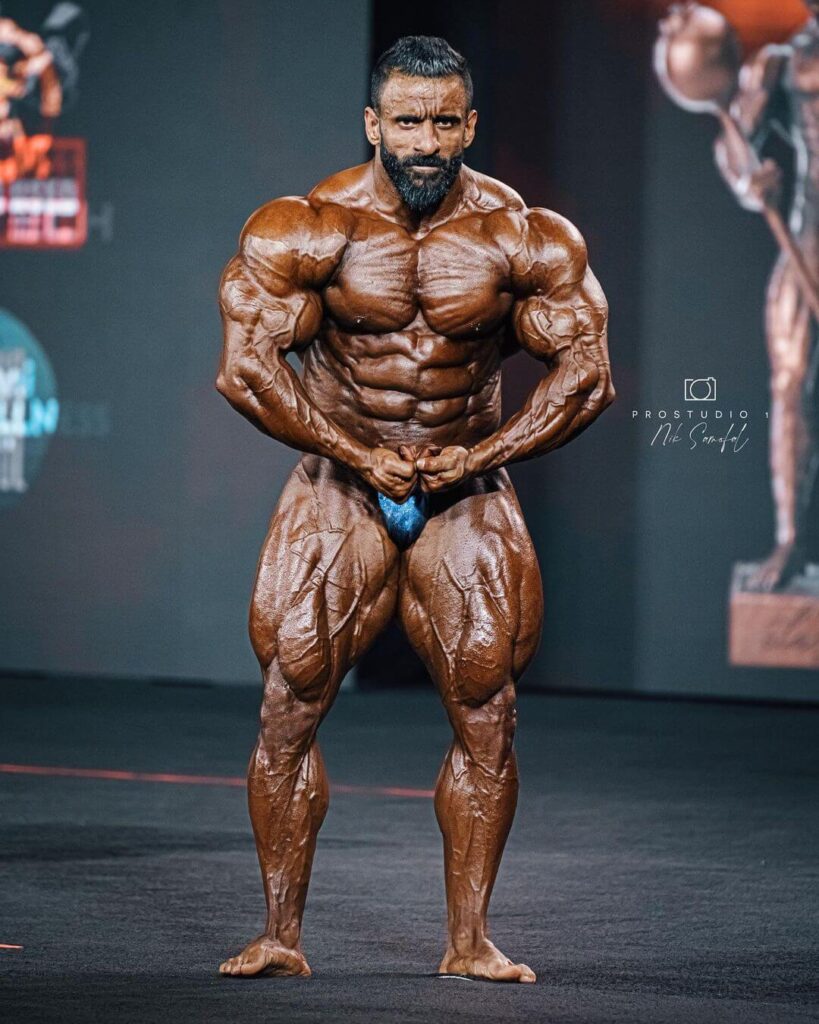 Alotaibi expressed concerns about Hadi Choopan's recent physique developments, particularly the growth of his waist and imbalanced legs.
He believes that Hadi Choopan's growth might have been detrimental, leading to a less aesthetic physique.
Despite his respect for Hadi Choopan, Alotaibi questions whether he can continue to put on muscle without compromising his aesthetics.
While Alotaibi has a positive view of Nick Walker's potential, he predicts a sixth-place finish for him if all competitors are at their best.
He appreciates Nick Walker's fighting spirit and charisma, comparing him to a "giant killer" in bodybuilding. Alotaibi sees Nick Walker as a promising future contender.
Other Predictions in the Bodybuilding Community
Abdullah Alotaibi's predictions aren't the only ones circulating in the bodybuilding community. Other experts, including former Mr. Olympia Jay Cutler, have weighed in with their thoughts.
Jay Cutler, along with Dennis James and Chris Cormier, predicts a win for Derek Lunsford, while Milos Sarcev backs Samson Dauda. The diversity of opinions among experts adds to the intrigue of the 2023 Mr. Olympia.
The Final Words
As the 2023 Mr. Olympia approaches, the bodybuilding world is filled with excitement and curiosity.
The absence of a dominant champion in recent years has led to increased unpredictability in the Men's Open division.
Coach Abdullah Alotaibi's predictions place Brandon Curry and Samson Dauda at the forefront of the competition, emphasizing the significance of symmetry and aesthetics in modern bodybuilding.
The event promises to be a spectacle, with fans eagerly awaiting the outcome of this fierce battle for the Mr. Olympia title. Whoever emerges victorious will undoubtedly make history in the world of bodybuilding.