In professional bodybuilding, the Mr. Olympia competition is the pinnacle of achievement. It is the stage where the world's most elite athletes gather to showcase their extraordinary physiques, hoping to etch their names in the annals of bodybuilding history. 
Among the contenders for the coveted Sandow trophy in the 2023 Mr. Olympia are two remarkable athletes: Brandon Curry and Terrence Ruffin. 
In a YouTube video published on October 4, 2023, these two bodybuilding titans shared their intense delt-focused workout and offered insights into their journeys, strategies, and aspirations.
This article delves into their workout routine, individual stories, and shared pursuit of excellence on the Olympia stage.
Brandon Curry, a formidable Men's Open Bodybuilding figure, has seen his career reach remarkable heights. 
With his aesthetic shape, round muscle bellies, and sculpted back, he made history in 2019 when he clinched the Mr. Olympia title—that season marked Brandon Curry's zenith in the sport, where he exhibited an exquisite blend of size, separation, and conditioning. 
Not only did he capture the Mr. Olympia title, but he also claimed the Arnold Classic championship.
However, the path to bodybuilding glory has its challenges. Last year, in the 2022 Mr. Olympia, Brandon Curry took fourth place, leaving him hungry to return to the top spot.
While fans and pundits have touted other contenders like Derek Lunsford, Nick Walker, and Samson Dauda as formidable threats to reigning champion Hadi Choopan, Brandon Curry remains undaunted. 
He knows that becoming Mr. Olympia requires a unique combination of dedication, talent, and strategy, and he has already tasted the sweet victory of holding that title once before.
Terrence Ruffin: The Classic Physique Phenomenon
Terrence Ruffin, in contrast, has made a name for himself in the Classic Physique division. 
Despite his status as a two-time Arnold Classic champion (in 2021 and 2022), Terrence Ruffin faced adversity in the form of a sixth-place finish at the 2022 Mr. Olympia.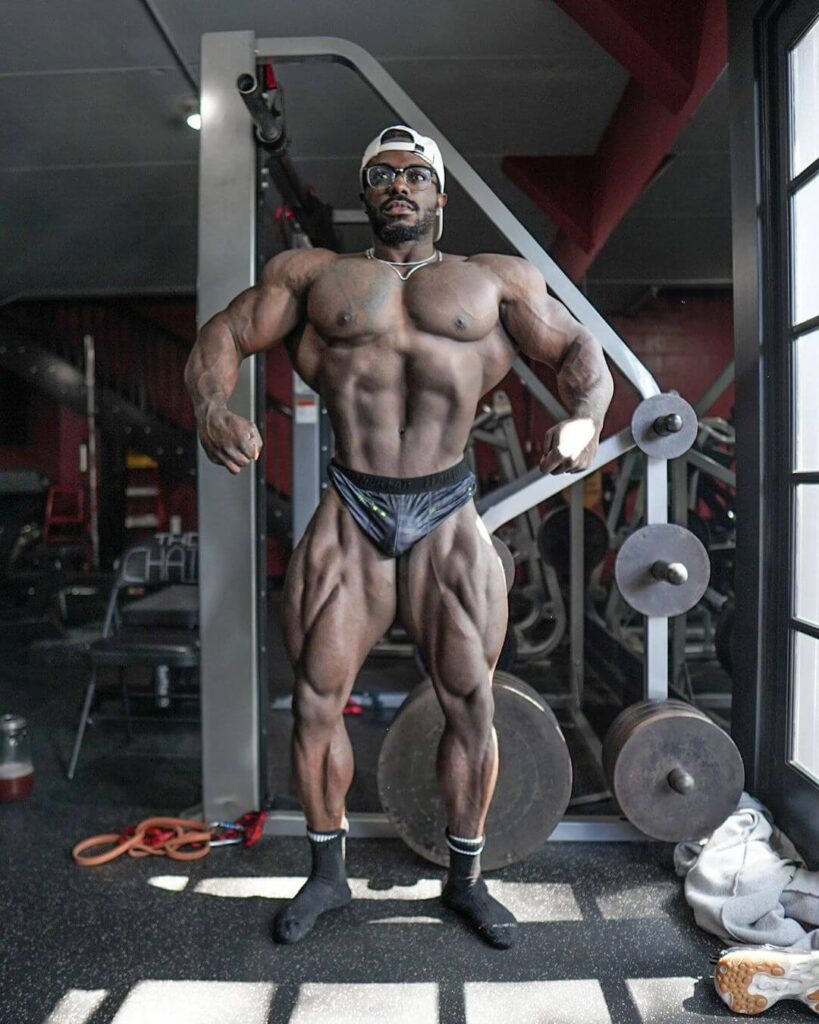 However, he rebounded spectacularly by securing the gold medal at the 2023 Dubai Pro. 
As he prepares to face the reigning Classic Physique champion, Chris Bumstead, once again, Terrence Ruffin has chosen to test his mettle at the upcoming Legion Sports Fest Pro.
The Delt-Focused Workout: A Glimpse into Their Dedication
Curry and Terrence Ruffin shared a rigorous delt-focused workout session that exemplified their dedication to excellence. 
The workout included a variety of exercises designed to target different parts of the deltoid muscles:
Bent-Over Single-Arm Cable Lateral Raise (5 sets)
This exercise, led by trainer Amer Kamra, emphasized maintaining proper form and achieving a full range of motion.
Curry stressed the importance of stretching the deltoid muscles, a facet often overlooked in delt workouts.
Machine Single-Arm Rear Delt (5 sets)
Transitioning to the rear delt machine, Curry and Ruffin aimed to maximize shoulder development. Groups of 12-15 reps pushed them to the brink of failure.
Machine Lateral Raise (3 sets)
They used the lateral raise machine to focus on the side deltoids.
Ruffin's final set was particularly demanding, targeting both his side deltoids and traps.
Seated Shoulder Press (3 sets + 1 drop set)
Plate-loaded shoulder presses followed, with three regular sets and a drop set.
This segment showcased Curry's remarkable strength, completing 15 reps with heavy weights and then a 12-rep drop set.
Cable Rope Front Raise (4 sets)
Returning to the cable machine for rope front raises, they worked on their front deltoids while discussing the challenges of balancing bodybuilding with family and other responsibilities.
Dumbbell Lateral Raise (3 sets)
The workout concluded with classic dumbbell lateral raises, gradually increasing the dumbbell weight to pump up their upper bodies.
Training Philosophy and Insights
After their intense workout, Curry and Terrence Ruffin candidly talked about their training philosophies and the importance of isolation during prep. 
Curry highlighted the significance of stepping away from distractions to focus on his craft, acknowledging that he struggled to balance family and bodybuilding commitments.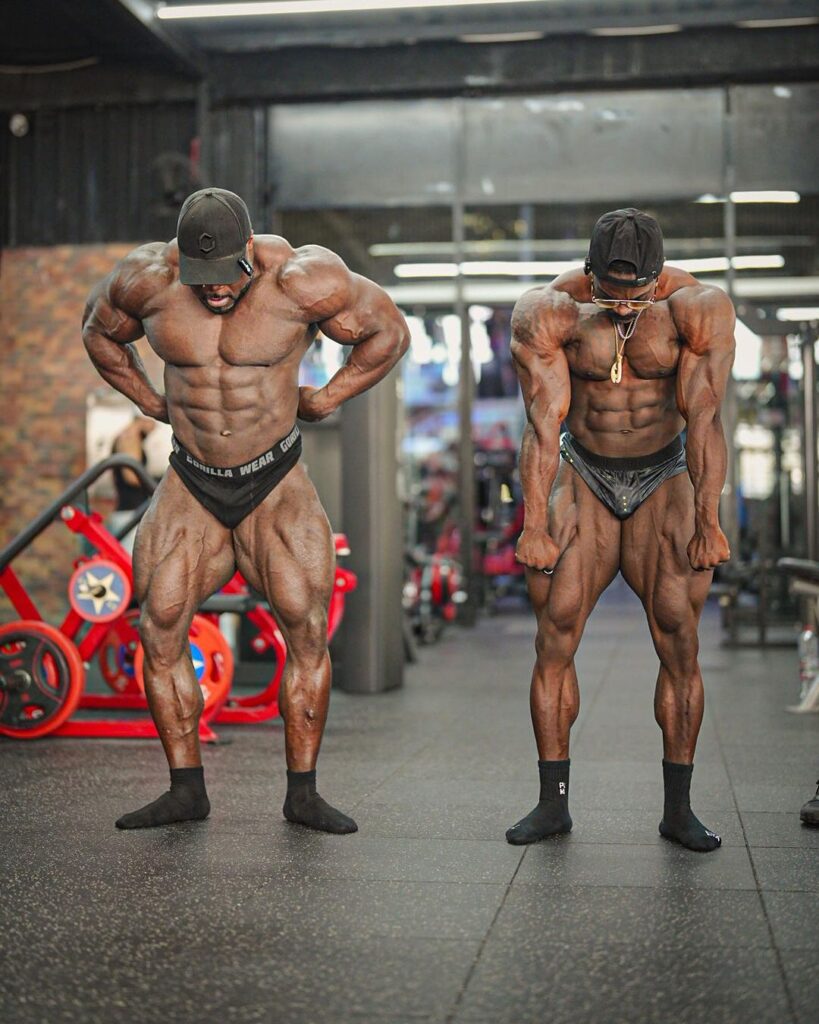 He emphasized that he remains committed to the sport and enjoys the journey as long as his body responds positively.
Curry also acknowledged a mistake from the previous year's Olympia, where he chased size to compete with Mamdouh "Big Ramy" Elssbiay. 
He recognized that pursuing size alone isn't always the key to success, drawing a parallel to Flex Wheeler's regrets of seeking measures to catch Ronnie Coleman during his career.
Looking Ahead to the 2023 Mr. Olympia
As the 2023 Mr. Olympia contest approaches, fans eagerly anticipate Brandon Curry's return to the stage, hoping to witness another remarkable performance.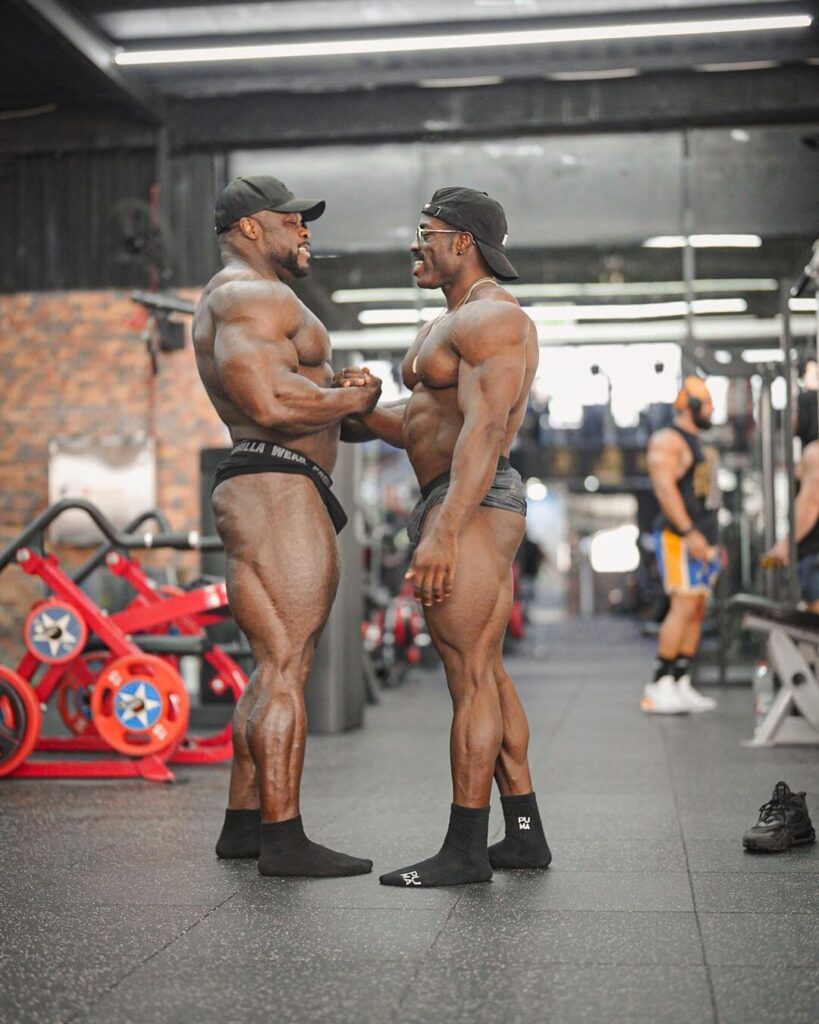 The competition is scheduled for November 2 to 5 in Orlando, Florida.
On the other hand, Terrence Ruffin intends to secure another victory at the Legion Sports Fest Pro in Reno, Nevada, before stepping onto the Olympia stage.
In conclusion, Brandon Curry and Terrence Ruffin exemplify the dedication, discipline, and resilience required to excel in the demanding world of professional bodybuilding. 
Their delt-focused workout showcased their physical prowess, mental fortitude, and unwavering commitment to their craft.
As the 2023 Mr. Olympia draws near, the bodybuilding world eagerly awaits the showdown between these two extraordinary athletes, each determined to etch their name in the annals of bodybuilding history.