In bodybuilding, champions are made through unwavering determination, intense training, and a relentless pursuit of excellence. Samson Dauda, known as the "Nigerian Lion" in the Men's Open division, embodies these qualities to the fullest. 
With less than four weeks remaining until the 2023 Mr. Olympia competition, Samson Dauda has declared that nothing short of victory will satisfy his ambitions.
The Rise of the Nigerian Lion
Samson Dauda's ascent in the bodybuilding world has been nothing short of remarkable. 
His towering stature, well-rounded muscle bellies, and aesthetic physique have made him impossible to ignore.
Samson Dauda had a breakthrough season in the previous year, setting the stage for what promises to be a masterful run against the world's best.
In 2022, Samson Dauda secured two consecutive fourth-place finishes at the Arnold Classic and Boston Pro show, demonstrating his potential. 
However, his debut at the 2022 Mr. Olympia contest indeed turned heads. 
He claimed an impressive sixth place and stood toe-to-toe with the former two-time champion, Mamdouh "Big Ramy" Elssbiay, without appearing undersized or lacking conditioning.
Closer to the Sandow Trophy
Despite Hadi Choopan's current reign as the Olympia champion, Samson Dauda remains convinced that he is closer to the coveted Sandow trophy than ever. 
His journey has been characterized by dedication, resilience, and a commitment to constant improvement.
Focused on the Back
Samson Dauda's preparation for the 2023 Mr. Olympia is underway, and he's leaving no stone unturned. His strict diet is a testament to his dedication to the sport. 
However, what truly sets him apart is the unwavering support of his partner, who acts as a coach and ensures he adheres to his dietary regimen.
In a sport where constructive criticism is vital, Samson Dauda listens attentively to judges' feedback after each competition. 
The key takeaway from the Arnold Classic was clear: he needed to improve his back, focusing on its width and overall tightness. 
From that point forward, Dauda and his team dedicated themselves to this singular goal.
The progress Samson Dauda has made since the 2023 Arnold Classic is staggering. 
He attributes this growth to his relentless pursuit of perfection, guided by the watchful eye of his coach, Milos. 
Comparing videos from the Arnold Classic prep to his current preparation, Samson Dauda is confident he is light-years ahead in development.
A Source of Motivation
While competitors like Choopan and Derek Lunsford serve as motivating factors during his preparations, Samson Dauda's ultimate goal remains consistent: to outperform his previous self on the stage. 
He believes the transformation should be drastic every time he steps onto the scene, leaving no room for doubt that he continually evolves as a bodybuilder.
Uncompromising Ambition
Samson Dauda's ambition is unwavering. More than winning the 2023 Mr. Olympia will be necessary.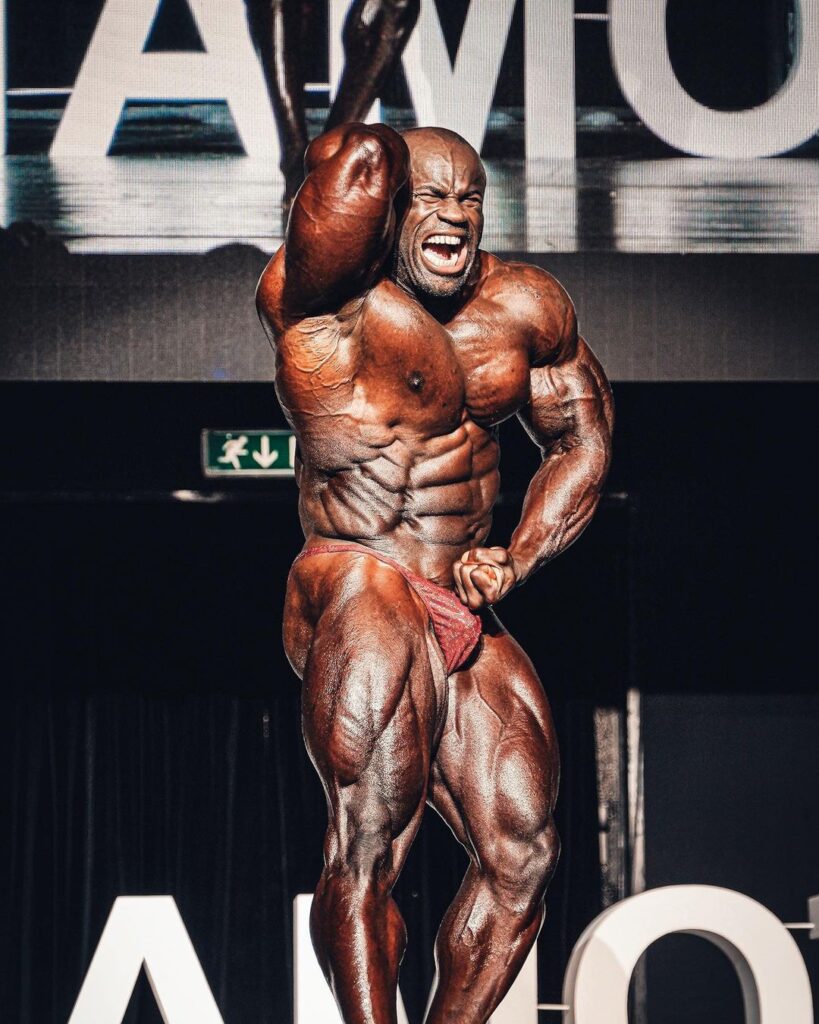 While he admits that a top-three finish would be respectable, his mentality is evident: he is in it to win it.
The daily sacrifices, grueling workouts, and unwavering discipline are all part of his pursuit of the top spot. Samson Dauda's relentless and selfish determination drives him to aim for nothing less than victory. 
He understands that settling for anything less would be a disservice to his commitment and ambition.
The Road Ahead
As the 2023 Mr. Olympia competition draws near, all eyes will be on Samson Dauda. 
Having made significant improvements to his back, he enters the competition with a renewed sense of purpose and a burning desire to claim the title of Mr. Olympia.
The event, scheduled for November 2-5 in Orlando, Florida, promises to be an exciting showdown of the world's best bodybuilders.
Samson Dauda's journey embodies the essence of bodybuilding—dedication, perseverance, and an unyielding pursuit of greatness. 
Whether he achieves his dream of becoming Mr. Olympia or not, one thing is sure: Samson Dauda will leave an indelible mark on the sport, inspiring aspiring bodybuilders to chase their dreams with unwavering determination.