As the countdown to the prestigious 2023 Mr. Olympia competition begins, the bodybuilding world is abuzz with anticipation. Among the athletes gearing up to grace the stage in Orlando, Florida, there's one name that has captured the spotlight—Michal Krizo. 
In a recent YouTube Q and A session, Michal Krizo provided insights into his rigorous preparation and the training regimen that will shape his quest to make a lasting impact on the bodybuilding world. 
A Glimpse into the Olympia Contender
With 9.5 weeks left until the grand showdown, Michal Krizo stands at the precipice of a grueling preparation phase. 
The toll of intense training and strict dieting has already begun to weigh on him, and he knows that the road ahead will only get tougher.
As he reflects on his journey, Michal Krizo acknowledges the unique challenges that each prep brings, emphasizing that the path to greatness is paved with dedication and perseverance.
Michal Krizo's ascent to the upper echelons of bodybuilding did not happen overnight; it was a journey marked by pivotal decisions and unwavering determination. 
The Slovakian bodybuilder made a significant move by transitioning from the IFBB Elite Pro League to the NPC, a pivotal shift that set the stage for his rise. 
His journey in the NPC began with a triumphant moment, as he secured his Pro card at the 2022 Amateur Olympia Italy event.
This achievement marked the beginning of a remarkable chapter in Michal Krizo's career.
Following this milestone, Michal Krizo wasted no time in making his presence felt in the IFBB Pro League. He debuted with a resounding victory at the EVLS Prague Pro, leaving no doubt about his potential. 
His journey also took him on a legends tour to North America, where he had the privilege of meeting with bodybuilding icons Milos Sarcev and Jay Cutler. 
Both legends were awestruck by Michal Krizo's sculpted physique, with Jay Cutler even drawing comparisons to the legendary Phil Heath. 
Months later, Michal Krizo entered the hallowed Olympia stage, finishing in 12th place, a remarkable feat for a newcomer.
Undeterred by his previous achievements, Michal Krizo continued to push the envelope in 2023. 
He showcased significant improvements in his posing and conditioning at the 2023 Empro Classic Pro, leaving no room for complacency. 
With a burning desire to one day claim the title of Mr. Olympia, Michal Krizo remains steadfast in his commitment to excellence.
Central to Michal Krizo's preparation for the 2023 Mr. Olympia is his rigorous training regimen. 
As he aims to present his absolute best on the grand stage, he has adopted a training split that reflects his unwavering dedication.
Here's an exclusive look at the intense training split that Michal Krizo is employing:
Monday – Back and Chest
The week kicks off with a demanding back and chest workout, setting the tone for the days to come.
Tuesday – Triceps and Shoulders
Michal Krizo dedicates Tuesday to honing his triceps and shoulders, critical muscle groups for any bodybuilder.
Wednesday – Quads
Midweek is all about quads, as he focuses on developing strength and definition.
Thursday – Back and Biceps
Back and biceps take the spotlight on Thursday, ensuring a balanced upper-body workout.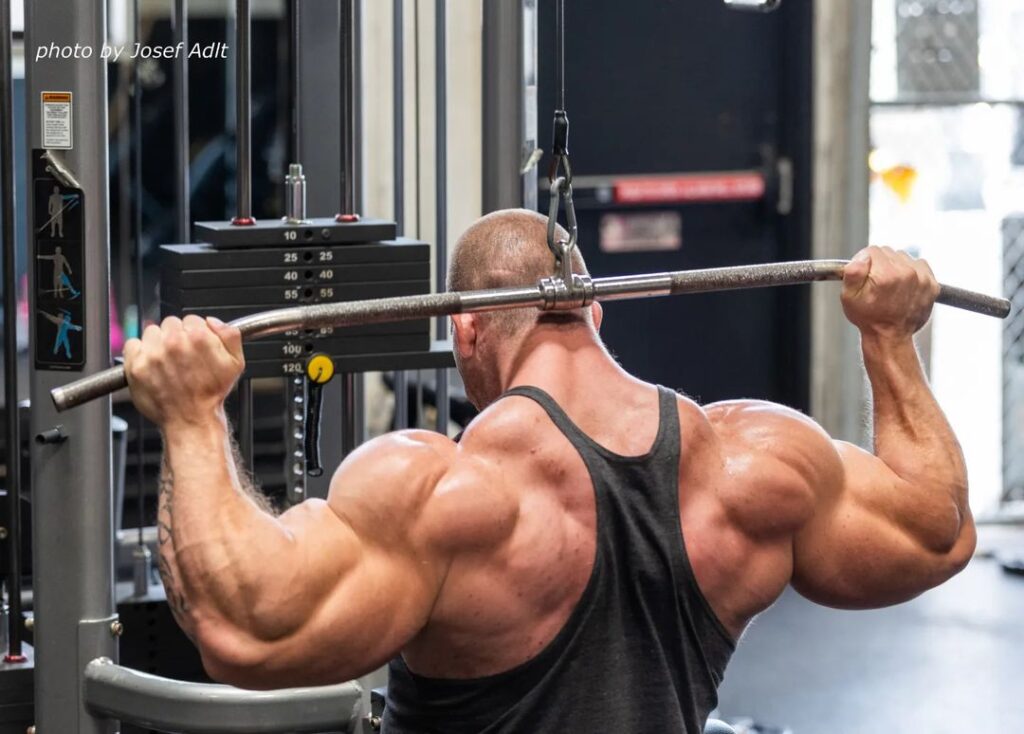 Friday – Chest and Delts
Michal Krizo fine-tunes his chest and delts on Friday, paying attention to every detail.
Saturday – Hamstrings, Glutes, Calves
The weekend brings a focus on hamstrings, glutes, and calves, completing a well-rounded leg workout.
Sunday – Rest Day
A much-needed rest day allows Michal Krizo's body to recover and recharge, ensuring he's ready for the upcoming week of intense training.
In his quest for excellence, Michal Krizo has made significant adjustments to his training regimen. 
He trains six days a week, a testament to his unyielding commitment. He emphasizes that the breaks between sets are shorter, intensifying the overall training experience.
While he typically performs four exercises per body part, he ensures that certain muscle groups receive attention multiple times a week.
The specifics of his training include incorporating more repetitions, typically performing four sets per body part.
The number of exercises varies based on the muscle group, with smaller groups like biceps and triceps receiving focused attention.
Krizo's commitment to balanced development is evident in his approach, where he tailors his training to meet the unique demands of each muscle group.
The Road Ahead
Michal Krizo's journey to the 2023 Mr. Olympia is characterized by relentless dedication and an unwavering commitment to pushing boundaries. 
As he prepares to showcase his best package yet, fans and enthusiasts alike eagerly await his appearance on the grand stage.
Despite having recently earned his Pro status, Michal Krizo has emerged as a dark horse in the world of bodybuilding. 
His mass, vascularity, and overall fullness have set new standards, and he enters Olympia with high expectations.
The bodybuilding community is abuzz with anticipation, eager to witness Michal Krizo's evolution and see how he matches up against the best in the category.
In the coming weeks, as Michal Krizo navigates the challenging waters of dieting and training, he will continue to inspire and motivate aspiring bodybuilders worldwide. 
His journey is a testament to the unwavering pursuit of excellence, proving that with determination and dedication, any goal can be within reach.
As the 2023 Mr. Olympia draws near, all eyes will be on Michal Krizo, a rising star poised to leave an indelible mark on the sport of bodybuilding. 
His journey is a testament to the enduring spirit of the athlete, a reminder that greatness is achieved through hard work, sacrifice, and an unwavering belief in one's potential.