Jay Cutler is a professional bodybuilder who follows a strict diet plan that is not typical of the average person. He consumes seven meals a day and takes various mineral and vitamin supplements in tablet form, including zinc, magnesium, glutamine, and calcium.
As one of the most dedicated and disciplined bodybuilders during both the off-season and contest time, Jay does not make excuses for missing any of his meals. He knows that diet is the most crucial factor in achieving success in bodybuilding, and he is the perfect example.
Jay must frequently eat to maintain his massive 300-pound muscular physique, usually every 2-3 hours. Even for him, it can be challenging to consume so much food in such a short amount of time.
Here is a breakdown of what he typically eats during the bulking phase of his diet:
Jay Cutler Meal 1
6 egg whites
1 whole egg
1 cup of oatmeal with raisins
Jay Cutler Meal 2
Protein shake made with 2 scoops of whey protein
1 cup of blueberries and water
Jay Cutler Meal 3
8 oz of chicken breast
1 cup of brown rice
1 cup of vegetables
Jay Cutler Meal 4
Protein shake made with 2 scoops of whey protein
1 banana and water
Jay Cutler Meal 5
8 oz of steak
1 cup of sweet potato
1 cup of vegetables
Jay Cutler Meal 6
8 oz of fish
1 cup of quinoa
1 cup of vegetables
Jay Cutler Meal 7
Casein protein shake made with 2 scoops of casein protein
1 tablespoon of almond butter and water
Here is the complete meal plan of Jay Cutler.
Meal 1: Breakfast – 7:00 a.m.
Jay Cutler starts his day with a hearty breakfast that contains eggs, oatmeal, and fruit. He also includes supplements like whey protein powder and a multivitamin as his breakfast.
Meal 2: Mid-Morning – 9:30 a.m.
Jay Cutler takes a snack after breakfast. Then he takes a protein shake and a small portion of nuts or fruit.
Meal 3: Lunch-Noon – 12:00 p.m.
He takes a lot of lean protein, such as chicken or fish, with brown rice and vegetables with supplements like glutamine and a multivitamin.
Meal 4: Afternoon Snack – 3:00 p.m.
Jay Cutler eats another protein shake or a small portion of lean protein with a complex carbohydrate like sweet potato or quinoa.
Meal 5: Pre-Workout Meal – 5:30 p.m.
Before his workout, Jay Cutler eats a meal with lean protein, a complex carbohydrate, and some beneficial fats. Before his workout, this might contain chicken or fish with brown rice and avocado.
Meal 6: Post-Workout Meal – 8:00 p.m.
After his workout, Jay Cutler refuels his body with a protein shake and a simple carbohydrate like fruit. He also includes supplements like creatine and glutamine to aid in recovery.
Meal 7: Dinner – 10:00 p.m.
Jay Cutler's final meal of the day contains a big portion of lean protein, such as steak or salmon, with vegetables and a complex carbohydrate like brown rice or quinoa, and his last meal also includes supplements like a multivitamin and zinc.
Jay Cutler Nutrition Supplements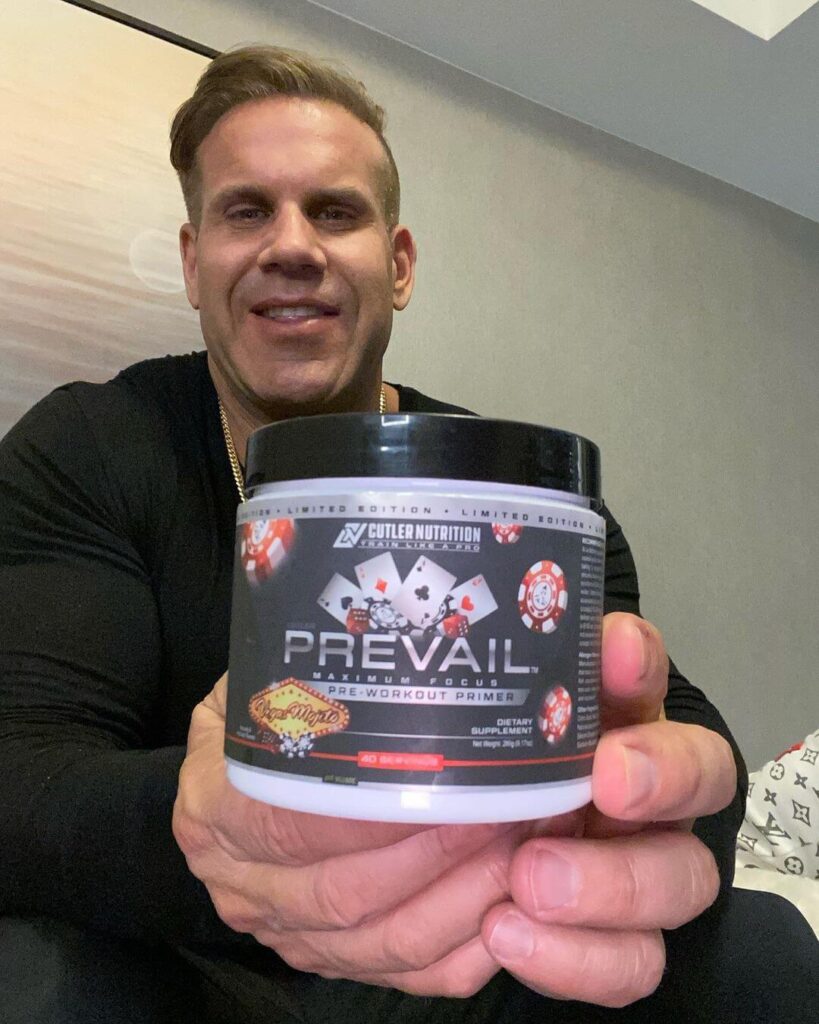 Jay Cutler, a professional bodybuilder, relied on a variety of supplements in addition to steroids to help him achieve his peak performance shape.
One such supplement was a high-quality pre-workout stack, which can boost energy, endurance, and strength. This can be especially useful for working out at an intermediate to a higher level.
Whey protein is another supplement commonly used by bodybuilders, including Cutler. The body quickly absorbs this protein, aiding muscle growth and recovery. It is often consumed as a shake after a workout.
In addition to pre-workout and whey protein, Cutler also used glutamine. This supplement has been shown to promote muscle growth and fat burning while improving overall health and digestion.
It's important to note that while protein can be beneficial, it should not be relied upon solely for achieving fitness goals. A balanced diet, regular exercise, and adequate rest are crucial for success.
Jay Cutler is known for his strict diet plan. In his prime time, he used to eat 20 whole eggs a day, but now he has switched to eating only egg whites.
However, Cutler is open about his diet and often shares his knowledge and wisdom with other aspiring bodybuilders.
According to Cutler, his mindset played a crucial role in enabling him to consume enough protein to build his impressive physique. He believes his diet, which included a significant amount of protein, was a major factor in his success.
In the afternoon, Cutler typically consumes either a protein shake or a small portion of lean protein along with a complex carbohydrate such as sweet potato or quinoa.
This balanced approach to nutrition helps him maintain his muscle mass while providing him with the necessary nutrients to fuel his body.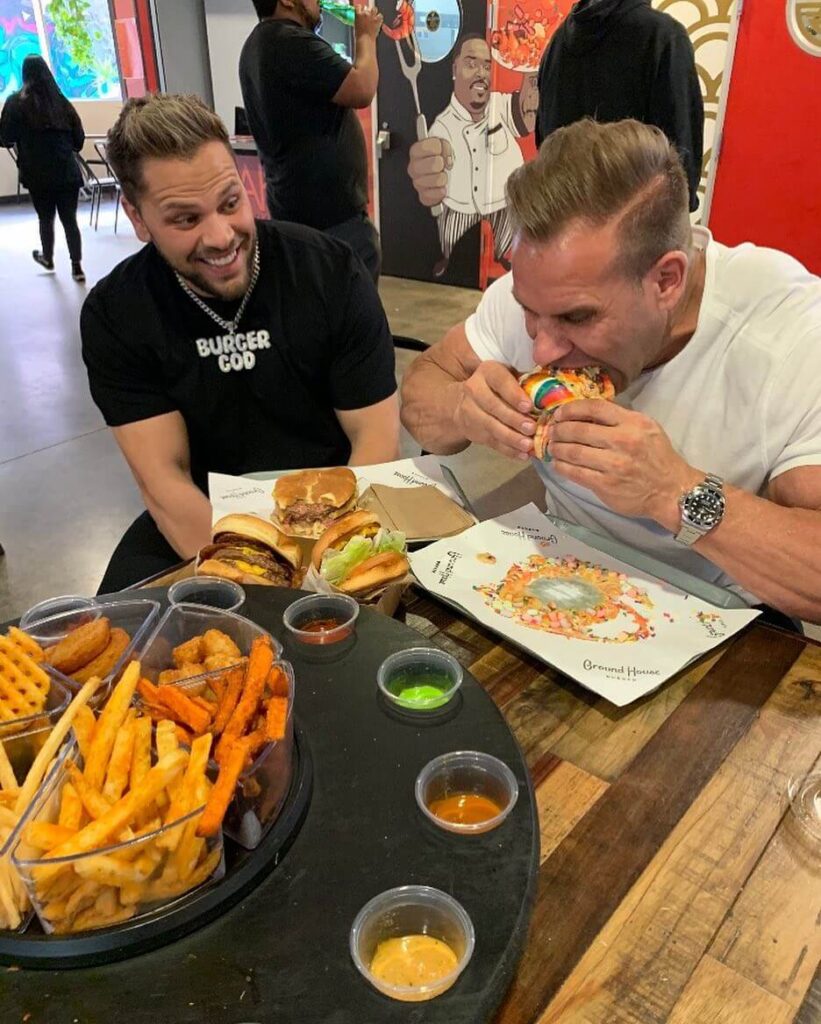 Plan Your Meals Ahead of Time:
One of the most important aspects of Jay Cutler's diet is planning his meals. He prepares his meals for the whole day, packs them in containers to take with him wherever he moves, and takes his meal according to his daily routine.
That assures that he is always ready and does not have to depend on fast food or unhealthy snacks when on the go.
Eat Frequently:
Jay Cutler consumes seven meals daily, spaced every 2-3 hours. This frequent meal plan helps to keep his metabolism performing efficiently and supplies his body with a constant stream of nutrients.
Focus on Whole Foods:
Jay Cutler's diet means whole foods such as lean proteins, complex carbohydrates, and healthy fats. He avoids processed foods and sugary snacks, which can cause rash, slow muscle growth, and harm the body.
Drink Plenty of Water:
Remaining hydrated is necessary for general health and vigor. Jay Cutler drinks at least one gallon of water daily to keep his body hydrated and flush out toxins.
Supplement Wisely:
Jay Cutler takes mineral and vitamin supplements to gain his body nutrients for maintaining his fitness. He includes zinc, magnesium, glutamine, calcium, and other essential vitamins to rescue and promote muscle growth.
Balance Your Macronutrients:
Jay Cutler's diet is created to supply protein intake, carbohydrates, and beneficial fats for body growth. He assures he brings sufficient protein to boost muscle increase, enough carbohydrates to fuel his workouts, and enough healthy fats to support overall health.
Listen to Your Body:
Everyone's body is different, and what works for one person may not work for another. Jay Cutler stresses the significance of listening to your body and changing your diet to improve his muscle performance.
Jay Cutler's workout routine was known for its high-volume approach and emphasis on heavy weights. While he followed no fixed routine throughout his career, he incorporated various exercises and targeted different muscle groups on different days.
Cutler understood the importance of adjusting his workouts based on his goals and how his body responded.
He focused on compound exercises, such as bench presses, squats, and deadlifts, to build overall strength and muscle mass.
These exercises simultaneously engage multiple muscle groups, allowing efficient and effective training. Cutler also incorporated isolation exercises to target specific muscle groups and achieve a well-rounded physique.
For example, on chest day, he included exercises like incline bench press, incline dumbbell bench press, machine pec deck, dumbbell fly, barbell bench press, cable crossover, and dumbbell pullover. These exercises targeted the chest muscles from various angles and stimulated growth.
On a back day, Cutler included exercises like Nautilus pullover, lat pulldown (wide grip and underhand grip variations), hammer strength low row, barbell bent-over row, seated cable row (neutral and overhand grip variations), and 45-degree back extension. These exercises helped me develop a strong and well-defined back.
His arm workouts consisted of exercises like rope pushdowns, close grip bench presses, triceps pushdowns (straight bar), overhead dumbbell triceps extension, single-arm cable pushdowns, barbell biceps curls, alternating hammer curls, single-arm machine preacher curls, alternating dumbbell curls, reverse curls.
These exercises targeted the biceps and triceps muscles, helping to sculpt impressive arm development.
Shoulder and calf workouts included exercises like seated dumbbell lateral raises, seated dumbbell overhead presses, lateral cable raises, alternating dumbbell front raises, reverse peck deck, bent-over rear delt fly, standing calf raises, donkey calf raises, and seated calf raises.
These exercises focused on building well-rounded shoulder muscles and developing strong, defined calves.
On leg day, Cutler incorporated leg extensions, leg presses, machine hack squats, barbell lunges, Smith machine front squats, seated leg curls, prone leg curls, Romanian deadlifts, and kneeling leg curls.
These exercises targeted the major muscles of the lower body, promoting strength, power, and muscle growth. In addition to his main workouts, Cutler also dedicated time to train his abdominal muscles.
He typically performed exercises such as crunch machines, cable crunches, hanging leg raises, and leg lifts to develop a strong core and defined abs.
It's important to note that Jay Cutler's workout routine varied throughout his career, and he adjusted it based on his specific goals, competition schedule, and individual needs.
He was known for his dedication to training and ability to push himself to new limits, contributing to his success as a professional bodybuilder.
Here is a workout routine for Jay Cutler:
Monday: Chest Workout
| | |
| --- | --- |
| Incline Bench Press | 3-4 Sets of 8-12 Reps |
| Incline Dumbbell Bench Press | 3-4 Sets of 8-12 Reps |
| Machine Pec Deck | 3-4 Sets of 8-12 Reps |
| Dumbbell Fly | 3-4 Sets of 8-12 Reps |
| Barbell Bench Press | 3-4 Sets of 8-12 Reps |
| Cable Crossover | 3-4 Sets of 8-12 Reps |
| Dumbbell Pullover | 3-4 Sets of 8-12 Reps |
Tuesday: Back Workout
| | |
| --- | --- |
| Nautilus Pullover | 3-4 Sets of 8-12 Reps |
| Lat Pulldown (Wide Grip) | 3-4 Sets of 8-12 Reps |
| Hammer Strength Low Row | 3-4 Sets of 8-12 Reps |
| Lat Pulldown (Underhand Grip) | 3-4 Sets of 8-12 Reps |
| Barbell Bent-Over Row | 3-4 Sets of 8-12 Reps |
| Seated Cable Row (Neutral Grip) | 3-4 Sets of 8-12 Reps |
| Seated Cable Row (Overhand Grip) | 3-4 Sets of 8-12 Reps |
| 45-Degree Back Extension | 3-4 Sets of 8-12 Reps |
Wednesday: Arms Workout
| | |
| --- | --- |
| Rope pushdown | 3-4 Sets of 8-12 Reps |
| Close grip bench press | 3-4 Sets of 8-12 Reps |
| Triceps pushdown (straight bar) | 3-4 Sets of 8-12 Reps |
| Overhead dumbbell triceps extension | 3-4 Sets of 8-12 Reps |
| Single-arm cable pushdown (underhand grip) | 3-4 Sets of 8-12 Reps |
| Barbell biceps curl | 3-4 Sets of 8-12 Reps |
| Alternating hammer curls | 3-4 Sets of 8-12 Reps |
| Single-arm machine preacher curls | 3-4 Sets of 8-12 Reps |
| Alternating dumbbell curls | 3-4 Sets of 8-12 Reps |
| Reverse curl | 3-4 Sets of 8-12 Reps |
Thursday: Shoulders and Calves Workout
| | |
| --- | --- |
| Seated Dumbbell Lateral Raise | 3-4 Sets of 8-12 Reps |
| Seated Dumbbell Overhead Press | 3-4 Sets of 8-12 Reps |
| Cable Lateral Raise | 3-4 Sets of 8-12 Reps |
| Alternating Dumbbell Front Raise | 3-4 Sets of 8-12 Reps |
| Reverse Pec Deck | 3-4 Sets of 8-12 Reps |
| Bent-Over Rear Delt Fly | 3-4 Sets of 8-12 Reps |
| Standing Calf Raise | 3-4 Sets of 8-12 Reps |
| Donkey Calf Raise | 3-4 Sets of 8-12 Reps |
| Seated Calf Raise | 3-4 Sets of 8-12 Reps |
Friday: Legs Workout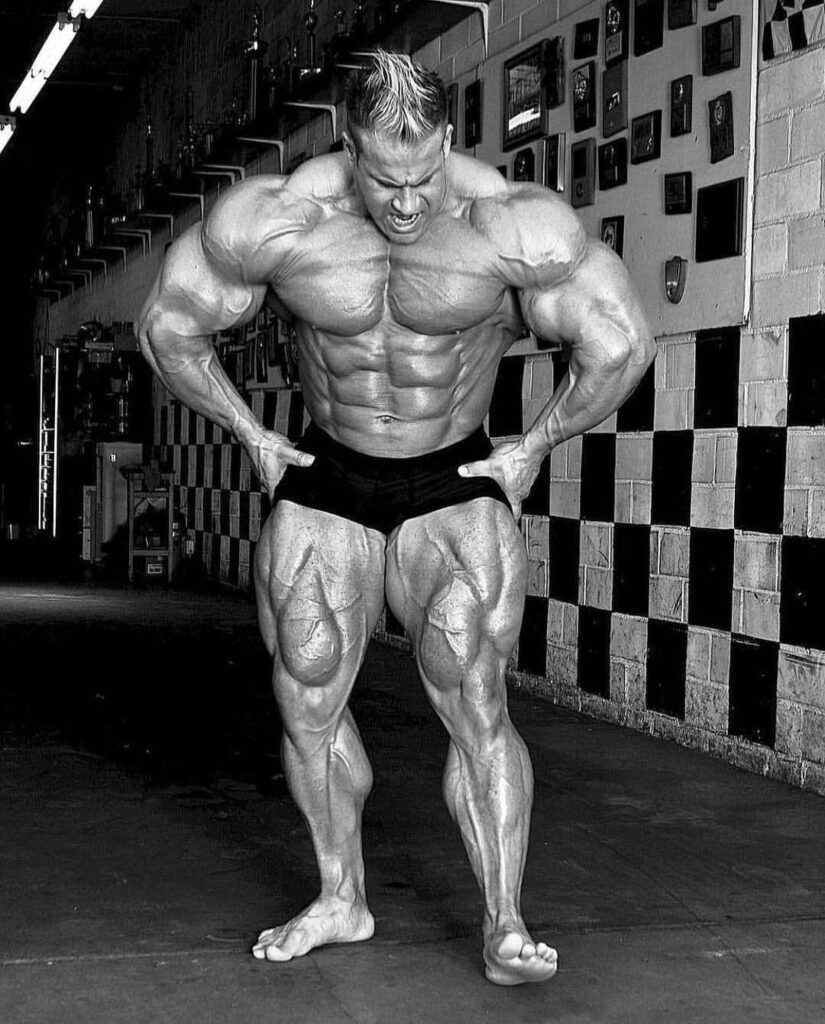 | | |
| --- | --- |
| Leg Extension | 3-4 Sets of 8-12 Reps |
| Leg Press | 3-4 Sets of 8-12 Reps |
| Machine Hack Squat | 3-4 Sets of 8-12 Reps |
| Barbell Lunges | 3-4 Sets of 8-12 Reps |
| Smith Machine Front Squat | 3-4 Sets of 8-12 Reps |
| Seated Leg Curl | 3-4 Sets of 8-12 Reps |
| Supine Leg Curl | 3-4 Sets of 8-12 Reps |
| Romanian Deadlift | 3-4 Sets of 8-12 Reps |
| Kneeling Leg Curl | 3-4 Sets of 8-12 Reps |
In addition to these workouts, Jay Cutler trained his abs 2-3 times weekly. His typical abs workout consisted of the following exercises:
| | |
| --- | --- |
| Crunch Machine | 3-4 Sets of 12-20 Reps |
| Cable Crunch | 3-4 Sets of 12-20 Reps |
| Hanging Leg Raise | 3-4 Sets of 12-20 Reps |
| Leg Lifts | 3-4 Sets of 12-20 Reps |