The 2023 Flex Weekend Pro recently concluded in Milan, Italy, leaving a trail of excitement and anticipation in its wake. This event has solidified its position as one of the most anticipated shows on the IFBB Pro calendar.
With three divisions—Men's Open, Men's Physique, and Bikini—gracing the stage on Sunday, September 10, it was a spectacle to remember.
This year's Flex Weekend Pro brought together a remarkable lineup of competitors, all driven by the desire to secure their qualifications for the prestigious 2023 Mr. Olympia competition, scheduled for November 2-5 in Orlando, Florida. The stakes were high, and the competition was fierce.
Notable athletes from around the world converged on Milan, each aiming to punch their ticket to the grand stage of the 2023 Mr. Olympia.
Among the remarkable contenders were Nathan De Asha, Regan Grimes, Blessing Awodibu, Theo Leguerrier, and Andrea Muzi.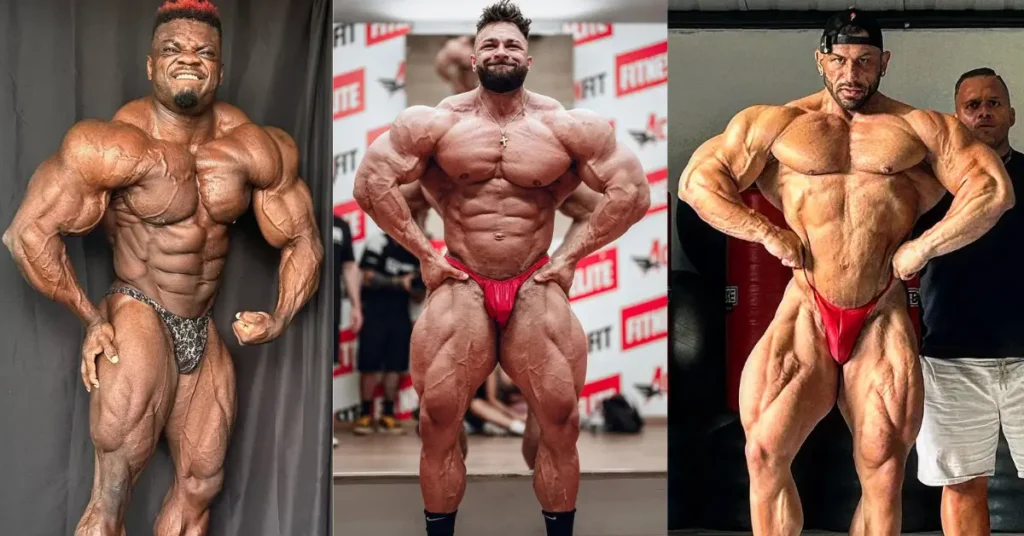 These athletes, despite their incredible talent, were determined to earn their spots at the year's most significant bodybuilding showdown.
For enthusiasts and fans, the event provided a front-row seat to witness inspiring battles and unforgettable moments.
While the 2023 Flex Weekend Pro has concluded, its impact on the IFBB Pro calendar and the athletes who participated will continue to resonate in the world of professional bodybuilding.
Top Bodybuilders of the Men's Open Bodybuilders at the Show
Nathan De Asha, a seasoned competitor in the world of bodybuilding, arrived at the 2023 Flex Weekend Pro with a wealth of experience and determination. His journey to this contest wasn't without its share of challenges.
Nathan De Asha faced adversity in the form of two bicep tears. However, as his updates revealed, his arms defied the odds, appearing full, balanced, and intricately detailed.
In preparation for the event, Nathan De Asha dedicated himself to a rigorous regimen, with a particular focus on reducing the size of his waist.
This strategic move aimed to accentuate his coveted X-frame and sculpted shoulders, showcasing a physique that promises to stand out on stage.
During a conversation with podcast host Dennis James, Nathan De Asha tantalizingly hinted at a 'new' and 'different' look that he would unveil at the competition.
He went on to express that, in his entire career, he has never achieved the level of dryness and size that he currently possesses. This declaration has garnered attention and solidified his status as a frontrunner.
Despite his temporary hiatus from competitive bodybuilding, Nathan De Asha had a remarkable run in 2021.
During that year, he showcased his prowess by clinching gold at three consecutive shows: the 2021 Europa Pro Championships, the Arnold Classic UK, and the Yamamoto Cup.
This impressive track record has further fueled the anticipation surrounding his return to the stage.
As Nathan De Asha steps into the spotlight at the 2023 Flex Weekend Pro, his resilience, dedication, and undeniable talent make him a formidable contender, setting the stage for an electrifying showdown.
Blessing Awodibu: "The Boogieman" Aims for Redemption
Blessing Awodibu, widely known as "The Boogieman," is set to make a powerful return to the bodybuilding stage at the 2023 Flex Weekend Pro.
This event presents a crucial opportunity for him to secure his place in the illustrious 2023 Mr. Olympia. Fans and enthusiasts alike are eagerly anticipating his comeback.
Blessing Awodibu's intense focus leading up to the competition has centered on enhancing the conditioning and thickness of his legs. His dedication to these improvements reflects his commitment to showcasing a near-flawless physique.
Notably, Blessing Awodibu is renowned for his robust back, which adds to his overall imposing presence on stage.
In 2022, Blessing Awodibu experienced a breakthrough season, marked by victories at the 2022 Indy Pro and Steve Weinberger's New York Pro.
However, his debut on the grand stage of the Mr. Olympia resulted in a finish outside the top 15. Determined to bounce back and make amends, he contested at the 2023 Chicago Pro, securing a fourth-place finish.
In an interview with Bob Cicherillo, Blessing Awodibu candidly acknowledged that he had not been at his best during that competition but expressed his commitment to rectifying those errors when he stepped back onto the stage at the Flex Weekend Pro.
Despite acknowledging Nathan De Asha as a formidable frontrunner, Blessing Awodibu exudes confidence in his abilities, emphasizing that he can compete on equal footing with any contender.
The stakes are high, as this contest presents Blessing Awodibu with a crucial opportunity to qualify for the prestigious Olympia event this year. Many fans consider him a strong favorite, adding an extra layer of excitement to his return.
As "The Boogieman" prepares to grace the stage once again, the bodybuilding world awaits his redemption with bated breath.
Regan Grimes: The Comeback Kid Aiming for Gold
Regan Grimes, under the guidance of renowned coach Milos Sarcev, is gearing up to make a triumphant return to the bodybuilding stage.
Following a competitive hiatus last year, Regan Grimes is poised to make a resounding statement and leave an indelible mark in the world of bodybuilding.
In 2022, Regan Grimes participated in two significant events, the 2022 Arnold Classic and Boston Pro, where he secured a commendable seventh-place finish.
However, he made the strategic decision to pause his competitive season temporarily, all in the pursuit of self-improvement.
Regan Grimes has set his sights on a singular goal: developing the optimal combination of size and intricate muscle detailing, a formula that will allow him to contend with the very best in the business.
Regan Grimes boasts a physique characterized by classic lines, a slender waist, and a back of monumental proportions.
As he gears up for the impending showdown, the bodybuilding community is buzzing with anticipation.
Judging by his recent progress photos, it is evident that Regan Grimes is diligently progressing toward delivering the most exceptional package of his illustrious career.
The bodybuilding world eagerly awaits Regan Grimes' return to the stage, as he endeavors to etch his name in the annals of greatness.
With his relentless dedication and undeniable potential, Regan Grimes is set to captivate audiences and vie for the coveted gold medal at this weekend's competition.
Andrea Muzi: The Dark Horse with a Shredded Edge
In the realm of bodybuilding, consistency, and unwavering dedication often separate the contenders from the champions. 
Andrea Muzi, a seasoned competitor, epitomizes these qualities, making him a wildcard to watch out for in the upcoming competition.
Andrea Muzi had an action-packed 2022 season, participating in a staggering eight competitions.
While he may not have clinched the top spot in any of these events, his trump card lies in his ability to step onto the stage with a level of conditioning that leaves audiences in awe.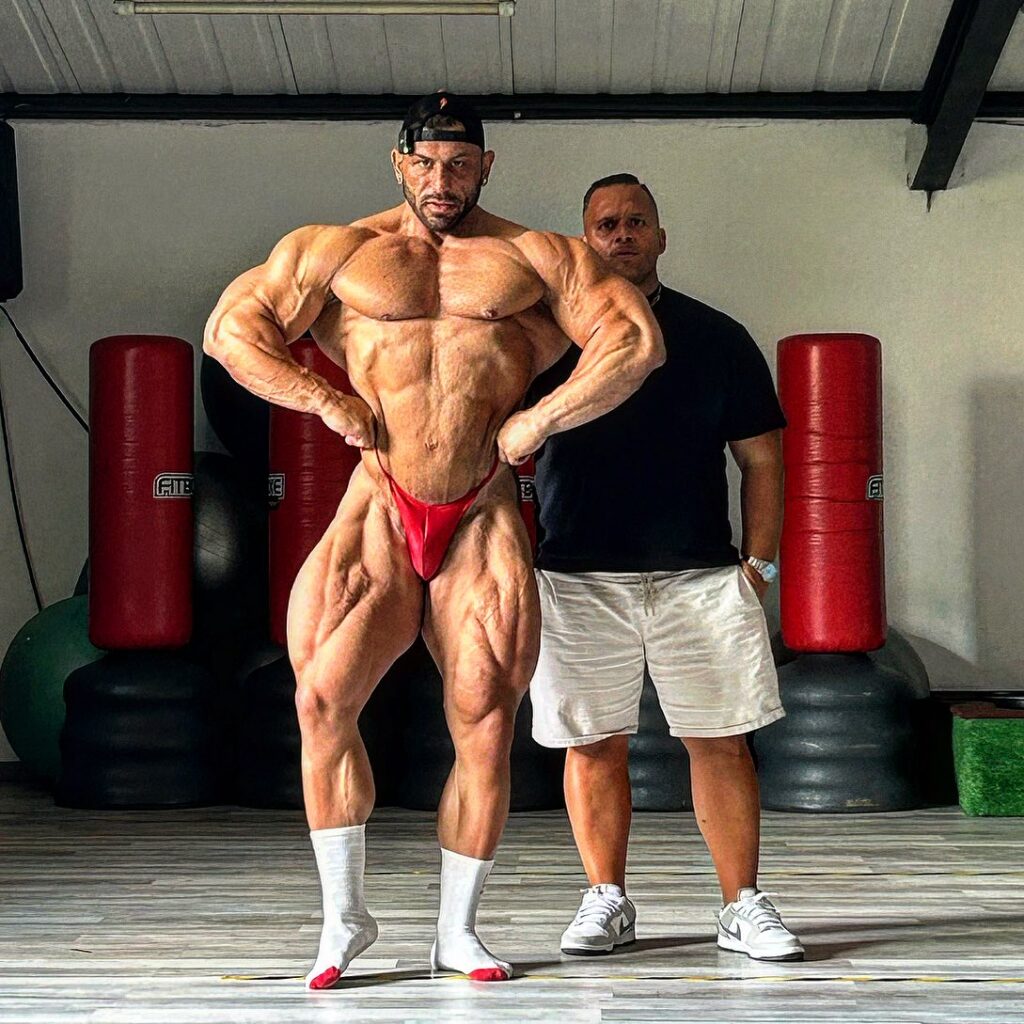 Notably, his last finish outside the top 15 dates back to the 2022 Olympia, highlighting his competitive prowess.
As the 2023 season dawned, Andrea Muzi embarked on a mission to add substantial muscle mass to his frame, all while preserving his renowned V-taper.
With the perfect blend of size and conditioning, Andrea Muzi has ignited a fervor among fans who believe he possesses the potential to steal the show when the curtains rise on Sunday.
In the world of bodybuilding, carving out a path to victory requires not only dedication but also a relentless pursuit of perfection.
Theo Leguerrier, a name synonymous with consistency, displayed an impressive track record during his 2022 campaign.
Theo's Leguerrier journey in 2022 saw him gracing the stages of seven IFBB Pro shows, a testament to his unwavering commitment to the sport.
While his solitary victory materialized at the 2022 Europa Pro Championships, Theo Leguerrier, akin to other formidable competitors, encountered a formidable challenge at the 2022 Mr. Olympia, where a top-15 finish remained elusive.
What sets Theo Leguerrier apart is his unwavering commitment to peak physical condition. With feathered quads and razor-sharp conditioning, he consistently presents himself as a formidable adversary.
When Theo Leguerrier takes center stage, spectators can anticipate a captivating display of athleticism and artistry that sets the bodybuilding arena ablaze.
Flex Weekend Pro 2023 Results
Here are the complete results of the all divisions.
Men's Open Bodybuilding Results
Nathan De Asha wins the Flex Weekend Pro 2023 and gets his ticket for the Olympia 2023.
Men's Physique Results
Ali Bilal wins the Flex Weekend Pro 2023 and gets his ticket for the Olympia 2023.
Winner: Ali Bilal
2nd Place: Emile Walker
3rd Place: Lenny Massouf
4th Place: Azimi Mohammad Ali
Bikini Results
Lisa Reith won the Flex Weekend Pro 2023 and got his ticket for the Olympia 2023.
Winner: Lisa Reith
2nd Place: Coming Soon
3rd Place: Coming Soon
4th Place: Coming Soon
5th Place: Coming Soon