The world of professional bodybuilding is a realm of dedication, discipline, and unwavering commitment to the pursuit of physical excellence. Samson Dauda, known as 'The Nigerian Lion,' has emerged as a formidable contender on this prestigious stage.
With the 2023 Mr. Olympia on the horizon, Samson Dauda invites us into his world, sharing a full day of eating just eight weeks from the competition.
In this article, we'll delve into Samson Dauda's journey, his rise to prominence, and the meticulous dietary preparations that fuel his quest to dethrone the reigning champion, Hadi Choopan.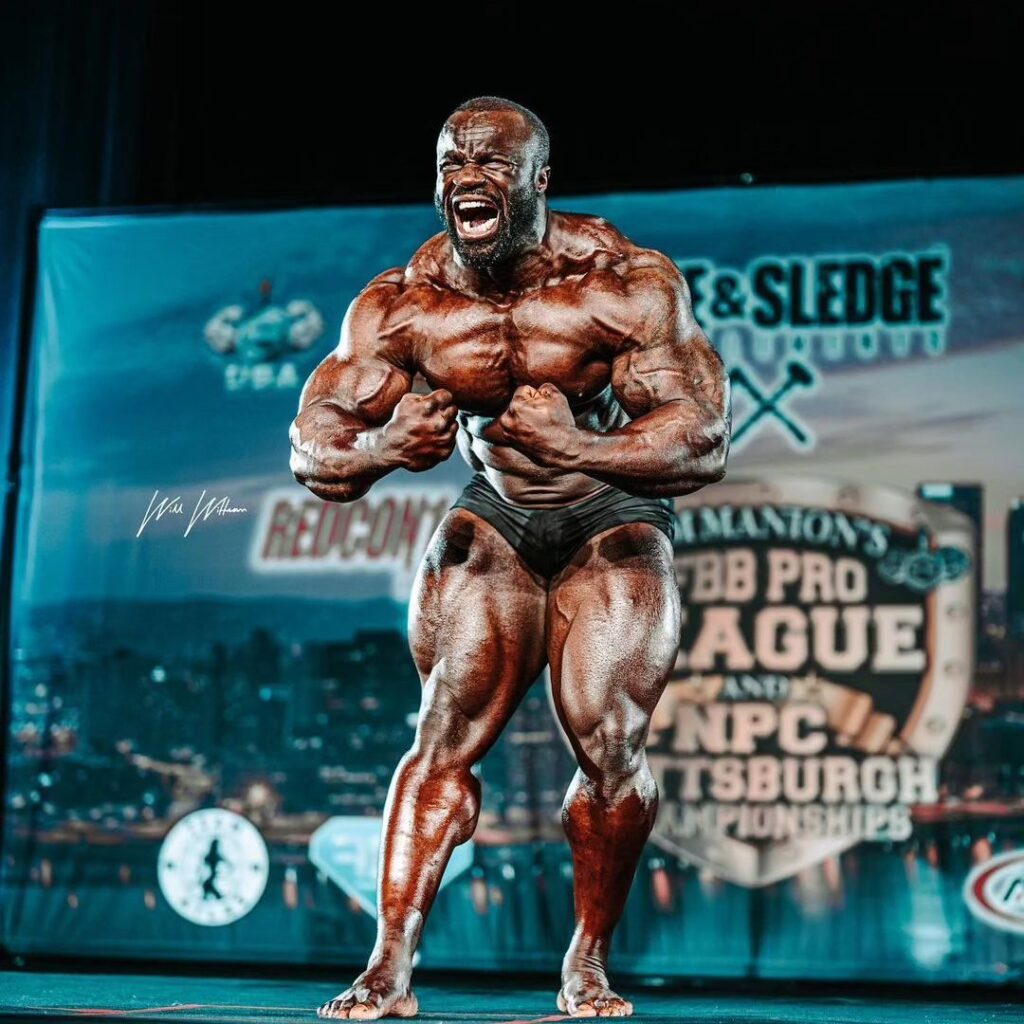 Samson Dauda's ascent in the IFBB Pro League began in 2018, but it was in 2022 that he truly captured the bodybuilding world's attention.
At both the Arnold Sports Festival and the IFBB Boston Pro, he secured fourth-place finishes, showcasing his exceptional blend of mass and muscularity.
However, it was at the 2022 Olympia that Samson Dauda truly made his mark, finishing an impressive sixth in the sport's grandest event.
Samson Dauda's journey took a triumphant turn in 2023 when he faced off against some of the biggest names in bodybuilding at the Arnold Classic.
Competing against the likes of Big Ramy, Andrew Jacked, and Nick Walker, he emerged victorious, securing his ticket to the 2023 Mr. Olympia.
With the prestigious competition looming, Samson Dauda now allows us a glimpse into his daily diet and nutritional regimen, a vital aspect of his preparation.
A Day in the Life of Samson Dauda's Contest Prep Diet
As Samson Dauda gears up for the 2023 Mr. Olympia, he graciously offers fans a sneak peek into his daily meals, providing insights into his meticulous dietary preparations, which play a pivotal role in his contest prep.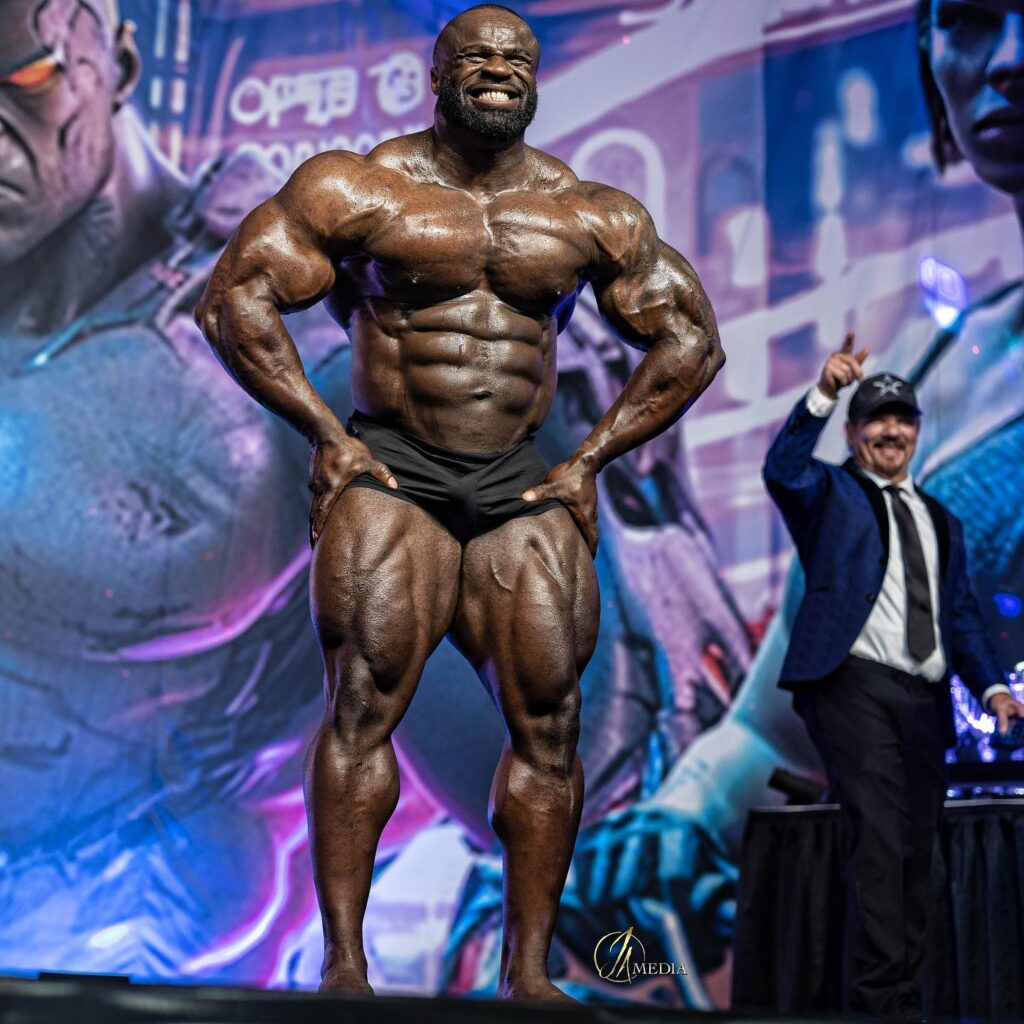 100 grams (two-thirds cup) of oats, one scoop of whey protein powder, and water
Five whole eggs
Samson Dauda begins his day with a hearty meal, emphasizing the importance of consistency in his eating habits, whether in the offseason or during prep.
He notes that as the competition draws nearer, he pays closer attention to portion sizes.
Throughout the day, he incorporates high-protein shakes to fuel his workouts.
250 grams (one cup) sweet potato
200 grams (seven ounces) steak
In the second meal of the day, Samson Dauda emphasizes the importance of preparation.
He pre-cooks a significant portion of his food in advance, allowing him to portion it out efficiently when needed.
250 grams (one cup) spaghetti
180 grams (6.3 ounces) 95% lean ground beef
With his pre-workout meal, Samson Dauda aims to have his food as close to his workout as possible, ensuring he never trains on an empty stomach, a strategy favored by many athletes.
During Training
One scoop pre-workout mix
One scoop of intra-workout mix (powdered carbohydrates and BCAAs)
Samson Dauda supplements his training regimen with pre-workout and intra-workout mixes to optimize performance and recovery.
Post-Workout Shake
Two scoops of whey protein powder, one scoop of cyclic dextrin (powdered carbohydrates)
One banana
Following his leg-focused workout, Samson Dauda prepares a post-workout shake rich in protein and carbohydrates, essential for recovery and muscle growth.
Two cups white rice
250 grams (8.8 ounces) grilled chicken breast
Vegetables
In his fourth meal, Samson Dauda maintains his high carbohydrate intake but reduces the rice portion slightly since it follows his workout.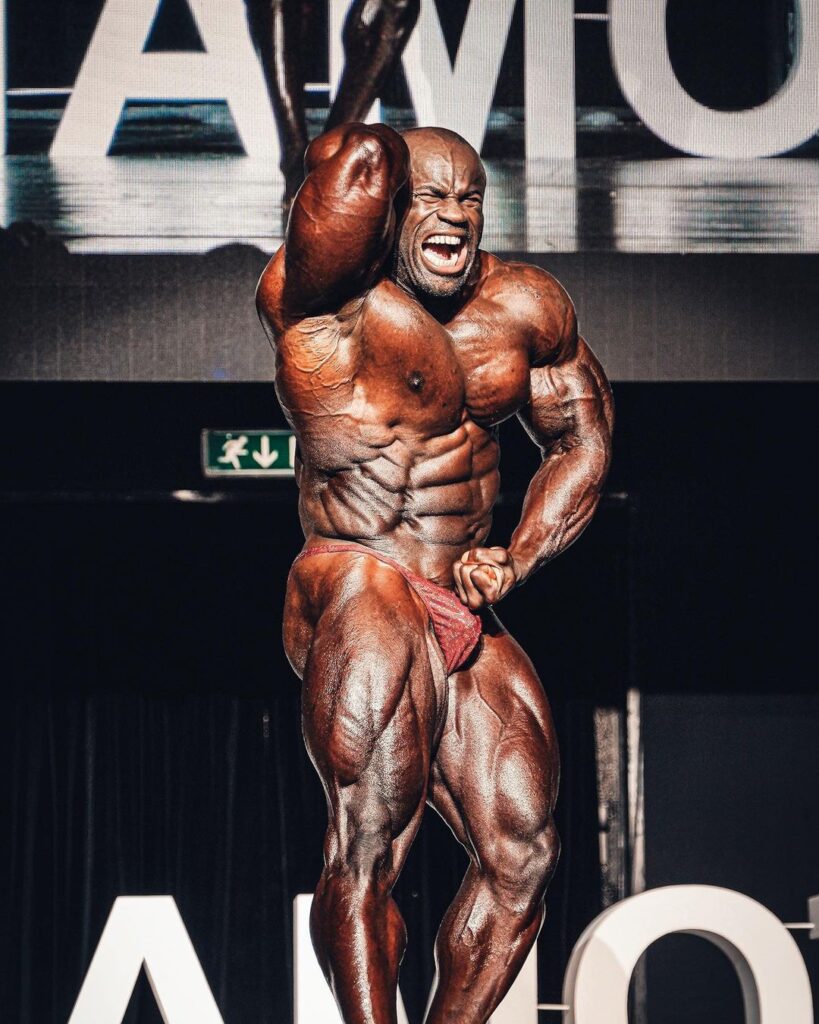 He skips vegetables due to a shortage, showcasing the adaptability required in contest prep.
One and a half cups rice
250 grams (8.8 ounces) grilled chicken
For his fifth meal, Samson Dauda continues with rice but decreases the quantity, adjusting his nutritional intake based on his daily activities.
180 grams (6.4 ounces) Salmon
Samson Dauda concludes his day with a simple yet nutritious meal, making sure to cook extra salmon for future consumption.
Samson Dauda's meticulous approach to his contest prep diet offers a fascinating insight into the life of a professional bodybuilder.
His dedication to maintaining a carefully curated diet, even in the face of rigorous training and competition preparation, underscores the unwavering commitment required in the world of bodybuilding.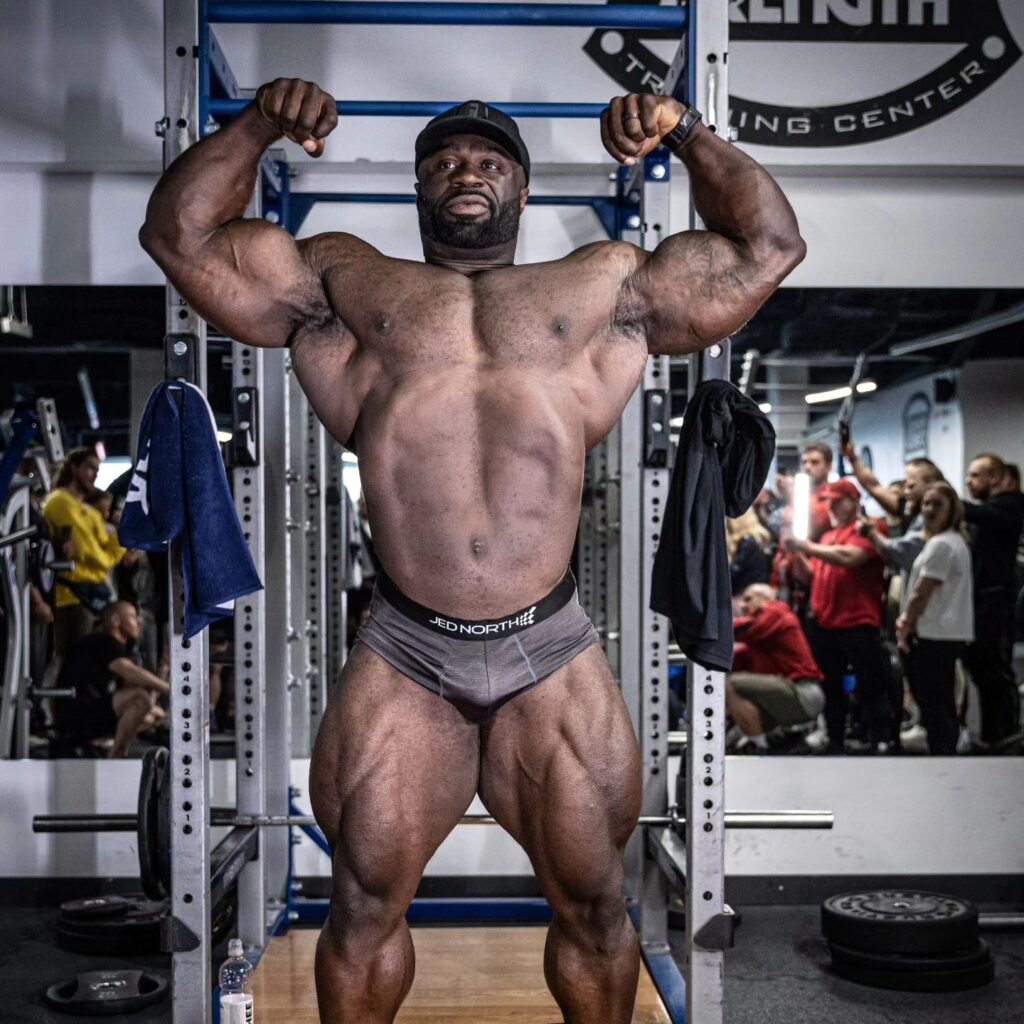 As 'The Nigerian Lion' prepares to go head-to-head with reigning champion Hadi Choopan, Derek Lunsford, and Nick Walker at the 2023 Mr. Olympia, fans can anticipate an epic showdown.
Samson Dauda's journey is a testament to the indomitable spirit of bodybuilders, their willingness to push boundaries, and their relentless pursuit of greatness.
We eagerly await the spectacle that will unfold in less than two months at the 2023 Mr. Olympia, where Samson Dauda aims to etch his name in bodybuilding history.