In the unforgiving world of professional bodybuilding, setbacks, and disappointment inevitably find every competitor at some point. True champions set themselves apart by how they respond to adversity.
After a humbling experience at the 2022 Mr. Olympia, Irish sensation Blessing Awodibu is determined to author a legendary comeback story.
With renewed focus and intensity, Blessing Awodibu has been training to qualify again and shock the world like never before.
His recent back workout exemplified the no-stones-unturned mentality fueling his resurrection. By pushing his physique to its absolute limits, this boogeyman is ready to terrorize his next contests.
Early Rise to Prominence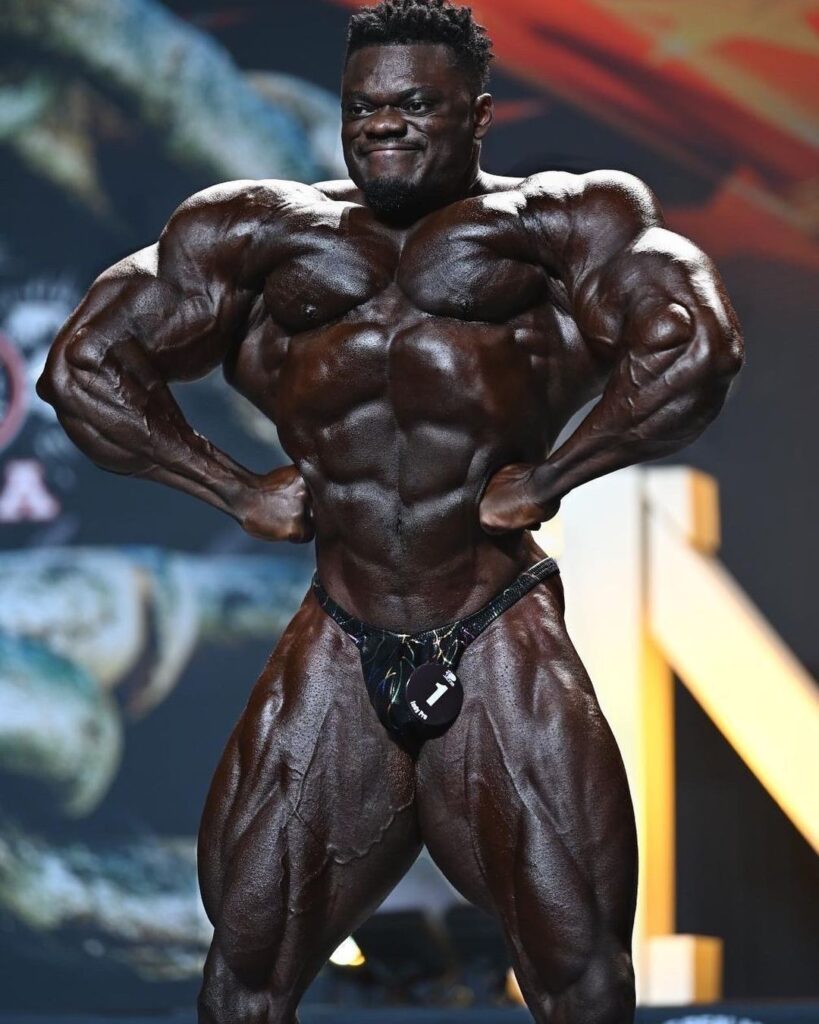 Virtually unknown just two years ago, Blessing Awodibu barged onto the scene in 2021 with a brash persona and eye-catching physique.
After earning his pro card in 2020, he wasted no time making noise by placing 3rd at the 2021 Indy Pro.
Blessing Awodibu's combination of flowing muscle bellies and rugged denseness sparked comparisons to legends like Flex Wheeler. Fans instantly took notice of this charismatic newcomer.
However, Blessing Awodibu's Olympia debut fizzled with a lackluster finish at the 2021 New York Pro the following week. Undeterred, he embarked on a redemption arc in 2022, starting by capturing the Indy Pro title.
Blessing Awodibu rode that momentum by downing the New York Pro field weeks later. He surged up the rankings with two big wins and qualified for his first Olympia. The bodybuilding world buzzed about his potential heading to Las Vegas.
Baptism by Fire at the 2022 Olympia
Given the hype surrounding Blessing Awodibu's rapid emergence, expectations ran high for his Olympia debut. However, the stellar 2022 lineup featuring Andrew Jacked and Michal Krizo proved a trial by fire.
Blessing Awodibu brought outrageous size and proportions, tipping the scales around 300 pounds. But questionable conditioning left him outside the top 10, mired in 16th place.
The humbling finish served as a reality check for Blessing Awodibu. Veterans like Nick Walker and Kamal Elgargni reiterated the acceptable margins separating contenders from champions. The Boogeyman vowed to learn from the experience.
Back to the Drawing Board
In the months after Olympia, a reflective yet motivated Blessing Awodibu got back to work, addressing his weaknesses. Displaying maturity, he embraced the setback as an opportunity for growth.
Blessing Awodibu realized that optimizing his grainy muscle quality and nailing conditioning should be priorities. He collaborated with his coach to retool his prep and make the improvements demanded at his level.
Leaving no stone unturned, Blessing Awodibu adopted an all-business mindset in the gym. Each session became focused on pushing past boundaries.
No longer resting on potential, Blessing Awodibu attacked training with a renewed sense of purpose.
Demolishing a Treacherous Back Workout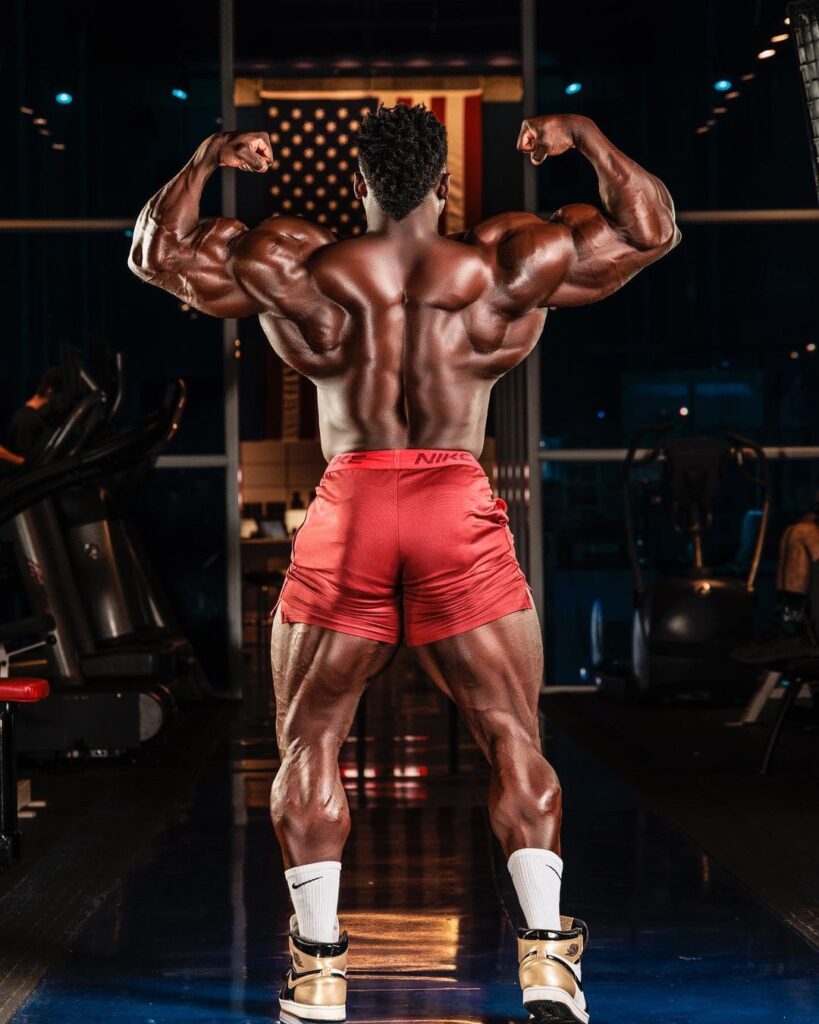 A recent back demolition session exemplified Blessing Awodibu's no-nonsense attitude this offseason. Coming off a heavy leg workout the previous day, Blessing Awodibu faced extreme fatigue.
But he saddled up and crushed one of his toughest back routines to date. Blessing Awodibu started the workout with heavy shrugs, hoisting massive weights to blast his trapezius muscles.
After pre-exhausting them, he jumped into a grueling superset of chest-supported rows and rear delt flyes.
Performing multiple exercises back-to-back with shortened rest tortured his upper back and scorched his rear delts. Lactic acid flooded his muscles, creating a wicked pump.
Blessing Awodibu kept the intensity high by transitioning into heavy plate-loaded rows targeting his rhomboids and lats. With no rest, he grabbed a barbell for several sets of bent-over rows.
Each rep stretched his lats to their limit and strengthened his lower back. Blessing Awodibu fought the burning urge to quit.
He finished the day by supersetting one-arm pulldowns with cable pullovers, incinerating his lats through mechanical tension and time under load.
Staggering out of the gym drenched in sweat, Blessing Awodibu had laid down a marker. This workout reflected his willingness to walk through fire to reach the next level.
The Mindset of a Champion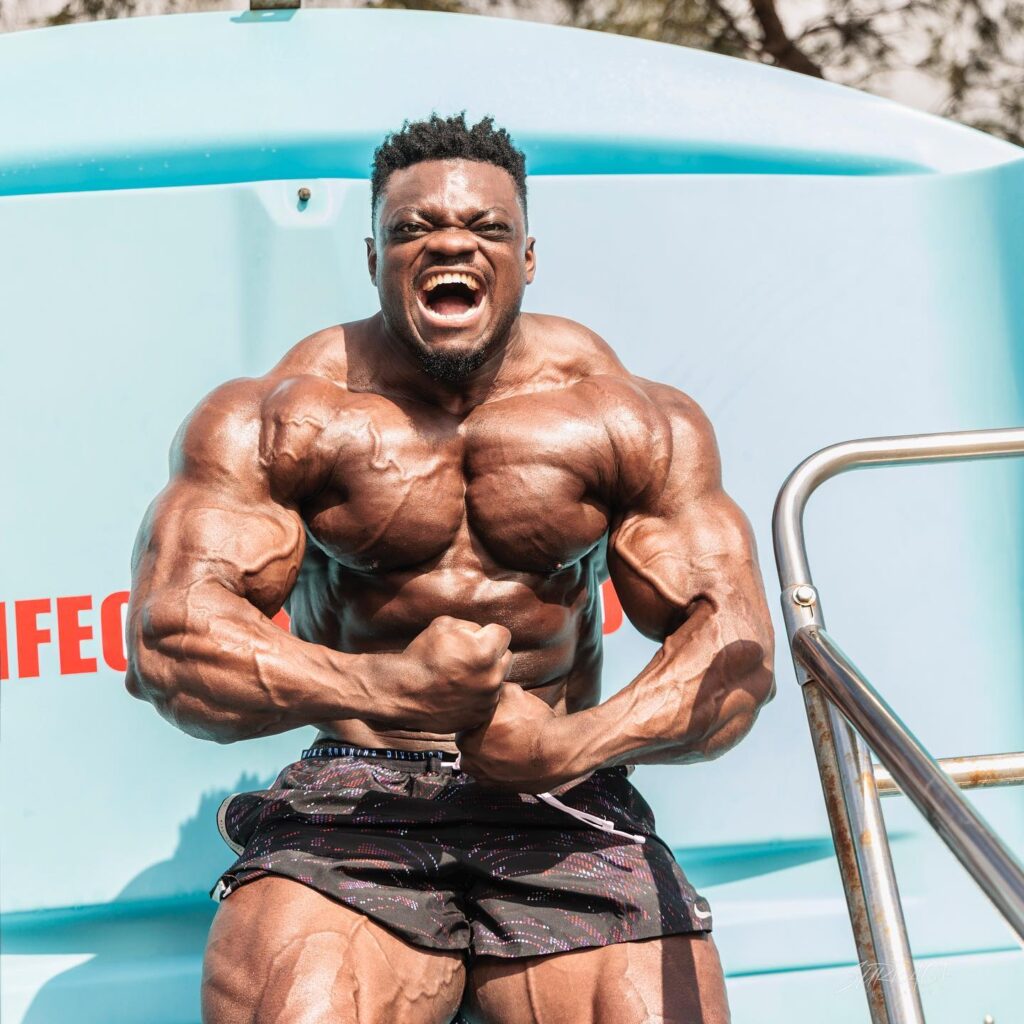 Blessing Awodibu's drastic improvements since the Olympia showcase a competitor embracing the commitment to greatness.
Blessing Awodibu understands success comes from pushing past perceived limits, not resting on potential.
Each training session and meal now carries championship meaning. Complacency is no longer in Blessing Awodibu's vocabulary. He visualizes the feeling of redemption that lies ahead through diligent preparation.
Blessing Awodibu also demonstrates cerebral maturity by not rationalizing or making excuses for last year's Olympia. He refuses to waste energy on disappointment, the only solution.
This champion mindset illuminates Blessing Awodibu's renewed quest for glory. By combining humility, resilience, and work ethic, this boogeyman is determined to have the last laugh.
Unfinished Business Awaits in Las Vegas
Qualifying for the 2023 Olympia now stands as Blessing Awodibu's all-consuming motivation. After falling painfully short last year, his desire burns hotter than ever.
The mere prospect of returning to Las Vegas focused and improved is Blessing Awodibu's championship. He imagines standing proudly among the best after doing things the right way.
No outcome is guaranteed in this ruthless sport. But one thing is certain – Blessing Awodibu will leave no preparation stone unturned to give himself the best chance at redemption.
If Blessing Awodibu continues training with the intensity of his recent back workout, look out. This refocused boogeyman might terrify his next competitions and earn that coveted return trip to the Olympia stage.
The Future Remains Bright for Blessing Awodibu
At just 31 years old, Blessing Awodibu remains a baby in bodybuilding years with ample time to fulfill his potential. His response to adversity this past year suggests big things may still await.
Rather than make excuses after the Olympia, Blessing Awodibu embraced accountability and winning mindsets demonstrated by great champions. Few handle disappointment with such poise and maturity.
By learning valuable lessons from the setback, Blessing Awodibu positioned himself for sustainable long-term success. He exhibits the mental toughness and drive needed to become a perennial top Olympia threat.
Of course, the ascent to the top presents a monumental challenge, even for mega-talents like Blessing Awodibu.
But by controlling what he can – his work ethic, attitude, and courage – this hungry competitor gives himself every opportunity to realize his dreams.
Blessing Awodibu Has All the Tools to Be an Elite
When analyzing Blessing Awodibu's structural attributes, it becomes clear what elevates his ceiling so high. His otherworldly shape and muscle bellies channel legends like Flex Wheeler.
Blessing Awodibu possesses some of the roundest, fullest muscle bellies and prettiest shapes in the sport today. His wide shoulders, flaring lats, and tiny waist perfectly accentuate his X-frame.
As Blessing Awodibu refines his grainy conditioning, his flowing muscles will pop like never before. Very few in history have combined such structure and aesthetics with rugged denseness like Blessing Awodibu.
These extraordinary genetic gifts help explain the meteoric rise that saw Blessing Awodibu go from amateur to Olympia contender in barely two years. Now as he continues evolving, the scariest prospect is that his best days likely still lie ahead.
The pieces are in place for Blessing Awodibu to establish himself as a mainstream star and regular top Olympia threat for years to come.
Staying the course with humility and diligence will determine how high this boogeyman soars.
The Next Chapter Awaits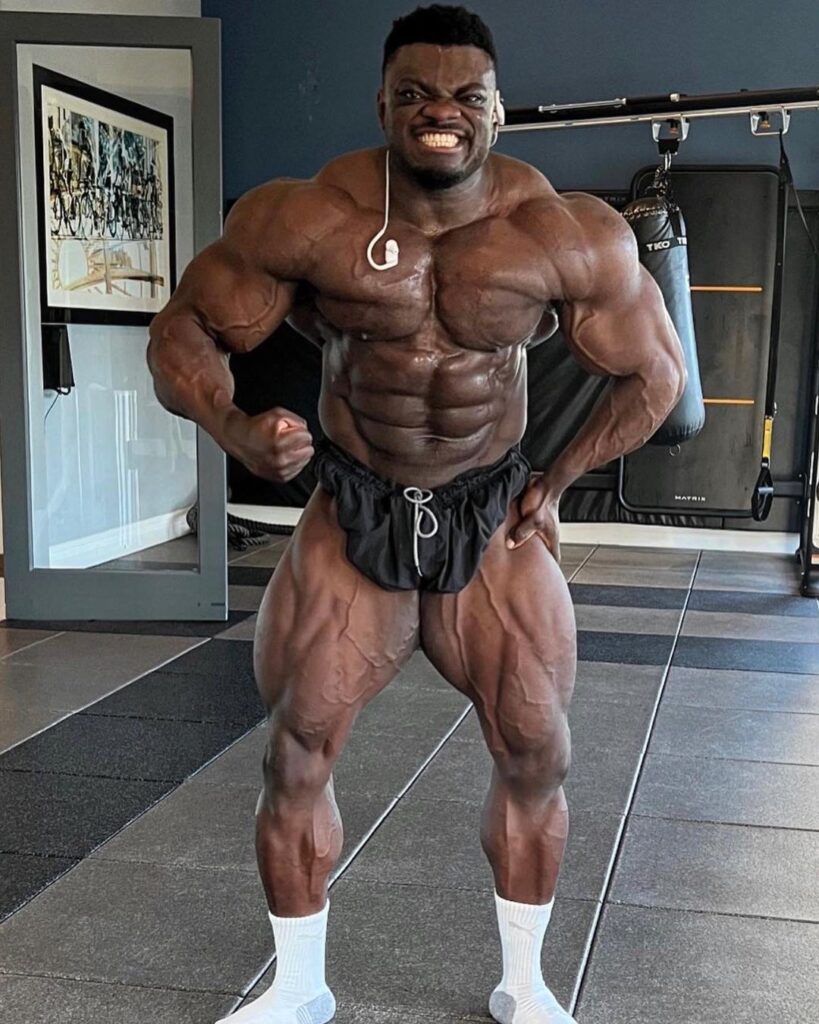 Blessing Awodibu conquered the first chapter of his bodybuilding story by bursting onto the scene and qualifying for the Olympia in record time. Now with renewed perspective and desire, an exciting next chapter awaits.
How will the boogeyman respond to the adversity he faced last year? If his recent work ethic proves any indication, Blessing Awodibu's comeback tale could become the stuff of legend.
Of course, pro bodybuilding rarely follows clean narrative arcs. Twists and turns inevitably emerge. But Blessing Awodibu has exhibited the inner resolve of a true champion.
Win or lose, he clearly demonstrates the courage to put himself out there and battle with the best. Blessing Awodibu's charisma and sincerity have already made him a fan favorite.
The coming months will reveal exactly where Blessing Awodibu's bodybuilding journey goes next.
But this reflective competitor has embraced the bumps along the way, committed to making the most of his abilities.
As long as the boogeyman continues evolving with the same relentlessness that fueled his rise, exciting possibilities lie ahead. The legend of Blessing Awodibu remains a story very much in progress.