Fan favorite Blessing Awodibu is hungry for redemption after failing to qualify for the 2023 Mr. Olympia at last weekend's Chicago Pro.
Blessing Awodibu admitted he came in soft and off his best, finishing a disappointing fourth place. Now he's setting his sights on the upcoming Texas Pro for another shot at Olympia.
Blessing Awodibu recapped his Chicago Pro performance and mindset in a YouTube video with athlete rep Bob Cicherillo. He acknowledged that immense pressure and mental strain affected his prep and conditioning.
Despite putting on ten pounds of muscle last year, Blessing Awodibu couldn't achieve the dry, shredded look needed to conquer the Chicago stage. He appeared smooth and watery compared to winner Justin Shier and runner-up Maxx Charles.
Looking back, Blessing Awodibu regrets getting overexcited by his size gains during prep. He realizes now that he should've focused on hardening up as competition neared.
Blessing Awodibu got distracted by scale weight versus monitoring his actual conditioning. This was an especially bitter letdown after Awodibu's breakout 2022 campaign.
He earned two prestigious pro show wins – the Indy Pro and New York Pro – to qualify for his first Olympia last December.
Olympia Debut Disappointment
However, Awodibu's Mr. Olympia debut proved underwhelming, finishing outside the top 15. He expected to improve on that placing in 2023, but the poor Chicago Pro outing has him searching for answers.
In an Instagram post, Blessing Awodibu elaborated that his prep was progressing nicely until things went "iffy" leading into Chicago. He worked with coach Cameron Cheek to smoothly bring his body weight from 306 pounds down to 276 pounds.
But Awodibu believes he could have done better with his peak week strategies. The fine-tuning and drying-out process failed, leaving him at his best. Now Blessing Awodibu is determined to get his wheels back on track for redemption.
Gunning for Texas Pro Gold
Thankfully, the Texas Pro on August 18-19 presents another chance to qualify for the Olympia. If Awodibu can rediscover his winning formula from 2022, he believes a special showing in Texas is possible.
However, the competition will be just as fierce as Chicago. Andrew Jacked, defending Texas Pro champ, is hungry to cement his Olympia qualification after missing out in Chicago.
Additionally, Hunter Labrada seeks redemption in Texas following his lackluster 7th-place Olympia finish last year. Hunter Labrada's current form looks spectacular based on recent updates.
Furthermore, newly minted pro-Carlos Thomas Jr. makes his long-awaited Open division debut in Texas. The hulking mass monster has "future Olympia champion" written all over him.
If Blessing Awodibu nails his conditioning, his athletic physique could pose problems for the more enormous mass monsters.
His tiny waist, flaring lats, and vacuum pose are challenging to defeat when shredded. Dialed in, Blessing Awodibu has top 3 potential.
Lessons Learned From Chicago Pro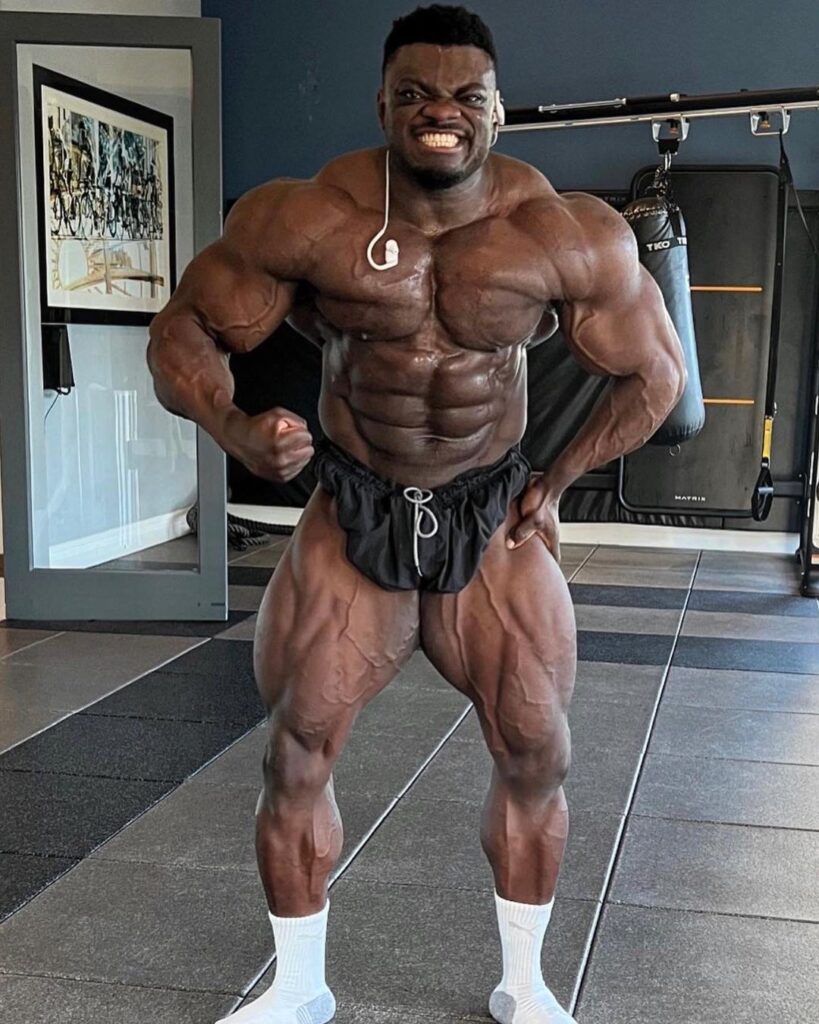 While falling short hurts, Blessing Awodibu understands failure presents an opportunity for growth. He vows to learn from this experience and continue improving.
In the future, Blessing Awodibu must diligently track his conditioning versus overall size as competitions approach. He needs to maintain sight of bringing his best package and look rather than focusing on the scale.
Blessing Awodibu also needs to learn how to handle immense pressure and expectations better. His engaging personality carries a cost – some critics are eager to see him stumble. Awodibu must block out the noise and remain mentally tough.
Most importantly, Blessing Awodibu realizes now that nothing is guaranteed in bodybuilding. He can't rest on past success or assume he'll coast to future victories. Awodibu must bring his A-game and killer instinct every time he steps on stage.
One subpar showing doesn't define a champion like Blessing Awodibu. With a short memory and renewed motivation, he will treat the Texas Pro as a fresh start to write his redemption story. Awodibu's best is certainly good enough to beat anyone.