Mass monster Regan Grimes is gearing up for a highly anticipated return to the bodybuilding stage following an extended competitive hiatus.
The promising talent recently showed off his hulking physique in a posing session with coach Milos Sarcev just weeks out from his comeback show in Italy.
Regan Grimes burst onto the scene as a teenager, leveraging freakish genetics into pro status by age 20.
After a promising start to his pro career, Regan Grimes stepped away from competitions in 2021 to focus on adding more mass to his gigantic frame.
Judging by his latest shreds-on-shreds posing update, the Canadian looks dialed in and ready to pick up where he left off on his ascent up the pro ranks.
Let's take a closer look at Regan Grimes' impressive development and path to regaining elite pro status once again.
Early Success and Steady Rise
Regan Grimes captured attention early on thanks to his massive, developed physique even as a high school student. His muscular maturity helped him turn pro before most athletes even reach their natural peak.
After just missing out on the win at his pro debut in 2017, Regan Grimes switched divisions and earned a decisive pro victory in classic physique the following year.
His triumph qualified him for the 2018 Mr. Olympia, where he finished a respectable 8th in a stacked lineup.
Following this promising start, Regan Grimes returned to the open division where his sheer mass provided an advantage. He notched a commanding win at the 2020 Romania Muscle Fest Pro.
Regan Grimes twice cracked the top 10 at consecutive Mr. Olympia contests, demonstrating his burgeoning potential among the world's best. However, he identified a need for greater size to contend with the division's mammoths.
Taking Time to Grow
Following his last showing at the 2021 Boston Pro, Regan Grimes decided to take extended time off the stage to pack on pounds.
Under the guidance of veteran coach Milos Sarcev, he tailored his training to prioritize steady mass gains.
Regan Grimes shocked fans by approaching 300 pounds in off-season updates. Though already carrying tremendous muscle, he appeared intent on overpowering the competition through pure bulk when returning.
However, Regan Grimes ultimately pulled out of the 2022 Mr. Olympia, feeling he hadn't reached his ideal competitive weight and conditioning. This exemplified his patience and unwillingness to step on stage before he feels 100% prepared.
Shredding Down for Italy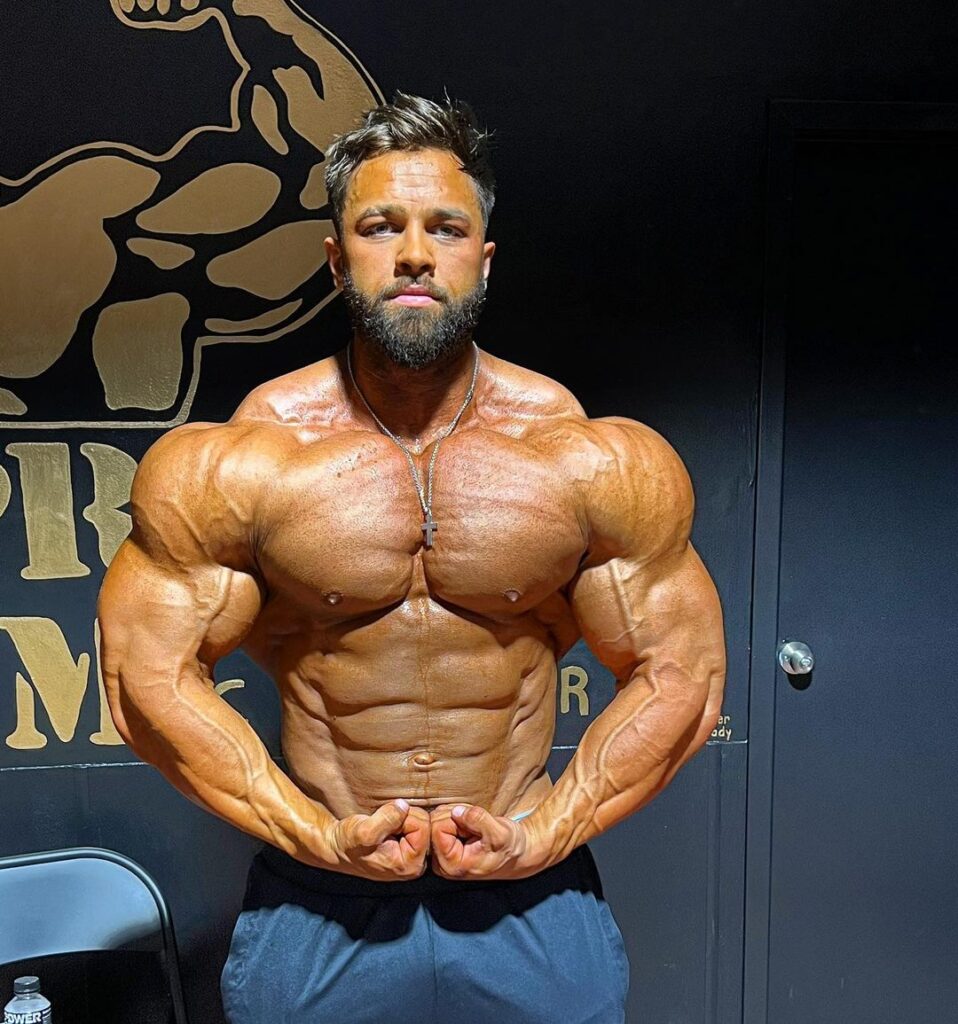 As Regan Grimes' return draws closer, recent updates showcase maintained size with shredded cuts and grainy conditioning.
A posing video with Milos Sarcev weeks out from his Italy Pro comeback highlighted Regan Grimes' excellent shoulder-to-waist ratio and detailed lower body.
Regan Grimes credits a disciplined approach relying on fasted cardio, posing practice, and strict nutrition for his visible improvements.
Never one to leave stones unturned, he has also adopted intensive arm and delts workouts from bodybuilding legend Jay Cutler.
With rock-solid confidence in his abilities, Regan Grimes believes he has made the necessary strides during his time away to pick up where he left off. His coaches assert he will arrive bigger, harder, and more dangerous than ever before.
Eyes Still Fixed on the Olympia Prize
Though Regan Grimes' focus remains squarely on redemption in Italy, his über-competitive attitude tells fans this long-awaited return is about more than just one contest.
Regan Grimes still has aspirations of capturing the coveted Mr. Olympia title. Regan Grimes and his team are cognizant that requires entering the open division with extreme physical precision.
After patiently adding quality mass and remaining dedicated during his hiatus, Regan Grimes appears to have done the necessary work.
Now fans await Regan Grimes to peel back the layers to showcase improvements when he returns to the spotlight overseas.
One thing is for sure – the massive Canadian will capture the attention of judges and put his competition on notice by arriving bigger, drier, and physically overwhelming.
With the heart of a champion and unwavering belief in his abilities, Regan Grimes is determined to show the bodybuilding world he is still on the ascent.
If he brings his best, Regan Grimes may soon find himself back battling other titans at Mr. Olympia.