Erin Banks is a Fresno Men's Physique bodybuilder and fitness model. Erin discovered his passion for physical activity and competition back in 2019.
Erin Banks competed at the Olympia 2022 in the Men's Physique Category and won the Olympia title against Brandon Hendrickson and Diogo Montenegro.
Early Life of Erin Banks
Erin Banks was born in Fresno, California, in 1988. He was always an ambitious person. His passion for excelling in sports led him to play football, basketball, and track throughout high school.
Getting Into Bodybuilding
After college, a colleague and a former IFBB bodybuilder introduced Erin to competitive bodybuilding. And it wasn't long before he took part in his first show.
The year was 2019, and Erin entered the bodybuilding world when COVID-19 closed everything he had to take a break, but it didn't set him back too much.
Now, he's back at it, presenting both his hometown of Fresno and the current town of Fowler in the world of bodybuilding.
Bodybuilding Career of Erin Banks
Erin did his first pro show in April 2021 and had competitions every two weeks after that all over the homeland. Winning first place in Men's Physique at the New York Pro qualified him for Mr. Olympia 2021.
Erin Banks has surprised the sport by qualifying in the physique series in his first year on the path. Erin Banks had four months to prepare for the big competition of his life, an experience he says was surreal.
Erin Banks doesn't take easy training with bodybuilding legend and Fresno native Flex Wheeler leading up to the Olympia 2021.
A local bodybuilder was looking to become the first Valley native to be crowned Mr. Olympia 2021 when he competed against the best such as Brandon Hendrickson, Diogo Montenegro, Kyron Holden, and Raymont Edmond, in the world in Orlando, Florida.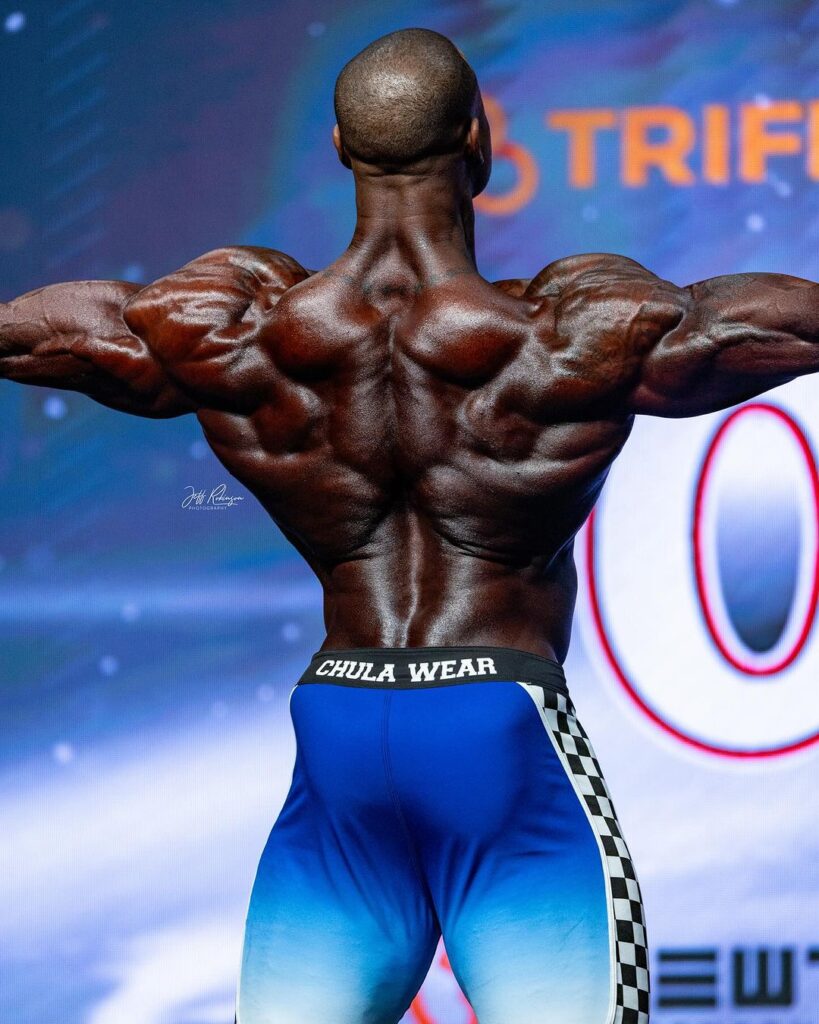 Erin Banks placed second in Mr. Olympia's 2021 Men's Physique competition. He is the first rookie ever to do so. In 2022, he competed at the Olympia contest and won the title for the first time.
At the Arnold Classic 2023, Erin Banks won 1st place in the Men's Physique Category against the runner-up Diogo Montenegro.
Erin Banks' Contest History
2019 NPC Contra Costa Championships, Men's Physique, 1st
2019 NPC USA Championships, Men's Physique, 2nd
2021 IFBB Houston Tournament of Champions, Men's Physique, 2nd
2021 IFBB Wasatch Warrior Pro, Men's Physique, 2nd
2021 IFBB Pittsburgh Pro, Men's Physique, 3rd
2021 IFBB New York Pro, Men's Physique, 1st
2021 IFBB New York Pro, Men's Physique, 2nd
Body Size of Erin Banks
| | |
| --- | --- |
| Erin Banks height | 5 feet and 11 Inches |
| Erin Banks weight | 230 Pounds (102 to 108 kg) |
| Erin Banks Arm Size | 19 Inches |
| Erin Banks Chest Size | 46 Inches |
| Erin Banks Waist Size | 30 Inches |
| Erin Banks age | 35 Years |
| Erin Banks Date of Birth | 1988 |
| Erin Banks Religion | Christian |
| Erin Banks Nationality | American |
Erin Banks' Net Worth
Erin Banks is a Fresno professional IFBB bodybuilder. Erin Banks started working out at the age of 30. Although he's still only 34 years old, Erin Banks's net worth is $700k around.
Erin's diet will consist of lean proteins, healthy fats, complex carbs, and the occasional cheat meal.
Erin Banks follows a strict diet and nutrition plan, especially during a cut. He consumes around 2,700 calories daily, increasing to 3,200 calories around 10 weeks from the competition. His meals mainly consist of chicken breast, rice, and broccoli.
Banks adds a quarter tablespoon of pink Himalayan salt and a little Mrs. Dash seasoning to add some flavor to his meals. Before starting the cut, he allows himself condiments such as hot sauce or mustard.
However, at the 10-12 week mark, he pushes aside all such items and focuses on being the best. He has followed the same diet plan for three years without getting bored.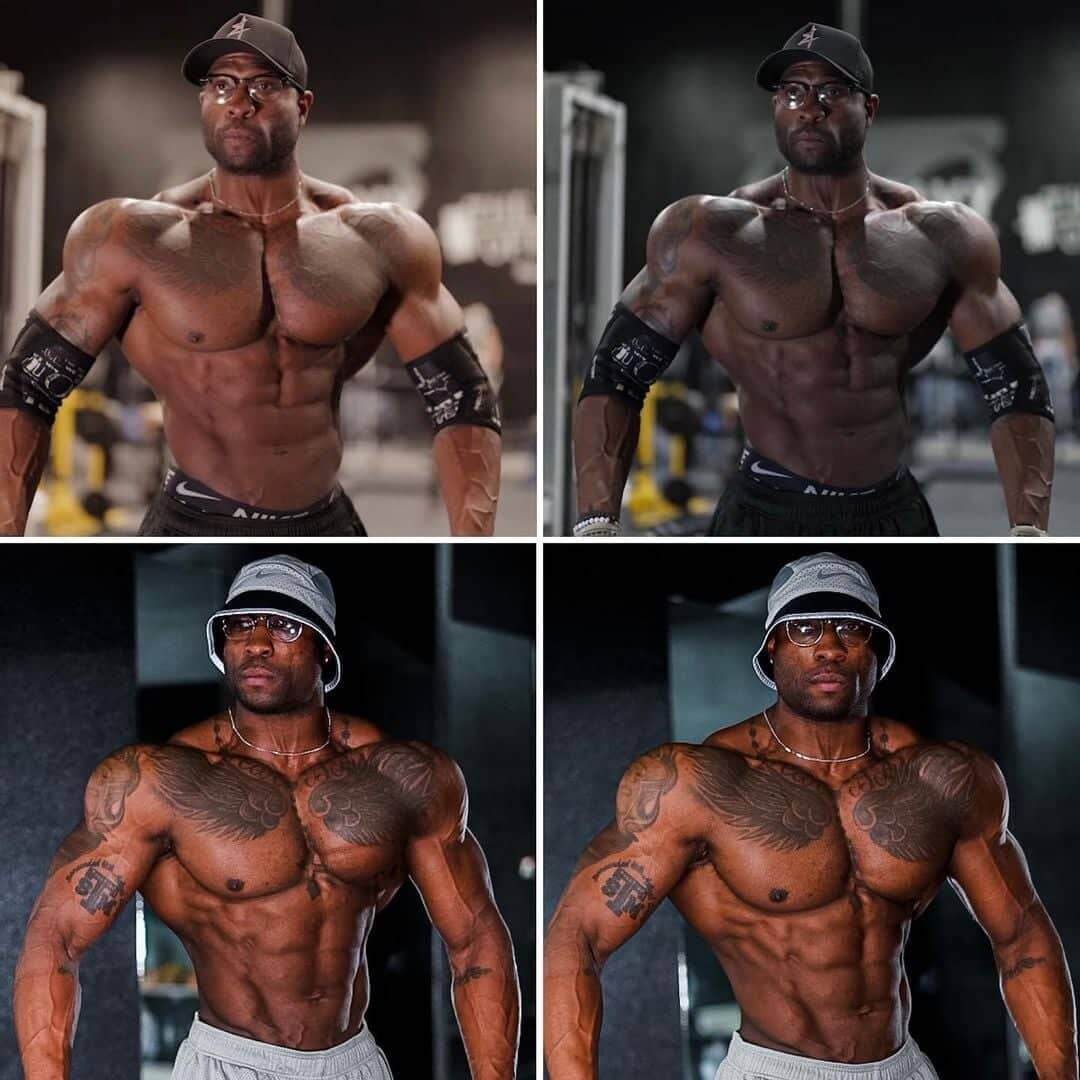 Erin Banks took a two-and-a-half-month break during his off-season, an anomaly in his time as a pro bodybuilder. He enjoys sitting outside without worrying about eating for the next two or three hours.
Erin Banks has a sweet tooth, and his go-to cheat meal is at the Cheesecake Factory, where he orders fried mac and cheese balls, avocado spring egg rolls, carrot cake, and Oreo supreme cheesecake without hesitation.
Besides his love for food, Erin Banks also devotes his time to helping his community through his annual sock drive, which allows homeless people in Fresno, CA, to get socks. In 2022, they delivered over 1,500 pairs of socks.
Erin Banks, a professional bodybuilder, has invested some of his prize money into a new clothing line he plans to launch soon. Banks keep his gym bag simple when going to the gym, with only wrist wraps, knee sleeves, and a camera.
He brings his workout routine to the gym and nothing else. While he is known for his impressive wide V-taper and thick rear delts, Erin Banks admits to having a love-hate relationship with back training.
| | |
| --- | --- |
| Exercises | Sets |
| Straight-Arm Lat Pulldowns | 4 x 20 |
| Chest-Supported T-Bar Rows | 4 x 8-12 |
| Seated Lat Pulldowns | 4 x 8-12 |
| Rack Pulls | 3 x 10 |
Erin Banks Instagram
Erin Banks talks with his followers through Instagram occasionally. Erin updated his Instagram account and updated his diet and workout routine. Erin Banks has 425k Instagram followers now in November 2023.
Erin Banks Wife
Erin Banks is happily married to Kristy Farley Banks, and they are living a beautiful and ideal life together. Kristy is a teacher and a simple housewife who supports Erin's goals and aspirations.
She plays an essential role in helping him achieve his dreams. Moreover, Kristy is a dedicated mother to their two children, a baby girl and a boy.
Erin cherishes his family life, and he spends most of his free time with his wife and kids, playing and bonding with them. His family is his top priority, and he values the time he spends with them.
Erin's love and commitment to his family are admirable, and it is clear that he is a devoted husband and father. Thanks to his loving wife and beautiful children, Erin Banks' life seems filled with love, joy, and happiness.
FAQs
How old is Erin Banks?
Erin Banks is 35 years old as of 2023.
How tall is Erin Banks?
Erin Banks is 5 feet and 11 inches tall.