Víctor Martínez, an IFBB-certified professional bodybuilder from San Francisco de Macorís, Dominican Republic, has left an indelible mark on bodybuilding.
He was born on July 29, 1973, in San Francisco de Macorís Víctor relocated to New York, USA, at a young age and grew up in the Washington Heights area. It was there that he discovered his passion for sports.
His coach recognized Víctor's competitive spirit and invited him to join the high school football team. Alongside football, Víctor actively participated in baseball and basketball.
However, his exposure to weightlifting, fueled by his love for Marvel Comics and WWF Wrestling, eventually led him down the path of bodybuilding.
Following his graduation from high school, Víctor's focus shifted entirely toward bodybuilding. He realized he needed to develop his physique further to compete on a bodybuilding stage, so he began rigorous training. The dedication and hard work paid off when, at the age of 19, he was ready for his first competition.
In 1993, Víctor showcased his conditioning at Elmo's Gym, where he triumphed in the teenage division, securing 1st place. His exhilaration after this victory fueled his determination to tackle greater challenges.
However, his second show, 1994, resulted in disappointment as he finished in 27th place. Víctor took a break from competing to improve his weaker body parts.
This decision proved pivotal, as he returned three years later to claim victory at the 1997 NPC New Jersey Suburban State Bodybuilding Contest and the 1997 NPC New York Metropolitan Championships.
In 1999, Víctor improved notably, securing 16th place in the NPC New York Metropolitan Championships. The following year became a significant turning point in his career.
Víctor won the heavyweight category at the 2000 NPC Junior USA, which allowed him to compete at the nationals and earn his coveted Pro Card.
After months of relentless preparation, he led Víctor to the NPC Nationals, where he emerged victorious in both the heavyweight and overall categories among the top 30 physiques in the USA.
This accomplishment made him the second bodybuilder from the Dominican Republic to attain Pro status, enabling him to compete in the elite realm of bodybuilding.
Víctor made his professional debut in 2001 at the IFBB Night of Champions, securing 8th place. Over the following years, he made significant progress in his physique and on-stage performance.
In 2003, he clinched victory at the IFBB Night of Champions, followed by a 9th-place finish in his first Mr. Olympia competition the next year. Later in 2004, Víctor won the IFBB GNC Show of Strength Pro Championship and attained 5th place at the Arnold Classic.
One of Víctor's most triumphant years came in 2007 when he claimed victory at the Arnold Classic and earned the runner-up position at Mr. Olympia, narrowly losing to Jay Cutler.
Many enthusiasts argue that Víctor deserved the top spot. Unfortunately 2008, he injured his left patellar tendon during lunges, preventing him from competing in Mr. Olympia and Arnold Classic.
Throughout his career, Víctor had several strong showings at the Mr. Olympia competition, including a 3rd place finish in 2006 and a 2nd place finish in 2007. Despite his consistent performances, he faced tough luck and fell short of winning the prestigious title. Between 2010 and 2016, Víctor participated in 12 additional competitions.
In 2011, he emerged victorious at the Arnold Classic Madrid, and two years later, he achieved 2nd and 1st place finishes at the New York Pro Championship and the Toronto Pro Supershow, respectively. Even at 40, Víctor demonstrated unwavering commitment and continued to achieve remarkable results.
In 2014, he secured 8th place at the IFBB Mr. Olympia and 4th place at the Arnold Classic, reinforcing that age is merely a number, even in the most prestigious competitions.
After finishing 9th in the 2015 Mr. Olympia, Víctor took a hiatus from the stage and did not compete in the 2016 edition. However, he made a comeback towards the end of the year, winning the IFBB Baltimore Pro.
With a career spanning two decades, Víctor Martínez has rightfully earned his status as one of the true legends of the bodybuilding world. As he would say, "A bad day can be made better by going to the gym."
Beyond bodybuilding, Víctor is an entrepreneur in the food preparation industry, a sponsored athlete, and a popular figure on social media. He is a proud father to two sons, Jared and Justin, and three daughters, Zayde, Victoria, and Vivian.
Víctor faced legal issues in 2011 when he was arrested upon returning to the USA after winning the Arnold Classic Madrid. Due to problems arising in 2004 when he was accused of selling steroids, his resident card had expired and remained unrenowned. However, he was granted permission to stay in the USA and was cleared of all charges a year later.
In addition to his business pursuits, Víctor is recognized as a human rights activist. He has actively participated in various campaigns to support children with autism, consistently displaying his humble attitude on numerous occasions.
Víctor Martínez Diet and Nutrition Plan
Víctor Martínez follows a disciplined diet and nutrition plan to support his bodybuilding goals. During the offseason, he adopts a controlled carbohydrate approach, reducing his intake of carbohydrates in the evening while consuming more of them after training sessions and in the morning.
He specifically increases his carbohydrate intake after intense leg and back workouts, considering them the most demanding.
However, during the contest preparation phase, Víctor focuses on fat loss. To achieve this, he limits his carbohydrate consumption and prioritizes protein intake.
Typically, he aims for around 1.5-2 grams of protein per pound of body weight. This helps to maintain muscle mass while promoting fat loss. Regarding meal timing, Víctor pays close attention to spacing out his meals effectively.
He emphasizes the importance of eating clean, opting for wholesome and nutritious foods. Some of his preferred choices include brown rice, salmon, broccoli, sweet potatoes, and occasionally including, a few egg yolks. These foods give him the necessary nutrients to fuel his workouts and support muscle growth.
While maintaining a strict diet, Víctor also allows himself occasional cheat meals. These serve as mental relief and a means to reset the metabolism.
These indulgences provide a break from the routine, helping to satisfy cravings and maintain a healthy relationship with food.
By adhering to his well-planned diet and nutrition regimen, Víctor Martínez ensures that he provides his body with the fuel it needs to perform at its best and achieve his bodybuilding goals.
Víctor Martínez Meal Plan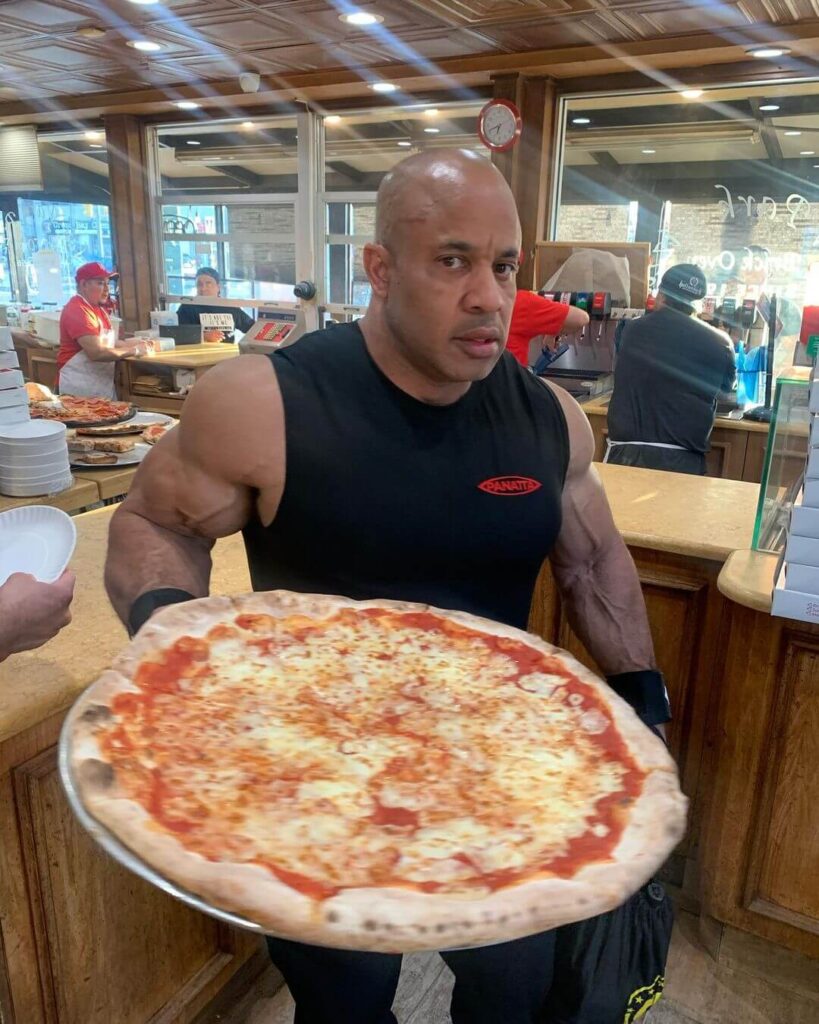 Here is the detail of the six meals that Víctor Martínez takes daily.
Víctor Martínez Meal 1
Víctor Martínez Meal 2
Egg whites 10
Oatmeal 1 cup
Víctor Martínez Meal 3
Lean steak 220 g
Brown rice 100 g
Víctor Martínez Meal 4
Chicken 250 g
Baked potato 250 g
Víctor Martínez Meal 5
Salmon 220 g
Steamed broccoli 1 cup
Víctor Martínez Meal 6
Lean steak 180 g
Steamed broccoli 1 cup
Víctor Martínez Supplements
To support his rigorous training and ensure optimal nutrition, Víctor Martínez incorporates several supplements into his regimen.
These supplements complement his diet and play a role in enhancing his recovery and muscle growth. Here are the key supplements in Víctor's stack:
Pre-Workout
Víctor includes a pre-workout supplement to boost energy and enhance his focus and performance during training sessions.
Pre-workout formulas typically contain ingredients like caffeine, creatine, and amino acids that help increase energy levels and improve exercise capacity.
Whey Protein
Whey protein is a staple in Víctor's supplement stack. It is a fast-digesting, high-quality protein source that aids muscle repair and growth.
By consuming whey protein, Víctor ensures his body receives enough protein to support his muscle recovery needs.
Glutamine
Glutamine is an amino acid crucial to muscle recovery and immune system function. It helps reduce muscle breakdown, supports glycogen replenishment, and aids in overall recovery from intense workouts. Víctor includes glutamine in his supplement routine to optimize his recovery process.
BCAA (Branched-Chain Amino Acids)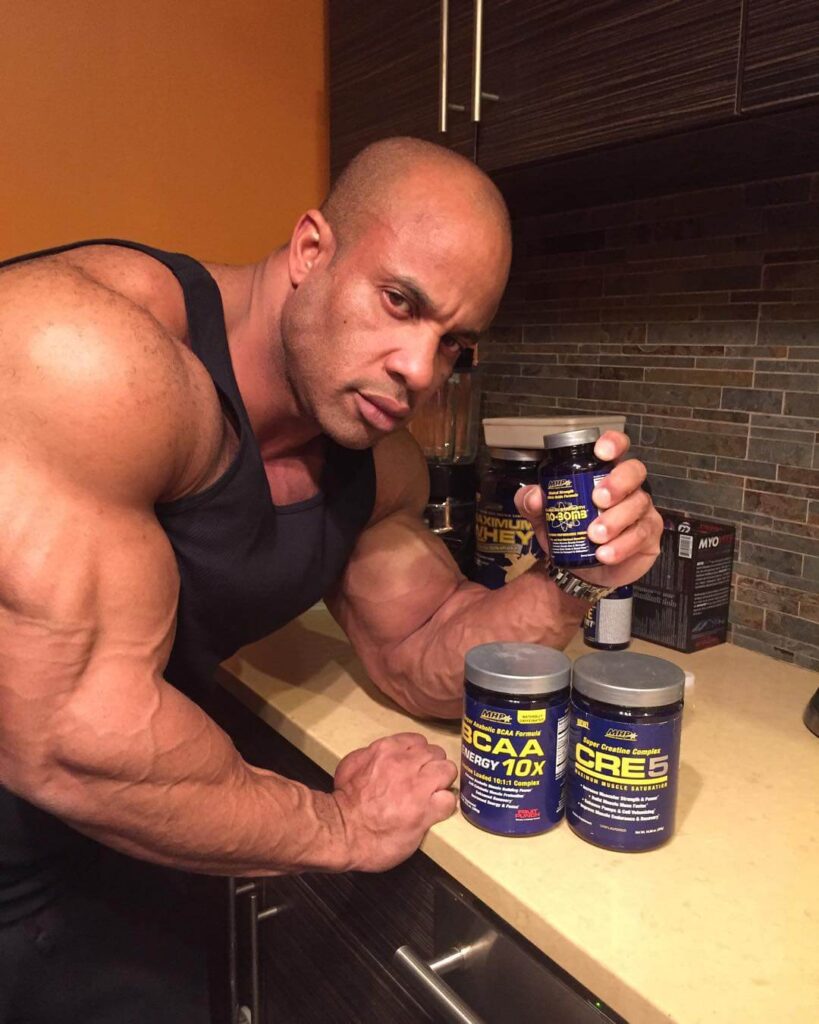 BCAAs contain three essential amino acids: leucine, isoleucine, and valine. They are known for their role in protein synthesis and muscle preservation.
By supplementing with BCAAs, Víctor supports muscle recovery, reduces muscle soreness, and promotes an anabolic environment for muscle growth. Combined with a balanced diet, these supplements contribute to Víctor's overall nutrition plan.
They assist in maximizing his recovery capabilities, promoting muscle growth, and supporting his bodybuilding endeavors.
Víctor Martínez Workout Routine
Víctor Martínez follows a strategic and goal-oriented workout routine to achieve his remarkable size, symmetry, and conditioning.
He incorporates a variety of training methods, focusing on specific muscle groups and adjusting the weight and reps based on his objectives.
When Víctor aims to add size to a particular muscle group, he prioritizes heavy-weight training. He believes lifting heavier weights with lower repetitions is the most effective way to promote muscle mass.
By pushing himself with challenging sets and focusing on strength, Víctor has developed impressive muscularity and size. During the cutting phase, when his goal is to lose fat, Víctor emphasizes cardiovascular exercise.
He may incorporate high-intensity interval training (HIIT) workouts into his routine, alternating between intense bursts of exercise and brief recovery periods.
Additionally, Víctor pays close attention to his calorie intake during this time, opting for a calorie deficit to support fat loss.
Monday: Chest Workout
| | |
| --- | --- |
| Incline Barbell Press | 3 Sets, 15 Reps |
| Incline Dumbbell Flyes | 3 Sets, 15 Reps |
| Hammer Strength Vertical | 3 Sets, 15 Reps |
| Bench Press Machine | 3 Sets, 15 Reps |
| Dumbbell Pullovers | 4 Sets, 15 Reps |
| Biceps Cable Curls | 4 Sets, 15 Reps |
| Barbell Curls | 4 Sets, 15 Reps |
| Concentration Curls | 3 Sets, 15 Reps |
| Hammer Curls | 4 Sets, 15 Reps |
Tuesday: Quads Workout
| | |
| --- | --- |
| Leg Extensions | 3 Sets, 20 Reps |
| Lying Leg Curls | 3 Sets, 20 Reps |
| Step-Ups | 4 Sets, 20 Reps |
| Leg Press | 4 Sets, 15 Reps |
| Walking or Stationary Lunges | 4 Sets, 15 Reps |
| Standing Calf Raises | 4 Sets, 15 Reps |
| Seated Calf Raises | 4 Sets, 15 Reps |
Wednesday: Shoulders Workout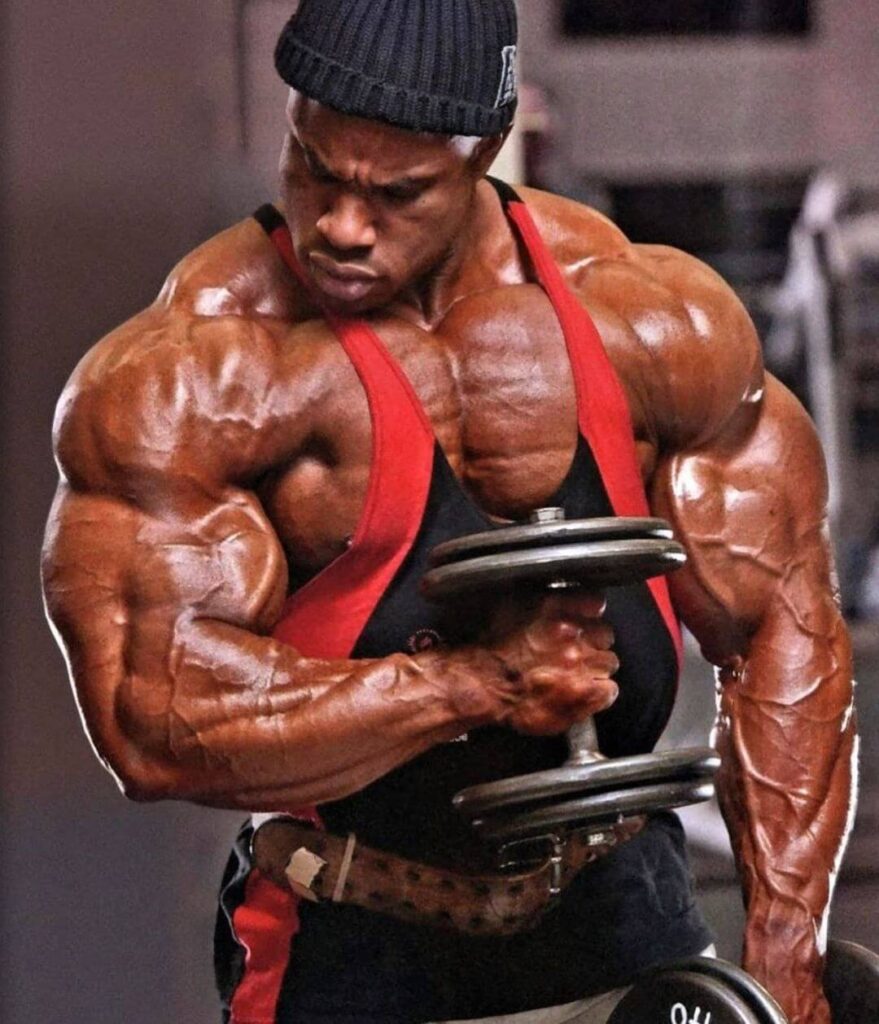 | | |
| --- | --- |
| Rotator Cuff Exercises with Dumbbell | 4 Sets, 20 Reps |
| Barbell Clean and Press | 4 Sets, 20 Reps |
| Dumbbell Lateral Raises | 4 Sets, 15 Reps |
| Standing Single Dumbbell Press | 4 Sets, 15 Reps |
| Rear Delt Machine | 4 Sets, 15 Reps |
| Barbell Upright Rows (Shoulder-Width Grip) | 4 Sets, 15 Reps |
Thursday: Arm Workout
| | |
| --- | --- |
| Close-Grip Bench Presses | 3 Sets, 10 Reps |
| Bench Dips | 3 Sets, 10 Reps |
| Rope Pushdowns | 3 Sets, 10 Reps |
| Dumbbell Kickbacks | 3 Sets, 10 Reps |
Friday: Back Workout
| | |
| --- | --- |
| Pull-Ups | 4 Sets, 12 Reps |
| Lat Pulldowns to Front | 4 Sets, 12 Reps |
| T-Bar Rows | 4 Sets, 15 Reps |
| One-Arm Dumbbell Rows | 4 Sets, 15 Reps |
| Seated Cable Rows | 4 Sets, 15 Reps |
Saturday: Hamstrings Workout
| | |
| --- | --- |
| Seated Leg Curls | 4 Sets, 20 Reps |
| Standing One-Leg Curls | 4 Sets, 20 Reps |
| Lying Leg Curls | 4 Sets, 15 Reps |
| Stiff-Leg Deadlifts | 4 Sets, 15 Reps |
Sunday: Rest