With the prestigious Mr. Olympia competition fast approaching, elite bodybuilders worldwide are in the throes of final preparations to sculpt their perfect physiques. Regan Grimes, a renowned Men's Open competitor, is no exception.
In a recent revealing YouTube video, Regan Grimes shared his meticulous 1,935-calorie shredding diet, unveiling the strict regimen he follows with less than three weeks left until the Mr. Olympia showdown.
His dedication and unwavering commitment to achieving peak conditions make him a formidable contender on the world stage.
Regan Grimes has been making waves in the bodybuilding world since his breakout victory at the 2018 New York Pro in the Classic Physique division.
Despite being a standout performer in Classic Physique, he later transitioned to the Men's Open category, where he has consistently showcased his dominance, even against competitors of greater size.
In 2022, Regan Grimes secured impressive seventh-place finishes at the Arnold Classic and the Boston Pro.
Although he initially planned to compete in the 2022 Mr. Olympia, he wisely withdrew from the competition to allow himself more time to add the necessary muscle mass to his frame.
The Road to Redemption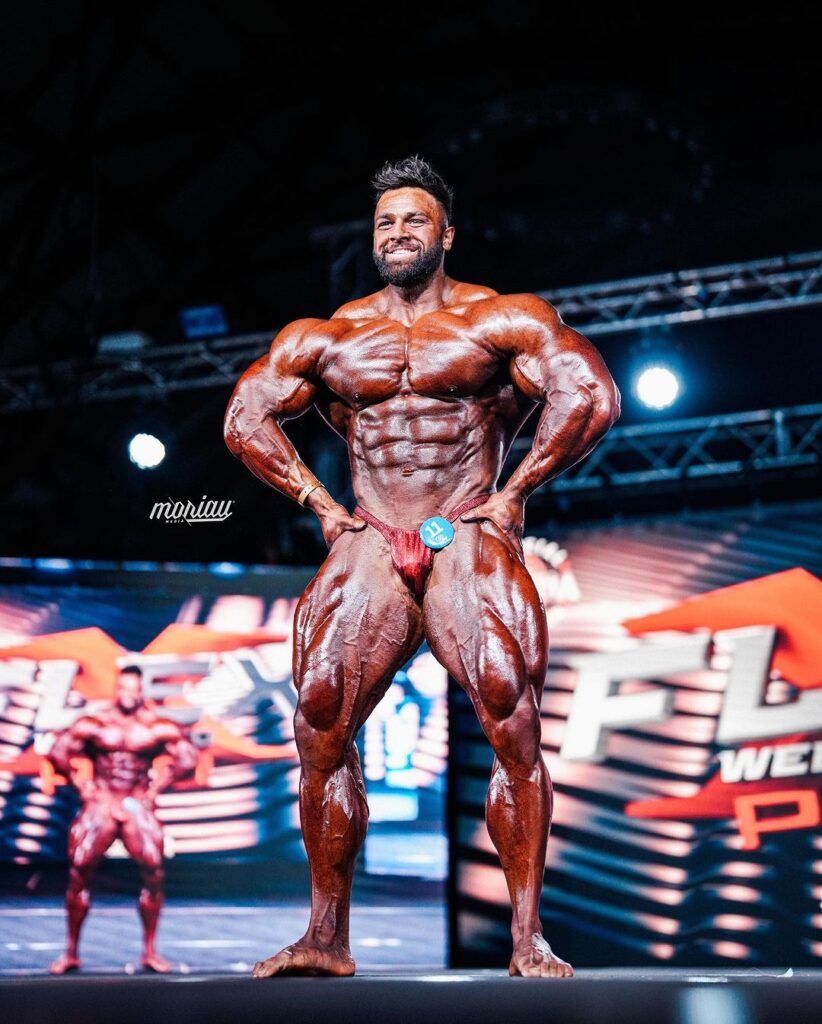 After a year-long hiatus, Regan Grimes returned triumphantly in 2023, looking better than ever. At the 2023 Flex Weekend Pro, he claimed second place behind Nathan De Asha.
However, Regan Grimes swiftly redeemed himself by besting De Asha at the Europa Pro Championships, earning his coveted spot on the Mr. Olympia stage.
In his quest for Olympia glory, Regan Grimes has meticulously tailored his diet to support his ambitious goal.
The 1,935-calorie shredding diet he follows is a testament to his unwavering dedication.
200 grams of chicken
1 gram of salt
Lettuce
Mustard
Frank's Hot Sauce
Regan Grimes begins his day with a meal devoid of carbs. After intense morning training, he emphasizes rehydration, which is crucial due to the significant water loss during his training regimen, including a demanding sauna session.
40 grams of cream of rice
Cinnamon
2 scoops of chocolate Yamoto protein powder
2 grams of salt
7 grams of coconut oil
This pre-workout meal is a highlight of Regan Grimes' daily routine. He cherishes it not only for its carb content but also because it alleviates cravings and aids digestion, offering a welcome break from heavy meat-based meals.
Regan Grimes Meal 3 (Post Workout – 220 Calories)
160 grams of cauliflower rice with asparagus and mushrooms
200 grams of chicken
1 gram of salt
Avocado oil
Sugar-free ketchup
Regan Grimes Meal 4 was followed by a medical visit to address a shoulder issue that had been troubling Regan Grimes during his workouts.
100 grams of steak
100 grams of chicken
160 grams of cauliflower rice with asparagus and mushrooms
1 gram of salt
Avocado oil
Lettuce
Sugar-free ketchup
Meal 5 was an opportunity for Regan Grimes to reflect on his trophies and recall the challenges he's faced during past preps.
160 grams of cauliflower rice with asparagus and mushrooms
200 grams of white fish
1 gram of salt
Lettuce
Avocado oil
Regan Grimes' daily caloric intake, after following this stringent meal plan, totaled 1,935 calories.
As Regan Grimes explains, this calorie restriction is necessary to shed water weight and minimize inflammation in the final weeks leading to Olympia.
The Quest for Olympia Glory
Regan Grimes' unwavering commitment to his training regimen and his meticulous approach to nutrition make him a dark horse to watch out for at this year's Mr. Olympia.
Competing against formidable rivals, including the reigning champion Hadi Choopan, Derek Lunsford, Nick Walker, and Samson Dauda, Regan Grimes journey to the pinnacle of bodybuilding is far from an easy feat.
However, his dedication and disciplined approach make him a strong contender, as he endeavors to etch his name into the annals of bodybuilding history.
With less than three weeks remaining until the Olympia, the world eagerly awaits to witness whether Regan Grimes can outshine his competitors and claim the coveted Mr. Olympia title.