Meet Jordan Strickland, a rising star in the realm of fitness modeling and online coaching hailing from the USA.
Jordan Strickland's journey from a construction job to crafting a career in fitness showcases not only his dedication but also his relentless work ethic.
In his own words, Jordan Strickland is a firm believer that dreams can be turned into reality with unwavering determination and hard work.
His motivational quotes, such as "You can wake up from a dream you had last night and guess what. you can make that dream a reality!
No excuses, you simply have to work harder than you ever thought you could," resonates with his journey of transformation.
Jordan Strickland's path to success has been marked by resilience and a commitment to pushing beyond limits.
As a fitness model and online coach, he shares his insights not only into physical training but also into the mindset required to achieve one's fitness goals.
Competitive Achievements: Building a Legacy on Stage
Jordan Strickland's journey in the competitive bodybuilding arena began in 2016. Despite being relatively new to the scene, he made an impactful entrance with notable placements:
Muscle Heat Championships (2016):
Men's Junior Class: 2nd place
Men's True Novice Heavyweight: 1st place
Europa Charlotte (2017):
Men's Classic Physique Class C: 2nd place
Men's Classic Physique Novice Class C: 2nd place
Atlantic Coast Championships (2019):
Men's Classic Physique Class B: 4th place
Men's Classic Physique Junior: 1st place
NPC Atlantic Coast Championships, Men's Junior: 1st place
These achievements reflect Jordan Strickland's commitment to excellence and continuous improvement on the competitive stage.
The Evolution of Jordan Strickland: NPC Bodybuilder and Online Trainer
While Jordan Strickland's affinity for sports has deep roots, his foray into competitive bodybuilding began in 2016.
Armed with a solid understanding of proper training and nutrition, Jordan Strickland clinched 1st place in his debut show, setting the stage for a remarkable journey.
As the years progressed, so did Jordan Strickland's physique and competitive results. His participation in multiple competitions, including a triumphant win in 2019, underscores his dedication to the sport.
Jordan Strickland's philosophy revolves around dedication and continual advancement. He emphasizes the importance of self-education in training and nutrition, providing valuable tips to his online followers.
As an NPC Bodybuilder in the Classic Physique Division, Jordan Strickland stands as a beacon of inspiration for those aspiring to achieve their fitness goals through unwavering commitment and a thirst for improvement.
Follow Jordan Strickland's journey for a blend of motivation, expert insights, and the embodiment of a transformational fitness odyssey.
Jordan Strickland's Nutritional Strategy: Balancing Act for Peak Performance
Maintaining a chiseled physique amidst a demanding schedule, constant travel, and coaching responsibilities is no small feat.
Jordan Strickland, however, has mastered the art of staying ripped with a meticulous diet plan tailored to his dynamic lifestyle.
Meal Planning and Precision:
Jordan Strickland's commitment to his diet is evident in his strategic approach. Amidst a busy schedule involving frequent travel, fitness events, and coaching, he prioritizes planning and uses meal prep services.
This ensures he stays on track, even during weeks spent moving from one hotel to another.
As contest dates draw near, Jordan Strickland implements calorie reduction to achieve an even more defined physique.
Attention is particularly paid to carbohydrates, known for their insulin-spiking effects. Simultaneously, protein intake is increased to preserve athletic performance and lean muscle mass.
Sample Day of Eating:
Breakfast:
2 slices whole-grain toast with peanut butter and organic blueberries
4 eggs (2 egg whites, 2 whole eggs)
1/2 grapefruit
1/2 skim milk
Snack:
A can of light yogurt with nuts
Water
Lunch:
Brown rice
4 slices lean turkey or chicken breast
2 slices of high-quality cheese
Salad with cucumber, lettuce, sprouts, and tomatoes
Diet drink
Snack:
Nuts with fruit and skim milk
Dinner:
Stir fry shrimp with seasoning and vegetables
A cup or two of brown rice
1 cup of berries
1 cup of almond milk
Snack:
Sliced cucumbers with dressing
Tuna
Cheat Meals:
Jordan Strickland adheres to a structured meal plan consisting of six meals a day, totaling 42 meals a week. Out of these, only one is designated as a 'cheat meal.'
The remaining meals are characterized by strict adherence to clean and nutrient-dense options, featuring ample lean protein, healthy carbs, good fats, and a focus on fiber for improved digestion and nutrient absorption.
In Jordan's own words, he emphasizes the disciplined nature of his diet:
"I get a lot of people who message me and ask 'Man how do you eat sushi, pizza, burgers, ice cream, etc, and stay lean'. You guys have to remember this isn't a daily thing, I diet hard every single day eating only 1900-2000 kcal, do 50 mins of cardio every day, and eat nothing but clean quality foods." – Jordan Strickland
Jordan's nutritional strategy is a testament to his dedication, illustrating that a combination of precision, discipline, and strategic planning is the key to maintaining a peak physique, even in the face of a hectic lifestyle.
Jordan Strickland's Dynamic Workout Routine: Sculpting Excellence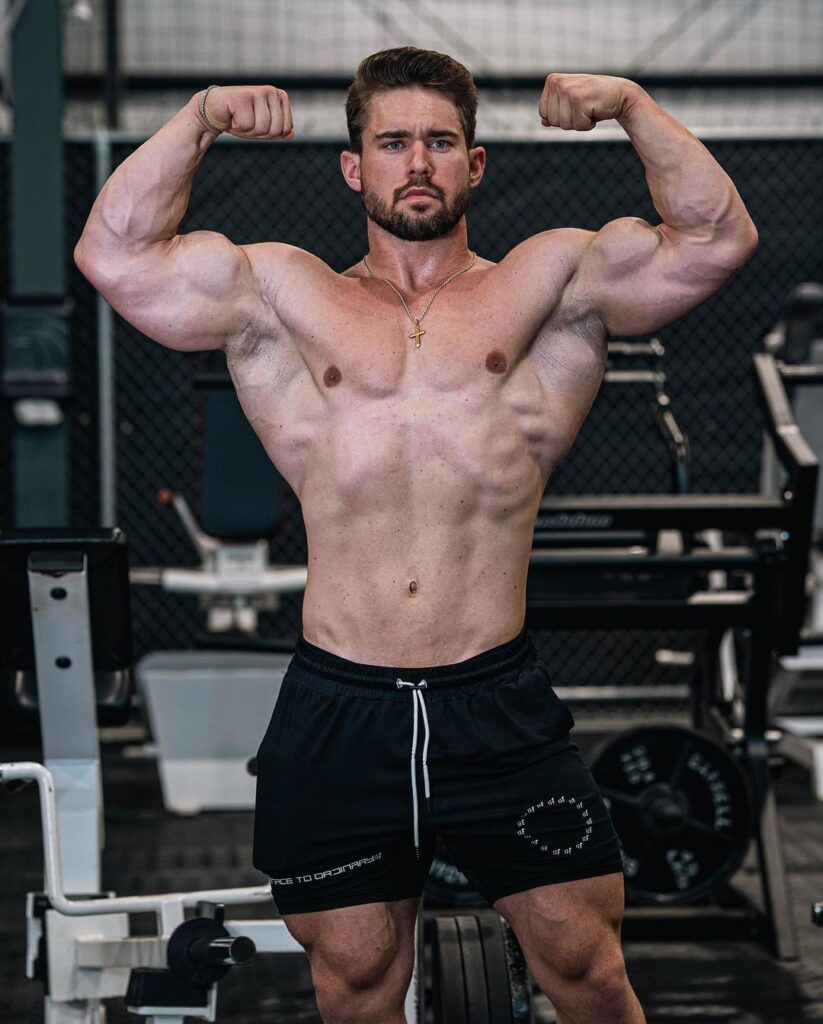 In the realm of fitness, consistency is key, and Jordan Strickland embodies this principle in his relentless dedication to training.
With a schedule brimming with coaching responsibilities, Jordan prioritizes his workouts almost daily, showcasing his commitment to sculpting and maintaining his remarkable physique.
Daily Training Ethos:
Jordan Strickland adheres to a near-daily training schedule, demonstrating his unwavering commitment to his fitness journey.
Even amid the demands of coaching and potential exhaustion, he approaches the gym with no excuses, emphasizing the importance of listening to his body.
Acknowledging the significance of recovery, Jordan Strickland strategically incorporates rest days when needed, recognizing that muscle repair and healing are integral components of effective training.
Back and Arm Workout: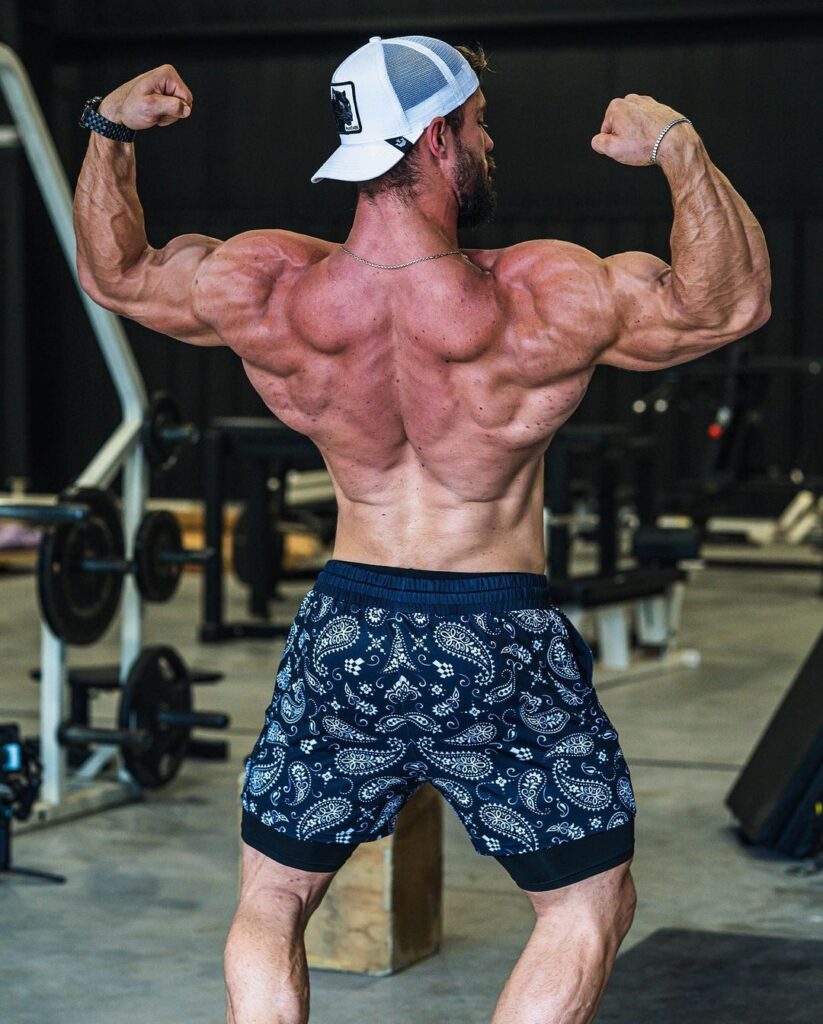 Jordan Strickland's workout philosophy centers around a focused selection of fundamental exercises, typically incorporating 3-5 exercises with over 20 sets per session.
He punctuates his training with 20 minutes of cardio, enhancing metabolism throughout the day. An example of his back and arm workout includes:
Barbell curls (close grip: reverse grip) – 10/10, 4 sets
T bar rows – 4 sets of 10-15 reps, drop
Close grip cable rows – 4 sets of 10-15 reps, drop
In Season vs Offseason Training:
For a seasoned bodybuilder like Jordan Strickland, the training approach undergoes natural fluctuations.
In the offseason, post-competition, he elevates training volume and weights, focusing on muscle growth and addressing less developed areas.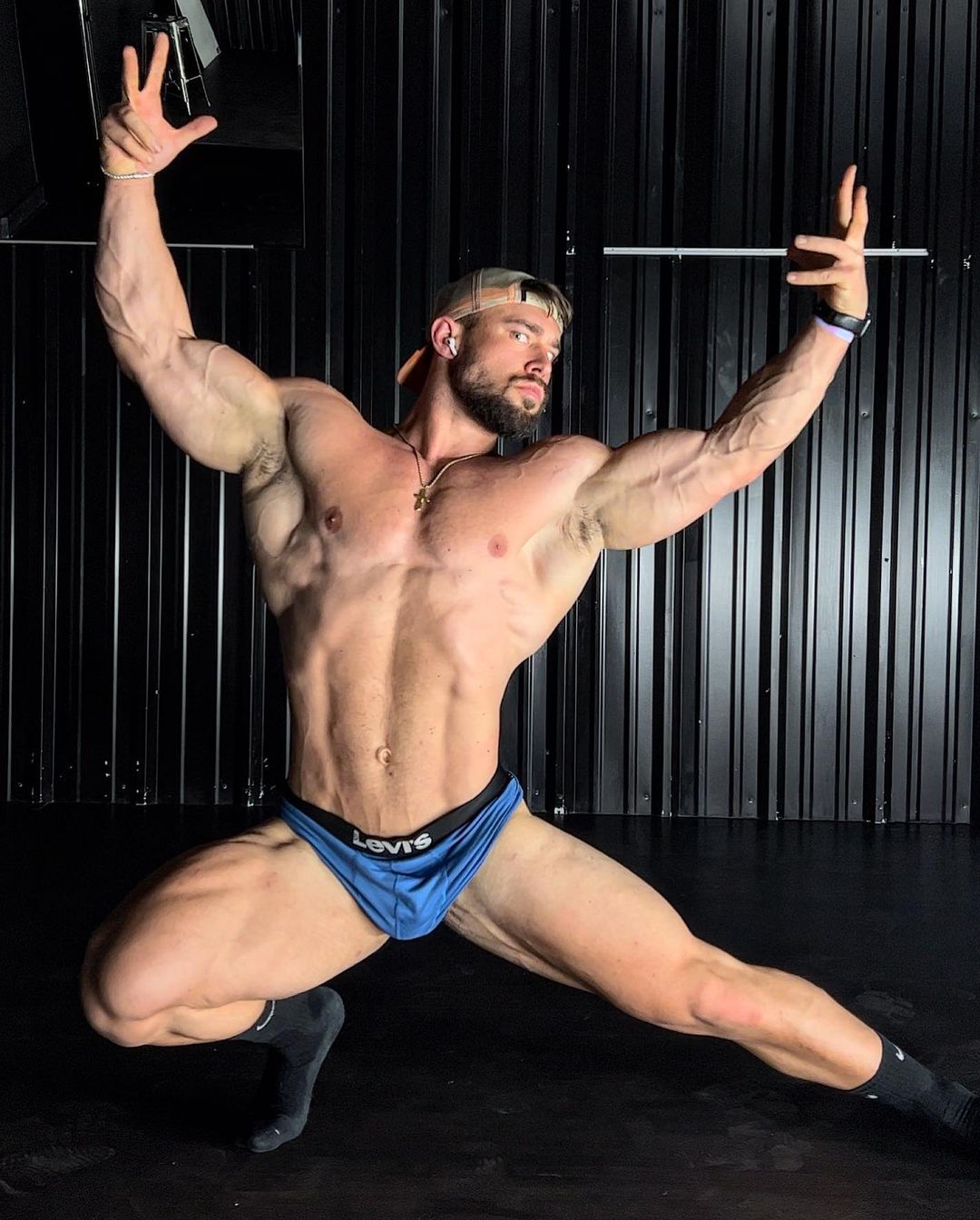 As the next contest looms, he strategically trims training volume, incorporates more cardio, and adjusts rep ranges to 12+ per set, prioritizing muscle definition.
Workouts are also shortened by 15-30 minutes to align with the caloric restriction during the cutting phase, preventing muscle loss.
Legs And Cardio Workout:
Jordan Strickland integrates cardio seamlessly into his weight training, optimizing both endurance and strength simultaneously.
His leg workout, reflecting this integrated approach, includes:
Goblet squats "close stance" – 3 sets of 10-15 reps
Hack squats "wide/close" – 4 sets of 7/7, 6/6, 5/5, 5/5, drop set
Assisted Single-leg Romanian Deadlifts – 3 sets of 10 reps on each leg
Despite appearing deceptively light at first glance, Jordan Strickland's workout is characterized by minimal rest between sets (30 seconds or less), intensifying the session and maximizing efficiency.
Jordan Strickland's workout routine exemplifies a harmonious blend of consistency, strategic adaptation, and an unwavering commitment to both sculpting and maintaining a physique of excellence.