The bodybuilding world is gearing up for an electrifying showdown as over 70 elite IFBB Pro League athletes from across the globe prepare to grace the stage at the 2023 Dubai Pro on Sunday, September 24, 2023.
Hosted in the vibrant city of Dubai, UAE, this prestigious event is set to be a spectacular display of sheer athleticism and sculpted physiques.
With contests spanning the 212, Classic Physique, and Men's Physique divisions, the stakes are high as each division's winner will earn the coveted ticket to the 2023 Olympia Weekend in Orlando, Florida, from November 2 to November 5, 2023.
However, no additional qualification will be granted if the victor is already Olympia-qualified.
Classic Physique Showdown: Athletes to Watch at the 2023 Dubai Pro
As the 2023 Dubai Pro approaches, bodybuilding enthusiasts are excited about the Classic Physique division, which promises a thrilling contest among some of the sport's top talents.
In this segment, we'll look at prominent and favorite athletes expected to be strong contenders for a spot on the podium in Dubai.
Terrence Ruffin: Aiming for Olympia Qualification
Terrence Ruffin, a two-time Arnold Classic Physique champion, is undeniably one of the most eagerly anticipated athletes in the Classic Physique division.
His presence on the roster for the 2023 Dubai Pro marks his season debut, and fans and fellow competitors alike are eager to see what he brings to the stage.
Terrence Ruffin's last appearance on the bodybuilding stage was at the 2022 Classic Physique Olympia, where he secured a respectable sixth-place finish.
However, what sets this Dubai Pro apart for Terrence Ruffin is that he has yet to qualify for the Olympia, adding an extra layer of significance to this competition.
Known for his exceptional muscular definition and mesmerizing posing routine, Terrence Ruffin has the potential to emerge victorious in Dubai.
If he can showcase the definition he is renowned for and marry it with his remarkable posing skills, he could very well secure the win, finally earning his ticket to the Olympia stage.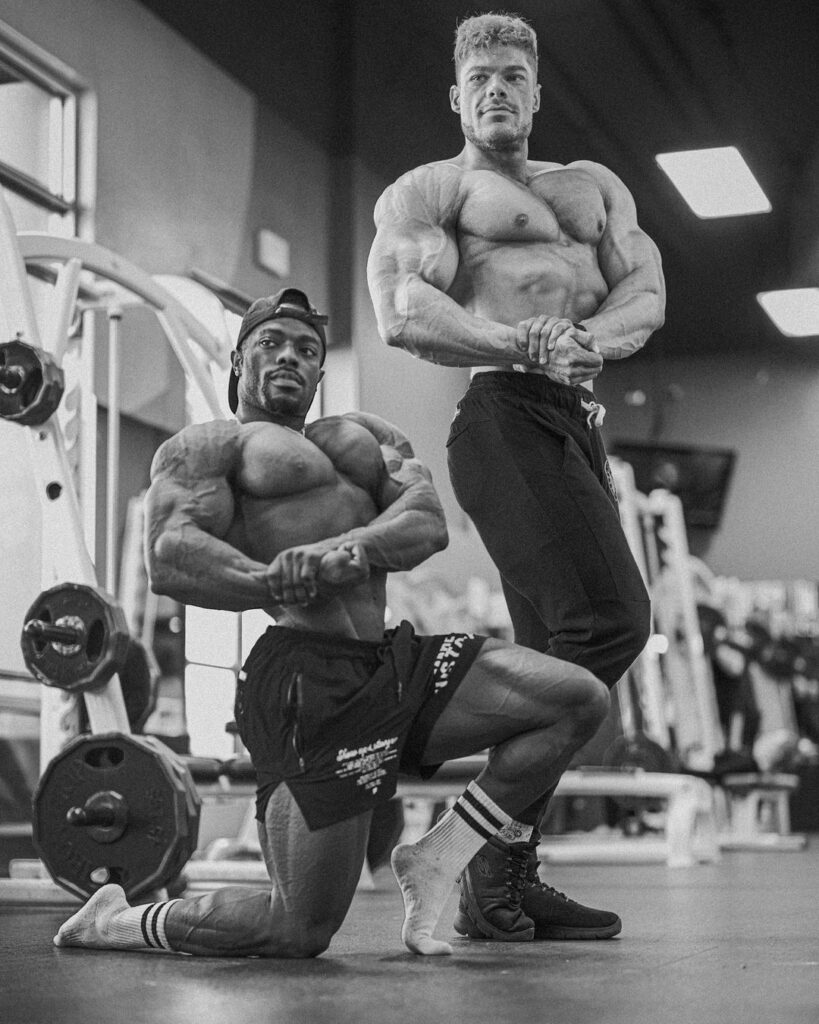 In the realm of Classic Physique, the 2023 Europa Pro Classic Physique victor, Wesley Vissers, stands as a prominent and imposing figure.
His already-secured qualification for the prestigious Olympia sets him apart, giving him a unique and influential role in the upcoming Dubai Pro competition.
This event could be a pivotal moment in the career of Terrence Ruffin, who is on a quest to earn his own Olympia qualification.
Wesley Vissers brings a distinct dynamic to the Classic Physique division that demands attention. His presence is striking, with a larger-than-life physique that leaves a lasting impression.
Not only does he boast an impressive and meticulously sculpted body, but Wesley Vissers also possesses a remarkable knack for posing that rivals the best in the business.
A crucial factor to consider is that irrespective of his final placement in Dubai, Wesley Vissers is guaranteed to maintain his Olympia qualification.
This factor amplifies his significance in the competition, placing him as a contender and a potential obstacle to Terrence Ruffin's Olympic aspirations.
The impending clash between Terrence Ruffin and Wesley Vissers in Dubai sets the stage for a battle of epic proportions.
The stakes couldn't be higher with the coveted Olympia qualification hanging in the balance. Both athletes are determined to seize victory, but only one can emerge triumphant.
This scenario adds an electrifying layer of drama to the Dubai Pro Classic Physique division as these two titans of the sport lock horns in pursuit of supremacy.
In conclusion, Wesley Vissers' presence in the 2023 Dubai Pro isn't just about securing another victory it's about the impact he could have on Terrence Ruffin's journey to Olympia qualification.
As they prepare to face off, anticipation is building, and fans worldwide eagerly await this clash of physique titans that promises to be one of the most captivating moments in Classic Physique history.
Denis Romanov: A Consistent Contender Eyeing Olympia Glory
As the 2023 bodybuilding season unfolds, Denis Romanov emerges as a formidable presence in the Classic Physique division.
Dubai Pro marks his fourth appearance on the stage this season, and his consistent track record has positioned him as a top contender.
Romanov's journey in 2023 has been nothing short of impressive, with each outing placing him within the top five competitors.
His most remarkable achievement thus far came at the 2023 AGP South Korea Classic Physique Pro, where he clinched a commendable third-place finish.
This consistent performance has established Romanov as a force to be reckoned with and fueled his determination to achieve Olympia qualification.
It's worth noting that Romanov had already secured his ticket to the 2022 Olympia but opted not to compete.
Now, in the 2023 season, his eyes are set on clinching victory in Dubai and, in doing so, securing his Olympia qualification for this year's event in Orlando.
For Denis Romanov, Dubai Pro represents more than just another competition it's a golden opportunity to fulfill his Olympia dreams. Suppose he emerges victorious on the Dubai stage and secures qualification.
In that case, his journey will lead him to the grand stage of the 2023 Olympia in Orlando, where he'll aim to etch his name in bodybuilding history.
As fans eagerly await Romanov's performance in Dubai, a palpable sense of anticipation surrounds his potential triumph and the prospect of seeing him compete among the world's elite at the Olympia.
Whether or not Romanov will seize this opportunity remains to be seen, but one thing is sure: his dedication and consistency make him a force to watch out for in the world of Classic Physique.
Jose María Mete Bueriberi: A Spanish Sensation Set to Shine at Dubai Pro 2023
Regarding the Dubai Pro show in 2023, one name that stands out among the IFBB Pro League athletes is Spain's very own Jose María Mete Bueriberi.
With an impressive track record and a rising reputation, he is undoubtedly one of the best bodybuilders to watch during this highly anticipated event.
Jose María Mete Bueriberi's journey in professional bodybuilding has been nothing short of remarkable.
In 2021, he made his presence felt on the international stage, competing at the IFBB Pro Mr. Big Evolution Portugal Pro, where he claimed the top spot, securing a well-deserved 1st place finish.
Later that year, at the IFBB Pro European Pro, he continued to showcase his prowess, earning a commendable 3rd place finish in a fiercely competitive lineup, which included notable athletes like Fabian Mayr and Ramon Dino.
The year 2021 proved to be a defining one for Bueriberi as he notched victories at the 2021 IFBB Pro League KO Egypt Pro Egypt and the 2021 IFBB Pro League Bigman Pro Spain, firmly establishing himself as a force to be reckoned with in the Men's Classic Physique category.
In 2022, Jose María Mete Bueriberi took on a new challenge, making his debut appearance at the prestigious 2022 Arnold Classic UK.
This event pitted him against some of the finest Classic Physique athletes in the world, including Neil Currey, Michael Daboul, and Peter Molnar, demonstrating his willingness to face top-tier competition head-on.
As the calendar rolled into 2023, Jose María Mete Bueriberi continued making waves in bodybuilding.
At the Europa Pro Championships, he delivered a stellar performance in the Men's Classic Physique Division, securing an impressive 2nd place finish.
Notably, this competition saw him go head-to-head with another standout athlete, Wesley Vissers, further solidifying his reputation as a top-tier contender.
Jose María Mete Bueriberi is poised for greatness at the 2023 Dubai Pro show with his rich history of victories and consistent presence at prestigious events.
As fans eagerly await his performance, the anticipation is palpable, and all eyes will be on this Spanish sensation as he aims to make a lasting mark on the bodybuilding world.
2023 Dubai Pro Bodybuilding Show Results
Here are the complete results of the Dubai Pro Show 2023.
Men's Bodybuilding 212 Results
Mazin Salim AlRahbi got his first-place IFBB Pro victory at the Dubai Pro Show 2023 in the Men's Bodybuilding up to 212.
Winner: Mazin Salim AlRahbi
Second Place: Kingsley Oben Arrah
Third Place: Mohamed Embaby
Fourth Place: Wael Ali
Fifth Place: Mohamed Salah
Sixth Place: Muhammet Kurutas
Seventh Place: Ismail Ahmed Mohamed Radwan
Eighth Place: Mohamed Ramzy
Ninth Place: Radoslav Angelov
Tenth Place: Siwei Yang
Men's Classic Physique Results
Terrence Ruffin won the Dubai Pro Show in the Men's Classic Physique Division.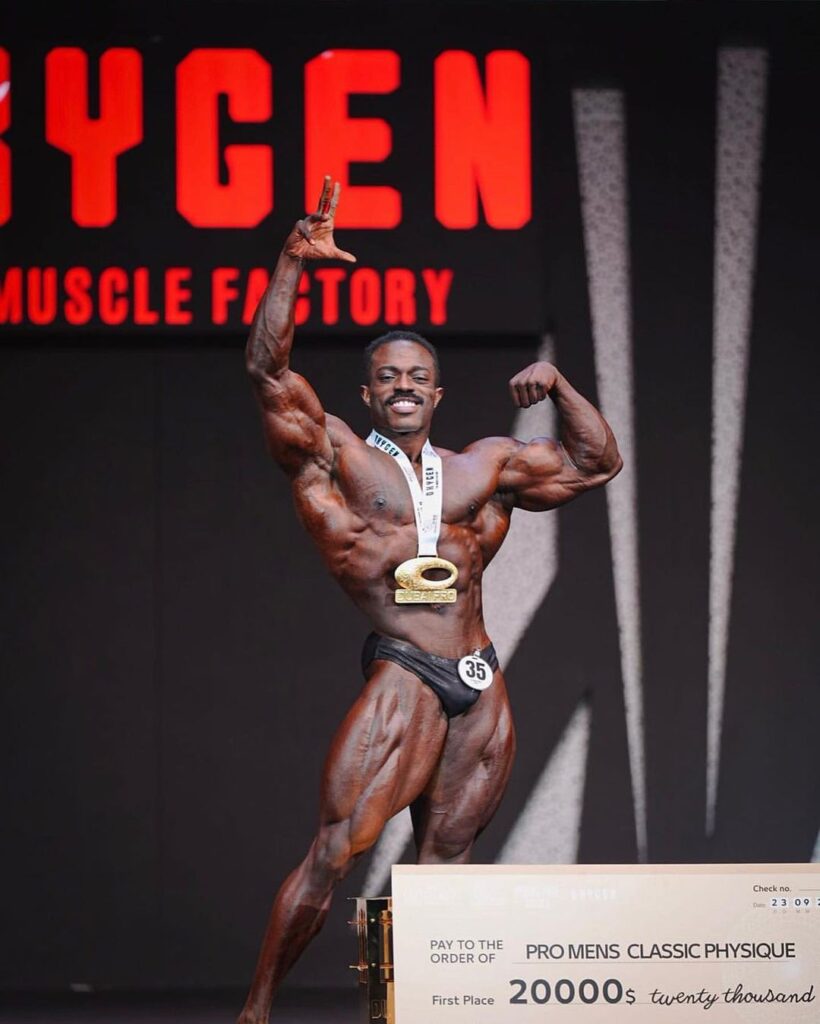 Winner: Terrence Ruffin
Second Place: Fabio Junio Ramos Vale
Third Place: Wesley Vissers
Fourth Place: Chen Kang
Fifth Place: Jose Maria Mete Bueriberi
Sixth Place: Abou Konate
Seventh Place: Patrik Herczik
Eighth Place: Khaled El Nahawy
Ninth Place: Miguel Malimo
Tenth Place: Valeri Enchev
Men's Physique Results
Adeyemi Awoyemi won the Dubai Pro Show in the Men's Physique Division.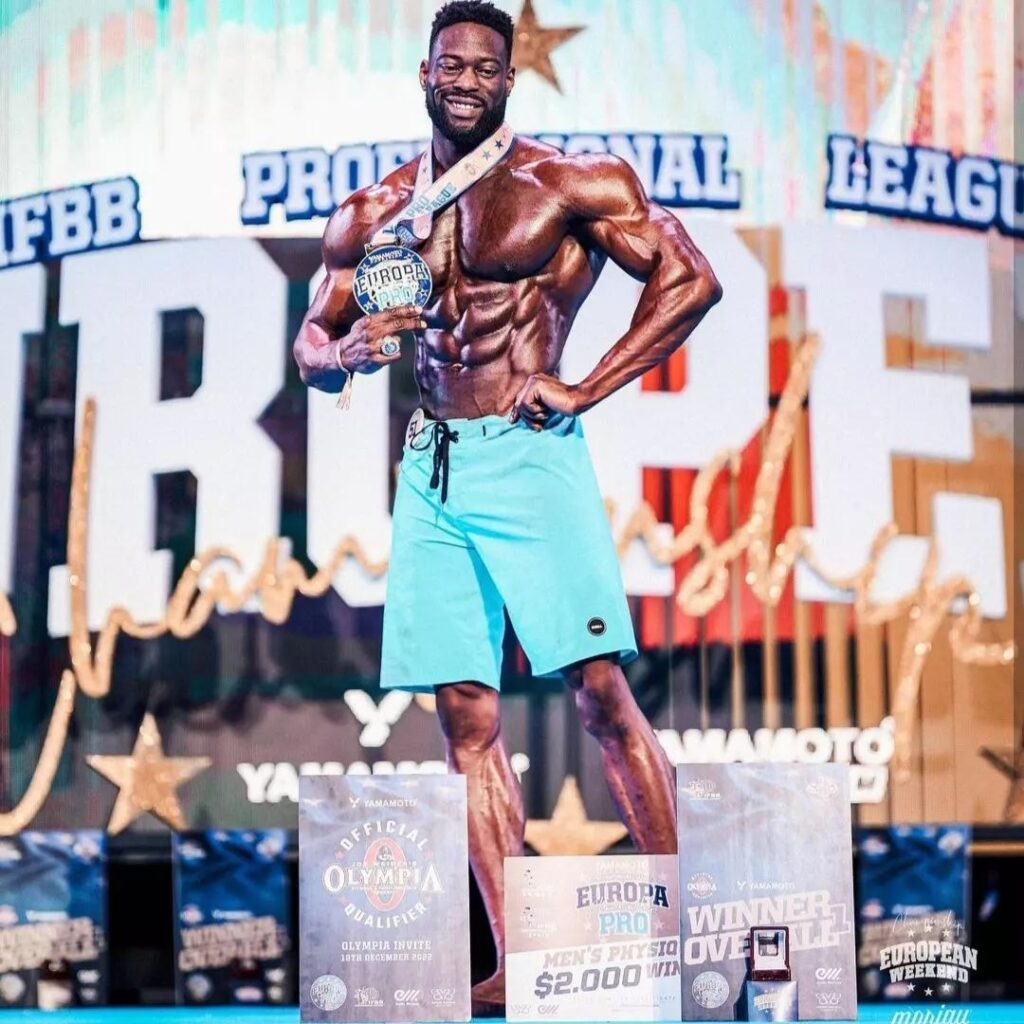 Winner: Adeyemi Awoyemi
Second Place: Abisai Pietersz
Third Place: Youseff Hassan
Fourth Place: Sidy Pouye
Fifth Place: Emile Walker
Sixth Place: Carlos Asiedu Ocran
Seventh Place: Imran Khan
Eighth Place: Mahmood Al-Maghrabi
Ninth Place: Hossein Karimi
Tenth Place: Jiang Kun Zhi
Dubai Pro Show 2023 Scorecards