Ryan Terry is an IFBB Pro bodybuilder from the United Kingdom he has embraced the values of hard work and an unwavering passion for self-improvement, earning him the distinguished title of Mister International. Ryan Terry's accomplishments began with his winning Mister International 2010 and Great Britain 2010.
In 2013, he transitioned into professional bodybuilding under the IFBB banner. He accomplished this feat by winning the UKBFF championships and becoming the first Men's Physique professional from the United Kingdom.
Notably, Ryan got a respectable 4th place at the Olympia 2015 in the Men's Physique Category. He achieved the same achievement in the 2016 Arnold Classic competition.
In 2016, Ryan's talent and hard work pushed him to victory at the IFBB Pro League Pro Asia Grand Prix, where he nailed the coveted 1st place.
Ryan Terry's ascent in the bodybuilding world continued as he emerged triumphant at the IFBB Pro League Asia Grand Prix Pro 2016, earning 1st place.
He showcased his skills at the Olympia again, placing 6th in the highly competitive Men's Physique category. In 2018, Ryan Terry's commitment and skill moved him to an impressive 2nd place at the IFBB Pro League Asia Pro Grand Prix.
He again made his mark at the Olympia 2018, securing a fantastic 3rd place in the Men's Physique division. 2019 brought more success as Ryan defeated the IFBB Pro League Asia Grand Prix Pro, seizing 1st place. He earned 5th place in the Men's Physique category at the Olympia 2019.
In 2020, Ryan Terry showcased his unwavering commitment by competing at the IFBB Pro League Olympia again, securing an impressive 8th place in the Men's Physique Class.
His remarkable journey reached new heights in 2021 when he triumphed at the IFBB Pro League Arnold Classic UK Pro, claiming the coveted 1st place title.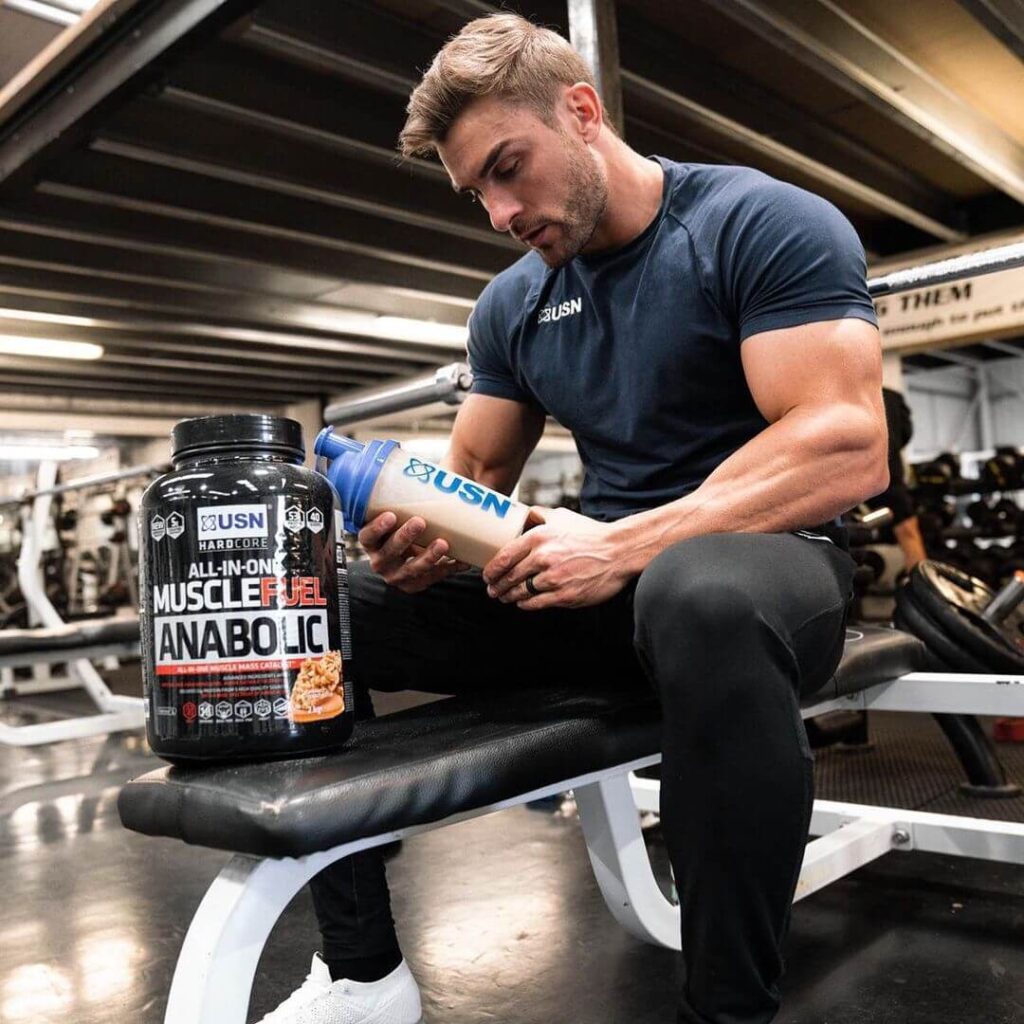 In 2022, Ryan displayed his prowess at the Olympia, securing an impressive 7th-place finish against the best bodybuilders in the world, such as Erin Banks, Brandon Hendrickson, Diogo Montenegro, Charjo Grant, Edvan Palmeira, and Kyron Holden.
Most recently, in 2023, Ryan Terry was the runner-up at the Pittsburgh Pro Championship 2023 to the new rising star bodybuilder Corey Morris.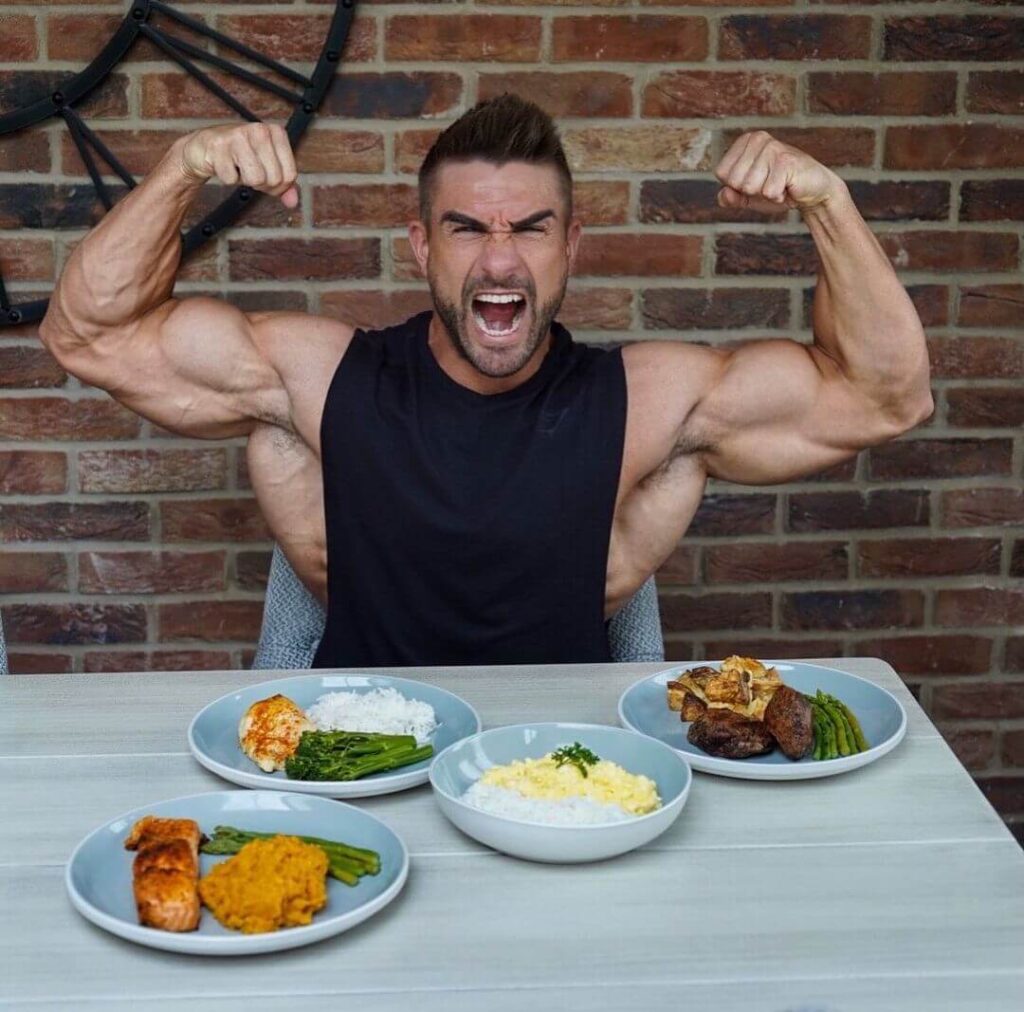 Ryan Terry sticks to a caveman-inspired diet, stressing the importance of consuming natural foods with single components.
He urges focusing on complex carbohydrates like brown rice, sweet potatoes, and oats. Rather than worrying about high carbohydrate intake, Ryan suggests portion control by opting for smaller meals.
He warns against overeating, leading to unwanted weight gain and bulking. Ryan's approach emphasizes the significance of choosing wholesome, unprocessed foods and a balanced diet to support optimal fitness and physique goals.
Here is the complete detail about the meal plan Ryan Terry:
Oats 200 g
Blueberries 30 g
Almonds 10 g
Whey protein 30 g
It provides a balanced mixture of carbohydrates, protein, and healthy fats, offering supported energy and muscle recovery support.
Three eggs
Two slices of granary bread
This combination offers a good source of protein and carbohydrates to fuel the body and support muscle growth and maintenance.
White potatoes 300 g
Mixed salad and vegetables
A tin of tuna
It provides a lean protein source with tuna, carbohydrates from the white potato, and essential micronutrients from the mixed salad and vegetables.
Chicken breast 200 g
Dry white rice 80 g
This meal offers a lean protein source and a serving of carbohydrates for sustained energy.
Steak 300 g
Sweet potato 200 g
It provides substantial protein from steak, complex carbohydrates from sweet potato, and various nutrients from mixed vegetables.
Salmon and a salad of 200 g
Salmon is a rich omega-3 fatty acids and protein source, while the salad adds fiber and essential micronutrients.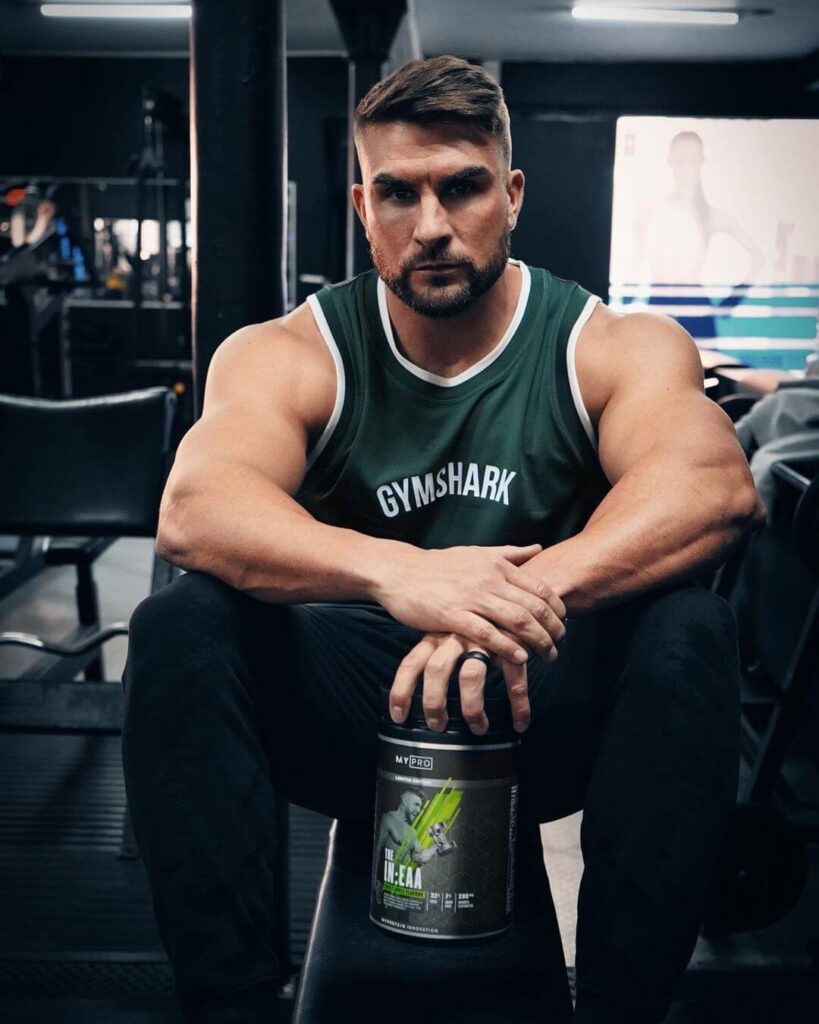 Here is the complete detail about the supplements intake and the brand he uses in his diet plan:
| | |
| --- | --- |
| Protein Powder | Dymatize Elite Whey |
| Creatine | Dymatize Elite Whey |
| Pre-Workout | Cellucor C4 Original |
| BCAAs | Scivation Xtend |
| Multivitamin | Thorne Research Basic Nutrients |
| Fish Oil | Nordic Naturals Ultimate Omega |
| Vitamin D3 | Thorne Research Vitamin D3 |
| ZMA | Thorne Research ZMA |
Ryan Terry also uses a variety of other supplements, but these are the most common ones he mentions on his Instagram account. He also uses various brands, but the ones listed above are the ones he uses most often.
It's important to note that these are just the supplements Ryan Terry mentioned on his Instagram account. He may use other supplements that he doesn't say.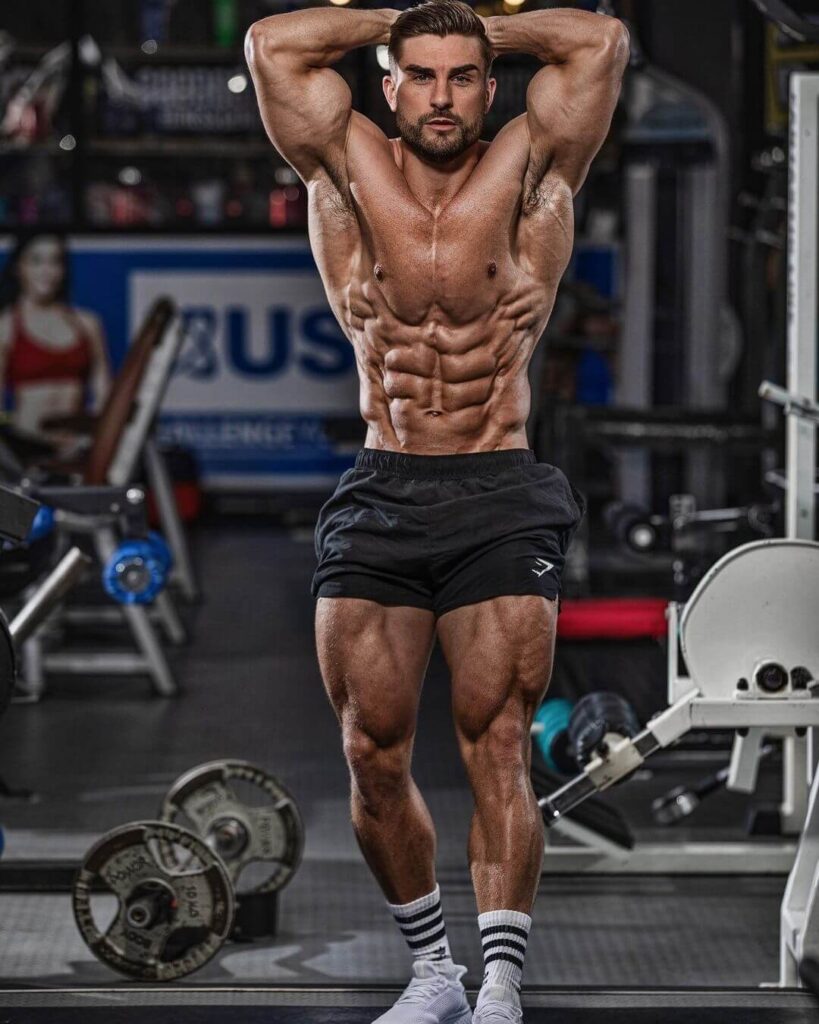 Ryan Terry recommends seeking the guidance of a personal trainer when beginning an exercise routine to ensure a solid foundation. He emphasizes the importance of not avoiding any exercise and being open to trying different movements.
Ryan advises progressing gradually to avoid injuries that could hinder progress. If hiring a personal trainer is not financially feasible, he suggests exploring online resources, such as informative videos, to guide weightlifting and workouts.
When it comes to weightlifting, Ryan recommends utilizing resistance machines. He highlights the goal of achieving an "egg-shaped body," which involves developing broad shoulders and creating a more tapered waistline.
Individuals can work towards a balanced and aesthetic physique by focusing on these areas. Ryan's advice underscores the significance of proper technique, incremental progress, and a well-rounded fitness regimen.
Monday: Back
Wide-Grip Pull-Up: 4 Sets of 8-12 Reps
Close-Grip Pull-Up and Pull-Down: 4 Sets of 8-12 Reps
Olympic Bar bent over row overhand Grip: 4 Sets of 8-12 Reps
Deadlifts: 4 Sets of 8-12 Reps
Tuesday: Shoulders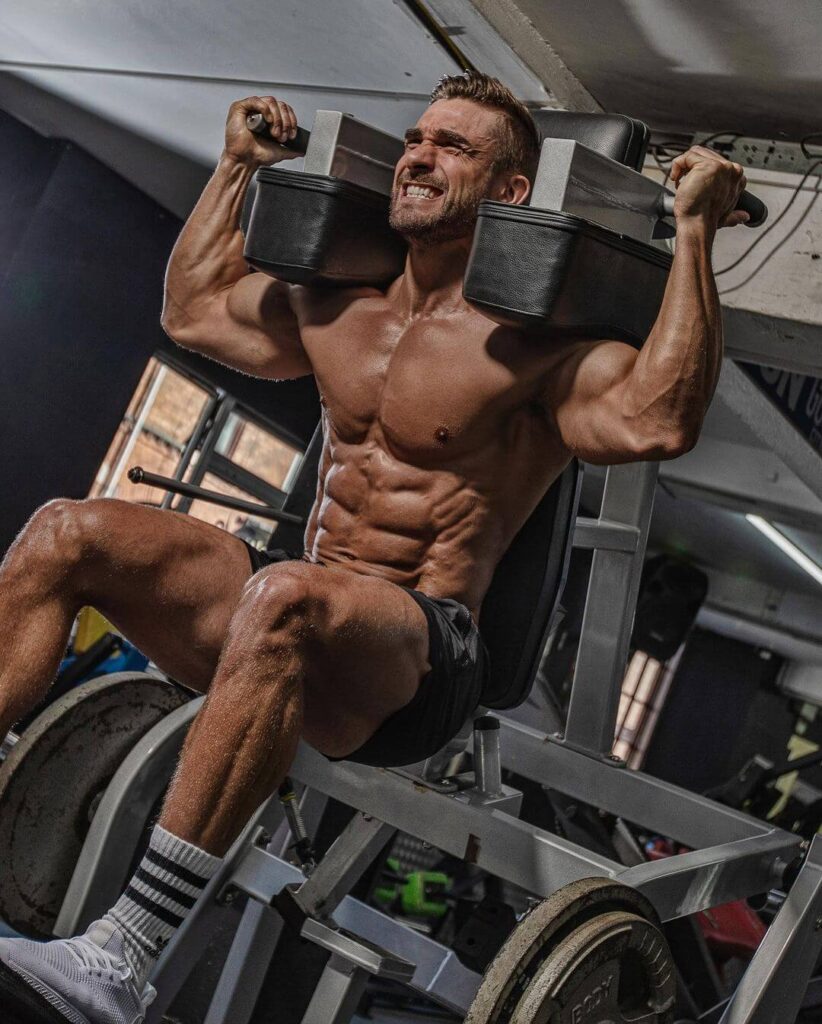 Machine shoulder press
Side lateral raise
Dumbbell side lateral raise Bent over rear fly
Dumbbell front raise
Cable side lateral raise and shrugs
Wednesday: Legs
Squats: 4 Sets of 8-12 Reps
Hack Squat: 4 Sets of 8-12 Reps
Leg Press: 4 Sets of 8-12 Reps
Leg Extension: 4 Sets of 8-12 Reps
Seated Hamstring Kill: 4 Sets of 8-12 Reps
Thursday: Arms
Tricep dips
Cable Rope Push Down
Skull Pushes
EZ Bar
Dumbbell Hammer Curl
Friday: Abs and Chest
Waited Abs Machine Crunch: 4 Sets of 8-12 Reps
Plank: 4 Sets of 8-12 Reps
Sit-Ups: 4 Sets of 8-12 Reps
Cable Wood Chops: 4 Sets of 8-12 Reps
Incline Barbell Press: 4 Sets of 8-12 Reps
Inclined Dumbbell Press: 4 Sets of 8-12 Reps
Flat Bench Dumbbell Flies: 4 Sets of 8-12 Reps
Standing Cable Flies: 4 Sets of 8-12 Reps
Saturday and Sunday