The bodybuilding world is buzzing with anticipation as the 2023 Mr. Olympia approaches, where the finest physique athletes will lock horns for the ultimate bragging rights in the sport. With just weeks remaining until they step onto the grand stage in Orlando, Florida, athletes leave no stone unturned in their pursuit of Olympia's greatness. 
Among the prominent contenders for this year's Sandow trophy are fan favorites Nick Walker, Brandon Curry, and Samson Dauda, who have graciously offered a glimpse into their preparation and progress for the event.
After their successful outings at the 2023 Arnold Classic, where they went head-to-head, Dauda and Walker are set to engage in a thrilling battle for the coveted Olympia crown. 
While this year's event may not feature the likes of champions such as Mamdouh "Big Ramy" Elssbiay and Brett Wilkin, the excitement among fans remains palpable as they eagerly await a titanic showdown between these mass monsters.
The Rise of 'The Mutant' – Nick Walker
At just 29 years old, Nick Walker has taken the bodybuilding world by storm with his monstrous physique, earning him the moniker 'The Mutant.' 
His rise to prominence can be traced to his remarkable performances at the 2021 New York Pro and the Arnold Classic, where he demonstrated his exceptional potential.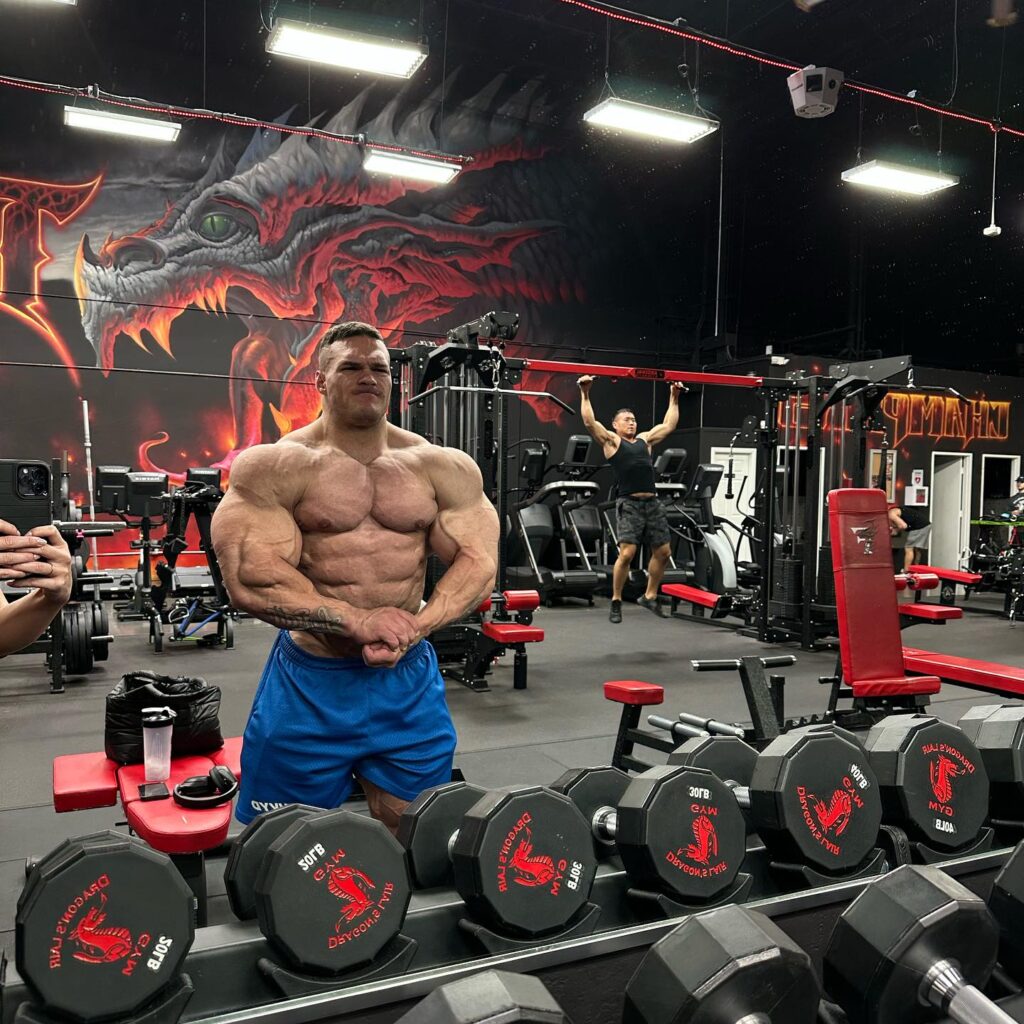 While critics initially pointed out his lack of aesthetic appeal, Nick Walker has embarked on a transformative journey to silence his detractors.
In his pursuit of perfection, Nick Walker has diligently refined his physique. The goals were clear: a smaller waist, colossal quads, and enhanced overall definition. 
As we approach the 2023 Mr. Olympia, it is evident that he has made significant strides towards achieving these objectives.
A recent update shared by Nick Walker showcased the results of his hard work and dedication. 
Posing in front of a gym mirror, surrounded by an array of weights, he revealed the undeniable proof of a grueling arms workout.
This impressive post-workout pump underlined his dedication. Nick Walker's caption for the post was straightforward and confident: "Post workout pump flow."
With his sights firmly set on a showdown with Derek Lunsford and Hadi Choopan, the only two competitors who outperformed him on the Olympia stage last year, Walker exudes unwavering confidence as he approaches the pinnacle of his sport. 
He believes this self-assuredness will be vital in his quest for Olympian glory.
Samson Dauda: The Nigerian Lion
Samson Dauda, often called 'The Nigerian Lion,' is poised to make a monumental impact at the 2023 Mr. Olympia with a physique that can only be described as beast-like. 
Throughout his journey, Samson Dauda has tantalized fans and followers with glimpses of his intense and grueling workout routines, which have played an integral role in his awe-inspiring transformation.
Samson Dauda's colossal quads have left the bodybuilding community in awe, and it is evident that he is ready to bring a level of intensity and determination to the Olympia stage that is bound to captivate audiences worldwide.
Brandon Curry: The Hulk-like Champion
In the realm of top contenders for the 2023 Mr. Olympia, it would be remiss not to mention Brandon Curry. 
The 40-year-old bodybuilding champion has consistently astounded spectators with a physique reminiscent of the Hulk. Brandon Curry occupies a unique position in this year's competition. 
If he secures the Mr. Olympia title, he will join the esteemed ranks of bodybuilders like Jay Cutler, who have achieved this monumental feat.
In a recent interview, Brandon Curry disclosed that he feels more confident and better prepared for this season than ever. 
The rigorous workout routines have been tailored to his distinctive bodybuilding style, signifying that the stars align for a triumphant journey toward Olympia glory.
Nathan De Asha and Justin Shier: The Rising Stars
While the spotlight often shines on established bodybuilding champions, it's crucial to acknowledge rising stars like Justin Shier and Nathan De Asha, who are quickly gaining popularity for their chiseled and ripped physiques.
Hailing from Liverpool, England, Nathan De Asha has showcased a trophy-worthy physique with wing-like lats that exemplify the epitome of bodybuilding aesthetics. 
His remarkable transformation has garnered admiration from fans and enthusiasts alike.
Justin Shier, on the other hand, catapulted himself into the limelight by clinching the title at this year's Chicago Pro. 
He is primed to significantly impact the Mr. Olympia stage with his remarkable gains and strong presence. 
Shier's rise in the bodybuilding world has been nothing short of impressive, and he is set to showcase his progress and prowess at this year's competition.
As the 2023 Mr. Olympia approaches, the anticipation and excitement in the bodybuilding community continue to build. 
Fans eagerly await the moment when these phenomenal athletes, including Nick Walker, Brandon Curry, Samson Dauda, Nathan De Asha, and Justin Shier, will grace the stage, each bringing their unique charisma and unparalleled dedication to the forefront.
Mr. Olympia is not merely a competition; it embodies the unrelenting pursuit of perfection, pushing the boundaries of the human physique, and striving for greatness.
These athletes symbolize the essence of bodybuilding – where hard work, discipline, and an unwavering commitment culminate in a magnificent display of muscle, aesthetics, and raw determination.
The 2023 Mr. Olympia promises to be an unforgettable event where established champions and rising stars converge to celebrate the sport, setting the stage for incredible battles, astonishing transformations, and moments of pure inspiration. 
The journey to the Olympia stage is a testament to the relentless pursuit of bodybuilding glory, where only the most dedicated and exceptional athletes can hope to stand as champions.
In the heart of Orlando, Florida, bodybuilding titans will collide in their quest for the coveted Sandow trophy and a place in the annals of bodybuilding history.
The world watches in eager anticipation, and as the 2023 Mr. Olympia unfolds, it's clear that it will be an event like no other – a showcase of sheer dedication, indomitable spirit, and the unyielding pursuit of excellence.