In professional bodybuilding, no man defined an era more consummately than Lee Haney. During the 1980s, Lee Haney crafted one of the most incredible physiques ever seen en route to eight Mr. Olympia titles. To this day, his name remains synonymous with excellence in the sport.
Let's reflect on Lee Haney's extraordinary journey, record-setting achievements, and the intangibles that made him the quintessential Mr. Olympia.
Early Life and Entry into Bodybuilding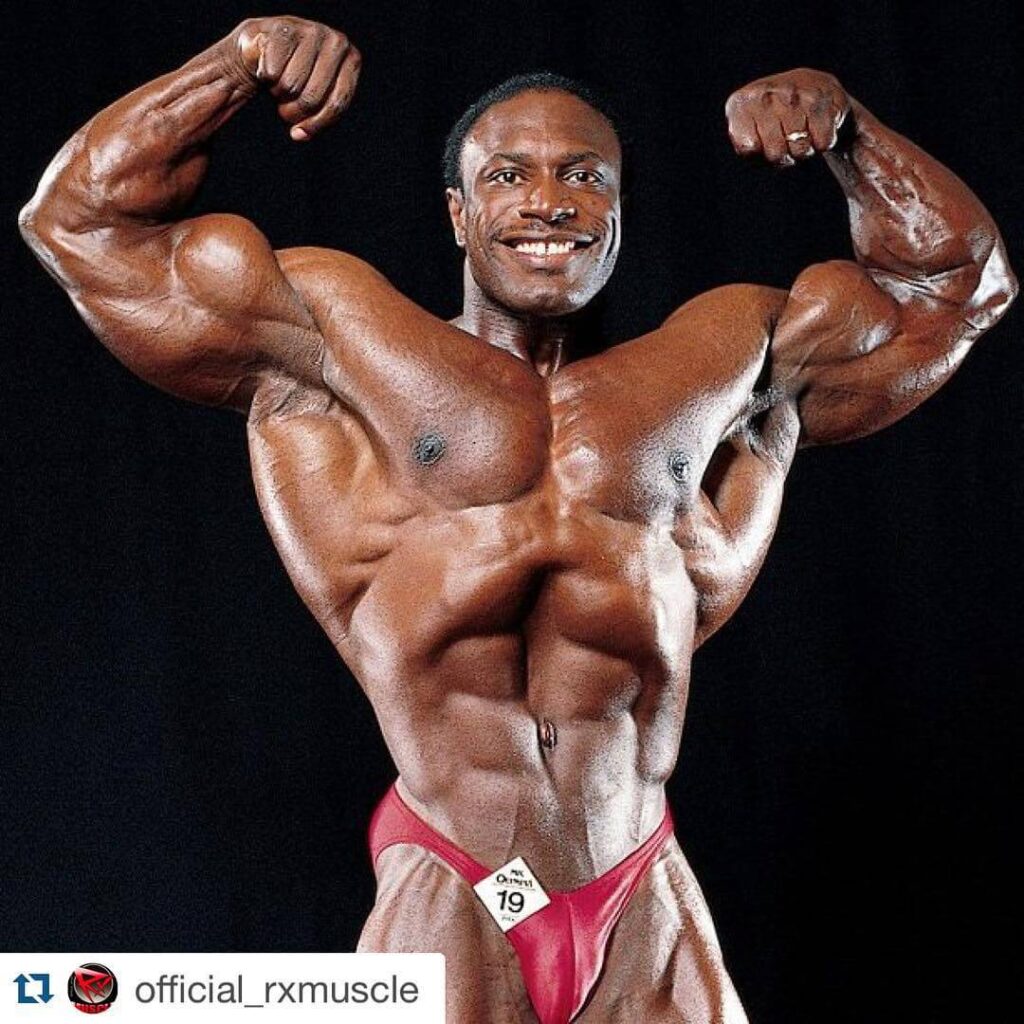 Lee Haney was born in Spartanburg, South Carolina, on November 11, 1959. From childhood, he displayed remarkable athletic talents and excelled in sports like football.
After graduating high school, Haney earned a football scholarship to Livingstone College in North Carolina.
Lee Haney discovered his passion for weight training and sculpting the ideal physique during college.
The bodybuilding bug had bitten, and he immersed himself in magazines to learn from icons like Arnold Schwarzenegger and Frank Zane. Haney started competing in his late teens.
By age 21, Lee Haney already owned two fitness centers in Atlanta, where he perfected his training.
His rare blend of genetics, work ethic, and business savvy was the perfect recipe for greatness. All the pieces were aligning for a future Mr. Olympia.
Steady Ascent in the IFBB Pro Ranks
Turning pro in 1982 after winning the IFBB World Amateur Championships, Lee Haney burst onto the professional scene with immediate success.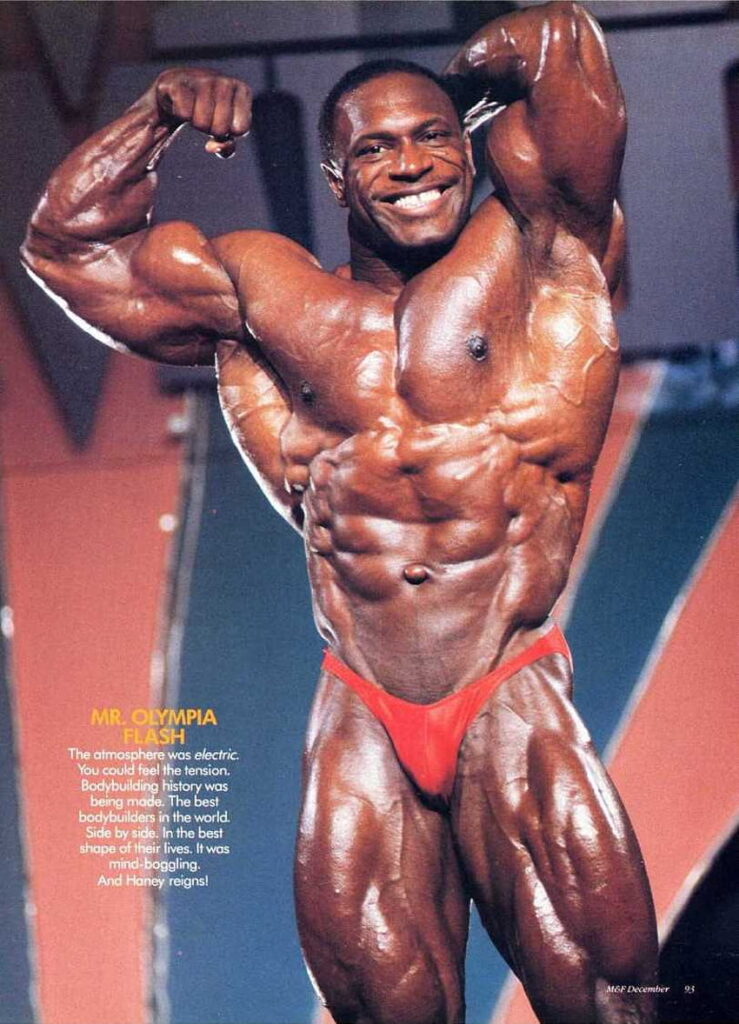 In just his first year as an IFBB pro, Lee Haney won the prestigious Night of Champions competition. His rare balance of massive size, aesthetics, and confidence commanded attention.
After taking a respectable 3rd place in the 1983 Mr. Olympia at just 23 years old, Lee Haney proved he was the heir apparent to icons like Arnold Schwarzenegger. It was only a matter of time before he assumed the throne.
The Reign of Total Lee Awesome Begins
Lee Haney fulfilled his destiny in 1984 by capturing his first Mr. Olympia title at 24 years old against a stacked lineup.
From 1984 to 1991, Lee Haney's reign over the sport continued as he amassed an untouchable run of eight consecutive Mr. Olympia victories.
During his prime era of dominance, Lee Haney set new standards with his 260+ pound frame that blended immense mass with structural beauty.
While not the tallest competitor, Lee Haney was overwhelmed with his broad shoulders, flaring lats, and granite thighs.
When Lee Haney stepped on stage, the competition was battling for 2nd place. His posing routines and transitions were equally on point. By the late 80s, Lee Haney was an undisputed world champion.
Training and Nutrition Strategies of a Champion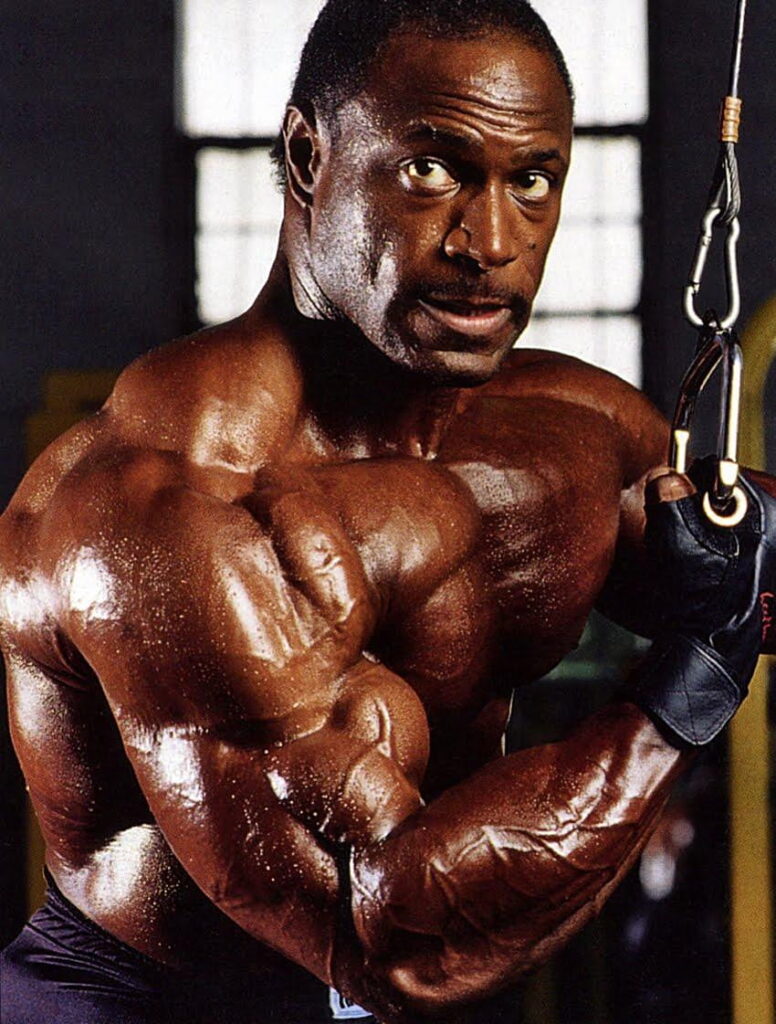 So how did Lee Haney construct one of the most incredible physiques professional bodybuilding has witnessed? He paired genetics with intelligent, productive training.
Lee Haney followed a high-intensity approach focused on compound movements. He advocated training each body part 1-2 times weekly for maximum growth.
Lee Haney cycled heavy and light training days to stress the muscles from new angles.
His staple exercises included squats for his trademark shredded thighs, deadlifts, rows, pullovers, overhead presses, dips, curls, and calf work. Lee Haney pushed to failure and focused on squeezing muscles.
Regarding nutrition, Lee Haney emphasized adequate calorie and protein intake to support muscle growth. He consumed 5-6 balanced meals daily with plenty of complex carbs and lean proteins. Haney ate red meat sparingly.
This winning combination of focused training, strategic nutrition, and hard work forged one of the most dominant runs in Mr. Olympia's history.
The Mindset of a Champion
A critical factor that set Lee Haney apart was his mentality and unwavering belief in himself.
Years before earning his first Sandow trophy, Lee Haney radiated a winner's attitude and confidence. He envisioned the Olympia stage in his future.
Lee Haney also stressed mental focus during training, always concentrating on proper form and feeling the muscle contract rather than just moving weights. He recommends visualizing your physique goals.
According to Lee Haney, the mental aspect is half the battle. Your mindset ultimately dictates what the body can achieve. Haney's mighty mindset matched his Herculean frame.
Retirement and Continued Contributions
After retiring as champion in 1991 following his eighth consecutive Mr. Olympia win, Lee Haney remains actively involved in fitness and health causes. He enjoys mentoring aspiring bodybuilders at his gym in Atlanta.
Lee Haney has served on the President's Council on Sports, Fitness & Nutrition and promotes education on exercise and nutrition in schools.
He inspires generations to live active, healthy lifestyles through the Lee Haney Games for Youth.
Lee Haney's Record-Setting Olympia Legacy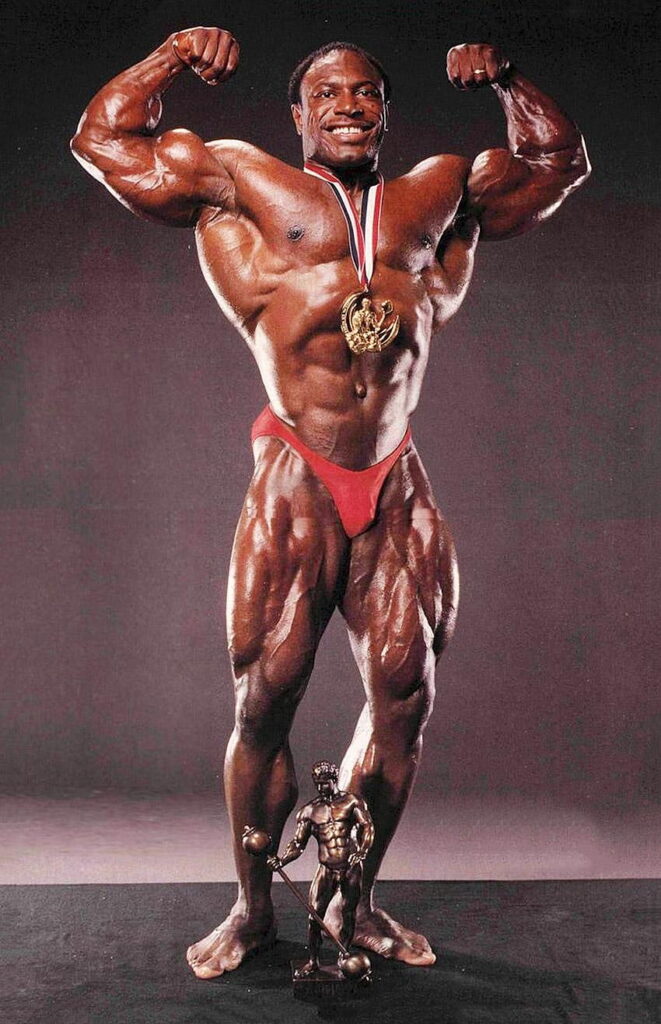 Let's breakdown Lee Haney's list of monumental bodybuilding achievements:
Competed in 5 different countries as Mr. Olympia – record
Heaviest Mr. Olympia winner ever at 248 pounds (1991)
One of only 4 to reclaim the Mr. Olympia title after losing it
To this day, Lee Haney remains tied with Ronnie Coleman for most Mr. Olympia titles at eight. But in many respects, Haney's impact on the sport parallels legend Arnold Schwarzenegger.
He expanded the popularity of bodybuilding globally to its highest levels.
The Quintessential Olympia Champion
What made Lee Haney the consummate Mr. Olympia? He blended qualities rarely seen in a single champion.
The ideal physique showcases freaky muscle size yet flawless lines.
Otherworldly confidence that commanded respect before stepping on stage.
A work ethic forged from humble beginnings chasing greatness.
The athleticism and coordination to nail-posing routines.
Business savvy and intelligence to think big beyond the sport.
A warm, inviting personality that made the best approachable.
The heart and grit to remain undefeated for a record 8-year reign.
Lee Haney embodied everything worthy of the ultimate title in bodybuilding – Mr. Olympia. He set the standard that future legends like Dorian Yates and Ronnie Coleman aimed to surpass but never matched.
Almost 50 years since he first picked up a weight, Lee Haney's name remains synonymous with the pinnacle in bodybuilding.
His massive yet aesthetic, flowing physique will forever be etched among the icons of the sport. The legacy of "Total Lee Awesome" lives on eternally.