Legendary bodybuilder Samir Bannout sees great potential in rising phenom Andrew Jacked. In a recent podcast, Bannout predicted Andrew Jacked could crack the top 4 at this year's Mr. Olympia after assessing his improvements. He also provided critique for Hunter Labrada heading into the big show.
Samir Bannout captured the coveted Mr. Olympia title in 1983 after years as a perennial contender.
Nicknamed the "Lion of Lebanon," his inspiring journey to the top along with impressive shape and lines cemented his legacy in the sport.
Almost 40 years later, Bannout remains an influential voice within bodybuilding. He recently shared opinions on today's top athletes like Andrew Jacked and Hunter Labrada on the Pro Bodybuilding Weekly podcast.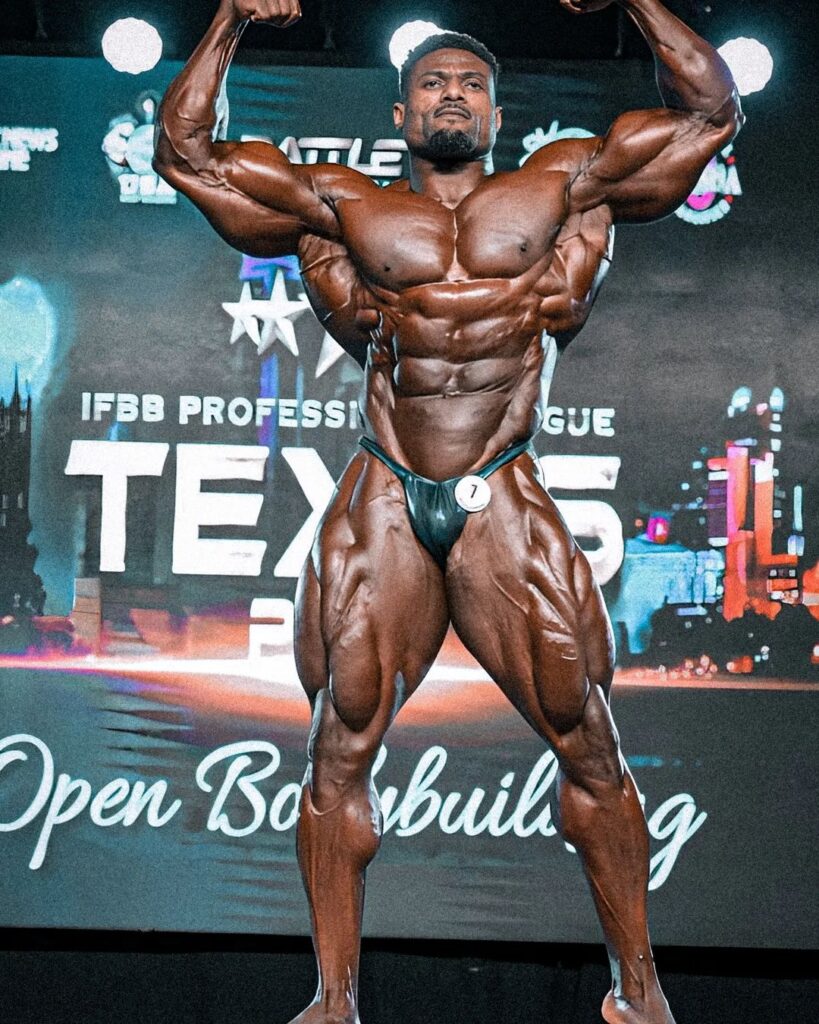 According to Bannout, Andrew Jacked's steady gains put him in position for a special Olympia this year.
Samir Bannout's Praise for Andrew Jacked's Development
Andrew Jacked earned his pro card after winning the 2022 Arnold Classic Amateur shows impressively. He validated the hype immediately by winning the Texas Pro and Arnold Classic UK that rookie season.
After taking 8th in his Olympia debut, Andrew Jacked placed 3rd at this year's Arnold Classic.
The Nigerian phenom recently defended his Texas Pro title against rival Hunter Labrada. Bannout came away hugely impressed by Andrew Jacked's improvements, particularly his chest and midsection conditioning versus Hunter Labrada.
He stated Andrew Jacked displayed better muscle quality overall, leading to the win.
Bannout predicts Andrew Jacked could shock the world with a top 4 finish at this year's Olympia.
If bringing a similar package that outclassed Hunter Labrada, Bannout sees Andrew Jacked pushing the veteran contenders. He believes Andrew Jacked has the ideal physique balance to ascend into the elite tier soon.
How Jacked Compares to Other Rising Contenders
Alongside Jacked, athletes like Samson Dauda and Hunter Labrada have broken out recently.
Bannout acknowledges their talent but gives Andrew Jacked the edge currently in muscle shape and flow.
While Samson Dauda possesses massive size, Bannout thinks he will struggle to match Andrew Jacked's polished shape and proportions.
Likewise, Hunter Labrada has struggled with midsection conditioning compared to Andrew Jacked's tight waistline. Andrew Jacked seems to have the ideal structure to complement his mass.
However, Bannout notes that Samson Dauda is also capable of top-level conditioning, which could make him dangerous. And Labrada will have extra motivation after losing to Andrew Jacked.
The veterans at the top still maintain a considerable advantage but the gap is closing quickly with these emerging superstars.
What It Will Take for Jacked to Win Olympia
Can Andrew Jacked contend for a shock Mr. Olympia title this soon? Bannout isn't sure.
He believes Andrew Jacked will need to show up incredibly peeled and detailed to have any chance against the reigning champion Hadi Choopan and beasts like Derek Lunsford.
While Bannout admits Andrew Jacked boasts world-class shape and balance, he doesn't possess the sheer muscle mass or experience that top guys like Lunsford and Hadi Choopan have accumulated yet.
To become a legitimate threat to win, Andrew Jacked must improve his back thickness and add more size to his lower body.
Nonetheless, Bannout says a top 4 or 5 Olympia finish is within Andrew Jacked's reach this year.
And with youth on his side, Andrew Jacked's outlook for winning the Olympia eventually seems extremely promising. He has already separated himself from the rest of the rising pack.
Bannout's Analysis of Hunter Labrada's Improvements
On the flip side, Bannout wasn't quite as encouraged by Hunter Labrada's showing in Texas versus the Tampa Pro.
He believes Labrada's physique was very similar – with lingering issues like soft lower abdominals.
Bannout thinks Labrada needs to address these flaws to maximize his Olympia placing after disappointingly losing to Jacked.
Tighter abs and thicker lower lats would help Labrada stand with the elite of the division, in Bannout's estimation.
However, Bannout understands Labrada's confidence likely took a hit having his 6-show winning streak snapped.
He hopes Hunter Labrada can rebound mentally and stick to the process of incremental progress for the Olympia. Hunter Labrada remains one of the top threats to watch.
The 2023 Olympia Shaping Up Historically
This year's Mr. Olympia is guaranteed to deliver intense competition with the champion Choopan facing new challenges from Derek Lunsford and company. Bannout envisions both Andrew Jacked and Labrada playing major roles in the showdown.
While the title will surely come down to Choopan and Derek Lunsford, hungry athletes like Andrew Jacked and Labrada can no longer be ignored. Their rapid development combined with the veteran experience on stage points to one of the tightest Olympia battles ever.
Bannout knows what it takes to win on bodybuilding's biggest stage. If Andrew Jacked can display the head-turning improvements predicted by the champ himself, Andrew Jacked may soon be joining Bannout on the elite list of Mr. Olympia winners.