Paulo Henrique Costa is a Brazilian professional mixed martial artist who competes in the Ultimate Fighting Championship (UFC) Middleweight division.
Paulo Costa was born on April 21, 1991, to Carlos Roberto and Maria Augusta. Paulo grew up in Contagem, Brazil, with his older brother Carlos Costa, who later became one of his coaches.
As a young boy, Paulo was involved in street fights and sought discipline, so he began practicing Muay Thai at nine. Alongside his brother, he joined a jiu-jitsu gym as a teenager but quit after their father died of throat cancer when Paulo was 17.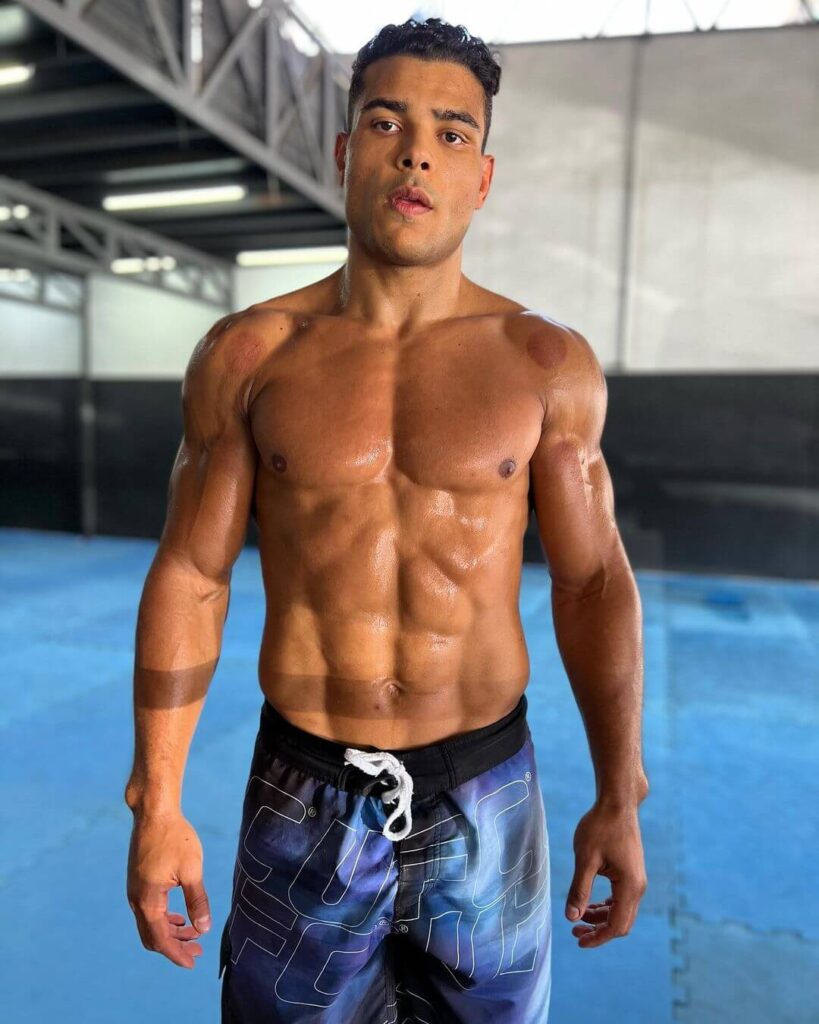 To support his mother financially, Paulo worked in real estate and as an IT teacher, specializing in Microsoft Word and Microsoft Excel. Despite his responsibilities, Paulo was determined to pursue a professional martial arts career.
With the support of his family, particularly his mother, who agreed to support him financially for a year, he made his professional MMA debut in Brazil in February 2012.
Costa's early career showed great promise, as he achieved an impressive record of 8-0 with 7 knockouts and 1 submission over the next five years.
His skills caught the attention of the UFC, and he was chosen to participate in The Ultimate Fighter: Brazil 3. Although he won his first fight via submission, he faced a setback when he lost a split decision in his next bout.
Paulo made his promotional debut in the UFC on March 11, 2017, at UFC Fight Night 106, where he defeated Garreth McLellan by TKO in the first round, earning the Performance of the Night award.
He continued his winning streak in subsequent fights by defeating Oluwale Bamgbose and former welterweight champion Johny Hendricks. Costa's impressive Performance inside the Octagon earned him multiple Performance of the Night bonuses.
However, Costa faced several challenges and setbacks throughout his career. He withdrew from fights due to injuries, including an arm injury that forced him to pull out of a scheduled bout against Uriah Hall.
Additionally, he was suspended for six months by the United States Anti-Doping Agency (USADA) and the Comissão Atlética Brasileira de MMA (CABMMA) for receiving prohibited intravenous infusions.
Despite these obstacles, Costa returned to the Octagon and secured notable victories against top fighters like Yoel Romero, earning the Fight of the Night award.
Costa's most significant opportunity came on September 27, 2020, when he challenged Israel Adesanya for the UFC Middleweight Championship at UFC 253.
Unfortunately, he suffered his first professional loss, defeated via technical knockout in the second round. Costa has recently faced various difficulties outside the cage, including illness and disputes over contracts and payments.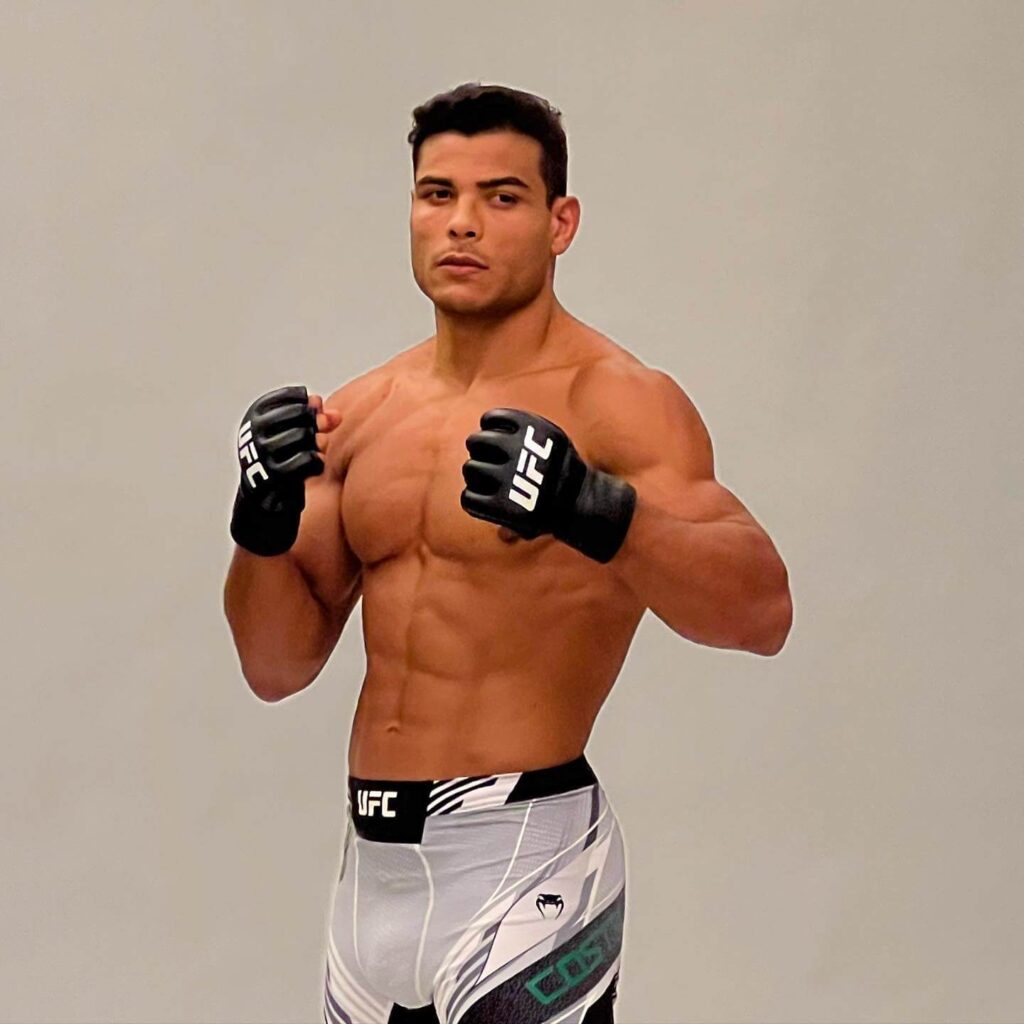 He has faced criticism for missing weight in a bout against Marvin Vettori and has since announced that he will no longer compete in the Middleweight division.
Despite these challenges, Paulo Costa remains a formidable competitor and is scheduled to face Ikram Aliskerov at UFC 291 on July 29, 2023.
As he continues his journey in the UFC, fans, and observers are eager to see how Costa will perform in his upcoming fights and if he can reclaim his status as one of the top contenders in the Middleweight division.
Paulo Costa Diet and Nutrition Plan
Here is a breakdown of Paulo Costa's diet plan:
Paulo Costa Meal 1
Paulo starts the day with a unique mix of ginger, lemon, and water.
He also consumes black coffee.
Paulo Costa Meal 2
Paulo Costa eats tapioca with eggs and lactose-free cheese before his workout.
This provides him with carbohydrates and protein for energy.
Paulo Costa Meal 3
After the workout, Paulo has their dinner: broccoli, sweet potatoes, and manioc. He has two servings of this combination.
For protein, Paulo chooses salmon, but other options like fish, chicken, or pork can be substituted.
He avoids red meat due to its creatine content, which can cause weight gain close to the fight.
Paulo Costa Meal 4
Before heading to the Gym, Paulo takes a spoonful of coconut oil, which provides him with a source of fat for energy.
Paulo Costa Snacks
Throughout the day, Paulo Costa consumes snacks such as avocados, pears, kiwi, melons (except oranges), dry coconuts, chestnuts (including Para chestnuts and cashews), and limited raisins.
These snacks provide additional nutrients and energy.
Paulo Costa Beverages
Paulo Costa primarily drinks water and flavored water to stay hydrated.
Paulo Costa Supplements
Paulo Costa uses various supplements, including aspartic acid, glutamine, maca cocoa blend, coconut oil, and MCT oil.
Closer to the fight, some supplements may be reduced or eliminated to facilitate water loss during dehydration.
Paulo Costa Workout Routine
Paulo is known for his dedication to hard work and spends significant time in the gym. His workout routine is designed to train his body professionally and includes a variety of exercises.
It is important to note that the way may vary depending on specific circumstances, such as upcoming competitions, where Paulo may increase the intensity, sets, and repetitions.
Here are some exercises included in Paulo's workout routine:
This exercise primarily targets the chest, shoulders, and triceps. It is a bodyweight exercise that helps build upper body strength.
Pull-Ups
Pull-ups target the muscles of the back, particularly the lats. They also engage the biceps and shoulders, providing a comprehensive upper-body workout.
Rowing Exercises
Rowing exercises, such as bent-over rows or seated rows, focus on the back muscles, including the lats, rhomboids, and rear deltoids. These exercises help improve posture and develop a strong back.
Deadweight Lifting
Deadlifts are a compound exercise that targets multiple muscle groups, including the lower back, glutes, hamstrings, and grip strength. They are effective for building overall strength and power.
Military Shoulder Press
This exercise targets the shoulders and helps develop strength and stability in the upper body. It primarily focuses on the deltoid muscles.
Cardio Training
Cardiovascular training is an integral part of Paulo's workout routine. It helps improve cardiovascular fitness, endurance, and overall stamina.
The specific types of cardio exercises he performs may vary, including running, cycling, or using cardio machines. Paulo's commitment to his workout routine and proper nutrition have contributed to his sculpted and muscular physique.
He ensures that each body part is trained within this routine and never compromises his workouts.