Larry Wheels, the record-setting powerlifting phenom and fitness icon, is a name that resonates in the world of strength sports.
Renowned for his unparalleled charisma, jaw-dropping strength, and captivating gym content, Larry Wheels has etched his name in the annals of modern fitness.
In a recent YouTube video, he takes us through an intense chest workout just one week before gracing the stage at the 2023 Amateur Olympia competition on November 1.
A Journey of Transformation and Resilience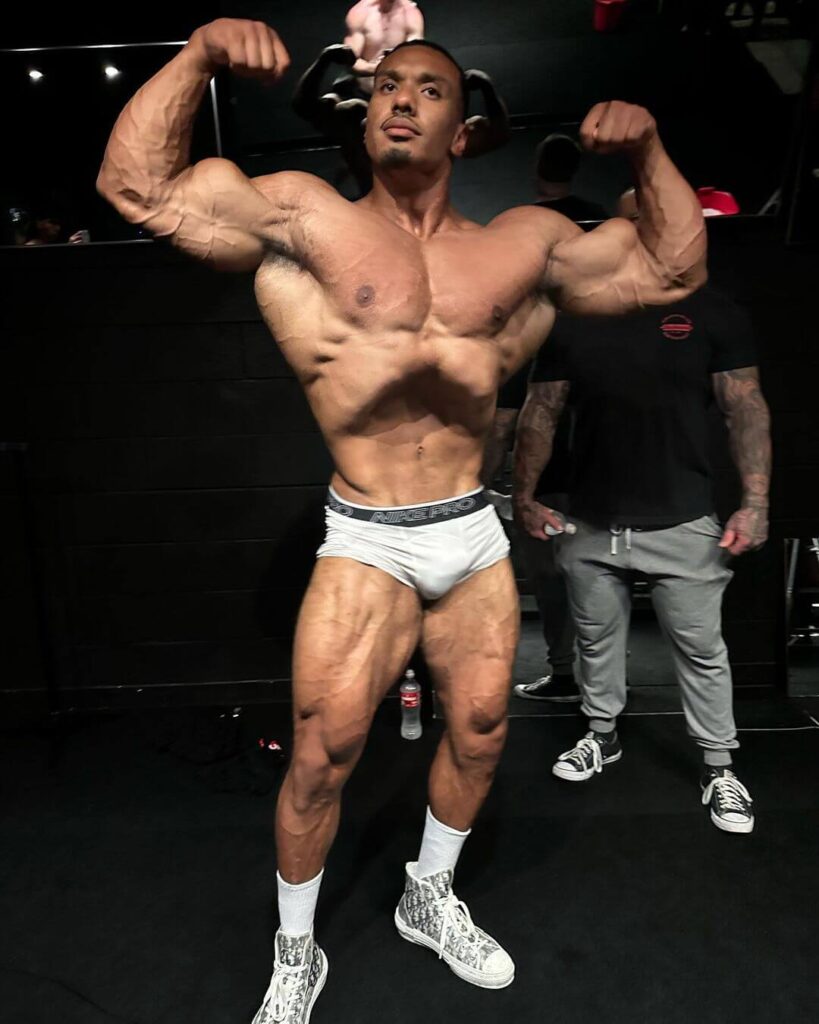 Larry Wheels' journey from a powerlifting sensation to a budding bodybuilder is not just about physical transformation but also a story of personal struggles and resilience.
Despite his tough exterior built through countless grueling training sessions, he openly admits to grappling with drug and sex addiction during his formative years.
Transitioning to a Drug-Free Path
A significant shift in Larry Wheels' life came when he decided to step away from all performance-enhancing drugs except for testosterone replacement therapy.
His transition was not just a matter of personal choice but a requirement to compete in the Classic Physique category, as per Tyler Manion's rules, given his 6'1″ height and his weight limit, which could go up to 234 pounds.
Unveiling the Discipline Behind the Debut
In the pursuit of excellence in his new category, Larry Wheels took to YouTube to provide his fans with a glimpse into the rigorous discipline that goes into preparing for the upcoming Amateur Olympia competition.
Larry Wheels Annihilates Chest Workout
Larry Wheels doesn't just train he annihilates his workouts. His chest day routine leading up to the competition is a testament to his commitment.
A Grueling Chest Day Routine
Larry Wheels' fitness journey has been remarkable, marked by challenges, triumphs, and personal growth.
He candidly reveals, "I never got into stage-ready condition, and I always said years ago I'm going to be the strongest Pro bodybuilder ever, and I never got that Pro card. So I have unfinished business, and that's what I'm doing this for."
Safeguarding Health and Happiness
After the grueling training session, Larry Wheels reflects on his body's wear and tear and his approach to safeguarding his health.
He feels fantastic and is grateful for his overall well-being, emphasizing his desire to step away from powerlifting and strongman while his body is still healthy.
He acknowledges that continuing down that path could lead to chronic injuries, and he wants to enjoy a long and injury-free life.
Classic Physique: An Artistic Approach
The choice of Classic Physique over Men's Open may have raised some eyebrows, but for Larry Wheels, it's a conscious decision not to push his body to the extremes of the Open class.
He believes the Classic Physique category offers a unique artistic element to the sport.
Confidence for the Upcoming Challenge
Having tested his strength alongside legendary bodybuilders like Ronnie Coleman and Classic Physique Olympia champion Breon Ansley, Larry Wheels exudes confidence that his stage-ready physique is worthy of a gold medal.
Prepared and Shredded for Excellence
As the 2023 Amateur Olympia beckons, Larry Wheels stands prepared and shredded, a living testament to the power of dedication and transformation in the world of fitness.
His journey is not just about building an extraordinary body it's about a transformation that extends beyond the physical to inspire countless others on their quests for excellence.