Aaron Reed is a renowned professional bodybuilder and former WWE wrestler from Tampa, Florida.
Standing tall at 6'7″ (200 cm), he captures attention with his muscular physique and is the tallest bodybuilder to claim victory in a Men's Physique competition.
With his remarkable stature and achievements, Aaron Reed has established himself as a prominent figure in bodybuilding. He was much inspired by his hero, Arnold Schwarzenegger.
Early Life of Aaron W Reed
Aaron W Reed was born and grew up in the small city of Minco. Belonging to a family with an athletic background.
Aaron was diagnosed with leukaemia (1) while still a little kid. The mysterious illness demanded the youngster undergo chemotherapy treatment.
Aaron clashed with the illness and could finally live an active everyday life after some years. Aaron started his fitness journey at 12, encouraged by the only Arnold Schwarzenegger.
Aaron W Reed Bodybuilding Career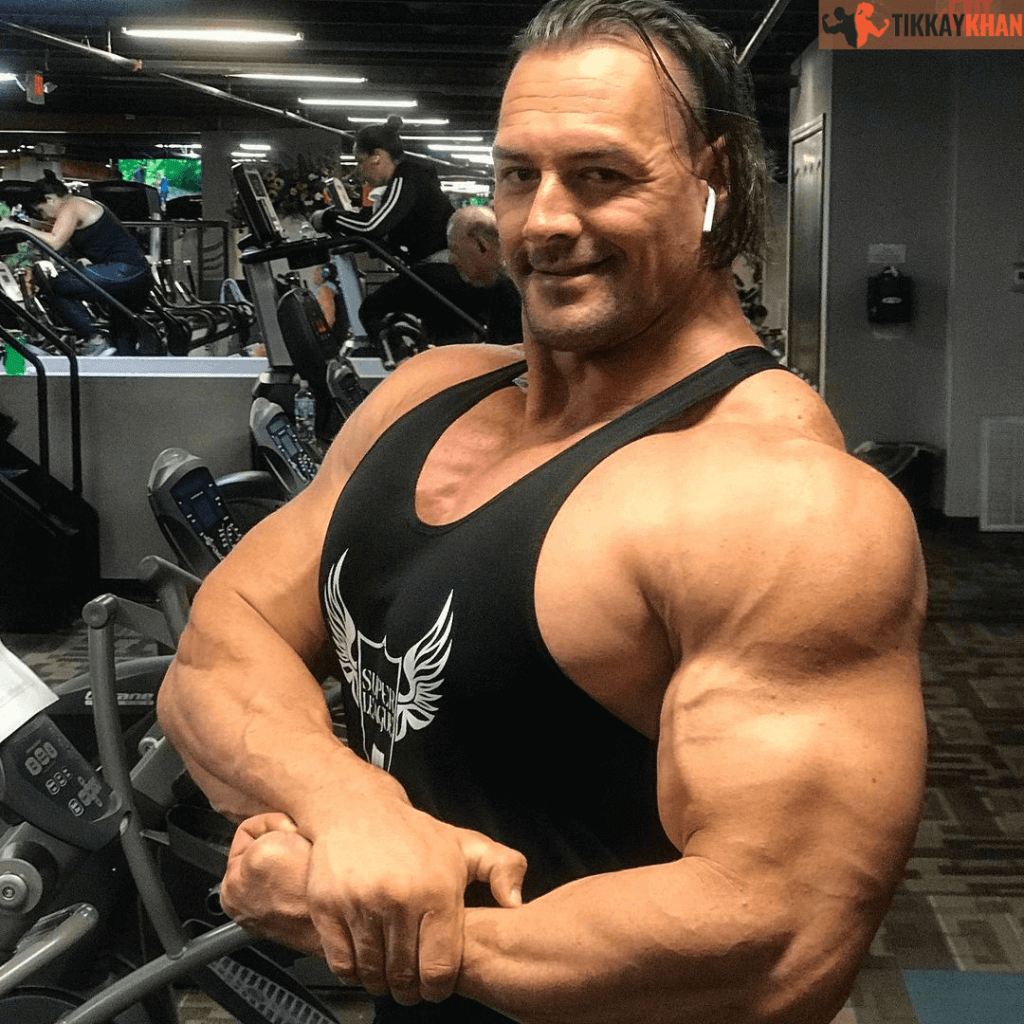 After completing his early education, Aaron registered at Mesa State College to study business. It was college time when he developed a thirst for contests after noticing his physique transform. This desire led Aaron to experience bodybuilding competitions.
He won the NPC Mr Teen Colorado title in 2001. After dropping out of college, Aaron studied nutrition and exercise to improve his physique and win more competitions. Aaron was victorious once again after one year. He won the NPC Rocky Mountain competition in the super heavyweight category 2002.
Aaron got the title of Super Heavyweight Champion in 2005 after winning the NPC Steele City show. 2010 Aaron again put the spray tan on and stepped on the stage at the 2010 NPC Greater Gainesville.
As his career progressed, Aaron Reed continued to make significant strides. In 2010, he captured the NPC Florida State Super Heavyweight Champion title, showcasing his dedication to his craft and ability to excel at the highest level.
In subsequent years, Aaron Reed's success in the competitive arena flourished. He claimed the overall title of NPC Greater Gainesville Champion in 2010, further solidifying his status as an accomplished athlete.
2011 proved to be a significant turning point for Aaron Reed's career. He emerged as the Men's Physique Overall Champion at the NPC Orlando Metropolitan competition, underscoring his talent, impeccable physique, and stage presence.
The same year, Aaron Reed participated in the highly competitive NPC Europa Show of Champions, securing an admirable fourth-place finish, showcasing his ability to compete at an elite level.
His dedication and hard work paid off at the 2011 NPC USA Championships, where he achieved a commendable tenth-place finish, highlighting his ability to compete amongst top-tier athletes on the national stage.
Aaron Reed's career continued to thrive in the following years. He consistently showcased his talent, securing the position of Muscle Mania Universe Runner-Up in 2012 and 2013, solidifying his reputation as one of the top contenders in the esteemed competition.
Throughout his career, Aaron Reed's commitment to bodybuilding and his exceptional physique garnered admiration from fans and peers alike. His journey is a testament to his unwavering dedication, perseverance, and passion for the sport.
Aaron W Reed Competition History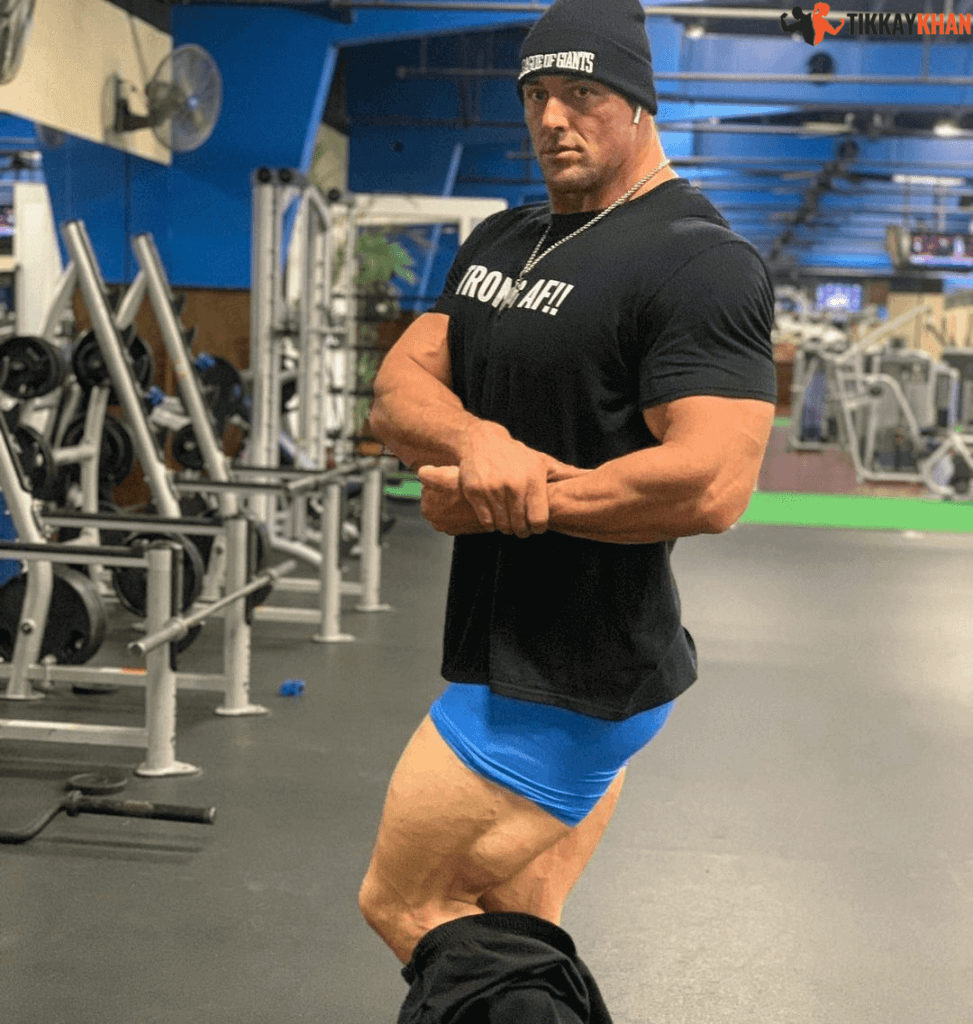 In 2013, Muscle Mania Universe – 2nd
In 2012, Muscle Mania Universe – 2nd
In the 2011 NPC Europa Show of Champions, 4th
In 2011 NPC Orlando Metropolitan Men's Physique Overall – 1st
In 2010 NPC Florida State Super Heavy Weight – 1st
In the 2011 NPC USA Championships, 10th
In 2010, NPC Greater Gainesville Overall – 1st
In 2005, NPC Steele City Heavy Weight 1st
In 2002, NPC Rocky Mountain Super Heavy Weight – 1st
In 2001, NPC Mr Teen Colorado – 1st
Body Size of Aaron W Reed
| | |
| --- | --- |
| Aaron Reed Height | 6 Feet and 7 Inches |
| Aaron Reed Weight | 130 to 140 KG |
| Aaron Reed Date of Birth | September 12, 1981 |
| Aaron Reed Age | 42 Years |
| Aaron Reed Arm Size | 23 Inches |
| Aaron Reed Chest Size | 56 Inches |
| Aaron Reed Waist Size | 31 Inches |
| Aaron Reed Religion | Christian |
| Aaron Reed Nationality | American |
Aaron W Reed's Net Worth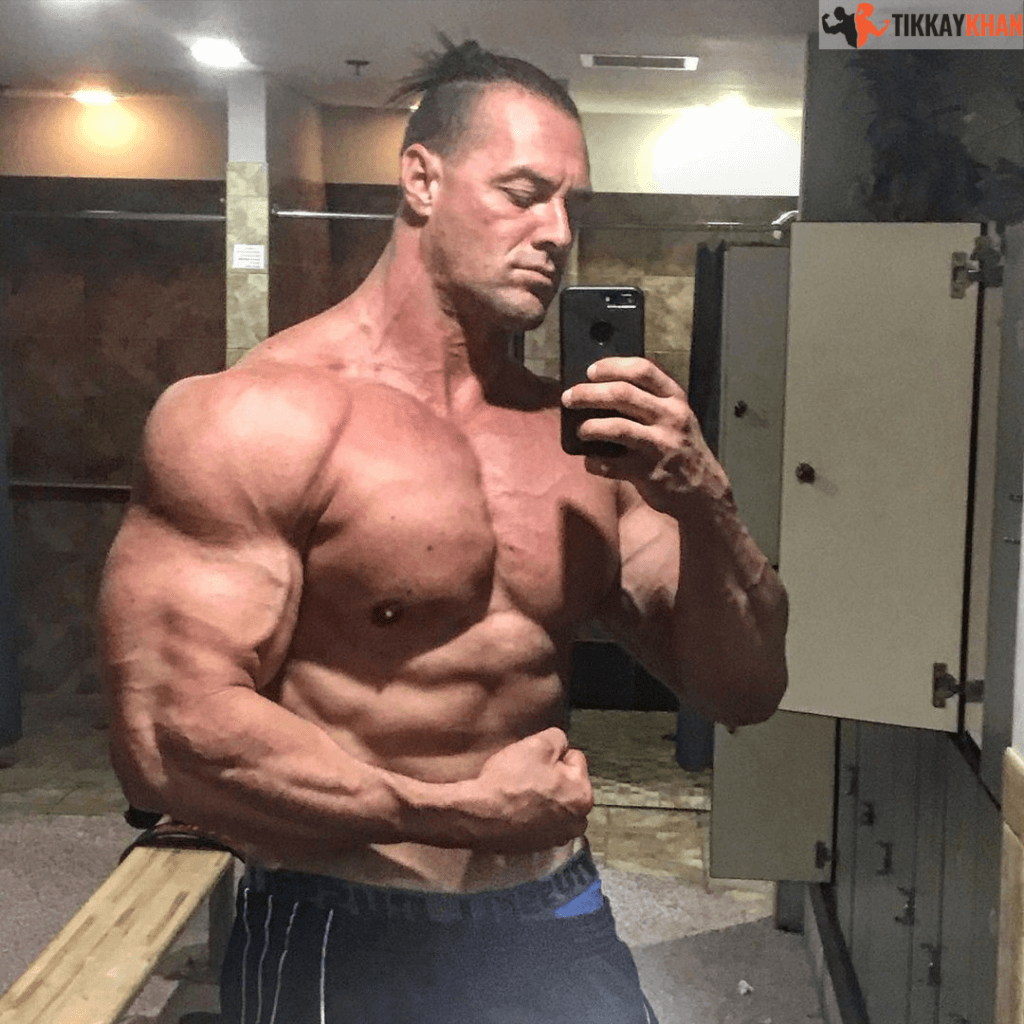 Aaron W Reed's net worth is $1.5 million at the age of 42 years. He earned all his money as a professional bodybuilder and an ex-WWE pro wrestler.
Aaron Reed Wife
Aaron Reed is in a romantic relationship with Ashley Puida, a multi-talented individual in various fields. Ashley Puida is recognized as a model, actor, and professional bodybuilder affiliated with the International Federation of Bodybuilding and Fitness.
Her involvement in these diverse disciplines showcases her versatility and dedication to her craft.
Aaron Reed and Ashley Puida form a power couple in the fitness and bodybuilding industry, sharing their passion for health, fitness, and aesthetics.
Aaron W Reed consumes the same meals throughout the year, which means his weight changes some pounds from one year to another.
Aaron's protein intake ranges between 350 to 400 grams per day. With his height of 6 feet 7 inches and weighing over 135 kg of lean mass, Aaron must consume this much protein to retain his strength.
Aaron Reed follows a rigorous and well-structured workout routine that enables him to maximize his physical potential. Here is an outline of his weekly workout regimen:
Monday: Cardio
Aaron starts his day with a morning sprint session, which helps improve his cardiovascular fitness. He focuses on weightlifting exercises in the evening, including rows, shrugs, and calf exercises. He also dedicates time to posing and refining his presentation on stage.
Tuesday: Upper Body Exercise
The emphasis on Tuesday is upper body training. Aaron incorporates bench presses, dumbbell exercises, push-ups, dips, and sit-ups. He also continues to work on his calf muscles and spends additional time on posing practice.
Wednesday: Back Workout
On this day, Aaron directs his attention towards his back, hamstrings, and calves. He exercises like deadlifts, rows, pull-ups, pull-downs, and calf exercises to strengthen and develop these muscle groups.
Thursday: Posing Practice
Aaron focuses solely on posing practice, spending an entire hour refining his stage presentation and showcasing his physique.
Friday: Arms, Abs, and Calf Workout
Aaron engages in conditioning exercises in the morning, enhancing his overall endurance and stamina. Later in the day, he dedicates his workout to arms, abs, and calf exercises, targeting these muscle groups specifically.
Saturday: Leg Workout
The main focus on Saturday is leg training. Aaron uses calf extensions, squats, and leg presses to develop his calf and quadriceps muscles, promoting lower body strength and development.
Sunday: Rest
Aaron takes a well-deserved rest day, allowing his body time to recover and recharge for the upcoming week's workouts.
By following this structured and intense workout routine, Aaron Reed ensures that he addresses all muscle groups while incorporating conditioning and posing practice elements, enabling him to showcase his best physique on stage.
FAQs
How Big is Aaron W Reed?
Aaron W Reed is the tallest bodybuilder and a WWE wrestler from Florida, USA. He is the tallest bodybuilder to win as a Men Physique competitor at 6 feet and 7 inches.
How Much Can Aaron Reed Bench Press?
Aaron's power was incredible for a teenager of his stature: Reed's bench press max was 225 pounds.
How Much Does Aaron W Reed Weigh?"
Aaron W Reed's weight is 130 to 140 kg.
How Tall is Martyn?
Martyn Ford is 7 feet and 5 inches tall.