In the bodybuilding world, where massive physiques and Herculean proportions often dominate the stage, one man has captured the hearts of fans and judges alike with his timeless and aesthetic form. Chris Bumstead, affectionately known as "C-Bum," has become one of the most dominant and aesthetically pleasing classic physique competitors in the sport's history. 
At the age of 28, this Canadian sensation has conquered the stage and the world of social media, amassing a dedicated following that marvels at his every move. 
Early Life and Sporting Beginnings
Born on February 2, 1995, in Ottawa, Canada, Chris Bumstead's journey into bodybuilding was preceded by a childhood filled with athletic prowess. 
From a young age, he exhibited exceptional talent in various sports, participating in basketball, baseball, football, and athletics.
It was during his early teenage years, at 14, that Chris Bumstead first set foot in a weight room, primarily to enhance his strength and agility for football. 
Little did he know that this pivotal moment would ignite a lifelong passion for weightlifting.
As a young aspiring bodybuilder, Chris Bumstead found inspiration in the sport's legends. One of his early idols was Tom Platz, renowned for his iconic leg development. 
Additionally, he drew motivation from 1980s bodybuilders like Berry DeMey and the iconic Arnold Schwarzenegger. 
These bodybuilding icons guided lights, propelling Chris Bumstead towards his future as a competitive bodybuilder.
The Ascent in Bodybuilding
Chris Bumstead's journey in bodybuilding began with relentless dedication. He embarked on a mission to sculpt his physique, initially viewing it as a personal pursuit. 
However, his life took a transformative turn when he crossed paths with Ian Valliere, who happened to be his sister's boyfriend. 
Recognizing Chris Bumstead's potential, Valliere assumed the role of mentor and coach, providing invaluable guidance and support.
As the years passed, Chris Bumstead's dedication yielded remarkable results. 
His physique continued to evolve, mirroring the growth of a young man who had transitioned from an 18-year-old enthusiast into a formidable bodybuilder. 
The turning point came in 2016 when, at 21, Chris Bumstead achieved the pinnacle of amateur bodybuilding by earning his IFBB Pro card at the IFBB North American Bodybuilding Championships. 
This achievement marked the official beginning of his professional career.
His Pro card came with numerous sponsorships, endorsement deals, and coveted features in various fitness magazines and photo shoots.
Chris Bumstead was on an upward trajectory, steadily climbing the ranks and catching the attention of the bodybuilding world.
The Mr. Olympia Dream
Despite early successes, Chris Bumstead's sights were set on a single goal—gracing the stage of the prestigious Mr. Olympia contest held annually in Las Vegas. 
This coveted stage is where the world's best bodybuilders compete for the title of the ultimate physique champion.
Chris Bumstead's dream came true when he made his Mr. Olympia debut in the Classic Physique division.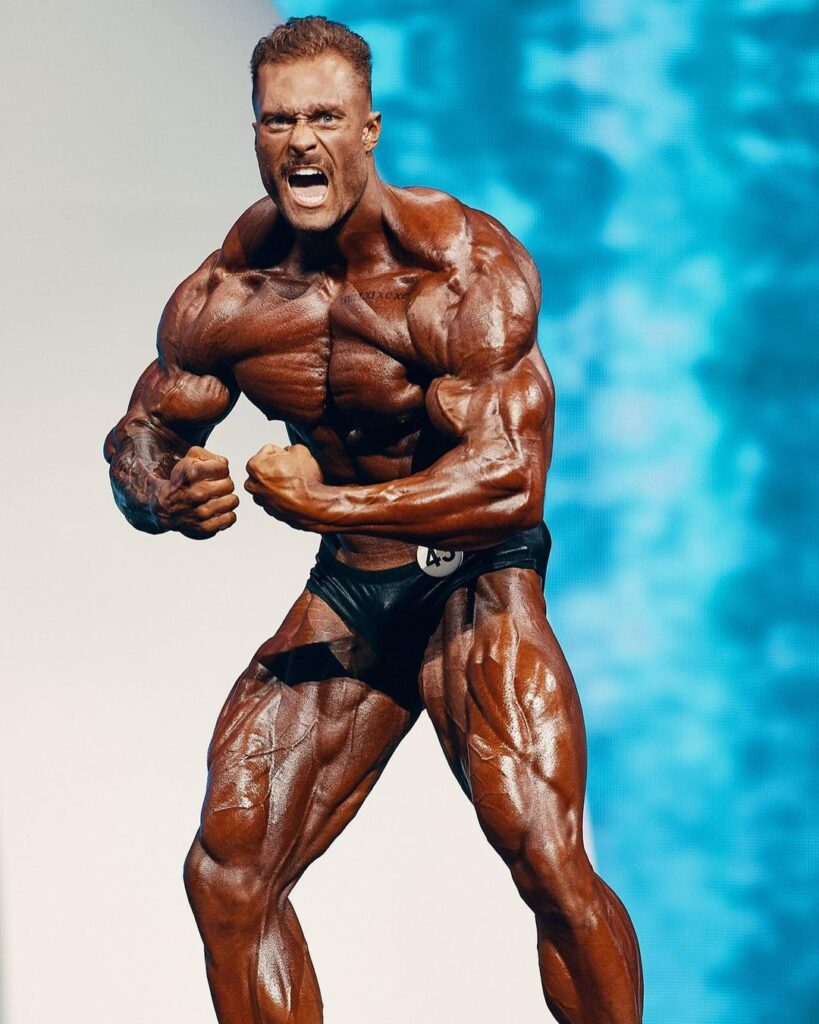 His inaugural appearance was spectacular, securing an impressive finish on his maiden voyage.
He returned with renewed determination the following year, securing a runner-up position.
Although he was narrowly edged out by Breon Ansley, Chris Bumstead's star was undoubtedly on the rise.
The Redemption and Beyond
2019 marked a pivotal moment in Chris Bumstead's career as he claimed the first-place title in the Classic Physique division at the Mr. Olympia contest. 
This victory was particularly remarkable considering the adversity he faced—a hernia surgery just months before the show.
His triumph was not without controversy, as Ansley's coach, former IFBB Pro Chris Cormier, expressed dissatisfaction with the result.
However, Chris Bumstead's pursuit of greatness continued unabated. 
He secured the top spot at the Mr. Olympia contest in 2020, 2021, and 2022, solidifying his status as a four-time Olympia champion.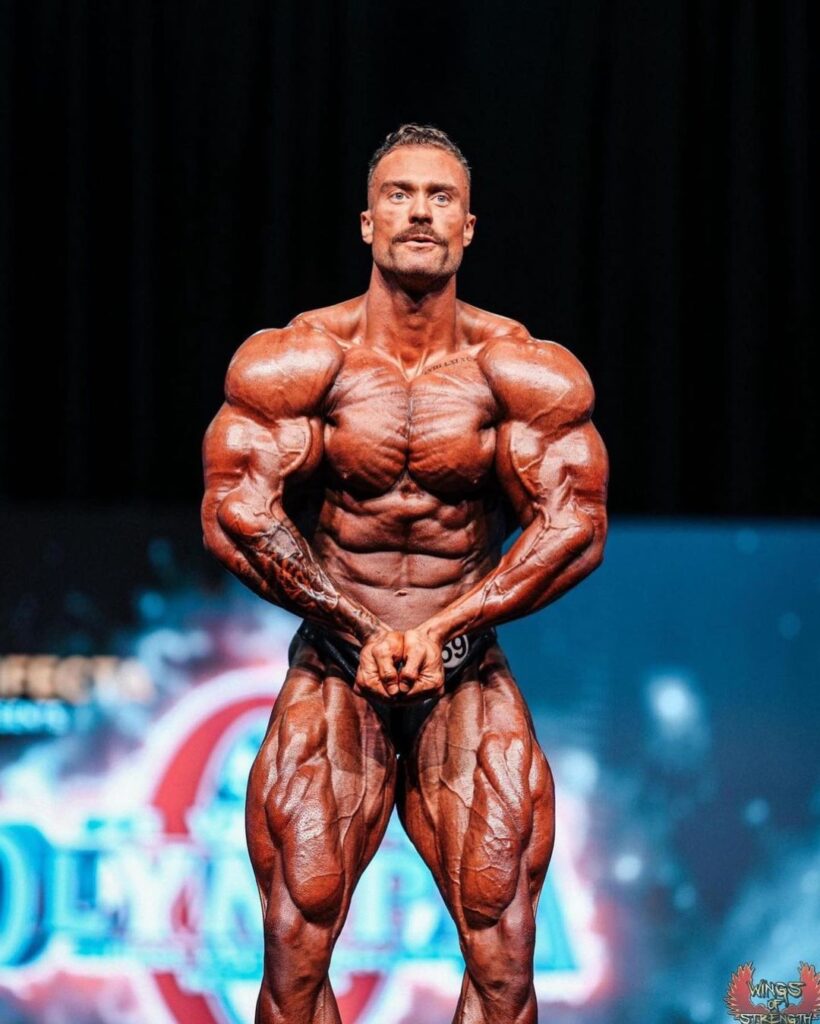 However, his fourth victory in 2022 was filled with unforeseen challenges, including a knee injury during the competition prep and a quad injury.
Remarkably, he overcame these obstacles with innovative solutions, demonstrating his resilience and commitment to his craft.
In addition to his remarkable success on the stage, Chris Bumstead has experienced a surge in popularity on social media. 
With over 18 million followers on Instagram and 3.4 million subscribers on YouTube, he has cultivated a dedicated following eager to witness his training, nutrition, competition photos, and glimpses into his life beyond bodybuilding.
At the core of Chris Bumstead's success is his rigorous training regimen. 
He maintains an average of five weekly training sessions, targeting specific muscle groups to achieve a balanced and symmetrical physique. 
His approach blends heavy lifting with moderate volume, often employing double progression loading to ensure continuous progress.
Drop sets and supersets are regular features of his workouts, optimizing muscle growth and development.
Nutrition plays a pivotal role in Chris Bumstead's journey. During the off-season, he consumes approximately 6,000 calories daily, creating the energy surplus required for muscle growth. 
This intake is distributed across six to seven meals throughout the day, primarily consisting of clean and wholesome foods such as chicken, rice, potatoes, and steak.
However, Chris Bumstead acknowledges the occasional inclusion of less clean foods like muffins to meet his carb requirements.
The contest prep phase significantly reduces calorie intake, and Chris Bumstead adheres to a 100% clean diet to fine-tune his physique for competition.
His diet is a carefully calibrated instrument, helping him achieve the pinnacle of conditioning required for the world's most prestigious bodybuilding contests.
Chris Bumstead's Life Beyond Bodybuilding
Beyond the weights and stages, Chris Bumstead's life takes on various dimensions. 
He actively shares his journey, insights, and experiences with his vast online following.
In January 2023, he released a video on his YouTube channel, providing a glimpse into his competitive mindset and the path he envisions for his future.
Chris Bumstead's commitment to adding more Olympia titles to his trophy case remains unwavering.
In classic physique bodybuilding, Chris Bumstead stands as an icon—a testament to the enduring appeal of aesthetics, symmetry, and timeless physique development. 
His journey from a young athlete to a four-time Olympia champion has been extraordinary. 
With each pose he strikes and every trophy he hoists, Chris Bumstead adds a new chapter to his enduring legacy, inspiring countless individuals to pursue their path to greatness in bodybuilding. 
As we look forward to the 2023 Olympia stage, the question on everyone's mind is, "What more does this iconic athlete have in store for us?" 
We eagerly await the answer as Chris Bumstead continues to redefine classic physique bodybuilding.