In the world of professional bodybuilding, the name Sergio Oliva elicits images of a mythic, legendary figure. Sergio Oliva Sr., known as "The Myth", was one of the premier bodybuilders of the 1960s and 70s era – a hulking, massively muscular pioneer who became the first man to ever defeat Arnold Schwarzenegger at the Mr. Olympia competition.
Decades later, Sergio Oliva's son aimed to honor that legacy and forge his own path in the sport that made his father an icon. 
Sergio Oliva Jr. inherited the genetic gifts of his father but established his own identity through years of relentless hard work and dedication. 
Now a rising star in the IFBB Pro League, Sergio Oliva Jr. continues striving to fulfill his potential and become one of bodybuilding's future legends.
Early Life in a Bodybuilding Family
Born in Chicago, Illinois, Sergio Oliva Jr.'s childhood unfolded in the shadow of his larger-than-life father. However, Sergio Oliva Jr. initially discouraged his son from pursuing bodybuilding, wanting him to focus on academics first. 
As a result, young Sergio Oliva Jr. competed in track and field, where he found success placing second in the state of Illinois.
Sergio Oliva Jr..'s mother, who was also a bodybuilder, spent more time with him in the gym and nurtured his nascent interest in training. 
After high school, Sergio Oliva Jr. began weightlifting on his own, noticing rapid muscle growth and becoming enamored with the lifestyle. 
His father continued opposing his hobby, even calling local gyms demanding they deny his membership.
To avoid interference, Sergio Oliva Jr. relocated to Destin, Florida where he started training in earnest. He recalled being a middleweight at the time, weighing around 176 pounds. 
Quickly outgrowing the local bodybuilding scene there, Sergio Oliva Jr. moved back to Chicago and eventually earned his pro card, silencing the doubters.
Early Competitive Success
Sergio Oliva Jr. began competing in 2006, placing 3rd in the middleweight class at the Southern States Championship. 
The following year, he won the light heavyweight and overall titles at the 2007 Panhandle Showdown.
In 2008, Sergio Oliva Jr. captured the heavyweight and overall championships at the Mr. Northwest Florida contest. 
He continued gaining experience competing across the Midwest region.
After a decade of steady improvement through the amateur ranks, Oliva Jr. realized a lifelong dream by earning his pro card at the 2015 NPC Nationals competition.
Winning that prestigious national event announced his arrival as one of the sport's rising talents.
Making His Mark as an IFBB Pro
Hungry to make his mark among the sport's elite, Sergio Oliva Jr. wasted no time succeeding against pro competition. 
In just his 5th professional contest, he shocked the bodybuilding world by winning the prestigious 2017 New York Pro title in dominating fashion.
The breakthrough victory certified Oliva as one to watch. He backed it up with a runner-up finish at the 2018 Indy Pro and a pair of top-5 placings at the Tampa Pro that same year.
Most recently, Sergio Oliva Jr. took 3rd at the 2023 California Pro and cemented his status among the sport's upper echelon. 
With constant steady improvements each year, his prime is still ahead.
Sergio Oliva Jr.'s Training and Diet Regimen
Like his father, Sergio Oliva Jr. was gifted with wide shoulders, a tiny waist, flaring thighs, and boulder-sized arms. 
But he diligently sculpts his prodigious genetics in the gym with intelligent, ever-evolving training routines tailored to his goals.
In the offseason, Oliva emphasizes heavier lifting with lower reps to build maximum mass.
As competitions approach, he shifts to higher reps with shortened rest periods to carve detail. No body part is neglected.
Sergio Oliva Jr.'s diet adjusts depending on whether he's bulking up or leaning out. But core staples like eggs, oatmeal, rice, chicken, spinach, and asparagus make up the foundation year-round. 
To spur growth, he'll up his calories and carbs. Pre-contest, he dials in the diet with extra cardio to peel off body fat.
Rising Star Chasing His Destiny
Now competing in the prime of his career, Sergio Oliva Jr. ranks among the world's premier bodybuilding talents and top Olympia title threats. His enviable blend of shape, muscle density, and balanced proportions echo his father's aesthetic gifts.
But Sergio Oliva Jr..'s humble, focused work ethic and determination to maximize his potential are uniquely his own.
Far from complacent, he still trains with a fiery hunger and drive to ascend to the pantheon of greats.
With 588,000 Instagram followers and a net worth of over $5 million, Oliva has already achieved a level of fame and financial reward from the sport.
Yet true to his bloodline, he remains fixated on the pursuit of excellence and torso-shaped gold.
Much work remains for Sergio Oliva Jr. to fulfill his championship ambitions. But by continuing to learn, fine-tune his physique, and develop his strengths, greatness may await. 
The son now forges his iconic legacy worthy of the Oliva name.
The Bodybuilding World Awaits Another Myth
Sergio Oliva Jr.. represents the possibilities of nurture melding with nature. His father, "The Myth", etched his name alongside legends like Schwarzenegger. 
Now his son exhibits that same rare mix of shape, proportions, and genetics screaming for greatness.
Like Sergio Sr., Oliva Jr. brings a tapered waist, 3D delts, guitar-shaped back, and tree trunk legs. 
But the true inheritance lies deeper than muscle fibers. The son exhibits that same insatiable hunger, humility, and work ethic passed down from Sergio Oliva.
By maximizing those gifts, Sergio Oliva Jr. appears poised to become The Myth 2.0 – his creature shaped through his vision. 
The bodybuilding world eagerly awaits the rise of another Oliva legend written through iron, sweat, and dedication.
Of course, Sergio Oliva Jr.'s ascent is far from guaranteed. Reaching the sport's summit presents a monumental challenge. 
But Sergio Oliva Jr. has already defied his father's doubts and proven deserving of his namesake. 
If he continues evolving and honing his craft, the son may soon cast his own long shadow.
The Next Chapter Awaits
Sergio Oliva Jr.'s impressive resume already includes a New York Pro title, two finals appearances at the Arnold Classic, and consistent top placings at pro shows. But at just 35 years old, Oliva's prime years in the sport still await.
His steady trajectory of improvement suggests immense potential still left to unlock.
With the guidance of his mentor Flex Wheeler and other experts, Oliva constantly sharpens his physique. When he nails conditioning and brings the ideal package, watch out.
The parallels between Sergio Oliva Jr. and his iconic father prove undeniable. 
But the son's humility and grace in forging his path have made him a popular figure among fans worldwide. Now on the brink of superstardom, the younger Oliva writes the next chapter in his family's journey.
Mindsculpting the Masterpiece
Like a sculptor chiseling stone, Sergio Oliva Jr. continues molding his genetic gifts into a potential bodybuilding masterpiece. 
His physique abounds with strengths – wide shoulders, tiny waist, mighty thighs – begging for greatness.
Yet Sergio Oliva Jr. resists complacency, still training with beginner's motivation to maximize his talents. 
His mindset reflects that of a lifelong student absorbing knowledge.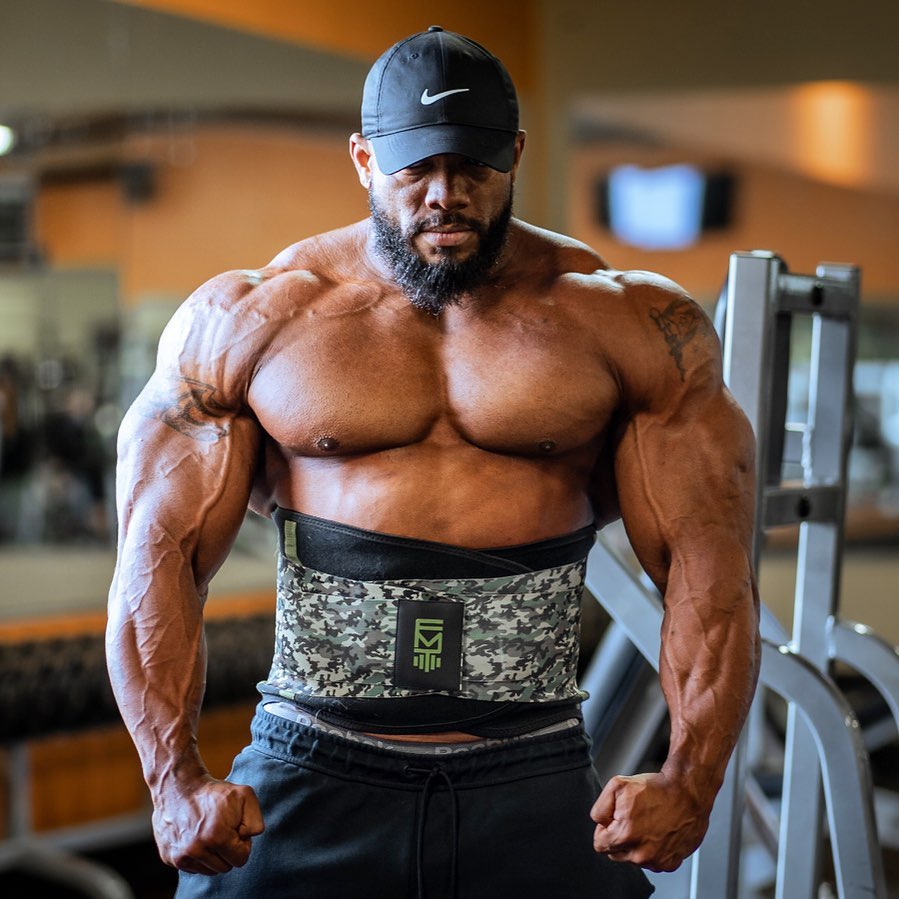 Rather than relying on his name, Sergio Oliva Jr. immerses himself in the nuances of posing, nutrition, recovery, and training under experts like Flex Wheeler. 
He obsesses over refinements to perfect his physique, not just maintain it.
This analytical, detail-oriented approach spotlights Oliva's wisdom and humility.
Complacency cripples potential. By sharpening his weapons even during success, Sergio Oliva Jr. gives himself the best chance at glory.
Tactical Adjustments for Title Ascent
Transitioning from prospect to champion requires evolution. The greatest understand this, remaining students of their craft.
Sergio Oliva Jr. has demonstrated that intellect throughout his calculated rise.
Early on, he focused on building a bigger, thicker physique to match the mass monsters. After establishing that base, he adjusted his approach leading up to shows.
Knowing he couldn't out-size the behemoths, Sergio Oliva Jr. prioritized dialing in his waist and bringing optimal conditioning to highlight his shape. 
The refined strategy paid dividends, as his placings improved each year.
Rather than forcing a blunt game plan, Sergio Oliva Jr. diversified his attack based on competition. Such adaptable thinking, a hallmark of champions like Phil Heath, will serve Oliva well moving forward.
What It Takes to Be Legendary
Accomplishing special things requires uncompromising internal standards. This mindset has fueled Sergio Oliva Jr. in honoring his father's legacy and chasing his greatness.
Despite his pedigree and early wins, Sergio Oliva Jr. trained with underdog dedication, never believing the hype. He surrounded himself with mentors like Flex Wheeler who drove him to new levels through wisdom and honesty.
When his conditioning lagged in earlier shows, Sergio Oliva Jr. took ownership. He doubled down on refining his diet over pursuing shortcuts. 
This accountability to be legendary, not just good, speaks volumes about Sergio Oliva Jr.'s character.
By improving each year, avoiding comfort zones, and demanding excellence for himself, Sergio Oliva Jr. exhibits the intangibles shared by icons like his father. 
Combined with his work ethic and genetics, those traits prime him for elite status.
The Time is Now
With massive potential still untapped, Sergio Oliva Jr. finds himself at a crossroads moment in his career. 
He has already achieved much – a New York Pro title, Olympia qualifications, and status as a popular star.
But the next level beckons. After years of gradual progress, Sergio Oliva Jr. finally appears ready to shift gears from prospect to champion. He has never been more seasoned or strategically refined.
The time is now for Sergio Oliva Jr. to evolve from the "son of" into an icon in his own right. 
Were he to fulfill his potential and storm to the Olympia throne, he would secure his unique legacy beside his father in the pantheon.
Questions remain, but the pieces are in place. Regardless of what unfolds, the journey of Sergio Oliva Jr. has already proven epic with much still left to write. 
His patient, thoughtful climb toward the top serves as a model for persistence and passion.