Every once in a while, a genetic freak emerges in the bodybuilding world, someone who defies the limits of human potential and leaves everyone in awe of their sheer muscle mass and incredible physique. Derek Lunsford is one such individual, a true wonder of genetics who has the bodybuilding community buzzing with excitement. 
While these genetic anomalies are rare, they captivate our imagination, pushing the boundaries of what we believe is achievable in muscle building.
A Rare Genetic Wonder
Derek Lunsford, a name-making wave in bodybuilding, has shocked fans and experts with his unbelievable potential and muscle mass. 
He's a true genetic wonder, a testament to the astonishing diversity in human genetics.
Only a tiny fraction of the world's population is blessed with genetics like Derek Lunsford's, allowing him to sculpt a physique that defies conventional limits.
When Derek Lunsford takes the stage, you can't help but be awestruck. He stands his ground, presenting a presence that demands attention. As he continues to evolve and grow, there's no doubt that he will become a force to be reckoned with in the bodybuilding world.
Breaking the Mold
In bodybuilding, many individuals may look impressive on Instagram but falter when they enter the competitive stage. Derek Lunsford is not one of those individuals. 
He's proven that he's not just an Instagram sensation but a legitimate contender when he walks onto the bodybuilding stage.
When Derek Lunsford debuted on the bodybuilding stage, he looked massive. 
This wasn't a flash in the pan or a result of clever camera angles; it was the genuine article.
He showcased his incredible physique, leaving audiences in awe and judges with much to consider.
But who does Derek Lunsford remind us of? He's reminiscent of Victor Richards, one of the most legendary genetic freaks in bodybuilding history. 
Victor Richards's enormous size and genetics earned him a place among the sport's giants. 
Now, Derek Lunsford is poised to follow in these footsteps, and it's clear that we're witnessing something extraordinary.
A Rapid Ascent
Here's the astonishing part: Derek Lunsford is still an amateur bodybuilder. Yes, you read that right; he's yet to join the ranks of the professionals. 
But his mass, his incredible muscular development, is off the charts. What's even more exciting is that Derek Lunsford is just getting started. 
He still needs to take on the big dogs of the bodybuilding world, but when he does, there's no doubt that he'll be doing some severe damage.
The prospect of watching individuals with these kinds of genetics push the boundaries and challenge the norms in bodybuilding is exhilarating.
It's a testament to the human potential and the possibilities that the world of bodybuilding presents.
The Victor Richards of Our Time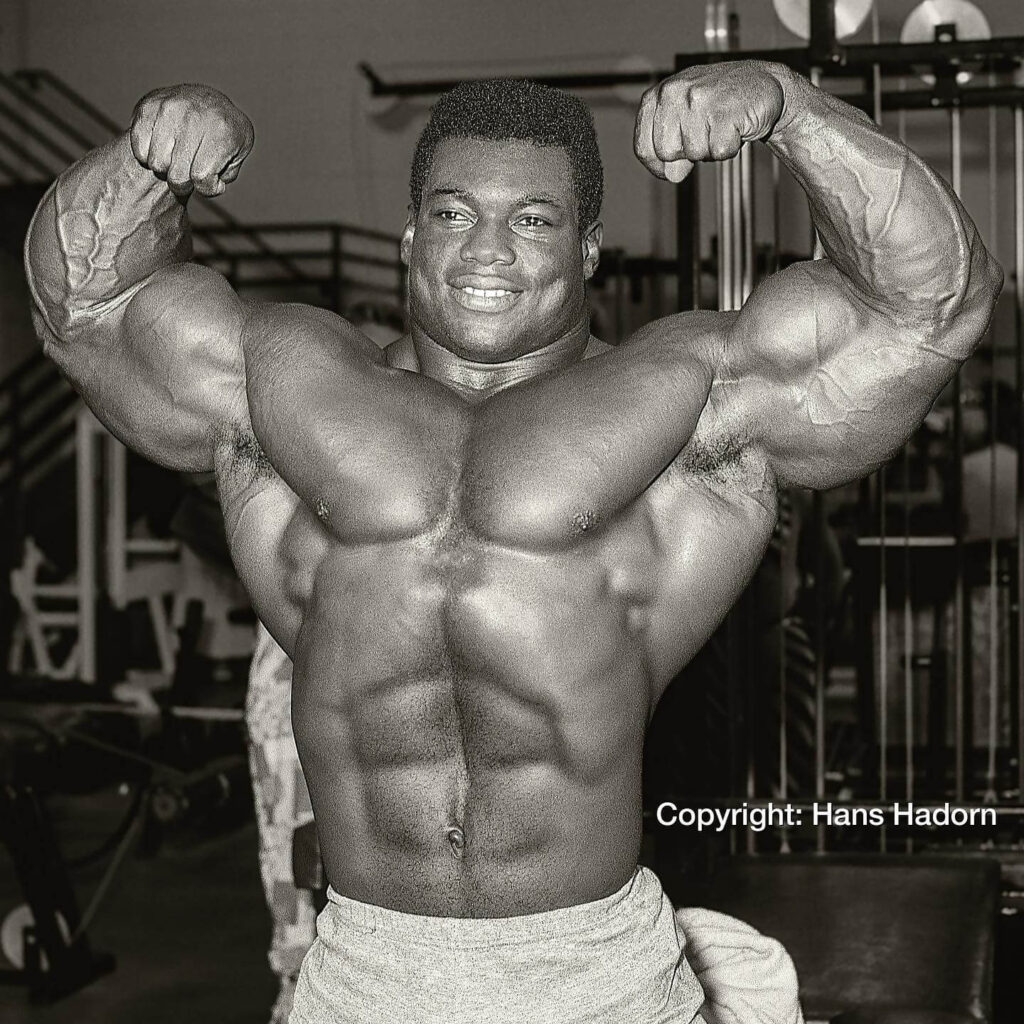 Victor Richards, one of the most excellent genetic freaks in bodybuilding, is often regarded as one of the sport's most significant "what ifs" in history. 
But here's the fascinating part: Derek Lunsford is a carbon copy of this genetic anomaly.
His muscles bulge with mass that defies explanation, and he's just waiting to take the stage with the big names in the sport.
Derek Lunsford's Olympia Pursuit
As of 2023, Derek Lunsford's Olympia preparation is entering its final, most critical stage. 
He's leaving no stone unturned as he gears up to dethrone the reigning champion, Hadi Choopan, on November 5th. 
Standing just three weeks away from the competition, he's demonstrating the dedication and commitment required to make a lasting impact on the Olympia stage.
Derek Lunsford's relentless pursuit of Olympia glory has garnered attention from the bodybuilding community and legends of the sport. 
Among them is the great Ronnie Coleman, who knows what it takes to succeed at the Olympia. 
A former Olympia champion, Ronnie Coleman possesses valuable insights into what it takes to claim victory on that prestigious stage.
Derek Lunsford's Journey: From 212 to Open
Derek Lunsford's journey to the Olympia stage has been remarkable. Starting as a 212 Olympia champion, he transitioned to the men's open category. 
In 2022, he was granted a special invitation to compete at the Olympia, where he impressively secured the runner-up position in his inaugural competition alongside the seasoned contenders.
It was a debut that turned heads and signaled the arrival of a true force in the bodybuilding world.
Derek Lunsford's rapid ascent in the ranks has caught the attention of bodybuilding enthusiasts and legends alike. 
His goal is clear: to surpass Hadi Choopan and claim his first title in the highly competitive men's open category. 
It's essential to remember that Derek Lunsford is a former men's 212 champion. 
His journey exemplifies the possibilities and fluidity in bodybuilding, where dedicated athletes like Derek can reshape their careers and aspirations.
Guided by the Best
In his relentless pursuit of success, Derek Lunsford has surrounded himself with some of the best in the business. 
His collaboration with Flex Lewis, a former Olympia 212 champion, is a testament to his commitment to achieving the best possible results. 
With intensive coaching from the renowned Hany Rambod, Derek Lunsford focuses on fine-tuning his chest and overall physique, underlining the need to ensure that his front matches the caliber of his exceptional back.
A Workout Ethos: Targeting Weak Points
Derek Lunsford's training regimen embodies his unwavering philosophy: improve every aspect of your physique, leaving no room for weak points. 
He believes in a balanced, all-encompassing approach that constantly strives to surpass previous performance levels.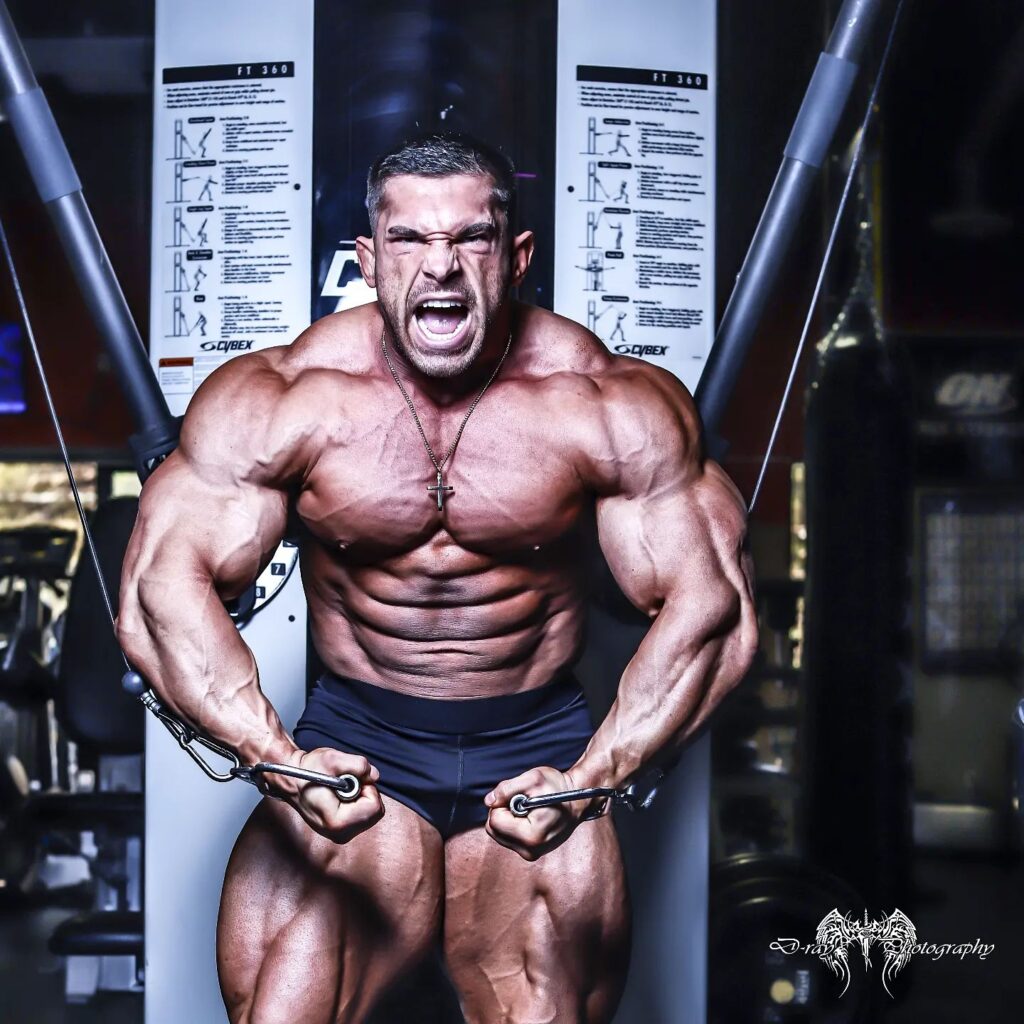 His dedicated approach means he spends over two hours in the gym, beating the average workout duration.
It's a testament to his unwavering determination and commitment to his goals.
Derek Lunsford Working Out
This approach has led to considerable improvements in areas often neglected in modern bodybuilding. 
Derek Lunsford targets every aspect of his physique, regardless of its size or prominence, acknowledging the need to continually transform every part of his body. 
He refuses to settle for mediocrity and is always striving for greatness.
The 2023 Arnold Classic: A Taste of the Future
The 2023 Arnold Classic provided a glimpse into the future of bodybuilding, with prominent competitors stepping up to the plate.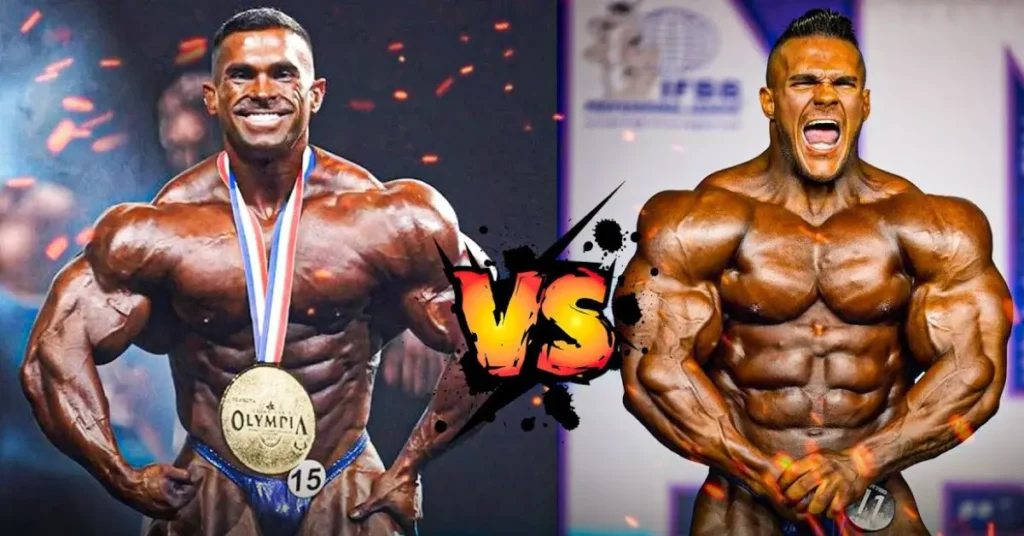 Among these contenders was Nick Walker, who secured third place at the Olympia in December. 
However, Nick Walker had a chance to showcase his skills and determination at the Arnold Classic, finishing second. 
The battle pitted Nick Walker against Samson Dauda, who emerged as another strong contender.
The audience witnessed a stage battle between Nick Walker and Samson Dauda in Columbus, Ohio. Even though Walker did not secure the top spot in this