Mariusz Zbigniew Pudzianowski, widely known as "Pudzian" and "Dominator," is a Polish entrepreneur, former strongman competitor, and accomplished mixed martial artist.
He was born on 7 February 1977 in Biała Rawska, Poland Pudzianowski has left an indelible mark on the world of strength athletics, earning him the reputation as one of the greatest strength athletes of all time.
Pudzianowski's strongman career is nothing short of remarkable. With an astonishing 70% winning percentage, he boasts an impressive record of 43 international victories.
Throughout his strongman journey, he secured an unmatched five World's Strongest Man titles, making him the most successful competitor in the competition's history.
Pudzianowski's dominance extended beyond the global stage, as he clinched Europe's Strongest Man title a record-breaking six times.
However, Pudzianowski's ambitions continued beyond strongman competitions. In 2009, he made his foray into mixed martial arts (MMA) and quickly established himself as a force to be reckoned with.
Currently ranked in the KSW Heavyweight rankings, Pudzianowski continues to showcase his versatility and tenacity in the MMA arena.
From a young age, Pudzianowski exhibited an unwavering passion for sports. At just 11 years old, he began training in the Kyokushin style of karate, where he achieved a commendable 4th kyu green belt.
As he delved deeper into physical training, Pudzianowski also ventured into strength training at thirteen. He also pursued boxing for seven years, further honing his athletic prowess.
Pudzianowski made his professional sports debut at sixteen, competing in the Polish Weightlifting Championship in the bench press event.
Despite his exceptional accomplishments, Pudzianowski faced a period of adversity in his life. In 2000 and 2001, he spent 19 months in Łowicz prison for assault, a controversial incident involving a local mafia figure.
However, Pudzianowski remained undeterred and later arranged a resocialization meeting for prisoners at the same institution, demonstrating his commitment to personal growth and social responsibility.
Pudzianowski's rise to prominence in the strongman world began on 1 May 1999 when he entered his first Strongman competition in Płock, Poland. He finished an impressive fourth in his debut appearance at the 2000 World's Strongest Man contest.
However, due to his prison sentence, he could not participate in the 2001 competition. Undeterred by setbacks, Pudzianowski returned in 2002 and claimed his first World's Strongest Man title.
He defended his crown in 2003, delivering a dominant performance that established a new standard of excellence. In March 2004, he also became the Strongman Super Series World Champion.
While his journey was not without challenges, including a disqualification in the 2004 World's Strongest Man due to a breach of the governing body's Strongman Health Policy, Pudzianowski demonstrated his resilience.
In 2005, he staged a remarkable comeback, securing his second World's Strongest Man title with extraordinary strength and determination.
Although he finished runner-up in the 2006 competition, Pudzianowski reclaimed the throne in 2007, becoming the fourth man in history to win the event four times.
Mariusz Zbigniew Pudzianowski Diet and Nutrition Plan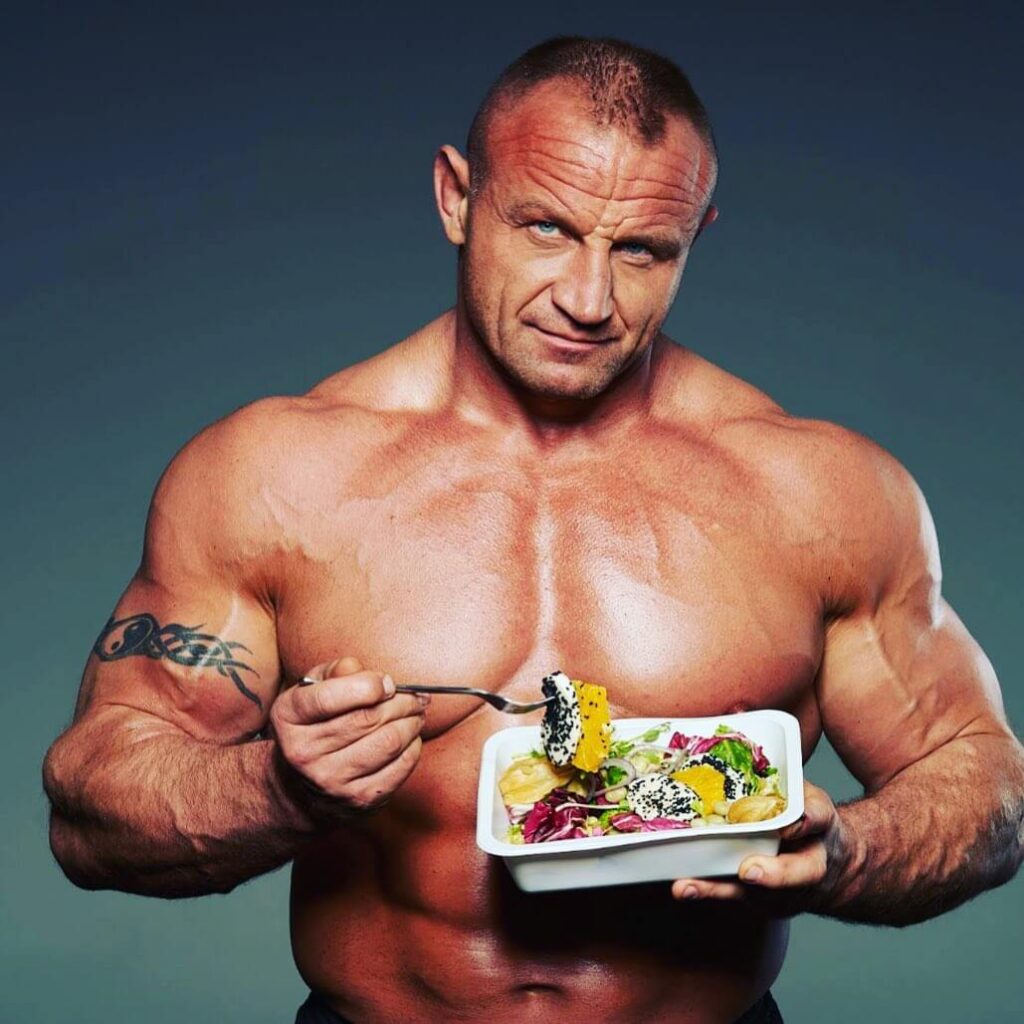 Mariusz Pudzianowski, despite his weird eating habits, maintains his incredible physique through a diet plan that focuses on whole foods and provides his body with the necessary nutrients for recovery and growth.
While he claims to enjoy eating whatever he wants, he incorporates certain principles into his nutrition to support his training practice. Pudzianowski ensures an adequate intake of lean protein sources, fresh fruits, vegetables, and fish.
Protein, essential for muscle development and repair, is crucial to his diet plan. He consumes large quantities of protein to promote muscle recovery and growth.
Mariusz Zbigniew Pudzianowski Meal Plan
His daily diet consists of 5-6 meals spread throughout the day. Here's an overview of Pudzianowski's meal plan:
Mariusz Zbigniew Pudzianowski Meal 1
Whole Eggs 10
Bacon 2-3 Pounds
Mariusz Zbigniew Pudzianowski Meal 2
Mariusz Zbigniew Pudzianowski Meal 3
Polish Pork Chop
Sauerkraut
Potatoes
Mariusz Zbigniew Pudzianowski Meal 4
Protein Shake
Magnesium
Creatine
Potassium
Amino Acids
Vitamins
Chocolate
BCAAs
Mariusz Zbigniew Pudzianowski Meal 5
Meal 5- Dinner
Meat or Chicken
Potatoes
Sauerkraut
Mariusz Zbigniew Pudzianowski Meal 6
Chocolate
Amino Acids
Vitamins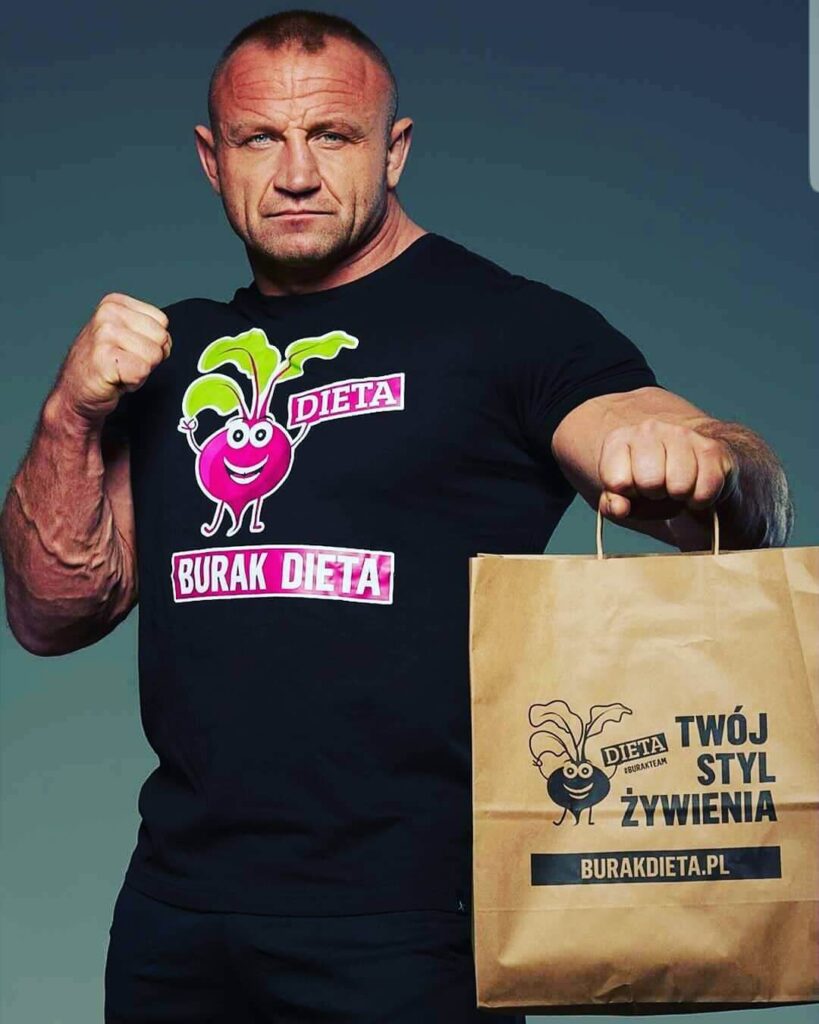 It's critical to note that Pudzianowski adjusts his carbohydrate intake based on his training requirements, reducing it on days when he focuses more on cardio to support fat burning.
While Mariusz Pudzianowski's diet plan may appear irregular compared to other elite athletes, his dedication to training and emphasis on whole foods supply him with the necessary nutrients to maintain his impressive physique and performance.
Mariusz Zbigniew Pudzianowski Supplements
Mariusz Pudzianowski incorporates several supplements into his diet to ensure he receives the necessary nutrients for intense training and muscle growth.
While he primarily relies on whole food sources, these supplements help him achieve a complete nutritional profile:
Whey Protein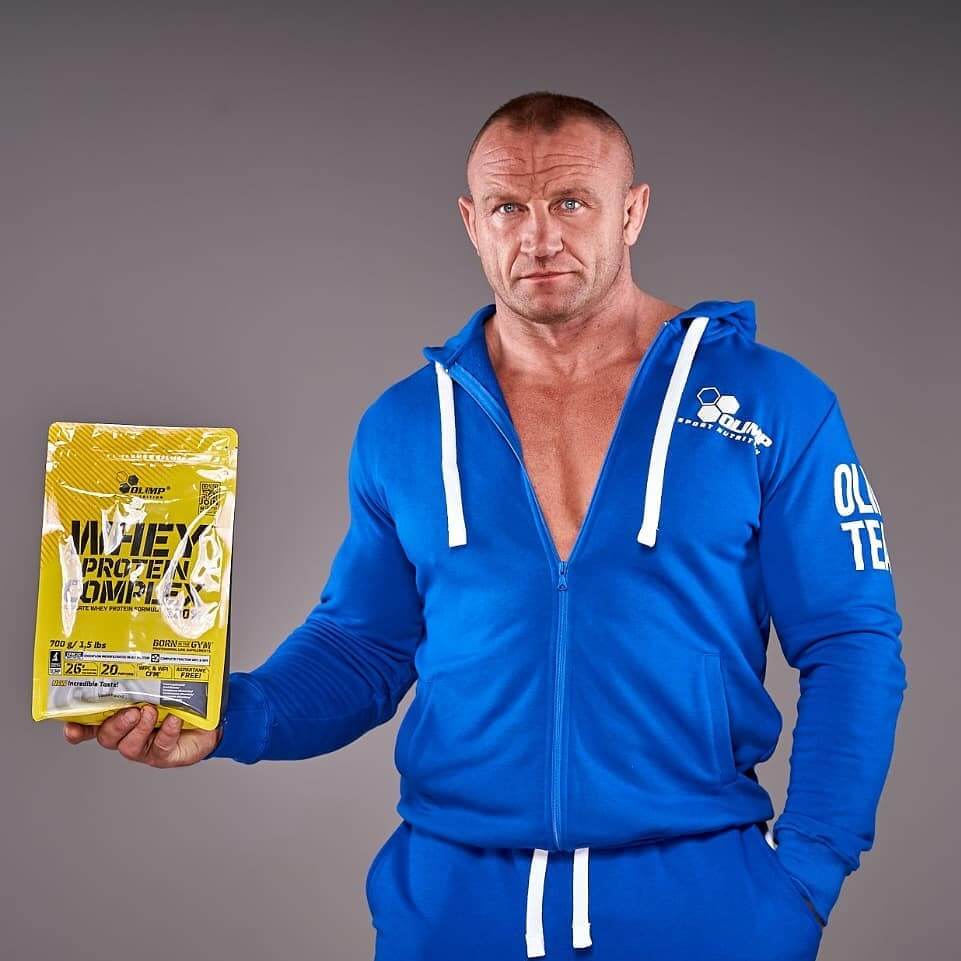 Pudzianowski consumes whey protein shakes before and after workouts to support muscle recovery and growth. Whey protein provides essential amino acids quickly, aiding muscle building, fat loss, and appetite control.
Creatine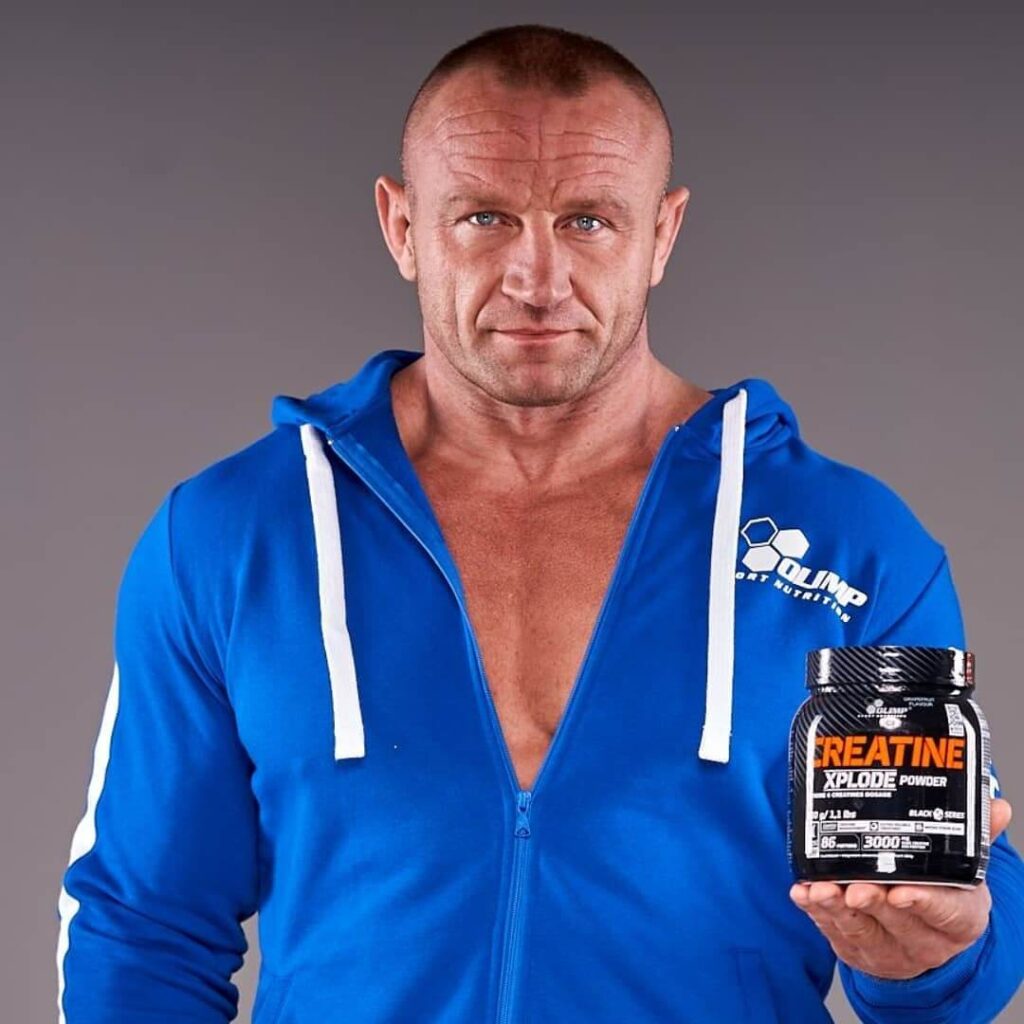 When preparing to bulk up or compete, Pudzianowski includes creatine supplementation. Creatine promotes lean muscle gains, enhances strength levels, and aids recovery. It also helps muscles retain water, giving them a fuller appearance.
Branched Chain Amino Acids
To counter muscle damage and wastage caused by intense training, Pudzianowski uses BCAA supplements. BCAAs provide a continuous stream of amino acids, reducing muscle breakdown and facilitating recovery. They also delay fatigue, optimizing training performance.
Multivitamins
Pudzianowski takes multivitamin supplements to increase overall energy levels and support muscle recovery. While his diet contains vitamin sources, multivitamins meet his daily requirements and help maintain muscle strength.
Fat Burners
Despite his impressive physique, Pudzianowski uses fat burners to eliminate excess fat and enhance his muscular appearance.
Greens Supplement
During extensive travel, Pudzianowski relies on greens supplements to meet his daily mineral and vitamin needs, compensating for deviations from his regular diet.
Probiotics
Pudzianowski prioritizes probiotics, especially while traveling, to promote healthy digestion and boost immunity.
By incorporating these supplements into his diet, Mariusz Pudzianowski ensures his body receives the necessary nutrients to support his intense training, muscle growth, and overall performance.
Mariusz Zbigniew Pudzianowski Workout Routine
Mariusz Pudzianowski follows a unique strongman training routine focusing on strength and power. His intense workouts require training twice daily, three days a week. Here is a breakdown of his workout plan:
Monday: Upper Body Workout
| | |
| --- | --- |
| Bench Press | Warm Up with 2 Sets and Then Perform 3 Sets, 6 Reps |
| Weighted Chin-Ups | Complete 5 Sets, 6 Reps |
| Barbell Extensions | Perform 5 Sets, 6 Reps, Gradually Increasing the Weight to 80KG |
| Standing French Press | Do 5 Sets, 6 Reps |
| Sandbag Carry | Complete 3 Sets of Carrying the Sandbag for 150 Meters |
| Tire Flips | Perform 5 Sets of Flipping the Tire for 10 Reps |
| Conan's Wheel | Complete 3 Sets, Rotating the Wheel for 2.5 Revolutions |
| Parallel Stairs (Power Stairs) | Perform 3 Sets, Climbing 15 Steps |
Tuesday: Rest
Wednesday: Legs and Back Workout
| | |
| --- | --- |
| Mariusz Front Squats | 5 Sets, 6 Reps |
| Calf Raises | 5 Sets, 20 Reps |
| Deadlifts | 5 Sets, 6 Reps |
| Good Mornings | 5 Sets, 6 Reps |
| Standing Military Press | 5 Sets, 6 Reps |
| Barbell Rows | 5 Sets, 6 Reps |
| Parallel Crucifix | 5 Sets, Holding for 30 Seconds |
| Bushman's Walk | 5 Sets of Walking for 15 Meters |
| Bench Press | 5 Sets, 6 Reps |
Thursday: Rest
Friday: Lower Body Workout
| | |
| --- | --- |
| Leg Extensions (Quads) | 5 Sets, 6 Reps |
| Mariusz Pudzianowski Leg Curls (Hamstrings) | 5 Sets, 6 Reps |
| Olympic-Style Squats | 5 Sets, 6 Reps |
| Behind-the-Neck Pulldowns | 5 Sets, 6 Reps |
| Back Squats | 5 Sets, 6 Reps |
| Sandbag Carry | 3 Sets of Carrying Sandbags for 150 Meters |
| Tire Flips | 5 Sets of Flipping the Tire for 10 Reps |
| Conan's Wheel | 3 Sets of Rotating Wheels for 2.5 Revolutions |
| Parallel Stairs (Power Stairs) | 3 Sets of Climbing 15 Steps |
Saturday and Sunday: Rest