As the dust settles on the 2023 Mr. Olympia, the bodybuilding community is already buzzing with anticipation for the next big names.
One standout from the recent Romania Muscle Fest Pro is Marcello De Angelis, who not only made an impressive Men's Open Pro debut but also secured a commendable third place, surpassing the formidable Nathan De Asha.
Could Marcello De Angelis be a future Mr. Olympia contender?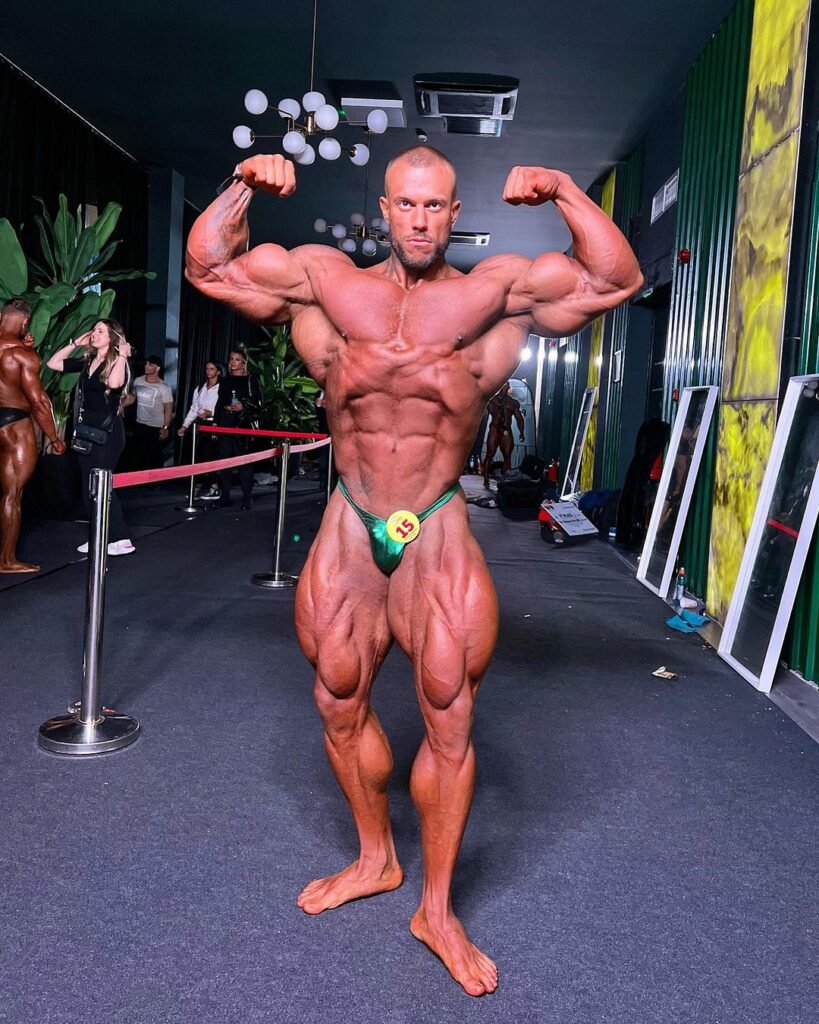 Before we delve into his recent success, let's explore Marcello De Angelis' journey in the bodybuilding world.
Hailing from Brazil, Marcello De Angelis boasts an impressive track record, including being a former Mr. Universe champion and earning four Brasileiro gold medals.
In 2021, he earned his Pro card in Classic Physique, but his journey encountered hurdles due to size-related issues.
A pivotal moment came in 2019 when Marcello De Angelis, known as "Horse M.D.," showcased his prowess with a third-place finish at the Amateur Olympia South America.
His victory at the Worldwide Amateur Olympia Brazil event further solidified his standing in the amateur ranks. However, challenges arose in the form of weight-cutting struggles, prompting a significant decision.
Transition to Men's Open: A Bold Move
Faced with difficulties in maintaining the weight required for Classic Physique, Marcello De Angelis opted for a bold move – transitioning to Men's Open.
This decision, coupled with the guidance of renowned coach Milos Sarcev, marked a new chapter in his career.
The turning point was the MuscleContest Brazil, where he missed weight, leading to disqualification but ultimately steering him towards the Men's Open category.
Fast forward to the 2023 Romania Muscle Fest Pro – the stage for Marcello De Angelis' highly anticipated Men's Open Pro debut.
Before his appearance, a glimpse of his chiseled physique shared on Instagram garnered attention from bodybuilding legends.
Flex Lewis, impressed by Marcello De Angelis' debut, expressed his pride, labeling it as "incredible."
The seal of approval extended to none other than Phil Heath, who emphasized the importance of Marcello De Angelis focusing on his unique shape for continued success.
As Marcello De Angelis stepped onto the stage alongside bodybuilding titans, he not only outshone Nathan De Asha but secured a remarkable third place, trailing only behind Behrooz Tabani and the winner, Samson Dauda.
This impressive feat, achieved in his Men's Open debut, positions Marcello De Angelis as a force to be reckoned with in the bodybuilding arena.
Future Prospects and Mr. Olympia's Contention
Marcello De Angelis has undeniably showcased immense promise in the Men's Open Pro category.
His blend of classic lines and full muscle volume has set the stage for a potential shake-up at the 2023 Mr. Olympia, provided he secures a qualification this season.
As the bodybuilding world eagerly awaits the unfolding chapters of Marcello De Angelis' career, it's evident that a future Mr. Olympia contender may be in the making.
The rise of this Brazilian powerhouse adds a thrilling narrative to the ever-evolving story of professional bodybuilding.