A war of words has erupted between YouTube megastars Logan Paul and Bradley Martyn, culminating in both men proposing a secret fight with no cameras present.
Bradley Martyn laid down the challenge to Paul after taking exception to comments made on Logan's Impulsive podcast.
The beef started when Bradley Martyn claimed he could beat UFC fighter Nate Diaz in a street fight. Diaz laughed off Martyn's assertion, and Logan piled on by accusing Martyn of desperation for clicks and attention.
Paul stated he'd happily "humble" Martyn in a sparring session. Never one to back down, Bradley Martyn flipped the script and told Paul to fight at his Zoo Culture gym if he was serious.
Let's examine the origins of the beef and how a Logan Paul vs Bradley Martyn fight could play out.
Bradley Martyn's Credentials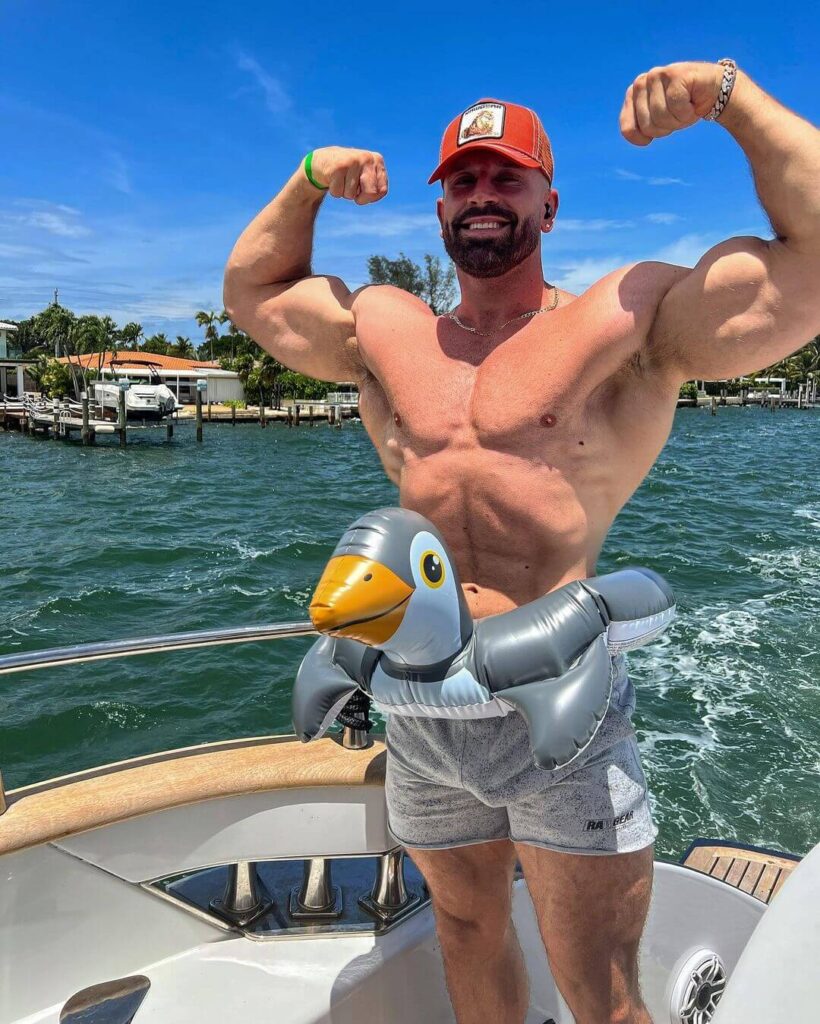 Bradley Martyn casts an imposing shadow at a mountainous 6'3″ and 260 pounds. His outsized personality and beast-like physique have earned him millions of social media followers.
Bradley Martyn regularly posts fitness content and vlogs showcasing his strength feats and intense workouts. As owner of the popular Zoo Culture gym in Los Angeles, Bradley Martyn has created an aspirational brand and lifestyle.
While Bradley Martyn doesn't have professional fighting experience, he's fond of testing his strength against athletes. Videos document Martyn wrestling with NFL stars and getting rag-dolled by a Samoan jujitsu master.
Bradley Martyn's confidence and bravado convince him that he can hang with Nate Diaz in a street fight despite Diaz's elite MMA skills. Most chalk it up to entertainment rather than a serious claim.
Logan Paul's Credentials
Conversely, Logan Paul sports extensive boxing training as an amateur and professional fighter. He first ventured into boxing in 2018 against British YouTuber KSI, losing by a split decision.
The two internet stars ran it back in 2019, this time fighting professionally with no headgear. Paul went the distance with KSI but ultimately lost by split decision again.
Undeterred, Paul continued boxing training and secured an exhibition against Floyd Mayweather in 2021. He survived all eight rounds against the 50-0 boxing legend, proving his grit and talent.
Paul effectively utilized his size and reach at 6'2″ and around 205 pounds with 10-ounce gloves versus Mayweather. He has sharp defensive instincts and throws crisp power shots when openings emerge.
Paul fancied himself an elite striker and wasn't about to let Bradley Martyn's claims go unchallenged. He dismissed Bradley Martyn as desperately seeking attention and offered to "humble" him in the ring.
Bradley Martyn Rejects Logan Paul's Sparring Challenge
Never one to back down from a challenge, Bradley Martyn upped the ante after Paul's podcast comments. He called out Logan for hypocritically accusing him of chasing clout and views.
In an epic response video, Bradley Martyn invited Paul to leave the cameras behind and fight at Zoo Culture gym if he's legit. Martyn's proposal means no content, no promotion, just a behind-closed-doors brawl to settle the score.
By requiring Paul to come to his turf, Bradley Martyn projects strength and confidence. He's likely counting on his loyal squad at Zoo Culture also to have his back.
Martyn also took issue with Logan frequently failing to support his brother Jake during the controversy. Bradley Martyn argued he can both like Jake while hoping Nate Diaz beats him.
Analyzing a Potential Logan Paul vs Bradley Martyn Fight
If this beef translates into an actual clench, what might a fight between Logan Paul and Bradley Martyn look like? Let's break it down.
Despite his boxing pedigree, Paul would face a substantial size deficit versus the hulking Bradley Martyn. At a ripped 260 pounds, Martyn possesses truly freakish functional strength. He flashes KO'd fellow YouTuber Julius Maddox during a playful boxing exchange.
Bradley Martyn's MMA training at Zoo Culture would likely come into play for a no-rules fight. His athleticism could enable him to close distance and initiate grappling exchanges against Paul.
However, Logan Paul should be considered considering his fortitude against Mayweather. His footwork and defensive reflexes are superb for an internet celebrity boxer. Paul also utilizes his reach well and has underrated knockout power.
A Paul vs Bradley Martyn fight would likely feature wild striking exchanges early. Logan's boxing could allow him to land shots on the aggressive Martyn coming in. But Bradley may eventually try to dirty box or tackle Paul while wearing him down.
Despite Paul's heart and skills, it's difficult not imagining Martyn dragging him into deep waters if he uses his size to his advantage.
A gassed Paul could be in serious trouble in the later rounds. Of course, there are still many hurdles to actually staging this proposed fight.
Neither man wants to risk tarnishing their brand or sustaining injury. The winner also can only brag a little with footage.
And based on Bradley Martyn's strategic challenge of turning the tables, he seems unlikely to risk fighting Paul on his terms. After all, his initial remarks sparked this beef in the first place.
But the war of words has undoubtedly stoked interest from fans. Many are calling to see the fight happen by any means necessary. Only time will tell if social media juggernauts resolve their beef inside the ropes.