The 2022 Sheru Classic Italy is set to take place this weekend on June 26, 2022, in Rome, Italy. Three divisions will compete in the Show: Classic Physique winner is Marco Ruz, Men's Physique winner is Ali Bilal, Bikini winner is Kristina Brunauer.
Sheru Classic Italy Men's Classic Physique Results
Winner Marco Ruz
Sheru Classic Italy Men's Men's Physique Results
Winner  Ali Bilal
Sheru Classic Italy Women'sBikini Results
Winner Kristina Brunauer
These divisions will be featured on stage at the 2022 Sheru Classic Italy as they battle for the title and invitation to the 2022 Mr. Olympia.
Last weekend, the 2022 IFBB Puerto Rico Pro Show and Sheru Classic India 2022 went down, featuring plenty of top competitors from the Men's Open division.
This year, after winning the 2022 IFBB Puerto Rico Pro Show, Hassan Mustafa secured his invitation to the 2022 Mr. Olympia.
Check Biography of Rubiel Mosquera "The Nickzilla"
Classic Physique Sheru Classic Italy
In classic physique many competitors from different countries like India, Italy, Indonesia and many others participated. But most of them did't impress the judges with their physiques, Marco Ruz won this show and has been qualified for Mr. Olympia 2022 in Men's Classic Physique division. Below are competitors List:
First — Marco Ruz
Second Place — Emanuele Ricotti
Third Place — Edwin Underwood
Fourth Place — Mehmet Emin Baydill
Fifth Place — Shanti Mitchell
Sixth Place — Kelvin Hinde
Seventh Place — Issa Al Hasani
Eighth Place — Giovanni Randazzo
Ninth Place — Ayham Alaws
Tenth Place — Philipp Jendnelek
Sheru Classic Italy 2022 Men's Physique Division Results
In Sheru Classic Italy in Men's physique numbers of athletes participated from different countries, especially from India there were top 2 competitors Manoj Patil and Nishant Bansal both were ripped and shredded but unfortunately Nishant stand out at 7th position and Manoj Patil at 9th place. Below are complete list of competitors top 10:
First — Ali Bilal 
Second Place — Youcef Djoudi
Third Place — Furkan Er
Fourth Place — Fabian Faber
Fifth Place — Burak King
Sixth Place — Kenny Privet
Seventh Place — Nishant Bansal 
Eighth Place — Andrea Mosti
Ninth Place — Manoj Patil
Tenth Place — Marecl Treichler
Sheru Classic Italy 2022 Bikini Results List
First — Kristina Brunauer
Second Place — Anna Setlak
Third Place — Stine Hansen
Fourth Place — Chloe Margraitner
Fifth Place — Lilan Lopez
Sixth Place — Lucrezla Marchi
Seventh Place — Eleonora Sundas
Eighth Place — Noemi Lava
Ninth Place — Soldea Bella
Tenth Place — Alice Marchisio
Sheru Classic Italy 2022 Scorecard
Sheru Classic Italy 2022 Men's Classic Physique Scorecard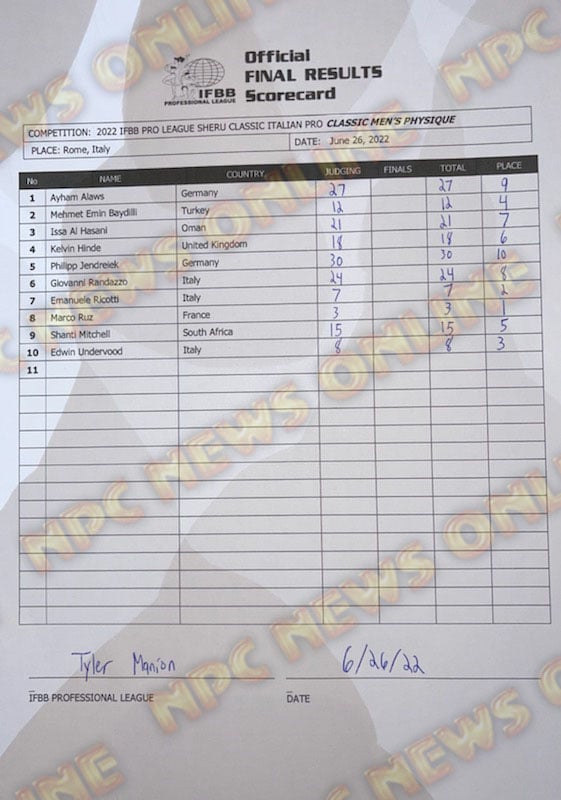 Sheru Classic Italy 2022 Women's Pro Bikini Scorecard
Competitor List
Here is the complete list of competitors who will compete on June 26 in the Sheru Classic Italy 2022.
Classic Physique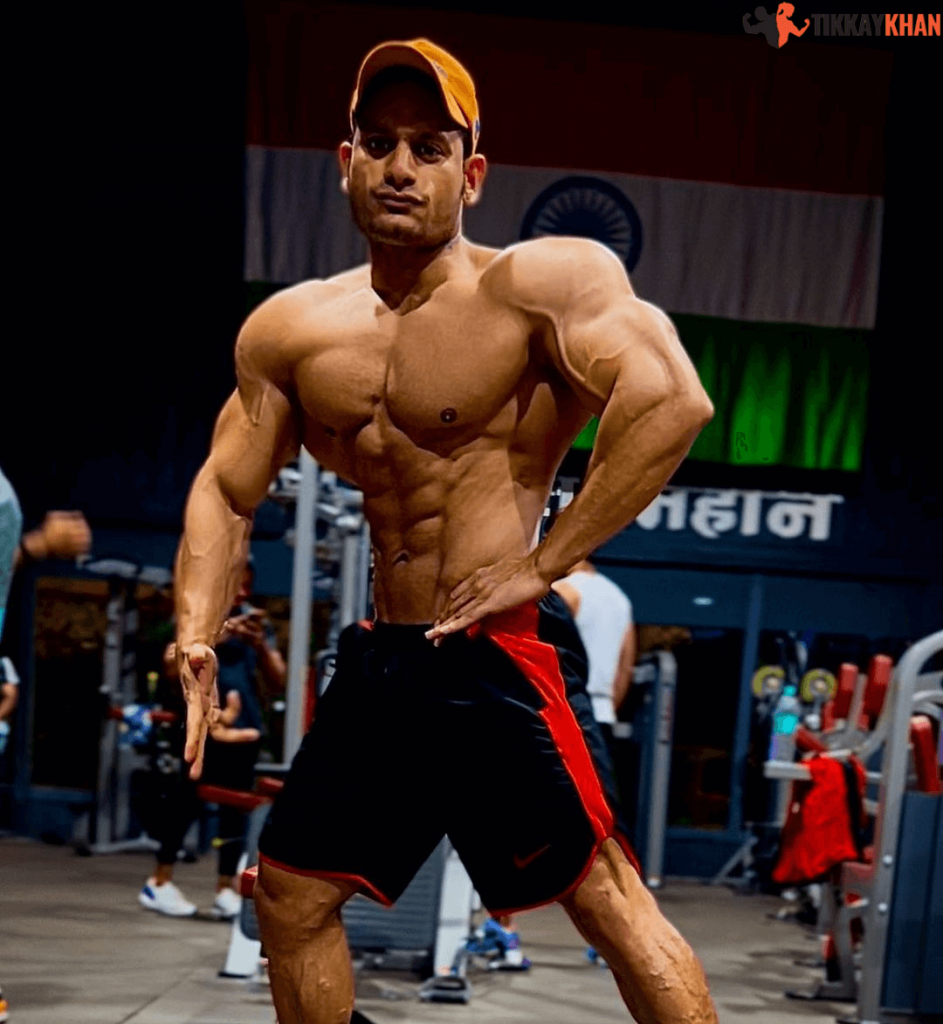 Ayham Alaws, (Germany)
Manoj Patil, (India)
Mehmet Emin Baydilli, (Turkey)
Emanuele Ricotti, (Italy)
Marco Ruz, (France)
Issa Al Hasani, (Oman)
Kelvin Hinde (United Kingdom)
Philipp Jendreiek, (Germany)
Men's Physique
Andrea Amato, (Italy)
Manoj Patil, (India)
Ajith Raja, (India) Not participated
Simonpietro Arena, (Italy)
Todd Love Ball Jr., (USA)
Nishant Bansal, (India)
Ali Bilal, (Belgium)
Andrea Mosti, (Italy)
Kenny Privet, (Switzerland)
Darrell Rabess, (United Kingdom)
Nicola Scarpa, (Italy)
Marcel Treichler, (Switzerland)
Leonardo Vecchiato, (Italy)
Youcef Djoudi, (France)
Daniele D'Onofrio, (Italy)
Furkan Er, (Turkey)
Febo Gambacorta, (Italy)
Mohamed Hamad, (Libya)
Burak King, (USA)
Mikael Lega, (Belgium)
Benedikt Lukas, (Germany)
Ruben Marques, (Portugal)
Shanti Mitchell IFBB PRO, (South Africa)
Bikini
Giusj Abbate, (Italy)
Jasmi Aprile, (Italy)
Corinne Bean, (USA)
Solidea Bellia, (Italy)
Camilla Porfito, (Italy)
Alessia Sabatino, (Italy)
Lucrezia Marchi, (Italy)
Alice Marchisio, (Italy)
Anna Setlak, (Italy)
Kristina Brunauer, (Austria)
Noemi Cosentino, (Italy)
Emanuela Denni, (Italy)
Stine Hansen, (Denmark)
Cassie Hunter, (United Kingdom)
Ameera Klement, (Germany)
Noemi Lavacca, (Italy)
Lilian Lopez, (Mexico
Nora Majlinger, (Hungary)
Chloe Margraitner, (Switzerland
Denise Sicignano, (Italy)
Eleonora Sundas, (Italy)